City of Beverly Hills | News | Retail
Beverly Hills Businesses Respond to City Fines
"I think we were cited because we had our spacing correct with the tables, but one of our guests moved his chair a little bit to a certain side where instead of being six feet apart, it was five feet eight inches or whatnot," he added.
BY Samuel Braslow July 31, 2020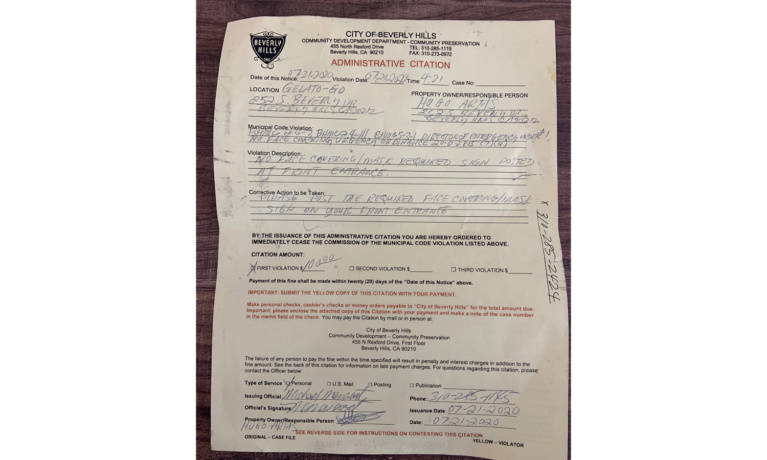 Reading Time:
3
minutes
As California grapples with a rise in COVID-19 case numbers, the City of Beverly Hills has been issuing administrative citations to individuals and businesses that run afoul of health rules meant to stem the spread of the virus. But some of the businesses cited by the City say that Beverly Hills has perhaps gone too far in penalizing them during economically uncertain times.
"If anyone ever comes in the store, it's a miracle," said Dominique Zoida, who co-owns the new Italian leather goods store Benheart on South Santa Monica Boulevard. Zoida has turned to Instagram Live to showcase the store's wares remotely. "That's how I actually stay in business," he told the Courier.
It was during a live stream a few weeks ago when a City official came into the store and noted Zoida's unmasked face.
"I'm doing the 'live' and people were asking me, 'Are you being fined?' I cut the 'live' short at that point," he said.
"I totally get it. I'm about wearing masks," said Zoida, who gets tested three times a week due to his wife's job as an actress. Nonetheless, noting that no one else was in the store when the administrative citation was issued, the fine feels punitive, he said.
"The challenges our businesses are facing during this incredibly difficult time are unprecedented," said City spokesperson Keith Sterling. "City staff are meeting regularly with merchants across the City to find solutions and create programs to assist, including OpenBH."
"However, with the number of COVID cases on the rise and strict protocols in place by L.A. County and the state, we have a responsibility to ensure a healthy environment and compliance."
Vasili Kotsiovos, owner of the Greek restaurant Estiatorio Louka, understands the City's role in maintaining the health of its citizens. Still, there is always uncertainty with the customers, he observed.
"It's harder to control the guests that it is to control your staff," said Kotsiovos.
"I think we were cited because we had our spacing correct with the tables, but one of our guests moved his chair a little bit to a certain side where instead of being six feet apart, it was five feet eight inches or whatnot," he added.
Marco Schiagga, manager of the Italian restaurant Via Alloro concedes that the City is doing their job correctly. Nonetheless, he characterized enforcement tactics as overbearing.
"When one of my runners was going with no face shield, then we got a ticket for that —absolutely right. The only thing I don't like was them in front of our restaurant for hours just waiting for the mistake to happen," said Schiagga.
Similarly, the Indonesian-fusion restaurant Blasteran had a back-of-house employee jump in to help a server during a busy moment. While he wore a mask, said owner Norma Ashton, he forgot to wear a face shield. Both the restaurant and the employee were cited for the same infraction.
The practice of citing both the business and the employee particularly bothers Jordane Andrieu, owner of the food and wine bar, Heritage Wines. Andrieu admits he misunderstood the rules around face shields, thinking they were only required inside. He doesn't believe his waitress should be penalized for his mistake. Andrieu paid the fine for his employee.
Other business owners plan to fight the citations. Chhan Gamboa, owner of Gourmando on Robertson Boulevard, was hit with a fine when an official observed her speaking to a customer without a face shield. But Gamboa told the Courier that she was over 10 feet away and was not serving the customer.
"He didn't care about what I said," noted Gamboa. After she refused to sign the citation or show the administrative officer her driver's license, she says he threatened to call the police. "I'm going to fight it. And I'm not going to lose because I'm right. And there's nothing that he can do about it," she said.
"The City should be ashamed," said Alessandro Alvino, owner of Gelato-Go. Alvino's creamery was fined for not having proper signage about mask requirements. He told the Courier he did not receive a prior warning and will not pay the fine.
He compares his experience in Beverly Hills to an encounter with officials in El Segundo, where Gelato-Go has another location. There, he says the officials provided him with a free sticker instead of fining him.
After receiving the citation, Alvino wrote an email to the official who cited him and cc'd the Beverly Hills Chamber of Commerce.
"Trying to collect money from broken businesses in this moment is shameful," he wrote. "Hear me out: I will NEVER pay this fine."