City of Beverly Hills | Community News | News
Beverly Hills Robberies Result in Arrests
"We then called in the Los Angeles Police Department to safely stop the vehicle and the chase ensued at that point," Subin said.
BY Samuel Braslow August 14, 2020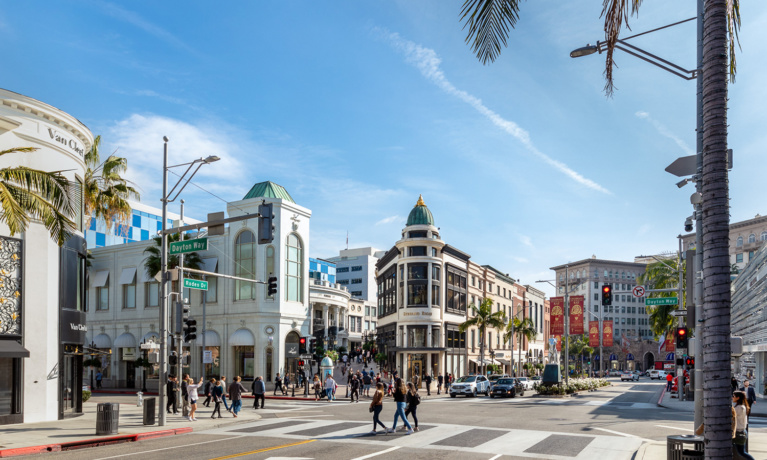 Reading Time:
2
minutes
Two Aug. 10 robberies in Beverly Hills resulted in arrests on Aug. 11 following a high-speed chase through Westlake in Central Los Angeles. The chase, which reached speeds in excess of 100 mph, culminated in a standoff in the Pico-Union neighborhood near MacArthur Park. Suspects soon surrendered themselves to police. There were no injuries to either the suspects or officers.
Beverly Hills Police were on high alert after the two Aug. 10 incidents, in which armed suspects approached and held-up cars, Beverly Hills Police Department (BHPD) public information officer Lt. Max Subin told the Courier. Four robberies were reported on that day throughout the City — two in the morning and afternoon, two at night.
Subin said that BHPD was helped in identifying the car by Beverly Hills' extensive CCTV camera network. The City currently operates around 1,500 CCTV cameras, with plans to grow it by 200 over the year.
"CCTV footage helped with the investigation," he told the Courier. He said that BHPD is "very fortunate" for the technology allocated to them by the City Council.
With that information, plainclothes BHPD officers located the vehicle on Aug. 11 outside of Beverly Hills.
"We then called in the Los Angeles Police Department to safely stop the vehicle and the chase ensued at that point," Subin said.
The pursuit began around 9:45 a.m. near USC. The suspect vehicle, with four passengers inside, hurdled onto the westbound 10 Freeway before shortly exiting in the area of Normandie Avenue around 10 a.m. In the process, California Highway Patrol officers became involved in the chase.
Aerial footage shot by CBSLA shows the suspects skidding down surface streets, through red lights and past oncoming traffic, before abandoning the car in the Pico-Union neighborhood and continuing on foot. The four suspects then threw themselves over a fence and sought shelter in a house on the 1000 block of South Kenmore Avenue near the intersection of Normandie Avenue and Olympic Boulevard.
Without making any attempts to breach the house, LAPD established a perimeter around the home and surrounding area and called in a SWAT team. The BHPD provided additional resources to assist in the apprehension, including detectives, SWAT, and patrol officers. The Los Angeles Sheriff Department also provided assistance.
After SWAT "made their presence known," the four suspects peacefully surrendered themselves into police custody around noon. According to Subin, there was no use of force and no injuries.
With CNS