Blame it on the award-winning HBO television series "Game of Thrones," but this enduring Slavic country and Central European neighbor that doubled for "King's Landing" during the series' 10-year run, has held one of the top tourist spots for the last decade. 
Maybe it's the fight-for-the- throne fantasy and romance of so many UNESCO World Heritage Sites and medieval villages. Perhaps it's the Italian food that can rival Italy (yes, really), or the stretches of picturesque Dalmatian coast. There's no denying that interest in Croatia shows no signs of slowing down. 
A decade of glorious GOT hype (record-breaking Emmy nods for its last season) has made Dubrovnik a top tourist attraction. But why not avoid the crowds, especially during the summer months? Our approach will have you going far beyond the "King's Landing" set by not starting your vacation in Dubrovnik and also traveling off-season to other stunning locations. 
If you begin your journey in the northern capital of Zagreb and make your way south to the coastal towns of Sibenik, Trogir, and Zadar, a wealth of cathedrals, architecture, museums, boutiques, and great restaurants await without the throngs of Dubrovnik. As for the weather, you won't need more than a sweater in the evening unless you plan to hit the holiday markets in December. 
We also recommend going inland to Sinj, a charming mountain town with an equestrian heritage. From Sinj, Krka National Park with its meandering waterfalls, makes for a fascinating day excursion. While these towns and sites are off the beaten path, they offer the same historical significance and wealth of activity – in addition to a few GOT sightings – as the more touristy port locations. 
Zagreb Capital City Culture 
If you begin your trip north in the old-world capital city of Zagreb, the modern Amadria Park Hotel is a great option. The hotel features a full-service fine dining restaurant with its own wine and champagne labels, chic bar and casual café. The property opened at the end of 2018 and offers a great alternative to the more formal Esplanade or well-worn Palace Hotel. 
Gather your bearings with a short stroll down one of the shopping streets leading to the main town square and clock tower which is a popular local meeting spot. Depending on the time of year, this is also ground zero for the Christmas and holiday market stands. Either way, there are vendors with hot or cold wines, local cherry liquor, chocolate confections and large sizzling grills filled with an array of sausages. 
To see more of the city, take a ride up the Zagreb funicular – the world's shortest – to reach the Dolac open-air farmer's market and the upper town near St. Mark's Church; Strossmayer promenade; Stone Gate and Lotrš?ak tower for the canon shoot at noon. 
Pop into Otto & Frank bistro for lunch where you can drink draft beers and nibble on gourmet truffle burgers. They also serve all-day breakfast, including a traditional ham and poached eggs, if the jet-lag has gotten the best of you. 
While there are museums offering everything from contemporary works to arts and crafts, there is none more unusual than the quirky Museum of Broken Relationships. If that sounds too depressing, try the Museum of Mushrooms where you can flex your gastronomic knowledge to learn all about rare fungi. 
For a panoramic view of the city, head to the 360 ? Observation Deck which overlooks landmarks such as the spiraling towers of the Zagreb Cathedral which is the tallest building in town. If you'd like to go a bit farther afield, continue your tour through the lower town to the Botanical Gardens or the Zoo.
Zagreb is very walkable and transportation is easy with trams. A few things to help you save time, money and navigating: 
Zagreb Card, http://zagrebcard.com/?lang=en 
Zagreb Be There app http://www.betherezagreb.com. 
Unique Zadar 
From Zagreb, it's fairly easy to rent a car and drive three hours to the seaside town of Zadar. 
Zadar's city walls are a UNESCO World Heritage Site. It's an easy walk from the walls to the scenic boat harbor. Check into the old-world charm of hotel Bastion. Its rooftop penthouse suite features a Jacuzzi with a view. Visit http://www.hotelbastion.hr/ 
Be sure to have lunch or dinner at Foša. Take a seat inside or on the scenic terrace located on the tip of a historic port overlooking the island of Ugljan. This is widely-regarded as one of the best restaurants in the country. The menu features a mix of local Croatian seafood specialties and Mediterranean dishes including Bacala which is a dried and salted cod fish. It's possible to make an entire meal out of the olive oil 'flight' with four different versions for bread dipping, along with the local wines featuring a merlot and the indigenous white marastina grape from the Dalmatian coast. Maraschino cherry liquor is another local treat. 
After lunch, take a stroll along the waterfront to visit a few unique art installations. Along the shore, notice a set of descending stone steps by artist Nikola Baši? called Organ of the Sea. This ingenious work is comprised of 35 different pipes of varying lengths under the water. The stairs emit a louder sound with each oncoming wave, creating a melodic cacophony that is hauntingly beautiful. 
Walk near Zadar's planetarium installation and Roman square at dusk. There's a slightly sinister feel to some of the dark passageways and corridors around by the church and museum. Beware, though. It's easy to get lost. There's a reason why filmmaker Alfred Hitchcock "the master of suspense" loved Zadar. 
A Jaunt to Trogir 
A two-hour drive from Zadar, Trogir lies across the Adriatic Sea from Italy. It's yet another UNESCO World Heritage Site, known for its Venetian architecture, among other attractions. With cobblestone streets, a harbor filled with fishing boats, as well as cathedrals, and palaces, this is a mini-Dubrovnik. It's also "Qarth" from "Game of Thrones" so it's a win-win for HBO fans.
The city is easy to navigate on foot. One of our favorite walks is from the main church to lunch at Italian seafood-themed restaurant Calebotta, for the delicious grilled squid. After lunch, take a short 30-minute drive farther south to Split. 
Split by the Sea and Diocletian's Palace 
Split has a convenient airport, so you can depart from Croatia from there. Or, simply return back to Zagreb via a more inland route. If you do decide to stay in Split, check into the coastal view hotel Cornaro with its rooftop panorama bar featuring stunning views of the city. This hotel is also just steps from the National Theatre and promenade. Take an easy stroll down to the water past high-end shops and cafes. Meander along the small stone walkways around the rectangular Roman emperor Diocletian's Palace and octagonal-shaped Cathedral that lead to small boutiques, woodcrafters and cheese and wine shops. Be sure to seek out Sigmund Freud's house on your rambling route. If you're lucky, you may stumble upon a four tenors impromptu concert in an open-air circular dome. 
For more information visit 
https://visitsplit.com/en/1/welcome-to-split. 
On the way back from Split, take a city tour of nearby Sinj. The destination is a must-see for equestrian buffs. For more than 300 years, on the first Sunday in August, a colorful knights' tournament and parade known as Alka of the Sinji take place. Learn more about the town's celebration of defense from the Ottoman conquerors when you visit the Alkar Palace and Museum of the Alka of Sinj. 
The main part of Sinj is very walkable, with its museums and cathedral. A new commercial Heritage hotel will open later in 2019. For now, the town is reminiscent of a page out of a medieval fairy tale. 
On the outskirts of town, a new restaurant on a small farm serves one of the best versions of traditional Croatian fare in the entire country. Kod Luke has a homey, family-style feel, but incorporates sophisticated presentations and techniques. Chef Luka Kirzanac, makes wood- fired meats, crispy fry bread, meat stuffed in cabbage or wrapped with bacon, whipped potato balls, crepes and other specialties paired with local wines.
Visit  http://www.npkrka.hr/en/
Krka National Park and Šibenik 
Head farther inland and north to the nearly 70 miles and over 1,000 plant species that encompasses Krka National Park at the basin of the Krka River. Beautiful waterfalls, a Roman aqueduct and 19th-century watermills await. 
Depart the park and head to the fortified UNESCO World Heritage town of Šibenik for the perfect ending to this route. Another charming waterside town, highlights include the Cathedral of St. James and its baptistery that dates back to 1440. Just across the square is the perfect place to savor one last Mediterranean-Croatian meal. Gradska vije?nica specializes in freshly-caught bronzino and risotto, served under the Venetian-style arches. 
Indeed. GOT might be gone, but there is still plenty to explore in Croatia. 
For more information visit 
http://www.sibenik-info.hr/turi-sticke-zajednice-sibensko-kninske-zupanije/ 
For more information, visit: http://croatia.hr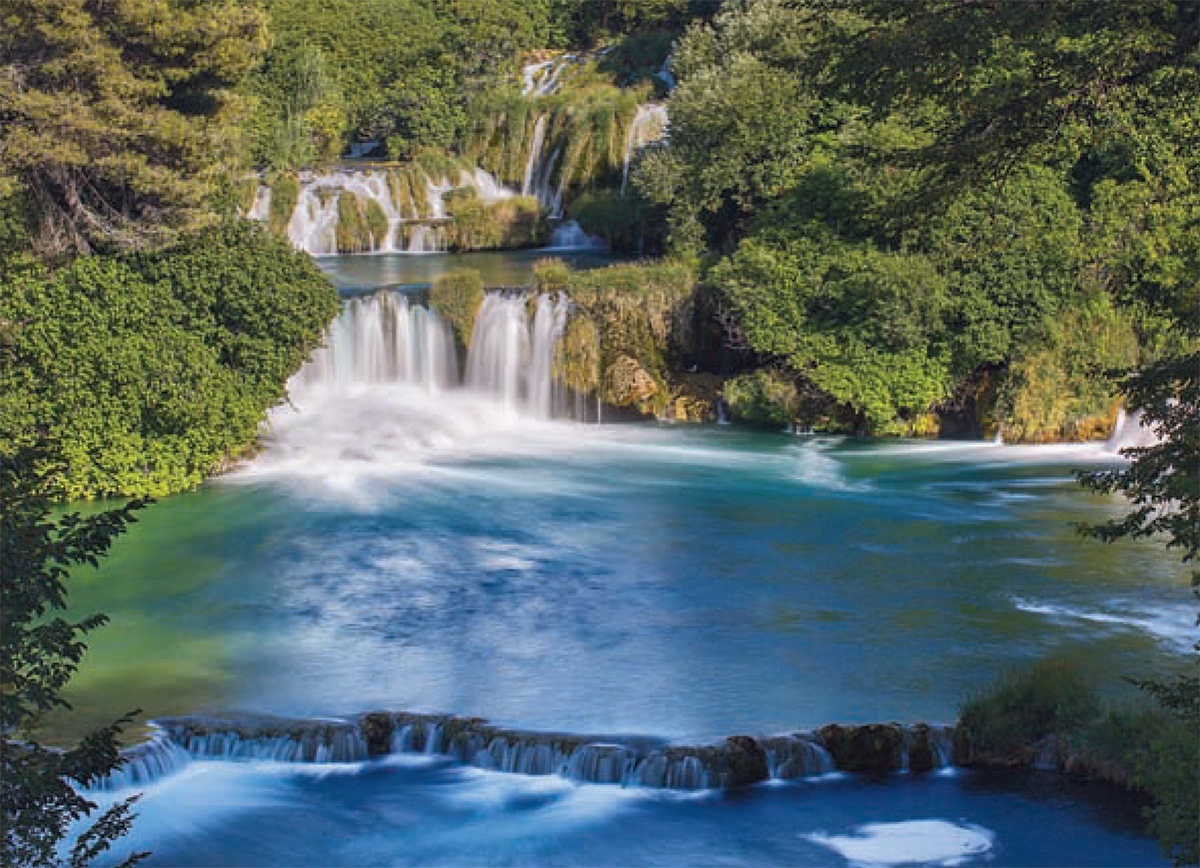 Getting there: 
Instead of flying through another European capital city for your inevitable layover (no direct flights from Los Angeles), fly on Turkish Airways to Istanbul for a few days and then head directly to Zagreb. Many of the planes have been upgraded, along with the business and first- class airport lounges. 
https://www.turkishairlines.com/ 
If you do decide to go in December for the holiday markets: 
• Advent on European Square in Zagreb (Dec. 1, 2019 – Jan. 6, 2020) – pedestrian zone in the very heart of the city offers a vivacious Advent event: souvenir and Christmas decorations market, a selection of food and beverages and music events in the evening. 
• Advent Wreath (Dec, 1,.2019 – Jan. 6, 2020) – the traditional Christmas Fair will take place during Advent in the streets surrounding the Jela?i? Square. 
• Advent on Zrinjevac (Dec. 1, 2019 – Jan. 6, 2020) – through the alley of plane trees, you will reach the old music pavilion, which will welcome you in its Christmas, fairy-tale look and leave you breathless. 
• Ice park (Dec. 1, 2019 – Jan. 6, 2020) – Christmas fairy tale awaits you in one of the most beautiful Zagreb's parks, with an ice skating rink, selected food and beverages, as well as music events. 
• Fooling around (Dec. 1, 2019 – Jan. 6, 2020) – Strossmayer square in the heart of Zagreb, between Zrinjevac and Tomislav square is becoming a colorful vivid canvas. Discover entertainment, food, magic, dreams and fun. 
• Advent in Maksimir (Dec. 1, 2019 – Jan. 6, 2020) – the rich variety of quality educational and fun programs for children, along with programs and a selection of offers for grown-ups, for all visitors who wish to enjoy the magic of Advent season with their kids.