The year is 1991. The setting, Beverly Hills High School.
Walking aimlessly down a wide, empty corridor, past the lockers toward math class, Mike Amiri's 15-year-old imagination steers his thoughts and slows his pace. Turning the corner, he crashes into somebody.
"Sorry," says Mike, quickly realizing that somebody is Lenny Kravitz! The rock star!
A former student of the school, Kravitz is at the height of his fame.
"I'm Mike," he offers, containing his excitement.
"Lenny"
"I know. Love your music. But what are you doing back here?"
"Thought I'd stop by. See some of my old teachers."
"Want some help?"
"Sure. You know Mrs. McKenzie?"
Mike leads Lenny. They reach room 170.
Lenny peeks in, "Yep, that's her." Mike opens the door.
Mrs. McKenzie looks up, "Mr. Amiri, shouldn't you be in class?"
Lenny pops in front of him. Mrs. McKenzie lights up! The class goes wild. Mike, a die-hard, impressionable rock 'n roll fan, stands back, rapt in the moment, his math class a million miles away.
Twenty-six years later, at the posh Hotel Costes restaurant in Paris, Mike is dining with his wife, Shirin, when Lenny Kravitz approaches.
"Mike…"
"Lenny…" Mike stands to greet him.
"My stylist just texted me you were here. I wanted to thank you for the jacket you made me. I love it."
"I'm glad," says Mike.
"It's iconic."
"It's pretty nice," Mike offers humbly.
"Great to finally meet you," says Lenny.
"We've met before."
"We have?"
"Years ago. When you visited Beverly High."
"That was you? Really!"
Mike nods yes.
In that moment of serendipity and recognition, they embrace.
Bumping into a rock star in the hallway of your high school is unbelievable, even if that school is Beverly Hills High. But to meet him decades later and find yourself on par with that rock legend, that is extraordinary. This chance encounter is one of the many signposts along Mike's journey signaling that Mike Amiri, the fashion designer, has arrived.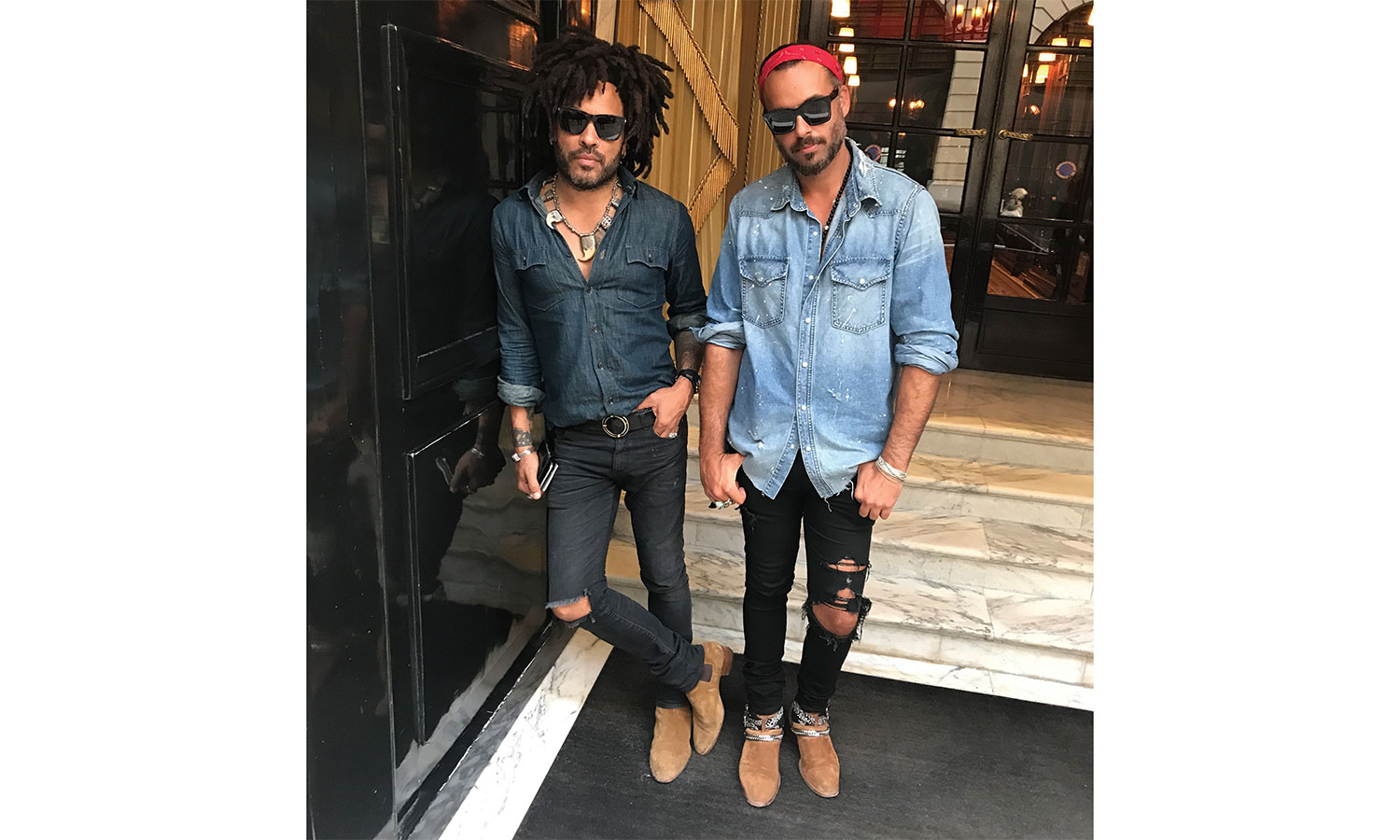 In just nine short years, Mike has built an indisputably world-class, luxury fashion house. His eponymous fashion line, AMIRI, blew up so fast it gave established houses whiplash as they watched the new kid on the block open his flagship near them on Rodeo Drive in 2020.
Back in 2014, Mike was stitching one-off stage pieces for musicians like Axl Rose and Justin Bieber from the basement of a Thai restaurant in Hollywood. Soon, he was selling out collections at the fashion cult mecca Maxfield. He has been nominated three times (in 2019, 2021 and 2022) for the prestigious Menswear Designer of the Year Award by the Council of Fashion Designers of America, alongside Tom Ford and Rick Owens.
Today, it's The Weeknd, Usher, Leslie Odom, Jr., Black Coffee, J Balvin and Teyana Taylor who are wearing Amiri's clothes. And his fans aren't limited to those from the stage. A-list movie and television stars like Brad Pitt, Paul Rudd, Rege-Jean Page, Tessa Thompson, Natasha Lyonne, Robert Pattinson, Tyler James Williams and Jared Leto wear AMIRI. Mike's reach has spread to athletes as well, such as Lionel Messi and Odell Beckham Jr. In the championship boxing bout in Las Vegas on April 22 of this year, boxer Ryan Garcia wore head-to-toe AMIRI in and out of the ring.
Along with the Beverly Hills flagship, there are currently nine standalone AMIRI stores worldwide in the U.S., Japan, United Arab Emirates and China. Part of the meteoric rise also involves 160 boutiques, "shop in shops," inside globally esteemed retailers including Neiman Marcus, Saks Fifth Avenue and Bergdorf Goodman in the U.S.; Selfridges and Harrods in London; Galeries Lafayette in Paris and Joyce in Hong Kong.
With the expansion into footwear, womenswear, children's wear, accessories and lifestyle products, along with his newly renovated store on Rodeo Drive, AMIRI is projected, as reported in the Wall Street Journal, to do $320 million in sales in 2023, up 56% from last year.
The soul of the brand is, at its very essence, Mike Amiri himself. His interpretation of California luxury lifestyle is undeniably authentic, built on his own life experiences growing up in Los Angeles, playing basketball, skateboarding, creating street art and hanging out at the rock clubs on Sunset Boulevard.
Where other fashion labels attempt to replicate L.A. culture with products like logo-emblazoned skateboards or campaign images featuring our famous palm tree-lined streets as backdrops, Amiri is the real deal.
So, how did a kid from Beverly Hills High, with no connections, without a bottomless trust fund and zero fashion design education get here? It's an oft-asked question by those who want to know his "secret sauce."
I set out to find the answer.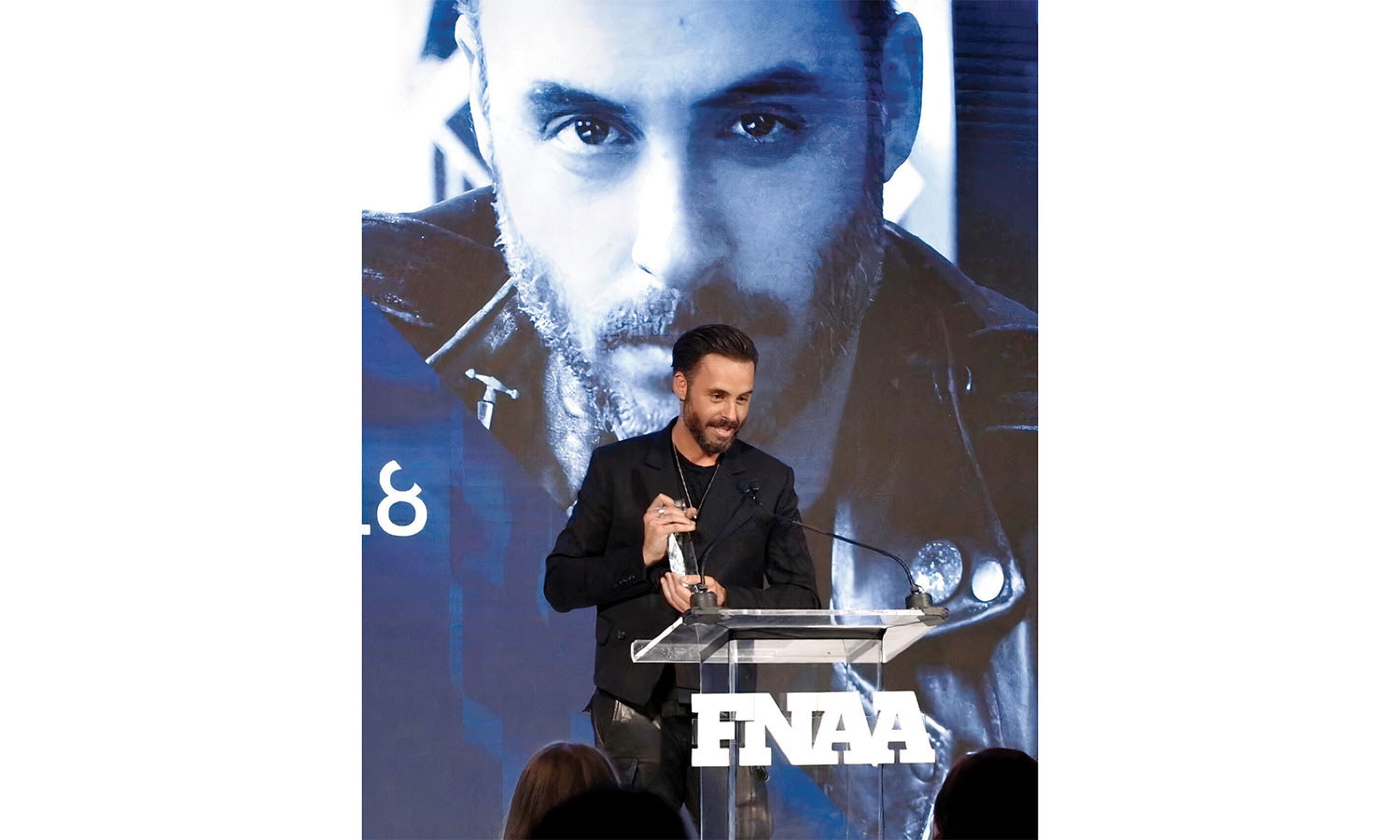 Leaping over puddles on the rare rainy and windy day on Rodeo Drive, I reached AMIRI's flagship storefront as the black-suited security guard opened the door to let me in. And like Dorothy's gloomy, black-and-white Kansas switched to sunny Technicolor Oz, this dark day quickly transformed into a bright, calm, inviting AMIRI haven. I soaked in the store's staging, the simplistic artistry, the mood-setting music and the strategically suspended clothing hanging from the high ceilings. Here, purses mimic chic basketballs, skateboards are designed by L.A.-based artist Wes Lang and handcrafted leather totes show off California landmarks.
Soon, Mike Amiri, like the mastermind from behind the curtain, emerged from the back of the store, brandishing a warm smile, reflecting the sunshine he seemingly created. With a welcoming hug, he led me upstairs in search of a more intimate space for our interview. On the way, we passed a stylized workspace, a walled art installation featuring spools of thread in a rainbow of colors above matching antique sewing machines. Mike shared that the cabinets in front of the wall were filled with drawers of handcrafted or fine bejeweled accessories to enhance custom design for AMIRI's exclusive VIP clientele.
In the next room, he invited me into a living room-like setting, poised for our interview with two stunning AMIRI logo motif armchairs, surrounded by soft drapery. I could not wait to dive in, to learn how this young designer had stormed the fashion industry in record time, and how he found the magic that ignited a global community to embrace his critically acclaimed, Los Angeles-based luxury brand.
The son of two Jewish Persian immigrants who owned an antiques business, Mike grew up first in Hollywood, then Beverly Hills. The middle of three boys, Mike spent a big part of his childhood in a dreamworld.
"Oftentimes, I created things, adventures, by myself, in my head… At some point, I realized that my brain was just geared for creating things that don't exist and the possibilities that may exist. It wasn't necessarily about clothing. It was just more storylines, or narratives, or looking at things a little bit differently than other people saw them."
He also pursued your average teenage boy interests like basketball, skateboarding and riding BMX bikes. At some point, Mike became captivated by the notion of heroes, spending many hours watching the heroic deeds of characters in Westerns and war films with his father, a proud enlisted U. S. Army man.
"I love the idea of heroes, not just lead singers in rock bands, but in any field. Currently, I'm fascinated with people who become iconic in their fields, those who are obsessed with ideas regardless of adversity."
Wanting to be cool like the rockers in Hollywood, Mike merged his finely honed imagination with his desire to stand out. In middle school, he attempted his first trendsetting garment. Having seen the punks on the street with DIY patches on clothing, he asked his friend's mom to sew the front of an old Mötley Crüe T-shirt onto the back of his denim jacket. For $20, he created his own Mötley Crüe piece. Soon his friends in Beverly Hills followed.
"It was me kind of creating that hero for myself."
When you distill Mike's recollections of adolescence, a clearer picture emerges, one perhaps defined by his, sometimes fraught, search for a creative outlet. One of these outlets was graffiti, which, while in high school, put him in minor trouble with the law. This led to himsitting down with the school's counselor. During their meeting, Mike recalls the counselor's suggestion, "Maybe you just have a need to see your artwork displayed, and you'll get a sense of pride from that."
It made an indelible impression on Mike.
"It really changed my understanding of why it happened. It really made sense to my teenage brain." Pondering today, Mike shares, "When you connect the dots backward, it's really amazing."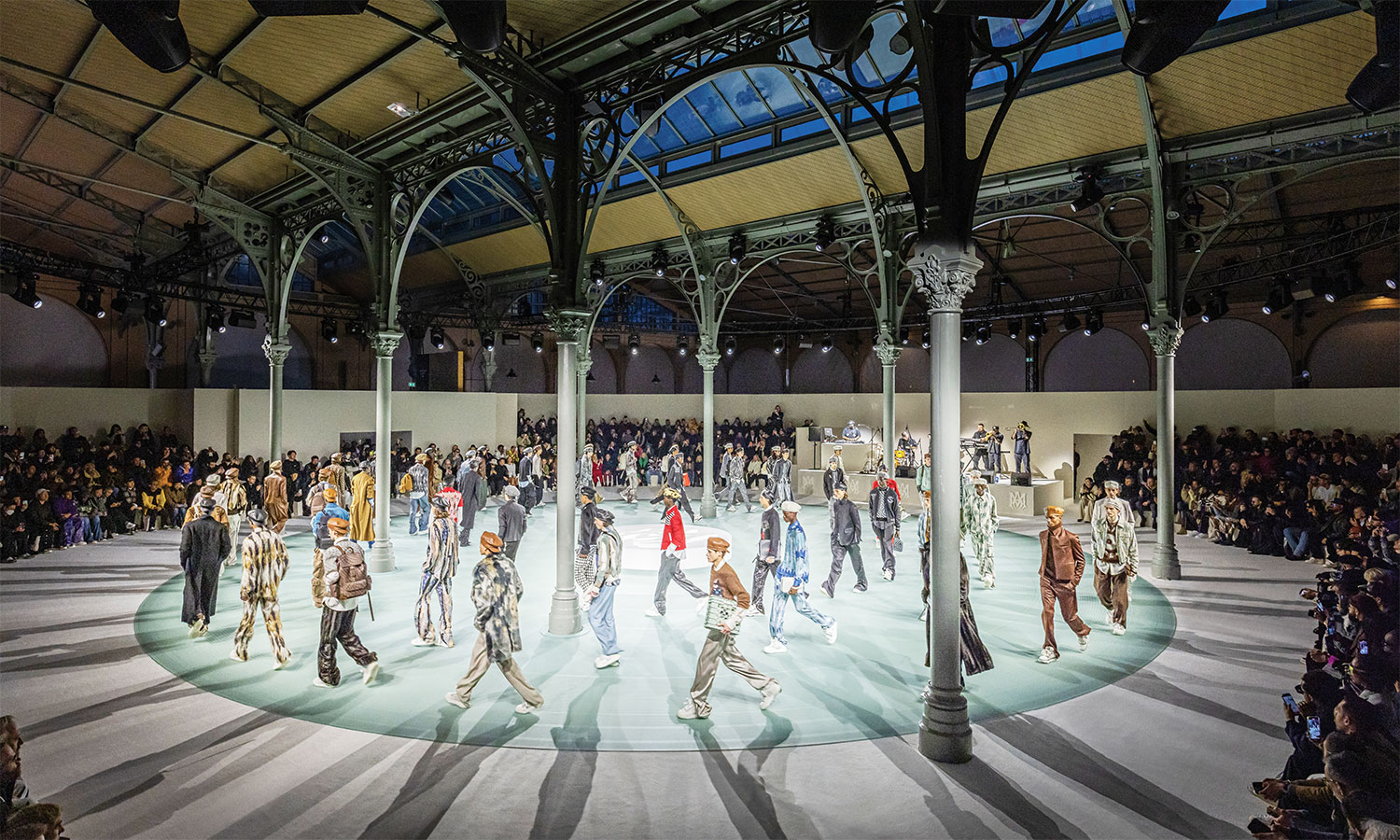 A Renaissance man, Mike taught himself how to play the piano and drums, and how to use production software on the computer. While in college, Mike reconnected with his old friend, Tiger JK, considered one of the founders of the hip-hop movement in South Korea.
Tiger JK was a classmate of Mike's at Beverly Hills High School.
"I just really loved kind of exploring how to create things… And when I knew he was interested in music, I said, 'Well, I can make songs [with him].' I really fell in love with doing that part of it. It felt natural to me. He ended up becoming a really big artist in Korea, and I would go there and visit him, and sometimes help him perform."
In the process, Mike learned how to read and write Korean. The group won awards at the Asian Music Awards, honoring much of the music Mike produced and wrote.
Mike knew in his heart this was a detour and not his true path. But the lessons he learned prepared him for the next chapters of his life.
"I did understand what it was like to create something. And watched it carry on a life of its own. To make something from nothing… It's saying 'yes' to something that you have a creative opinion. And not looking at it in a way [in which] it's unbelievable or ridiculous, whether it's creating music in a foreign country or saying that you're going to build a luxury brand."
When he returned from Korea, Mike applied to law school. "It seemed like a very responsible thing to do… to follow a safe path."
Mike chose a school that had a campus eight blocks away from the heart of the fashion district in Los Angeles. While he was working towards a law degree, he satiated his artistic drive.
Curious and intentional, Mike submerged himself in the many facets of the fashion industry.
"I would go to the vintage stores and open a blazer and try to understand why they put padding on certain areas. It was deconstructing and trying to understand how things are made."
He engaged with stylists who were creating pieces for different people. Through them, Mike learned the processes of making a finished product. Soon, the stylists asked Mike to help create garments for their artist clients. He was also included in the design projects for some of the larger American fashion houses.
Eventually, he took the leap and set out on his own, deciding any limitations he would face would be seen as opportunities. He likened the need for resourcefulness to the garage band days of his youth, when the fonts of inspiration and creativity flowed more than funds.
"The thing we always talk about within the design studio is let's pretend that we can't buy the best pinstripe wool in the world. So how do we create that? What makes Amiri 'AMIRI' is not the fact that we're able to use the best materials in the world. It's the fact that we're able to bring something new to the conversation, which is a youthful, creative sensibility."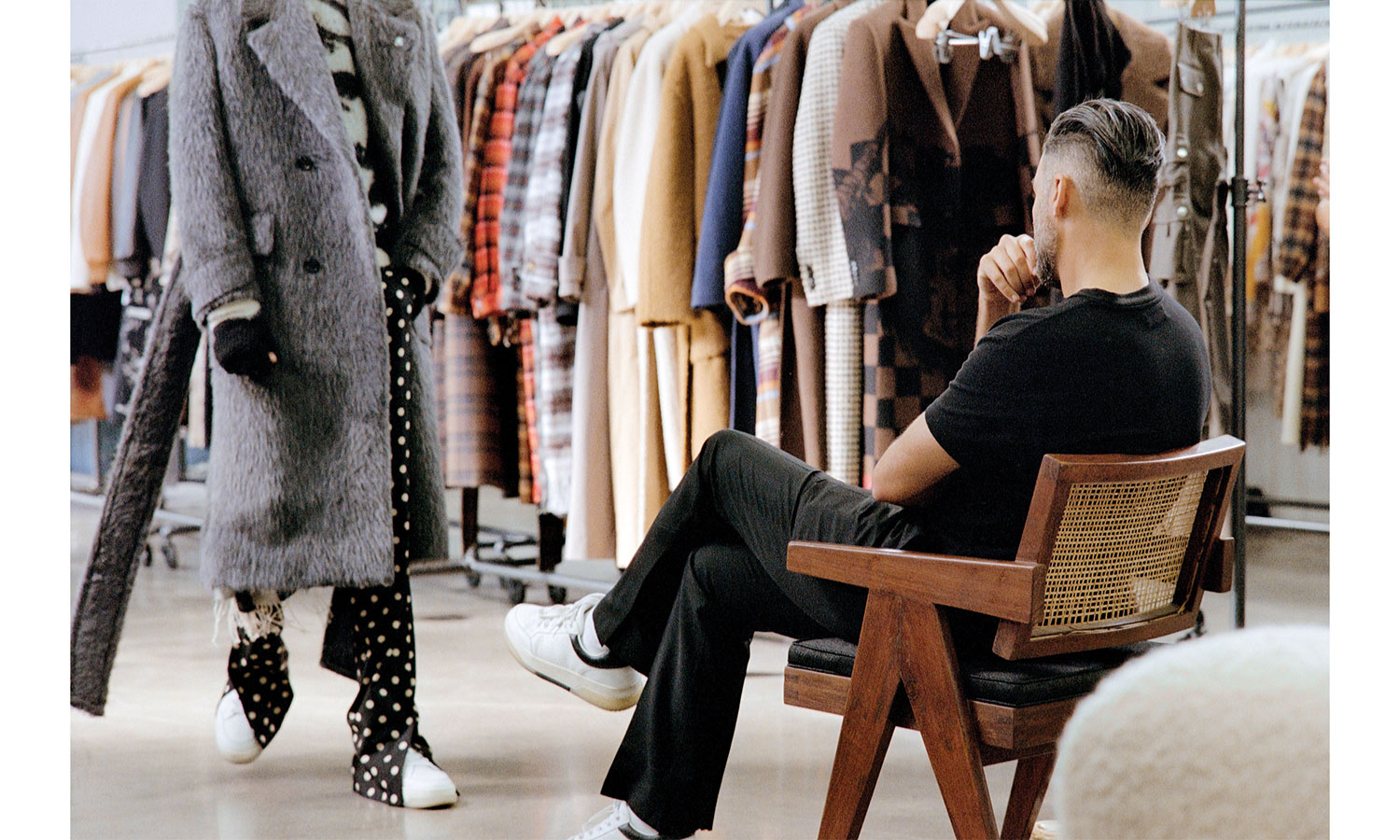 While he was defining his brand's identity, Mike began to build an impressive clientele of L.A. performers making hand-crafted, unique stage pieces for them. This experience guided him to explore an authentic L.A. rock 'n' roll fashion vibe. Mike experimented using traditional materials, manipulating them and employing some outside-the-box craftsmanship. For example, he took cashmere sweaters and jeans to the desert in Joshua Tree and blasted them with a shotgun to give a scorched and tattered effect.
As a native with extensive travel experience, Mike was well aware of the way Los Angeles has been perceived by the world as a place where dreams are born. He wanted to incorporate this uniquely L.A. feeling as a part of his brand's identity.
"If you are not from here, it means something different to you, and something a bit more romantic. When I go to Italy and people learn I'm from L.A., they say, 'Oh my God, Los Angeles. It's my dream.' I think that reaffirms that we represent something here. There is a dream here that people relate to. I mean, if you look at California, Hollywood, Beverly Hills, this is where people come to chase something bigger than them. There's so much that it represents, opportunity and optimism. And I always ask myself, 'What does that look like in clothing? What does that look like on a runway show? How does that feel and why?'"
Mike wanted to set himself apart from the European brands by telling a story that was authentic to his experiences. He posited, "'Why don't I bring an authentic California cool to the market? Why don't we use just as good fabric, just as good sewing, with the same coolness and DIY approach?'"
It was a bullseye for Mike.
"I bring the perspective of someone who is from the city, who knows what it feels like to be from California. There's a certain romantic notion about a T-shirt and jeans in California. How do they feel? They're soft, they're worn in. Your T-shirt might have a little bit of sun fade. There's a certain color palette associated with that. It allows people who are in Europe, when they buy it, to feel like they're getting a little piece of California."
Mike began to filter everything through this California lens, and eventually, it became part of the DNA of the brand.
"I deconstruct suits so they're super comfortable. It almost feels like you're wearing a T-shirt because that's the weather we have here. In L.A., you can go to lunch at 3 p.m., and still go to dinner at 7:30 p.m., wearing the same thing. How would you do that if you were wearing a stiff suit? There's a certain comfort level associated with this California dream."
AMIRI jeans are a perfect example of the brand's distinctive identity. At a time when most designers shied away from men's skinny jeans, believing their silhouette was too feminine to catch on, Mike ran headlong into the challenge. Using stretch-infused fabric, his jeans became known for their extremely comfortable, yet super tight fit. When he introduced them into the marketplace, AMIRI jeans quickly became identifiable and extraordinarily successful.
Mike lasered in on his brand's identity, "Modern luxury through a California lens" he proudly exclaims, adding "The plan was always to have an American aesthetic."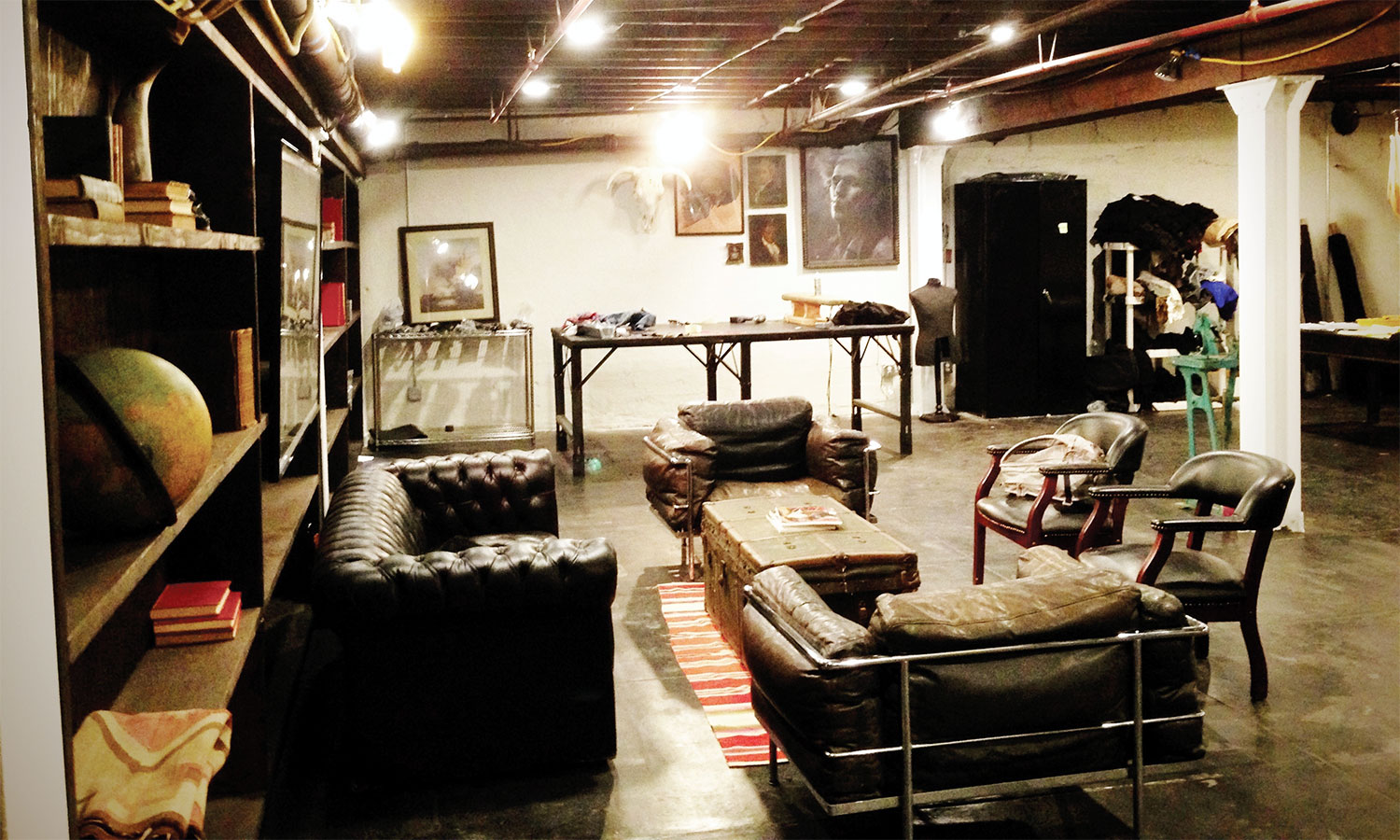 When he was ready, Mike approached the trendsetting, iconic fashion retailer, Maxfield, in West Hollywood. He convinced the owner to stock a few of his designs. He then spent an inordinate amount of time with the salespeople on the floor learning about his new customers.
Mike would ask himself, "Who was this guy? An artist? A performer? An athlete? And as I would design, I would imagine that person a little bit more and put my creative spin on these heroes. And it went from six pieces, to eight pieces, to 15 pieces, to 20 on the rack. And it wasn't selling anywhere else in the world. If you wanted to buy that product, you could discover it on social media, or you could discover it in Maxfield, alongside some of the best work in the world."
The hype around the collection was largely built on social media. Knowing this, Mike fully utilized these platforms, which he credits as immeasurably responsible for launching his brand.
"Social media helps democratize what talent can shine. If you look at the traditional fashion world, you're either discovered by a company, or there is an editor that will help highlight you. Or you've worked yourself into a sales showroom. You have to wait for someone to say, 'Yes, I'll give you a try.'"
Mike calls these arbiters of fashion, "gatekeepers." While he believes they are relevant, he does not believe they control the process as they once did.
"I would never have survived in that world. For me, it was more of 'I'm creating this piece, and I'm going to post a picture of it. And feel free to talk about it if you like it or if you don't… And if you like it, you can buy it here…'"
By interfacing with the customer, Mike found a more direct route to market his brand. He spoke to a new generation who could check out his post and see, for example, what a designer's daily activity entailed. In so doing, he created a genuine relationship with his customers, one with complete transparency. They learned about the AMIRI artistic approach combining traditional, delicate, exquisite European craftsmanship and fabrications with a DIY, innovative, garage sensibility.
After the AMIRI pieces flew out of the store, Maxfield proposed a pop-up shopping experience for his customers. Mike interpreted the offer differently.
"It wasn't like a little pop-up shop in my head. It was my first retail store. And I was going to treat it as such… This is my tester for Rodeo Drive."
An exclusive AMIRI space, it was filled with everything from a handbag, to a hat, to pants, to a jacket. The purpose was to put together a whole outfit with AMIRI. But money was tight. Mike had to run a lean, mean operation. There were only a handful of people, including Mike, working on his designs and the development and production of the goods. Despite the young brand having never done this before, it sold out nearly $300,000 of merchandise in just three hours.
"It was really organic… but a painstaking process from beginning to end. The product was so detailed and thoughtful and took forever to make. When it got to the rack, it was a bit undeniable."
For Mike, when it comes to the finished product, the whole isn't greater than the sum of its parts, the whole is the sum of many great parts.
"To complete a perfect product, it's never 50 plus 50. It's one plus one plus one until you get to 100, every little element, from color, to fit, to fabrication, to length… All of these things make the whole. But it's never, 'Oh that looks great because they're using a special sort of thread…' Every element counts." Later he shared, "If something is undeniably good, how can you say no?"
Mike also believes that exclusivity is the key to success in the luxury market. Another foundation is incorporating selective discipline. Early on, he exercised "restraint not to sell to a lot of people." Maxfield, well known for being an ultra-exclusive boutique, carried AMIRI for 1 ½ years before Mike sold it to another retailer.
Barneys Beverly Hills started, like Maxfield, with only a few AMIRI pieces at first. And like Maxfield, Barneys quickly sold out. Mike replenished the small order, understanding that scarcity is a part of the successful formula. The new pieces quickly sold out again. The cycle continued, and slowly grew, with Mike continuing to make his regular recon visits with on-floor salespeople to learn about his ever-expanding customer base. Eventually, AMIRI became one of the top five-selling brands for the entire Barneys company.
"My path deviated from a lot of designers where they would sell what they needed to sell to whomever would buy."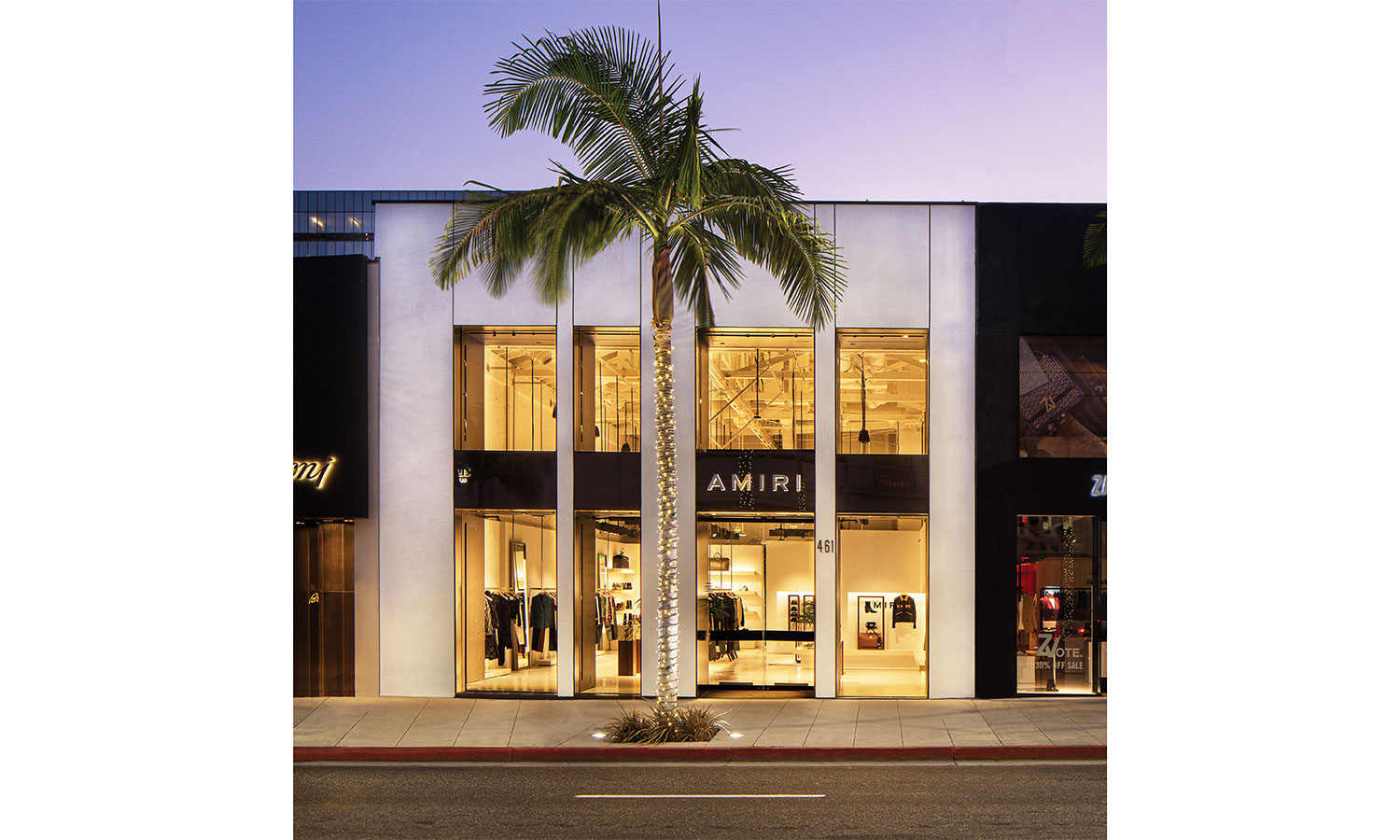 Russ Patrick, Senior Vice President, General Merchandise Manager of Men's, Gifts & Home and Children's at Neiman Marcus shared, "Mike has distilled his L.A. upbringing into a distinctive look that resonates strongly with our Neiman Marcus customer. We began our partnership almost five years ago by launching the collection in our Beverly Hills store, complete with an innovative and welcoming shop-in-shop. Many years later, our customers' desire for AMIRI continues to grow and so has its presence across our portfolio of stores. Mike's success as an American designer, on a global scale, has been impressive and swift for a relatively nascent brand. He has shown an incredible amount of focus, thoughtfully and carefully expanding the brand's presence and assortment, cementing his place as an influential brand in the luxury space."
The location of the product line is another vital component in building a luxury brand, Mike believes. Birds of a feather flock together.
"[My designs] have to be with my peers. I need to sit next to Gucci. I need to sit next to Christian Dior. And some would say [referring to the brand], 'You're 2 years old.' And in my head, I said, 'There's no difference between my art and this art.' And some buyers would pass and regret it, and other buyers like Barneys, for example, said, 'I'll make that deal with you.'"
Similar to the qualities he admires in his heroes, Mike possesses strength in his conviction. Determined to win by taking control of the process and the company's destiny, Mike was able to choose where AMIRI was sold.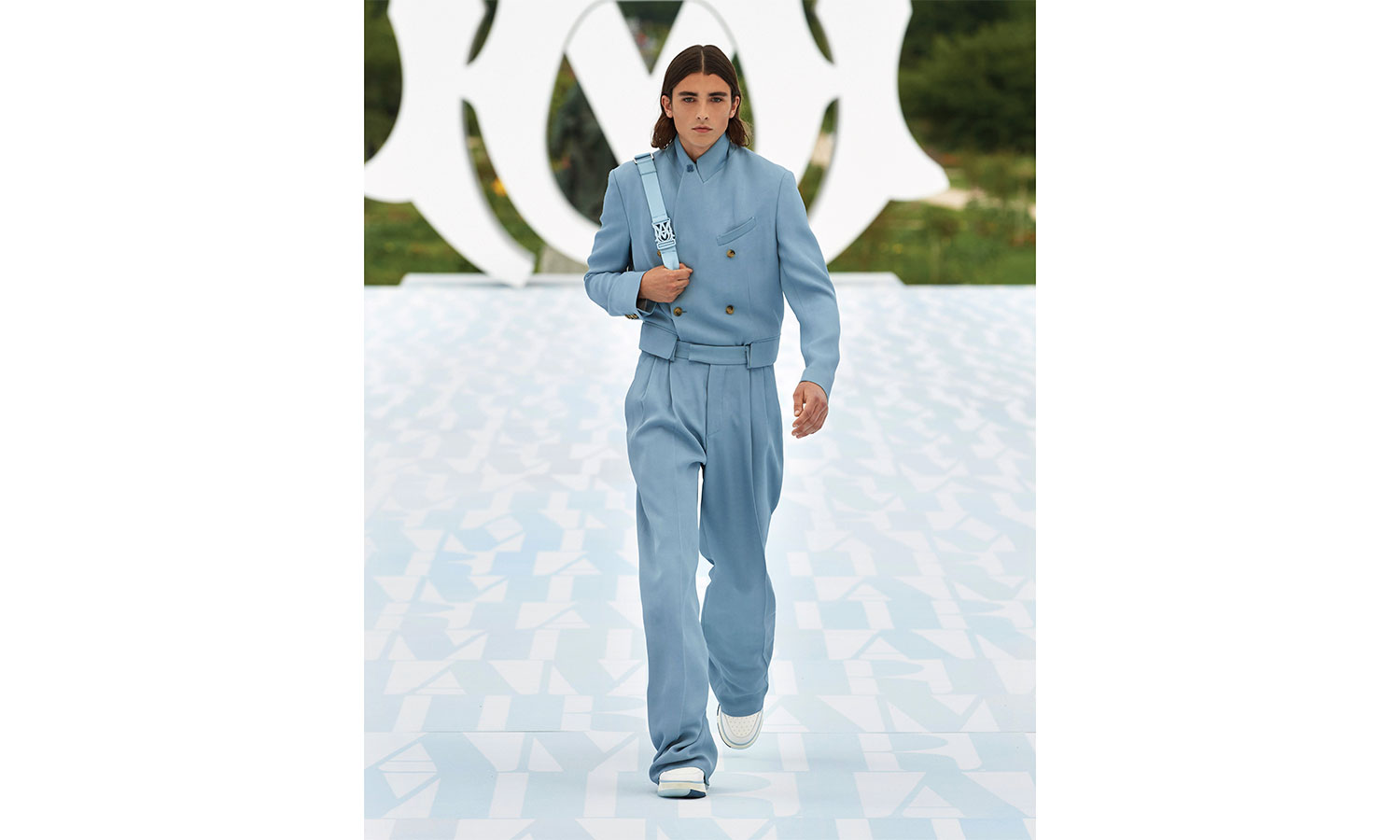 "Whatever I did at Barneys, I did in Selfridges, and I did in Paris, and I did in Tokyo, and I did in every department store saying, 'I'm not going to sell this unless it's within a luxury context because this is of that caliber.' And doing that around the world, little by little, it created a community that was global…The amazing thing about it is, I won't be the last one to do this. I think this is going to be a bit of a blueprint."
He believes many more designers, not from the traditional designing world, are going to emerge and open stores on prestigious streets around the world like Rodeo Drive.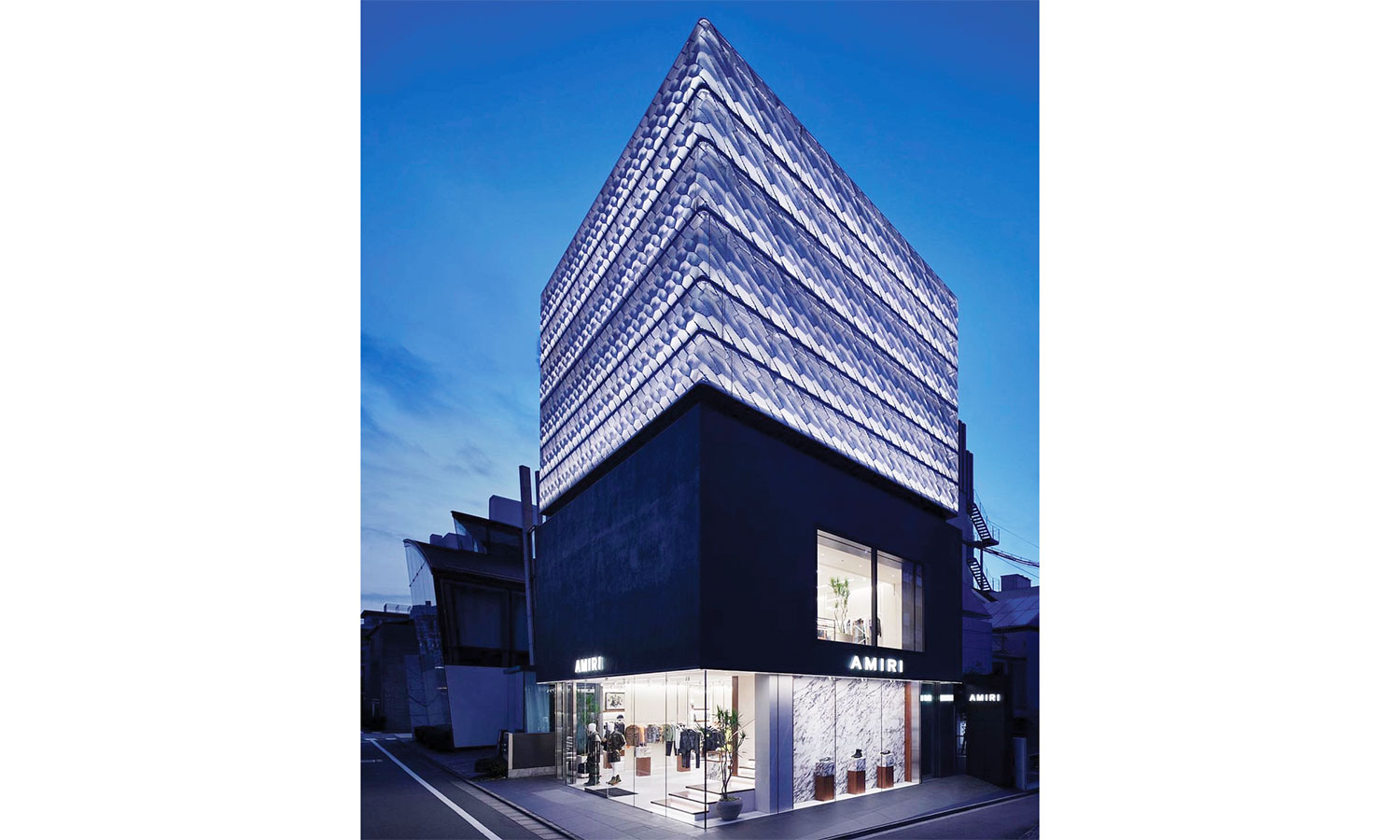 The international fashion entrepreneur and connoisseur, Renzo Rosso, founder and Chairman of OTB (Only the Brave) fashion group based in Italy with companies including Maison Margiela, Jil Sander, Marni, Diesel and a minority stake in AMIRI, states, "AMIRI is something unique. Mike is an absolute genius, and he has been able to create a brand, which has a soul, a distinctive voice and is recognizable among all the others. The project Mike had in mind and what he wanted to do were the factors that led me to believe in the project and invest in it."
Mike has a consuming passion for his brand, but it's not the only love in his life.
Married 14 years to his beautiful wife, Shirin, he is the proud father of three, daughter Kayla and sons Ryan and Jordan. Having to balance his business with his family life has forced him to make some hard choices, even sacrifices with respect to spending time with his children.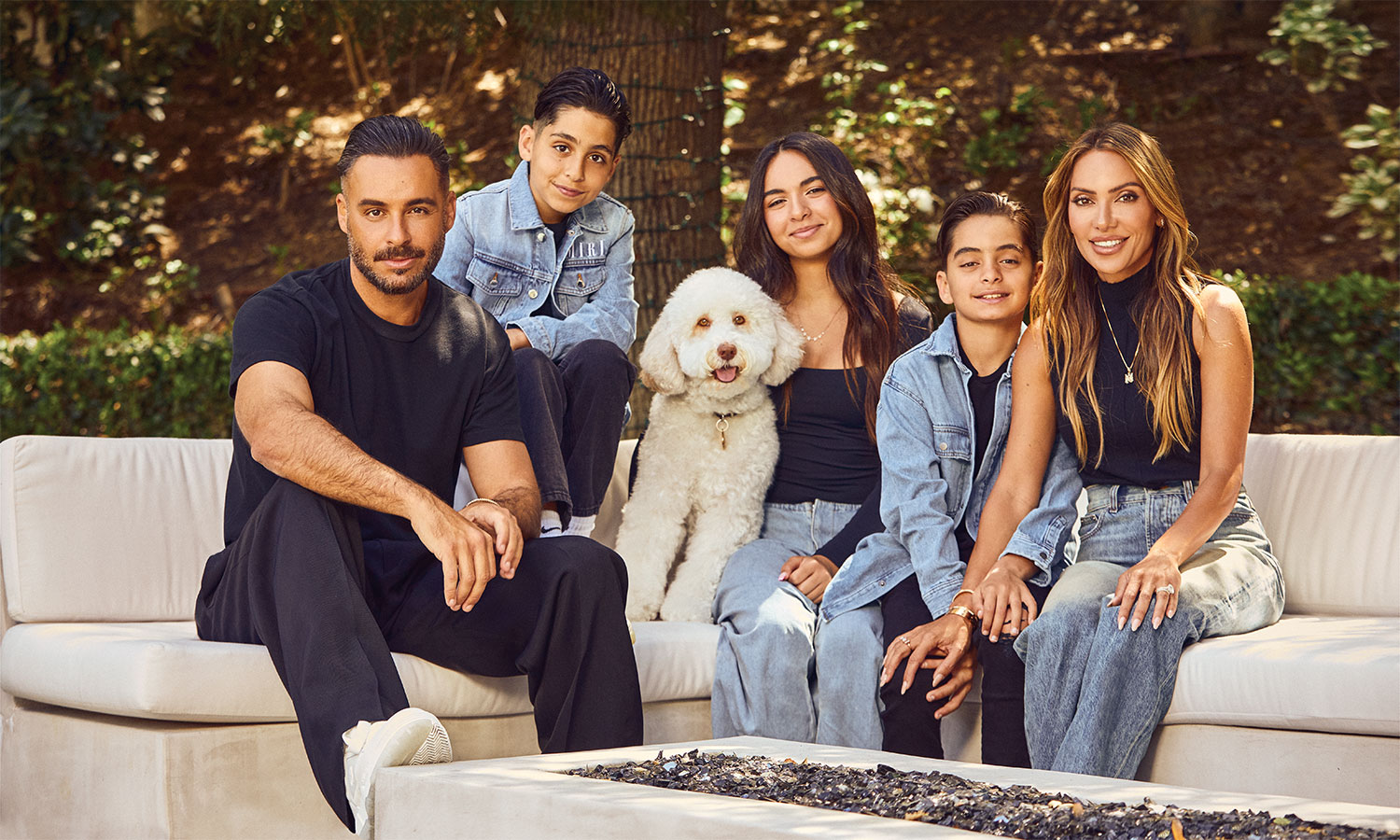 "I think in the beginning, when you're building something so grand, you have to be obsessed with it. It is one of your children, as well. I don't think there's any way to do anything so big if you're not completely obsessed. When they were younger, they did remind me of the things that I have missed. But once the foundational work was done in the company, I was able to balance out my time much, much better. And also include them in my world. It's not really a sore subject anymore. They hardly ever bring that up. They have a pride in understanding that I was able to do something that's very rare and uncommon."
Rosso added, "Mike and I also have a strong personal tie, and we try to spend some leisure time together with our families during the year. We share our perspectives, ideas and experiences, and I feel these are very meaningful moments for both of us. I strongly believe that family is a source of inspiration and positive energy for Mike; this is one of the most important values for him, and it contributes to his extraordinary creativity and passion."
After Mike's bow at the AMIRI Spring-Summer 2023 Paris runway show in the Jardin des Plantes, his children, along with Shirin, leapt out of their chairs and spontaneously rushed to their daddy to
congratulate him.
"The thing I heard most from people, 'My favorite moment in any fashion show was watching your son jump out of his seat and come hug you.' I heard that so many times. It's really great that the sacrifice was both theirs and mine. And the celebration is both theirs and mine."
For Shirin as well, she's been a part of AMIRI from its inception.
"I always tell people to surround themselves with people who reaffirm who they see themselves as. When we were first building this," Mike continues, "Our friends were all professionals with professional careers. I was an artist. I never felt I was a small artist. I always felt like I was more than I was at that time. Shirin made me feel that way. There has never been a difference between then and now. Not having even 100th of what we have now."
The AMIRI's aspirational scope has continued to broaden, thanks to Mike's ingenuity and forward thinking. Presently, the company designs in the California chic, relaxed, luxury space and not only for men. Forging paths and winning awards, Mike has led his company into footwear, womenswear, eyewear, childrenswear and lifestyle accessories, including leather goods and handbags.
Where does Mike find inspiration?
"When I first started making pieces, and they were stage pieces for singers, and these were the frontmen of bands, there was something heroic about them that you wanted to connect to in the clothing. Whether it was shaped a certain way, where it moved a certain way, where it shined a certain way. And I think [by] taking that sensibility and bringing it to the street level, you don't have to be a rock star to create that feeling of specialness, the confidence somebody can get from clothing. And so, when I'm drawing characters now, when I'm thinking about runway shows, I always say, 'Who's my hero this season? Where is he going? What era is he living in? How do I make that touch back to today? What would he look like today?' When I make sportswear or tracksuits, I look at Michael Jordan. I look at the swagger he carried. I look at the length of his shorts or the fact that his cutoff T-shirts stuck out an inch farther than his shoulders and how it created a strong shoulder silhouette."
Similarly, Mike describes the "AMIRI woman" as a hero, her own hero. He thinks of the male hero and the female hero as the same person.
"She carries that same shining glimmer that I want the guy to have on stage. She has the confidence, the femininity, but has enough strength to wear things that are traditionally masculine silhouettes."
Mike designs a lot of tailoring for women, like oversized suiting, while keeping the same principles of ease, comfort and luxury.
"I just love the way a woman looks when she empowers herself in something nontraditional. There's a certain strength to that. And it came when I started opening stores and noticing the women who would come with the men customers, grab [a] blazer and throw it on. And I'm like, 'Oh, she wore that. That was hers.'"
He also describes the AMIRI woman as confident, irreverent and effortless. With the completion of two full women's collections under his belt, including women's footwear and accessories, Mike believes he is on the right path.
But will the women's footwear match the success of the men's footwear division? In total, today's AMIRI footwear is almost 20% of the entire business. Again, Mike did not develop the footwear division traditionally by attaching a sports influencer to market the product. Instead, Mike forged his own path.
"Like our skeleton low-top sneakers, it feels like a casual sporty silhouette. But when you touch it, the leather is a true luxury leather, and the lining is luxury. And then the inside of the shoe feels like you're on pillows. It almost feels like the details of a handbag. And the art on [them] was really just created from things we did as skaters where you would write and draw bones on your shoes. So, it'll have the juvenile sensibility of the bones, but the execution of a luxury house."
Once again, Mike follows his authentic, creative formula, staying within the boundaries of the brand's identity.
"There's something special about using creativity more than capability. The second you lose the magic you had when you were by yourself in a garage or a basement is when the shine starts to dull."
To keep on the pulse, Mike welcomes collaboration. This is evident from his unique partnership with the contemporary American artist, Wes Lang, for AMIRI's Autumn-Winter 2022 Menswear and lifestyle collections. Mike was attracted to Lang's pedigree. Having established his first workspace at the Chateau Marmont, Lang built a global name for himself and shares Mike's innovative approach. Their collaboration is thought of as an exploration of the city's aesthetic heritage, reflecting the intersection of the worlds of rock, skateboarding, luxury, craft, art and glam — that defines Los Angeles.
Mike looks to create a buzz with his collaborations, to create something from two minds that would not exist otherwise. He hopes to do many more in the future.
Of all Mike's accomplishments, he's most proud of his efforts to pay it forward.
"I'm fully aware, and I'm in awe every day that we get to do what we do. But the purpose has to be more than building something really big for yourself."
Thus, he created the AMIRI Prize. It's a $100,000 award for the winning entrepreneurial designer who is granted a company-wide mentorship to help the winner understand the trappings of designing a brand. The award provides full transparency into AMIRI's successfully executed infrastructure. Most importantly, it enables a young, talented designer to create and execute a business plan.
"The big purpose of AMIRI is not to be the independent designer who created a luxury empire. It's to be an independent designer who helped spark a bunch of other independent designers to create a new generation of empires. I think that's the thing that excites me the most."
Promoting empathy is meaningful to Mike. This past January, he chose to bring awareness of the social injustices occurring in his family's native Iran. Following his Paris Fashion Week show, he appeared at the end of the runway in front of the most influential fashionistas in the world, wearing a black T-shirt that read in bold letters, "Woman, Life, Freedom." It seemed fitting as the platform was fashion, and the social injustice issue was ignited around traditional clothing.
"I felt a responsibility to use that opportunity to shed light and awareness, that whatever picture is going to be of me that will go around, it's going to make a statement that either educates people on what's going on or tells people that 'I feel you; I understand; I'm aware.' Maybe there's a part of it that we don't have power in changing things physically, but we do have power in creating awareness and acknowledgement."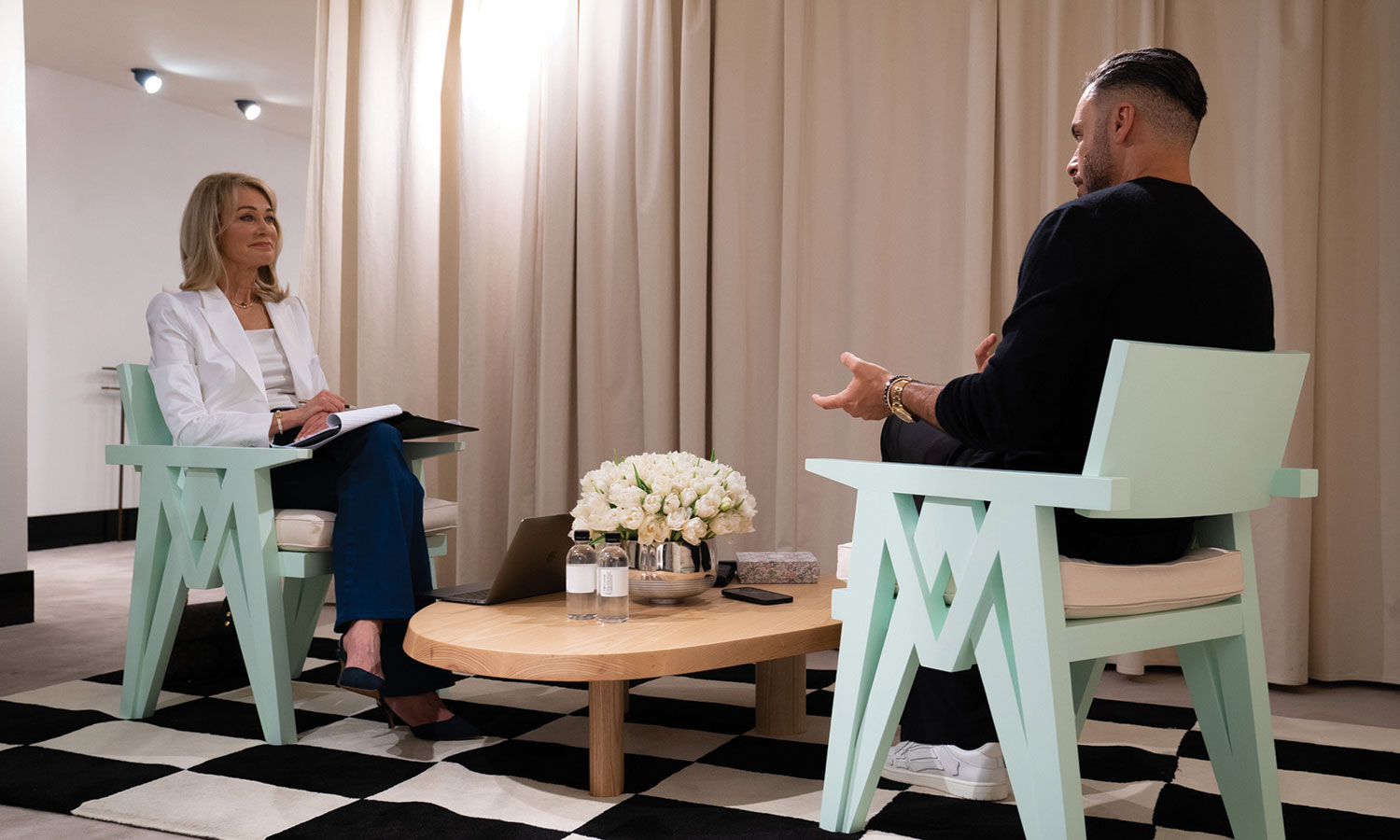 So, what's next?
"I'm just dreaming bigger. I always thought that you think big until you make it happen, then you realize there's something actually bigger that is in front of you, and you go at that, which seems impossible, but you make it happen and then you dream even bigger…"
Mike's well-versed in dreaming. He's been doing it his whole life.
"You have to [dream] because the end goal is not the reward. The reward is the journey along the way, and as soon as you think you've reached somewhere, that means your journey has stopped. So, for me, it's always something else because I'm obsessed with creating this path and this journey, and I don't want there to be a finish line."
Odds are, there will never be a finish line for AMIRI.
At the end of our interview, Mike walked me back through the store, continuing to answer questions about his designs hanging about. I listened to him proudly describe the workmanship in every item my eyes landed on, pointing out each exquisite detail and the California cool feeling it connoted.
As I pushed the front door open and was instantly transported back into the black-and-white gloom of the day, I found myself in awe of the world Mike has created.
What's astonishing is it was born from the boundless imagination of an intrepid teen, who haunted the rock clubs of Hollywood and the hallways of Beverly Hills High, and ended up on the runways of Paris Fashion Week.
His rise to the top was unorthodox. He rejected the standard career trajectories dictated by the fashion industry elite, skirting around the whims of editors and buyers, and chose instead to appeal directly to the masses. His monumental success in carving out his own space, on his own terms, within the luxury retail market has made him a unique visionary. And in the process, he's created a road map for other aspiring young designers around the globe to follow.
Mike turned a dream in a basement workspace off of Sunset Boulevard into an international luxury fashion house with a gleaming flagship storefront on Rodeo Drive. He did it his way. And if you ask him, he'll tell you, he's just getting started.