All discerning eyes were focused on downtown Los Angeles this weekend with the 71st Emmys Awards at L.A. Live, followed by the Governor's Ball on an event deck overlooking the once gritty area of town. 
In tandem with television's biggest night, Soho House opened its third west coast "house," Soho Warehouse in the L.A. Arts District, drawing an eclectic crowd. 
Targeting the Eastside creative community, the building's original loading dock door features a mural from DTLA-based street artist Shepard Fairey upon entering the Art Deco-meets-1970s décor of the largest Soho House in North America. Spanning seven floors with 48 rooms and suites, a gym, and three full restaurants, this 1916 warehouse was once a recording studio, among other things. 
"We've been wanting to open a House in downtown LA for quite some time," said Soho House Founder and CEO Nick Jones. "There are so many creative people and businesses downtown, and that's really the foundation for all of our Houses, the local community. L.A. is a big, sprawling city, so it's exciting that we're now able to appeal to creatives on the east side of L.A., who might have found West Hollywood inconvenient to incorporate into their daily lives. We want Soho Warehouse to be an extension of their own living space and part of the fabric of the neighborhood." 
During the years of disarray, the remaining brick structure was tagged and graffiti overtook the brick walls. As with the other properties, the space is all about the building, so the tags were masterfully left intact on the main club floor and interwoven with the sleek new marble tables and velvet sofas. Guests can grab a drink at the 30-foot rainbow mosaic stone Club Bar or lounge with a coffee in the Sitting Room, see a show in the Drawing Room or dine in the main House Kitchen which serves the best of Soho House hits. This includes a creamy, butter chicken with chewy garlic naan bread from the Mumbai, India house, along with perfectly charred lamb chops. 
Along with endless dining and drinking options, artwork plays an integral role in the overall design and is curated to represent and celebrate the local art community. The team collaborated with L.A. artists and local DTLA galleries, whose works are seamlessly woven throughout the property, along with hand-cut wood floors and custom furnishings in the rooms and suites. Another first for L.A., is the Soho Active gym with a steam room, sauna and class schedule, in addition to a sprawling ground floor Mediterranean garden restaurant space for eating, drinking, meeting and socializing.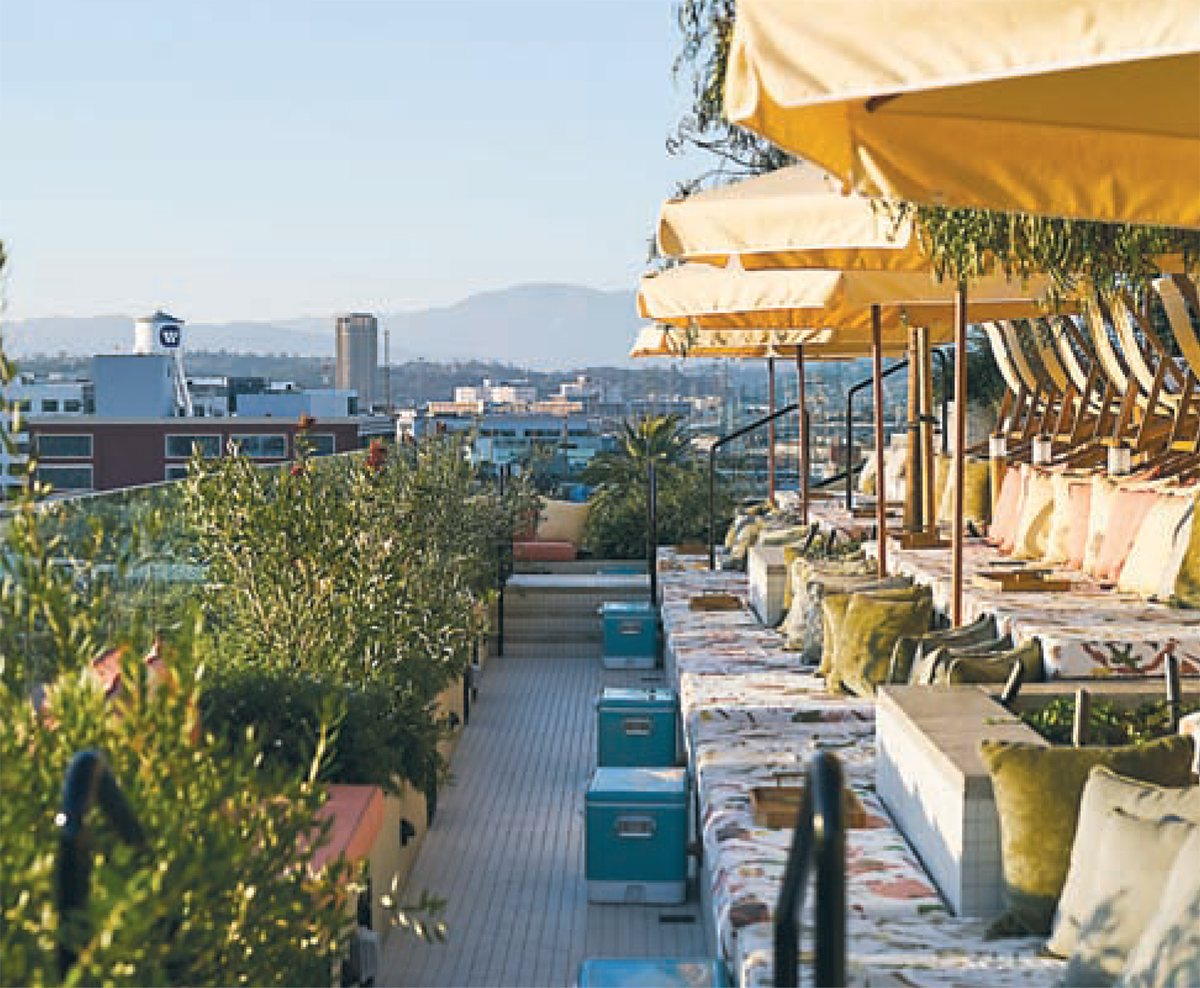 "Our goal is to bring people together to meet, have fun and create," said Samantha Stone, Group Director of Membership tells the Courier. "All of our Houses, no matter what city we go into, are a direct reflection of their communities. This is core to how we program the club and who our members are. That mixed group shapes and defines everything that happens in the House. At Soho Warehouse, our membership reflects the creative industries of downtown L.A. and the surrounding areas, from street art and fashion to music and design." 
That philosophy was apparent during the opening party. Sassy swimsuit models pranced around the rooftop pool during sunset competing with the downtown skyline views while guests ate "dirty burgers" and taro chips with guacamole near the Paul Davies mural in the dining area, and lounged on day beds encased in MoonCloth hemp fabrics by artist Ethan Lipsitz. 
Fashion for the night ran the gamut from combat trousers and ripped T's to edgy floral frocks and red PVC miniskirts plus the latest Gucci collection from neighboring Dover St. Market. 
Toward midnight, everyone crowded into the drawing room for a private concert with DJ Quest Love where he mixed Paul Simon's "Late in the evening" with the Stones "Sympathy for the Devil." 
Soho Warehouse opens to founding members on Sept. 30 and to all other house members and their guests on Oct. 14.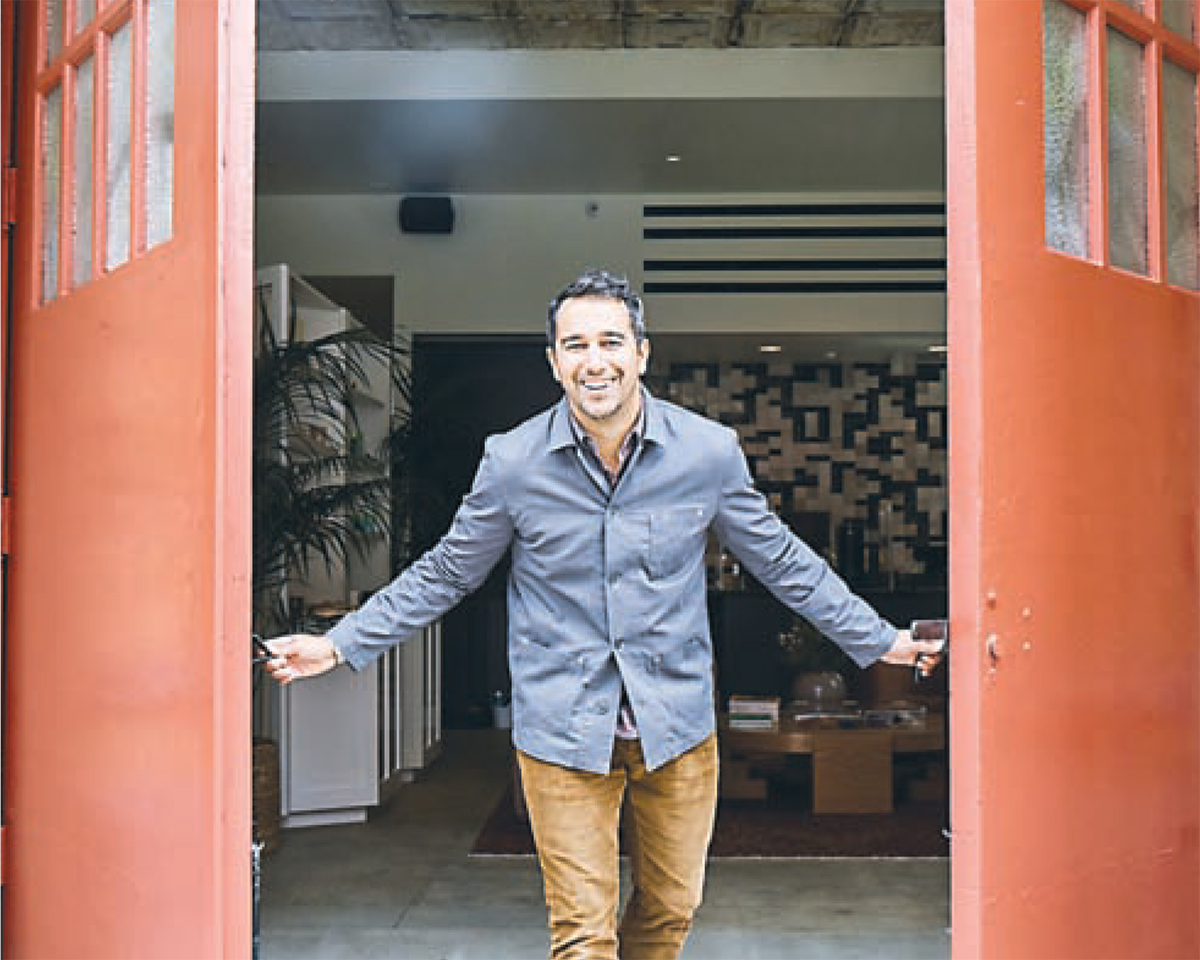 The Firehouse Hotel 
If the Soho space is too vast for your low-key weekend, just a block away is the area's first boutique property which opened this past spring. The large bright red double doors of the historic 1927 original Firehouse building now opens up onto Santa Fe Avenue adjacent to an industrial section of the Arts District that Bestia restaurant put on the map in 2012. 
Since then, Warner Brothers, H.D. Buttercup and Stumptown Coffee have all opened outposts on this block along with the Firehouse Hotel. Local hotelier and restaurateur Dustin Lancaster (Hotel Covell in Los Feliz), has turned the former home to L.A.'s Engine Co. No. 17 – along with architect Evan Raabe of Creative Space and designer Sally Breer of ETC.etera – into a stylish and color-coded nine-room property. Or as Lancaster summed up the hotel theme, "It's very much about L.A. love." 
Each of the unique accommodations is fully ensconced in the color theme from the painted walls, bathroom tiles to the furniture in a cornucopia of hues ranging from red to green and blue to black with the esthetic of a small loft or one-bedroom apartment with Smeg refrigerators. The experiment in colors was an exercise in pushing boundaries for Breer who had just gone through a beige period. "It is first and foremost about respecting the architecture," she added. Rounding out the splashes of color, Block Shop Textiles added bolster pillows and accent fabrics over the Parachute bedding and even handbag maven Claire V. (Vivier) designed the corresponding Italian leather tassel key chains for each room making this a full L.A. collaborative effort. 
Strolling into the mid-century modern lobby, the coffee-pastry counter, sleek marble back bar and rustic-chic dining patios and outdoor fire pit are on display. There are several alfresco options for enjoying the American-Mediterranean menu by executive chef Ashley Abodeely such as the eggplant parmesan sandwich or kale Caesar with a tangy celery Negroni.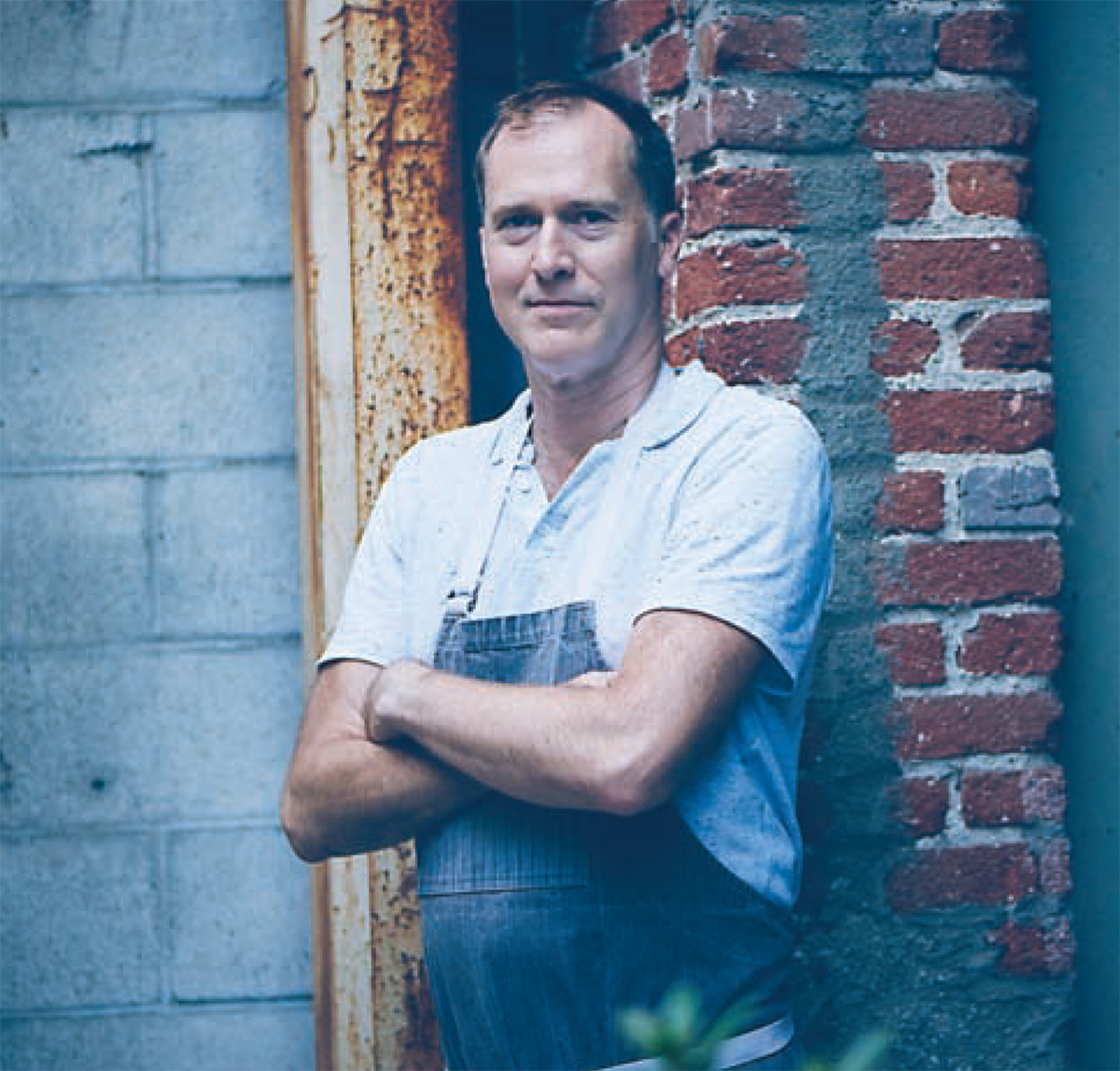 Bon Temps
This past summer, chef Lincoln Carson (Michael Mina Group and Superba) opened Bon Temps, an all-day dining venue next door to the Firehouse hotel. A patio is expected sometime this winter. 
For this long-time pastry chef's first independent venture, two kitchens were in order: One for savory brasserie fare with a California sensibility, and the other for baked goods such as a classic chocolate soufflé with chartreuse gelato and the famous French St. Honoré pastry. 
Not only is this neighborhood on fire, but so is the recent European pastry boom. "I think it helps that the Arts District is on a continued growth trend (as is much of DTLA), allowing for more diversity in business," says Carson. "Additionally, the nature of the neighborhood is such that independent thought and expression are not only appreciated but sought after. This ethos is also the cornerstone of pastry and pastry chefs." 
While it's easy to linger over the pastries, don't overlook the main menu. A unique selection of canapés for a sit-down meal includes uni caviar tartlettes, along with the starters of crisp pig ear Bibb lettuce salad or a stunning dish of sweet breads served with black trumpet mushrooms, celeriac, and asparagus. For a heartier palate, the two-bone, 45-day dry- aged Creekstone ribeye is served tableside with potato onion rolls. 
Designed by Arts District-based, Belgian-born Klein Agency, along with the project's lead architect Nicole Cannon (NCA Studio Inc.), the indoor-outdoor space makes use of the former Heinz loading dock with minimalist, reclaimed elements such as the weathered cognac leather banquettes. Adding more glamour is the custom 30-foot curved Carrara marble bar top which also displays the morning pastry before transitioning into a raw bar in the late afternoon. 
The bar program celebrates French drinking culture with Avant cocktails or aperitifs such as a crudité martini; Trou Normand, drinks meant to re-engage the appetite; and digestifs for the end of the meal. The wine list highlights biodynamic, organic producers. 
Coffee Culture 
If you're just looking for a coffee break that comes with more excellent pastries and food, head a few blocks away to The ROW DTLA. The Manufactory, Paramount Coffee Project, Go Get Em Tiger or Café Dulce is a great foursome for a long, lingering visit and all within the same complex. And, more great cups of Joe can be found Verve Roastery Del Sur on Mateo Street next to Bavel. 
Music Center Dining 
If you are going to a play or concert at the Music Center's new Abernethy restaurant has decided to use a rotating chef every three months. Right now, beloved Chinese chef Shirley Chung is in the catbird seat.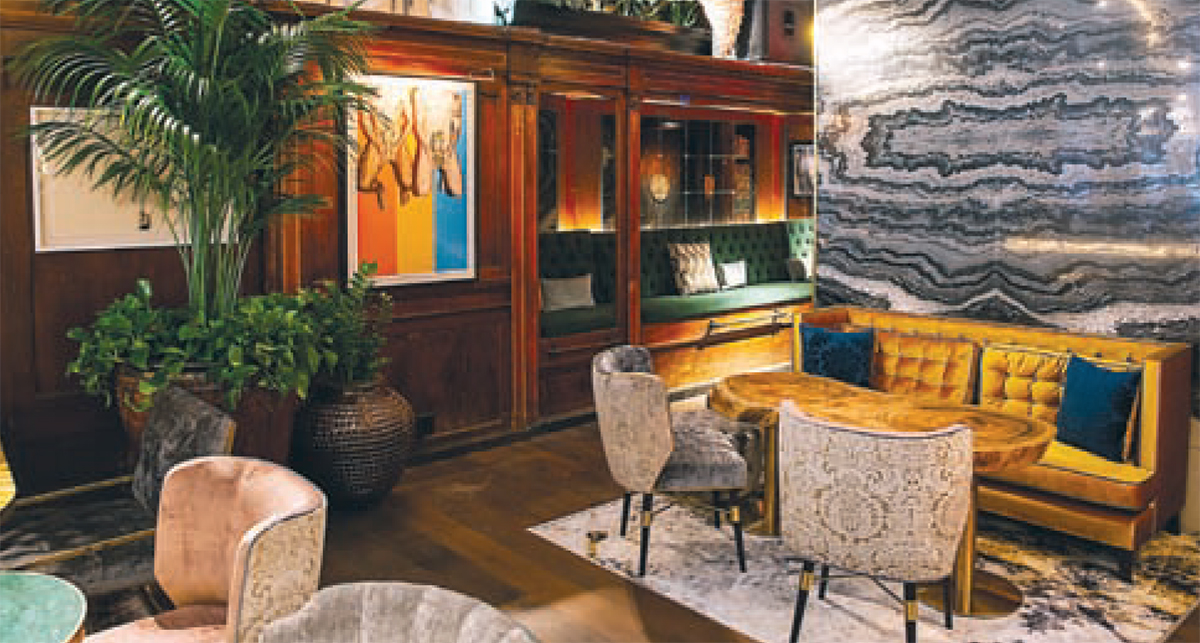 7th & Grand Area 
Around the corner from the Nomad hotel and ground floor bakery, the latest newcomer V DTLA takes over the old Mas Malo space, downstairs from Seven Grand Whiskey Bar, that was once the fancy Brock and Company jewelry store. Mary Pickford and Douglas Fairbanks were reportedly regular customers back in the Hollywood Golden Age. 
Billed as a "social dining hub" the dual- level space spans over 5,000 square-feet and is the U.S. flagship of the popular Stockholm, Sweden based company. According to Christian Lagerlöf, CEO and Co-Founder, "Los Angeles was a great fit for a concept like V due to the city's proclivity to welcome and cultivate creativity and new ideas, along with simply having more real estate space to work with than other major U.S. cities." And they specifically chose downtown as its cosmopolitan vibe is perfect for the type of hip, city dweller the brand appeals to. "In our opinion, Los Angeles is also the most exciting food city in America right now, so opening here was naturally an endeavor we were excited to embark upon." 
V's sister concept 18/89 (named after the year the Margherita pizza was originally invented) was recently voted the number one pizza in Stockholm. So naturally, Pizza is a must at V and pies are ready in two minutes, thanks to a custom- built oven from Genoa, Italy. One of the most popular choices already is one with red beet chips and chevre cheese. Another unique dish to try is their spin on a Caesar salad with salty pretzel pieces subbing for the traditional stale croutons. For a low-carb option, enjoy a strong white Negroni or a champagne cocktail with "edible diamonds" which are tiny sugar cubes that look like pearls giving a nod the building's history. 
While enjoying morning pastries from Mr. Holmes Bakehouse, head up to the mezzanine level and look down at design elements that include 40-million-year- old fossilized wood tabletops or architectural gems such as the original jewelry vault. 
Also new to this neighborhood, adjacent to V, is Mediterranean concept LeGrand that focuses on modern twists on classic Greek dishes. Brothers Chefs Alex and Chris Manos collectively worked at Providence, Gwen, and Melisse, so go for seafood or steak. Also, around the corner, is another all-day global concept by way of Australia, Joey DTLA. They make their own rosé wine by the magnum so it's worth a visit. 
Coming soon…
Another British Import, the Hoxton Hotel, will be opening on Broadway near 11th Street. It will include a stylish ground floor eatery and rooftop restaurant. Private co-working space NeueHouse from Hollywood will be opening in the Bradbury building. And, more great expansion news: one of our favorite chefs Ray Garcia of Broken Spanish returns with a new Trademark concept this fall in the Financial District with restaurateur Beau Laughlin (Atrium in Los Feliz.)