Traditional beauty and medi-spas are slowly transforming into wellness centers where bio-hacking (manipulating your environment) is the norm and LED color light therapy is used more for injury than post-facial injections. 
New to the RoxSan medical building on Roxbury and Santa Monica, AuraSpa Healing Center is an anti-aging medi-spa that encompasses a unique holistic approach to recovery and wellness through treatments such as LED Light, Hyperbaric Oxygen Chamber Therapy, IV Drips and more. 
In an area with a dense concentration of medi-spas, what is AuraSpa bringing to the beauty and wellness landscape?
"Our spa is considered a healing center based on the elements of air, water and fire," Dr. Ben Talei, MD, FACS tells the Courier. "We use a combination of homeopathic treatments to give our patients superior forms of natural healing. We love to employ a combination of hyperbaric oxygen, infrared LED light therapy and IV hydrational therapy or hydrating skin treatment." 
What they are noticing, is patients are seeking more natural treatments and homeopathic remedies overall. "Our Auraspa healing center gives them proven options that will improve body health and healing," said Dr. Talei. 
Turn on the Red Light 
One such option that is taking center stage is the LightStim LED bed. While LED is nothing new for facials, this device looks like a high-tech tanning bed that you lie on for about 45 minutes while the light therapy goes into effect on your entire body, rather than just your face. 
According to Dr. Talei, "It gives direct contact energy to the body. We know from prior research that LED has a substantial effect on chronic back pain. Using the device more and more we have noticed a greater variety of benefits, which include a decrease in inflammation, reduction of anxiety, improved healing and more rapid healing times." 
And, the sporting world has taken notice of the recovery benefits of LED treatment as well. "Athletes have been using hyperbaric oxygen, LED and cryotherapy (cold therapy) treatments to speed healing of injuries and help reduce overall body inflammation. They are so excited about these treatments that many have purchased these devices for use in their own homes," said Dr. Talei. 
(310) 288-0641 
Sign of the Times 
If there was any doubt that wellness has shifted into the mainstream beauty world, the former 'red carpet' spa at the Beverly Hilton hotel has morphed into the futuristic Upgrade Labs. 
Just off the palm tree-shaded pool, Upgrade Labs is a new health and fitness center offering high-tech "biohacking" experiences for the brain and body. Founded by Dave Asprey of Bulletproof, the Santa Monica based coffee and dietary supplement company, who is also known in the industry as the "Father of biohacking." 
The Recovery side of the operation features a full-body cryotherapy machine where your head is also enclosed as this will expose about 60 percent more nerve endings and in turn, jolt your immune system, lower inflammation, increase circulation plus help with sleep. "With cyro, we are simulating temperature response. You will be freezing for a few minutes but if you can tough out the cold you will get all of these benefits from it," manager Chris Heihn told the Courier. 
If you don't want to submerge your entire body into a freezing cold chamber, similar benefits are achieved with localized cyro treatments that target the foot, knee or arm. 
Chronic pain and inflammation seem to be the buzz ailments at the moment but how did these treatments become the must-have spa accoutrements? "A lot of it has to do with people realizing that health care and nutrition is sometimes not enough, so they are searching for alternative methods through biological responses [delivered by] technology, temperature or light therapy. Bio-hacking is anything that you can do to change your environment inside or out and see improvements," said Heihn. Other benefits reported are mental clarity and quicker recovery time which the lab is finding the best way to save time and achieve those results quickly by using technology. 
Detoxing therapies at the lab start with an Infrared sauna that heats up to 175 degrees, the Ozone steam sauna with oxygen or The Big Squeeze compression pants and jackets that stimulate blood flow and move the oxygen around in the body. 
PEMF uses pulse electro-magnetic field therapy to charge your body's cells like a battery which promotes bone healing and circulation to injuries. And, they also have a red and infrared bed which clients love for lower back pain. 
Popular with travelers, The Strength lab workout room has custom machines that will cut the time of your workout and maximize benefits in a short time span. For example, Smart sculpt with electromagnetic weights so you don't need to rely on gravity. "You'll exhaust the muscles much faster and it will be a much quicker workout," confirms Heihn. 
Joovv and Groovv is a vibrating plate to increase blood flow and bone density along with the Cold HIIT and The Vasper which combines interval training with cooling and compression cuffs that can be placed on the upper arms and legs to help build up Lactic acid. This is reportedly good for testosterone and hormone response plus estrogen and progestogen balance while helping to maintaining cortisol levels, or the stress hormone (the thing that makes your belly bulge.) 
Other tricks include what looks like a good old-fashioned exercise bike but it allows you to "sprint" in intervals of 40 seconds that will be equivalent to a 45 min jog. The Cheat Machine actually tricks the muscles into exhaustion giving your body a week's worth of exercise in 10-12 minutes. 
Not just for frequent travelers, locals can also take advantage of the monthly memberships. Starting at $500 for unlimited cryotherapy and up to $3,500 for a daily pass including a dedicated biohacker tech (aka personal trainer.) These experts can measure progress on cellular and physical level and come up with a game plan for recovery from jet-lag to a night on the town or weight loss. Individual treatments are also available at $175 each from a facial to a freezing or sweat session.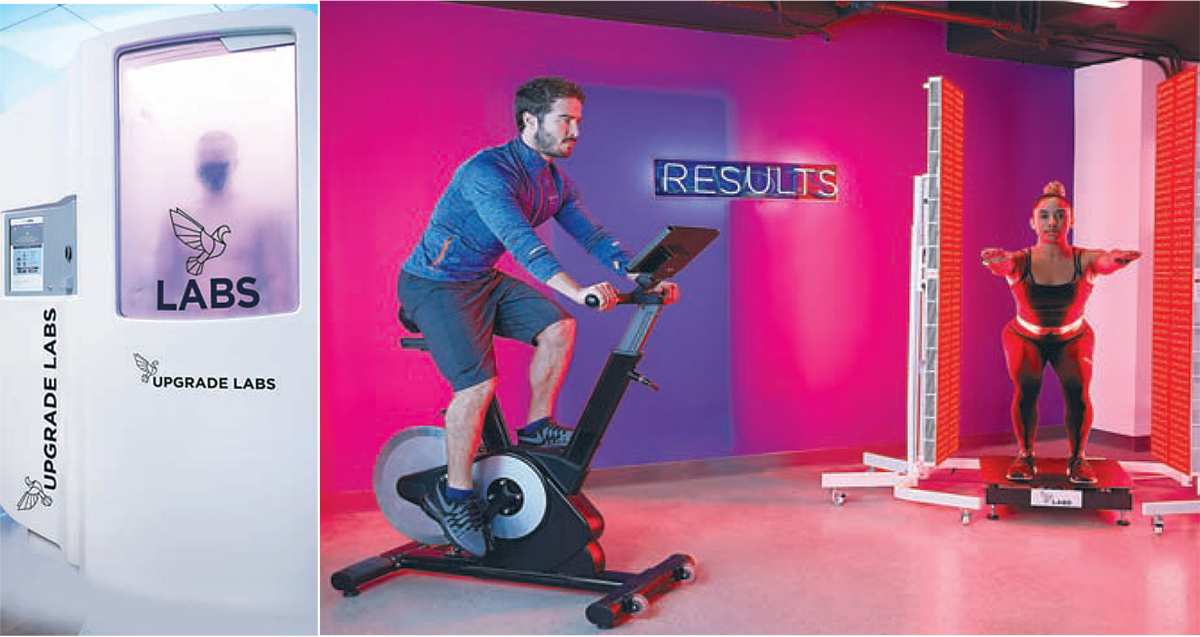 @upgradelabs
310-887-6048