There are not many venues in this city where you can find retired Motown musicians mingling with hip-hop kids from Paris over a sexy salsa or jazz band late on a Monday night. But if you head over to Riviera 31 at the Sofitel near the Beverly Center, you never know who might saunter into the eclectic crowd or jump on stage, such as Marc Anthony, Jamie Foxx or Stevie Wonder. 
"The level of international talent that I'm seeing here is amazing," says the newly appointed Director of Nightlife, Aidan Demarest. "The word is out among the musicians, singers, and artists to come and just jump in. It's really cool. There might be 20 people up there. I haven't seen music nights like this since the Knitting Factory with Joey Ramone jumping on stage. That was the last time that I was distracted from my job by the performances." And Demarest certainly knows a thing or two about how to ignite a room. The former actor from Boston is partially responsible for launching the entire downtown nightlife and cocktail culture boom several decades ago. From opening Seven Grand, The Edison and Spare Room at the Hollywood Roosevelt – among many other top nightlife spots around town, Demarest is a legend on the after-hours hospitality circuit. 
After dozens of consulting gigs and Brand Ambassador titles with El Silencio Mezcal and Elite by Stolichnaya to name a few, while creating drink lists for many other top bars and restaurants, Demarest has come full circle back to the Sofitel where he once worked as a bartender during his early acting days. 
While he's still shaking up the scene, it has changed considerably in the past 20 years. "Hotel bars, in particular, are the most interesting spaces right now," he says. I think in order to capture a younger demographic as guests, hotels got into the bar game and started providing first-rate entertainment. It's as exciting to me as when we were doing the same thing downtown 10-15 years ago in freestanding bars. We had to get very creative and look to other cities and trends around the world at places like Seven Grand and The Edison to get people downtown. L.A., in general, is such an exciting culinary and cocktail city right now I don't have to look far for inspiration and I love the competitive aspect of nightlife and hospitality, it's what makes new experiences happen." 
While Demarest created a name for himself with experiential cocktail rooms, many of those new experiences are happening right now at Riviera 31. From handcrafted mixology and entertainment from Jazz Eclectic Nights every Monday to energetic Salsa Nights each Wednesday, there is a continuous creative flow at Riviera 31. On the last Thursday of every month, there is a drag show called "Room Service," and the first Thursdays of the month brings art and DJ's on the patio. "It's a mix of downtown and Coachella with about 16 performers. The show can never just be the drink," he adds. "I have a good feeling about Beverly Hills nightlife right now," says Demarest. "Beverly Hills was always the perfect meet in the middle point for dinner in L.A. but the possibilities in nightlife changed so much when Uber and Lyft came into the mix, coming from Hollywood or the Westside and having a few drinks, watching a show or dancing is such a great experience without the risk of driving." 
Reflecting back on how the cocktail culture in L.A has evolved since Demarest first hit the scene, "We did what we predicted and raised the game and we made an imprint. People come here for all the reasons that you go out. But, it has become an accessible town and nightlife has gotten smarter. It used to be that you had to really find the cool places but now the expectation is that you are going to have a good bar and a band. Now I need Grammy award-winning artists on my stage and premium spirits served in the best glassware. My guests know this stuff now and you've got to be firing on all cylinders and L.A. is doing that now." 
His biggest surprise today? Honestly how well-traveled and diverse the guests are here [at Sofitel]. I have worked at what I considered smart locations all over town but the patrons here have kept me on my toes in terms of cocktail trends, wine, and spirits which I love to see." 
To that end, Demarest has added about 50 new spirits – 20 of which are agave-based, and launched a new health-focused cocktail menu with low calorie and less sugary liquor options and he is also experimenting and making syrups, apple butter, and agave nectar. "We needed to go Latin on the booze," he adds, "We already have high-end cognac on the list. I'm more excited about mixing in the tequila, mezcal, cachaca, and pisco in a beautiful way."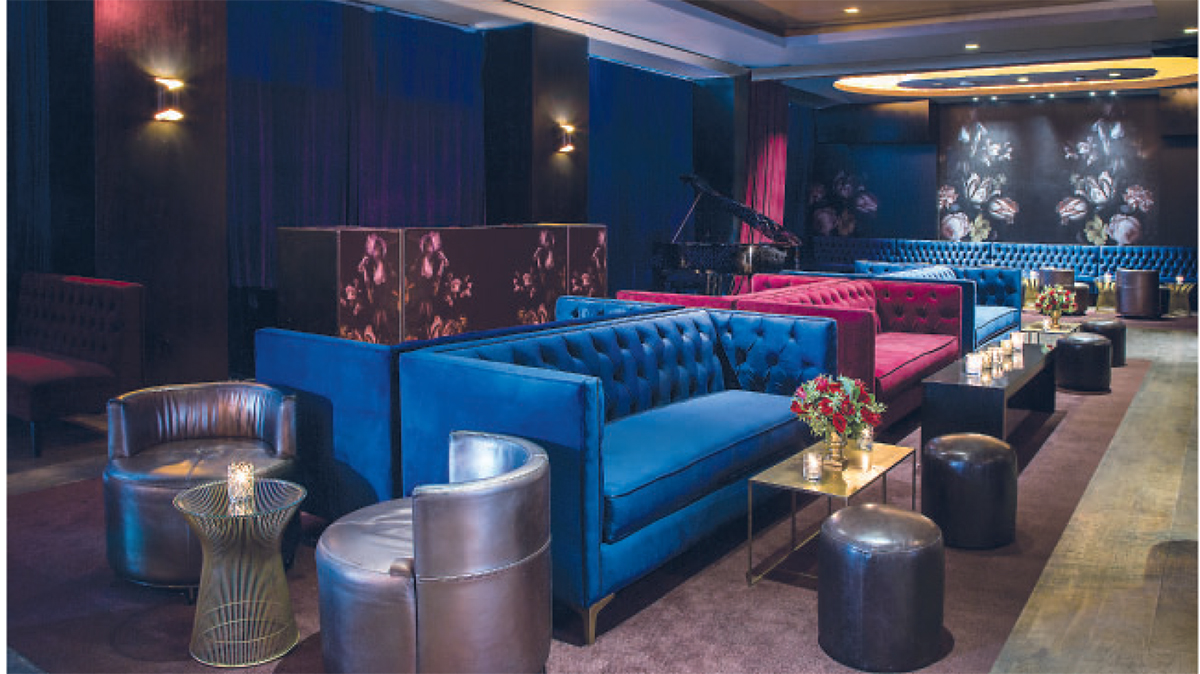 Key ingredients for that mix include kombucha, elderflower, turmeric and ginger with fresh peach, grapefruit and orange blossom with the feel of endless summer or an eternal sunset on the French Riviera. The menu was inspired by the Angeleno lifestyle surrounding all things health and wellness. The crafted "Indian Summer" cocktail collection offers both alcoholic and non-alcoholic drinks that are refreshing and light, the perfect guilt-free libations to take you into the holiday season and awards season. Demarest combines unique flavors with holistic ingredients that aim to engage and surprise the taste buds but also ward off hangovers or work for a cleanse. In a town where there is no shortage of gluten-free, vegan and clean-eating spots, Demarest has added cocktails to that list. 
Comprising seven drinks, such as "Tulum Bounceback" and "Yoga Deck," visitors can work up a sweat on the dance floor and detox at the bar. "The Enlightenment" is light and tangy using vodka, pomegranate juice, lemon, and elderflower liquor topped with sparkling wine. For kombucha lovers, the menu's reimagined Paloma, combines blanco tequila, grapefruit juice, habanero and kombucha. For those looking for an elevated mocktail, the 'Puff Down' intends to detox with key ingredients like turmeric ginger syrup and lemon juice. 
According to Demarest, "My intention with this new cocktail collection was to pair our mixology experience with our vibrant eclectic world music program while keeping it clean and sexy. Using fall-inspired earthly ingredients in light and fresh recipes, I created these cocktails to end the summer season and embrace late fall and early winter on a health-conscious note." 
But for a trendsetter like Demarest, this is nothing new. "I started working with what I called "Stealth Health" cocktails years ago to offset a busy and stressful lifestyle living mostly in bars. I found if there were anti-inflammatory juices and spices my "bounce back" was quicker. With everyone in L.A. considering what they eat and drink, it makes perfect sense that non-alcoholic drinks get more attention in a well thought out cocktail bar. We have a few specifically designed cocktails without alcohol, but all of our signature drinks are complex enough to drink without spirits. I've added kombucha, turmeric, and ginger syrups made in-house that blend amazingly well with vodka and gin but they hold-up the flavors on they're own. With the success of the Mind, Body & Spirit and Indian Summer List, we are keeping the good vibes rolling with our Winter list featuring many of the same healthful ingredients but adding deeper flavors with cinnamon, smoke, and spirits that make you feel like you want to sit by the fire after some turkey."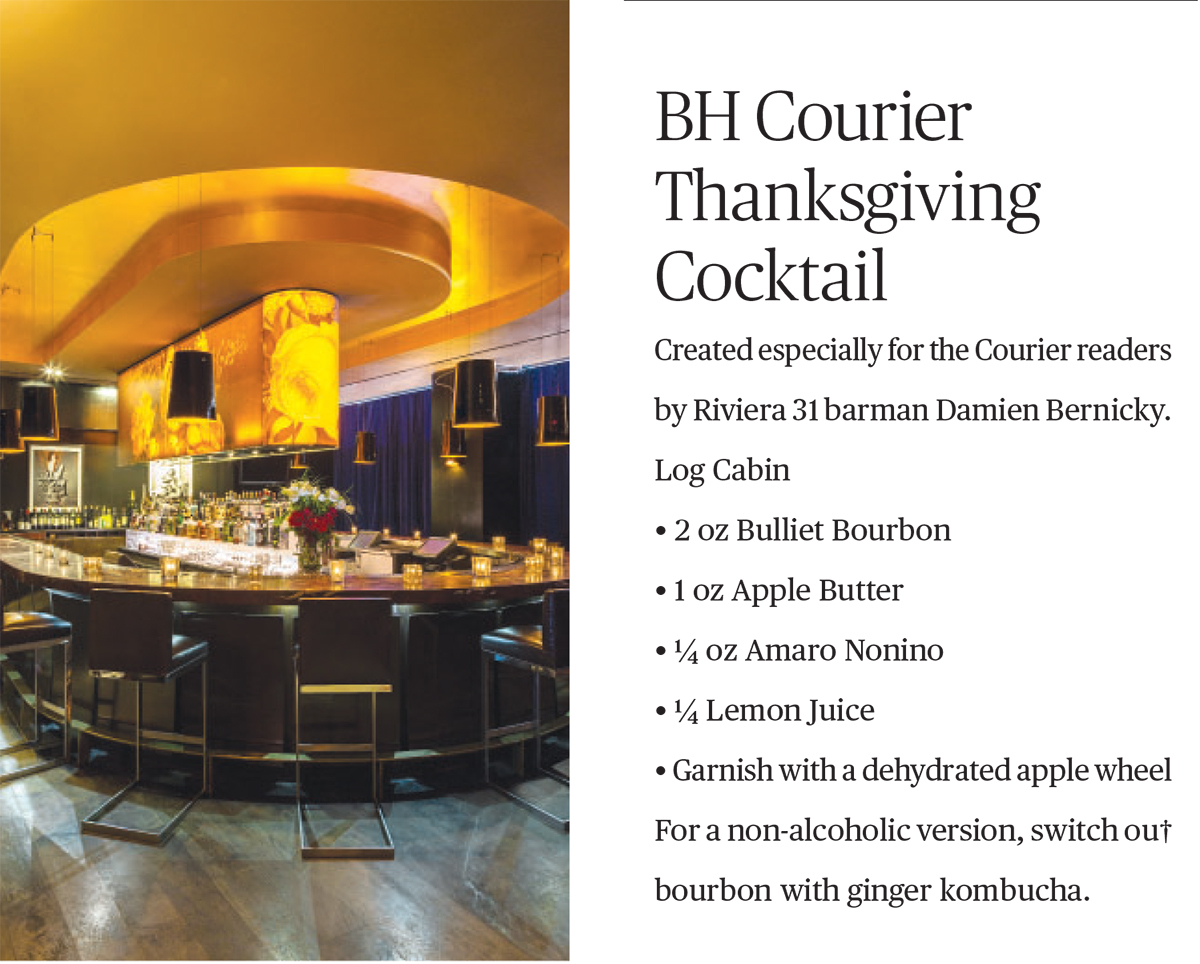 Other drinks high in demand include barrel-aged cocktails but also the kombucha drinks. "I'm pretty surprised at how many classics people are drinking. I guess all that hard work we did downtown paid off? In Beverly Hills and especially here at the Sofitel we have a strong international clientele so I've really tried to consider the beautiful flair the French have for design and culture of the space but infuse it with a very California flavor profile. We have some of the greatest produce, health-conscious products and wines in the world here but we are also an agave town. So, we may look French but we taste like California.