Opened earlier this year on the corner of Camden and Brighton Way, in the former home of teuscher, andSons is still a family endeavor. 
It all started in 1983 when Aviva Covitz began importing chocolates from Switzerland to Beverly Hills. Decades ago, her European chocolate finds were considered exotic. Aviva introduced customers and neighbors to ganaches, gianduja, and pralines. She also added a café and this little corner shop called teuscher became a chic local hang-out. 
Her two sons Marc and Phil Covitz took over the business in 2013, but the doors didn't open for their new concept, andSons, until 2019. 
The philosophy behind the brand along with the design, packaging, and chocolates themselves is all about bridging the gap between old and new, between a European heritage and the inspiration of a modern Los Angeles. 
andSons is now a second-generation chocolatier formed by two brothers who are proudly carrying on their mother's tradition but with a few new twists. "This is a big change from what we are doing now with the products and experience," Phil told the Courier. "Before we didn't have much say in how things were made or marketed. We wanted to make new products and do collaborations." 
One new twist and collaboration that is paying off, the best-selling chocolate is now made in-house at a facility downtown in the arts district by a former executive pastry chef from The Bazaar by Jose Andres, Kriss Harvey, who has been named one of the country's top ten pastry chefs. 
Some of Harvey's chef-driven chocolate recipes call for 15 or more steps which are all executed by hand with organic, all-natural ingredients sourced from local farmer's markets to specialty providers around the world. 
Chef Harvey specializes in two chocolate lines: classic is based on a French-style of confections which feature traditional flavors such as ganaches and pralines topped with subtle decorative elements; and modern showcasing bold and inventive flavor pairings inside distinctive and colorful hand-painted shells. 
Their packaging recently won The Dieline's prestigious packaging design award and reflects the brand's tradition and innovation along with luxury and surprise. Their playful side can be seen in their best-selling item – a turquoise blue finely ground Speculoos cookie with Belgian chocolate which looks like something the Cookie Monster from "Sesame Street" would eat but it's mixed with a light and elegant hazelnut praline and milk chocolate. 
Growing up, the sons learned not only an appreciation of fine chocolate but how to care for customers and the community. Today, they are proud to carry on the business by putting a new perspective on fine chocolate with their own kitchen to reimagine what they deem to be the world's most important food group. 
The new space is still tiny but packed with lively details. "The colors are meant to be modern, bright, and cheerful," said owner Phil under the monkey tree painted ceiling. Local Topanga based surrealist painter Maggie Washinburg added cocoa into the dark brown color used to the tree for a touch of realism. 
Superstar designer Nate Berkus collaborated with Lauren Buxbaum Gordon at Nate Berkus Associates for the bold, colorful, standout interiors, including the gold shelves, for his first retail project. 
"Working with andSons on the design of their store was a perfect fit for us because they have a 360-degree approach to what they do – from the quality and attention paid to the artisanal chocolates they create, to every detail that went into the store design," said Berkus. "We worked hard to encompass not only the history and the invention of the brand's modern evolution but also reflect their distinctly modern Californian approach to chocolate making. The store was a Beverly Hills institution, and we loved helping them reimagine it for this new chapter." 
Part of that fresh chapter is signature boxes that are new this year. They look like museum pieces with modern art shapes that open from the center and can be filled with a dozen favorites from the case (starting at $37). That case is teeming with European-style ganaches and pralines alongside contemporary hand-painted molded confections all presented in foil-stamped packaging. The two layers of flavors are subtle in one small square bite. "With traditional inspired European chocolates, you can see from the outside what will be on the inside," said Phil. 
Other modern flavors with more mysterious infusions range from yuzu verbena – which combines a white chocolate ganache with fresh lemon verbena, and a dark milk chocolate ganache with yuzu and lime, or Texas pecan praline with coffee ganache, roasted pecans and Peruvian dark chocolate infused with Counter Culture coffee. 
This is the sons first holiday cycle since they relaunched and here's what they have concocted for the rest of the year. For Halloween, there is an adorable collection of tricks and treats ranging from pure fruit raspberry ghosts with milk-chocolate shells, white chocolate candy corn with Spanish roasted corn, and bloody bones bars, which are a riff on a long speculoos cookie with white chocolate ganache. 
Perfect for a party, the speckled dark chocolate pumpkin is a hand-painted vessel that holds chocolate covered almonds and cranberries, raspberry ghosts and salted butter chocolate caramels when you break it open and the shell is also edible. 
For Thanksgiving, they will be crafting a molded turkey with bourbon ganache and closer to Christmas they are designing a holiday box with Nate Berkus, which brings them back to full circle on the new look. 
And, if you look closely again at those painted ceiling branches, the names of Phil's three boys were also added into the tree to resemble a carving. The hope is that they will be the third generation taking over the shop and continuing the sweet family legacy in Beverly Hills.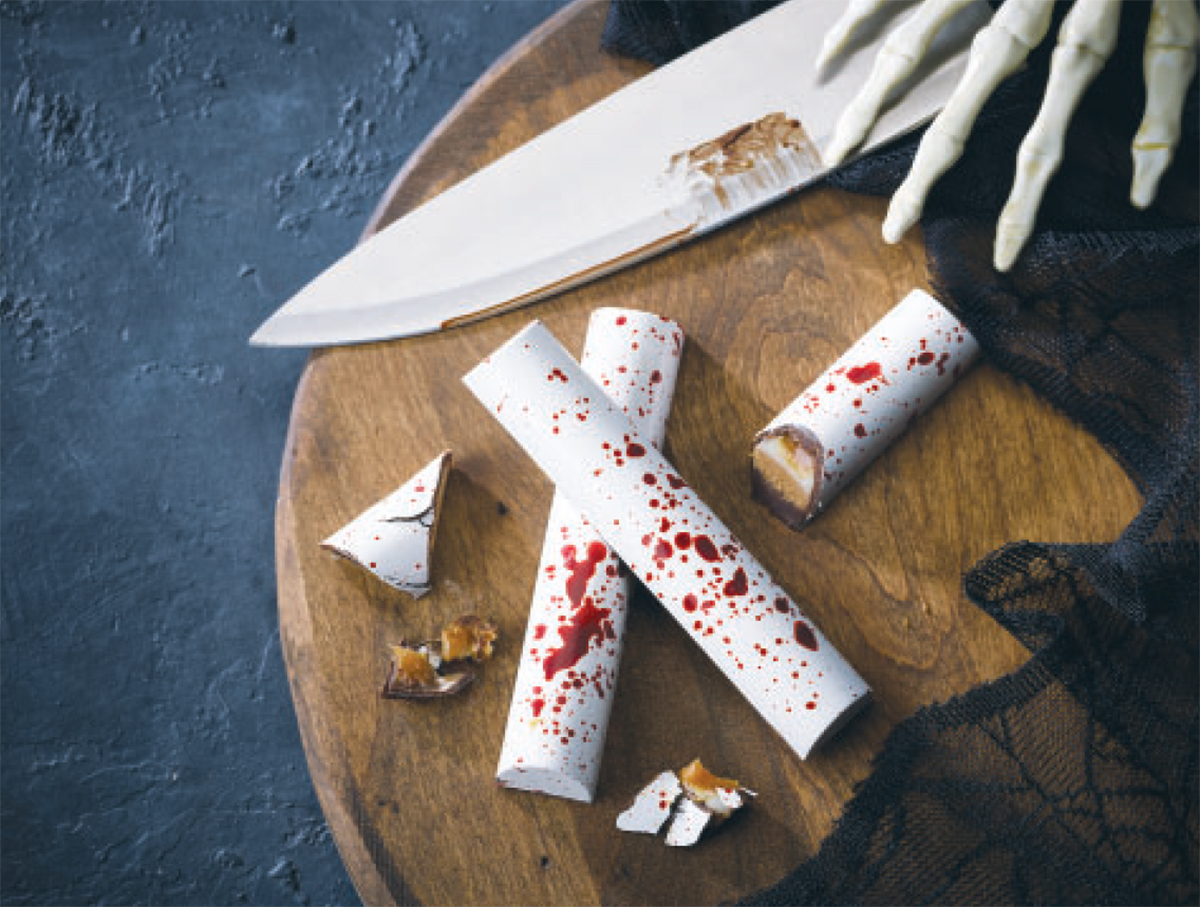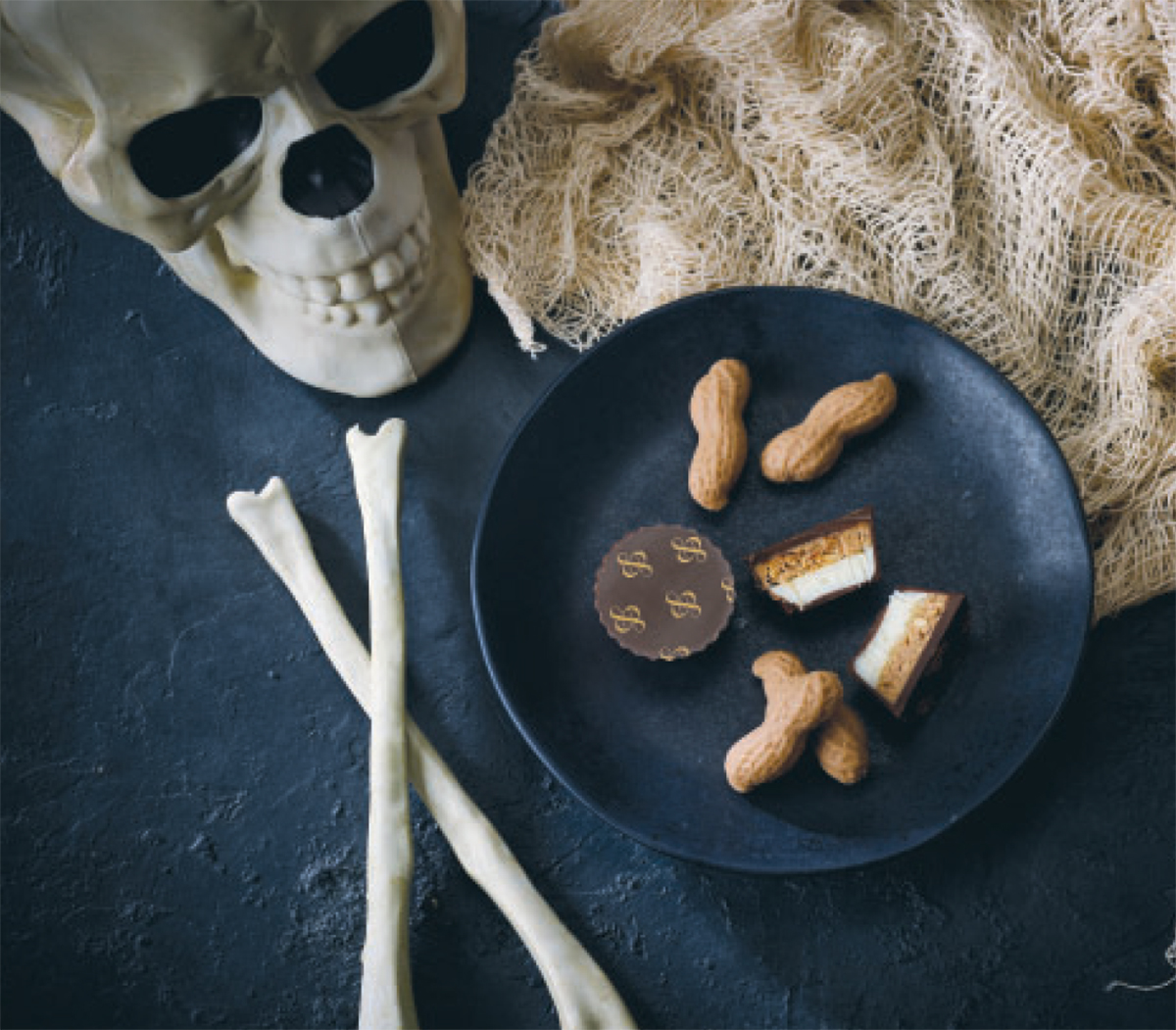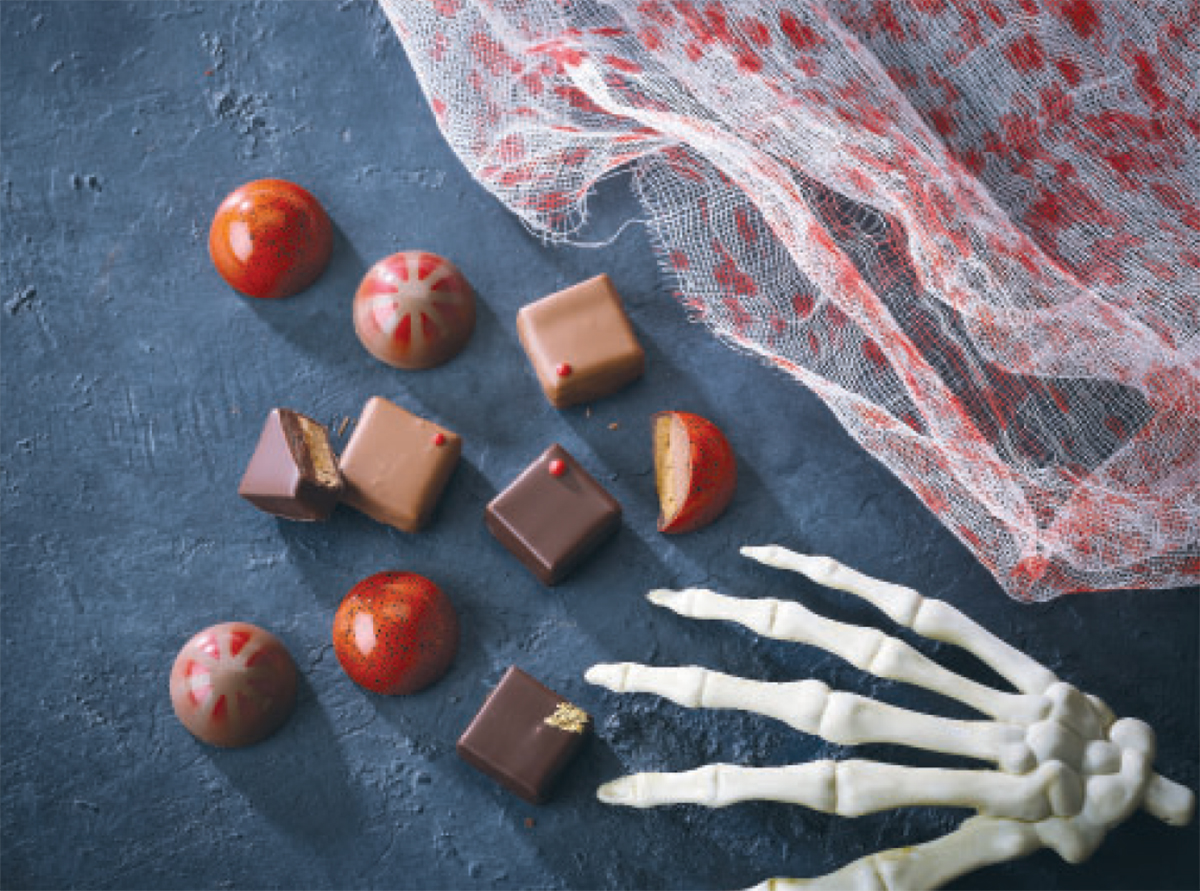 371 N. Camden Drive, Beverly Hills