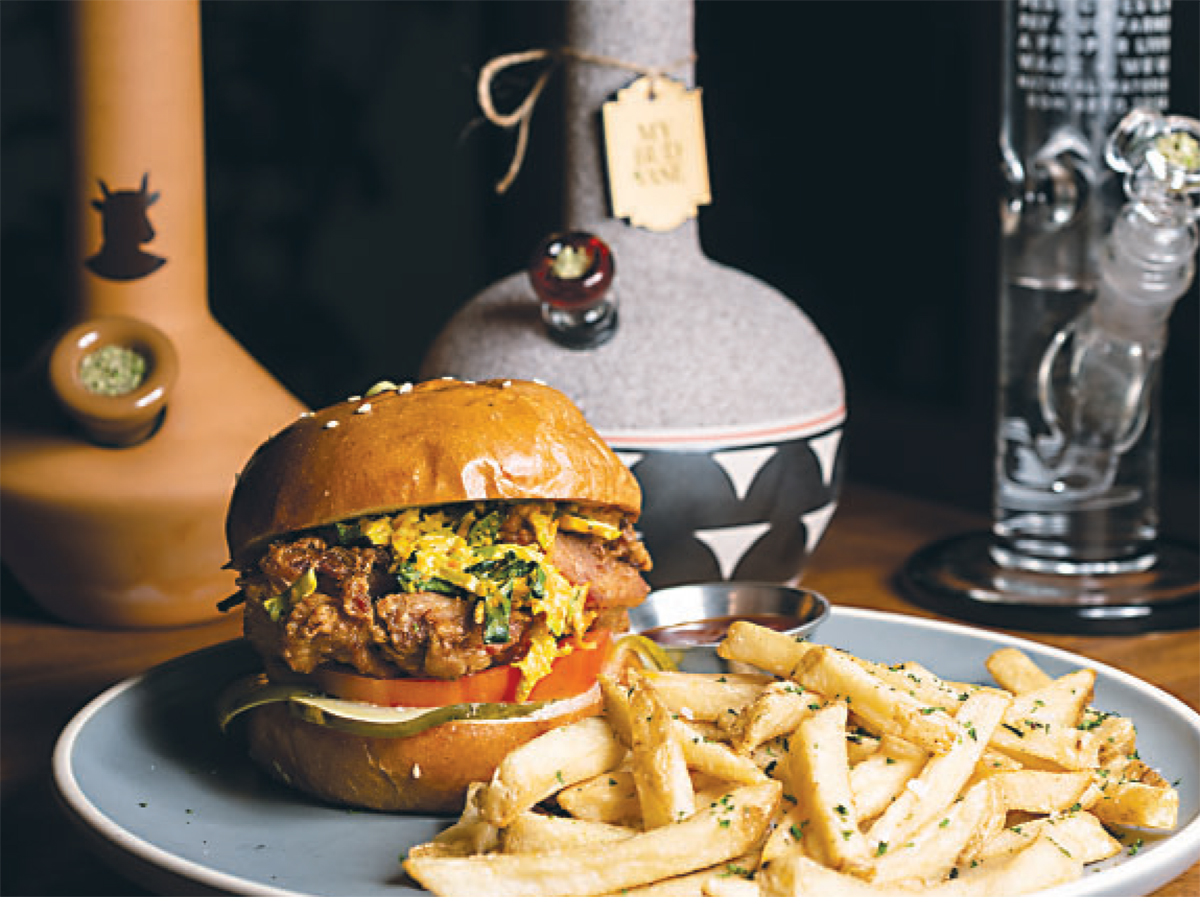 Checking out a cannabis cafe for the food is sort of an oxymoron, a bit like reading Playboy for the articles back in the 1970s. What can't be ignored is this new wave of fancy dispensary lifestyle shops opening in rapid speed along Melrose Avenue. According to the reps for Visit West Hollywood, another handful of these shops and cafes will be opening in the next year. The Courier decided to investigate this historic first foray into smoking weed while you dine. 
A line forms down the block on a Friday by 5 p.m. on an otherwise unremarkable strip of La Brea Boulevard. If you don't have a reservation, don't bother. There are plenty of serious consumers here but also a bevy of tourists and looky-loos. That is to be expected with the first legal restaurant where you can eat, drink and smoke weed freely. Even in Amsterdam, most of the historic "brown cafes" were for weed and coffee consumption only. 
This particular café is by Lowell Farms– which is a renowned farm-to-table outfit with a Cordon Blu-trained executive chef, Andrea Drummer, developing the menus, so don't expect typical stoner food. Chef Drummer is known for pairing different strains of cannabis with flavor profiles. Fans of her hand-crafted THC and CBD infused cuisine include Wiz Khalifa, and Chelsea Handler. 
Helping to bring this experience to life are brothers Mark and Jonnie Houston of Houston Hospitality (No Vacancy, Dirty Laundry) who wanted to create a destination for everyone to openly enjoy cannabis in the community. This is a place for those who are just curious to full-blown connoisseurs looking for a fun venue with a unique atmosphere which the brothers are famous for creating around L.A. and Las Vegas. 
The site is set back behind a fence and you do have a choice of valet but plenty of Ubers are also dropping off customers. Before you even get to the hostess stand, you are stopped to show ID which is entered into the system. 
The smell of smoke is very strong before even entering the space, so keep that in mind if you're sensitive to the aroma and think it's all being consumed outside and you might escape it with an indoor table. Not the case. The leafy outdoor patio space is ideal but hard to score a seat. There is also an indoor restaurant and bar but the best option might be sitting along the part of the bar area that has a window partition to the outside. That way you can experience both scenes from one perch. 
Once you settle in here's how it works: 
You will be handed a food menu by one server who will also take any drink orders (As of press time, they are still waiting for the liquor license.) A separate server will hand you the "flower menu" akin to a sommelier with a wine list but formal pairing menus are not really part of the vibe despite other reports. 
And, don't think you're going to save money by not ordering an expensive bottle of Cabernet. There is hash from 710 Labs that includes flavors from blueberry to "notes of strawberry mixed with diesel" and watermelon that run in the $150-180 range. If that seems excessive for a "first timer," you can also buy a single joint starting at $18.00. There is also a reasonable "Farm Fresh" selection by the gram. 
The two different menus are not just for logistics but a legality. According to the director of the restaurant Kevin Brady (last seen at the TAO Group in Hollywood), "This is per municipal regulations." 
Servers are extremely gracious and will also guide you through any purchases or decisions from lightweight to full blown intoxication and can go in-depth on stains, flavors and effects. You can consume the products by smoking a joint, pipe, using a bong or taking an edible gummy. 
"They do make recommendations should guests inquire per their cannabis preference and food preferences, but pairings aren't something currently written down [on the menu]," Brady tells the Courier. 
The atmosphere does invoke camaraderie with strangers or solo visitors as people are passing joints to the next table, "Have you tried this one?" And while, consuming on the premises is the mandatory goal, who's to stop you from taking an unused edible or unfinished joint home with you? One can imagine a "don't ask don't tell" policy might slip by the servers from time to time. 
But back to the food. Yes, there are some munchie items from chips and guacamole which seemed to be on every table, but the best dish from this snack section was the fried mac-n-cheese balls. Many other places serve this as a bar snack. This one was not dried out or soggy but perfectly crisp. 
You won't find pizza under the main dishes, but there are burgers and even vegan options. The popular crispy fried chicken sandwich was worth trying since it's trending at many other restaurants in town. There were also a range of salads. According to Brady, "The most popular dishes include vegan nachos, the smash burger, plus the vegan and non-vegan bahn mi." 
It's also worth a trip to the bathroom to view the collages with various scenes from movies and celebrities getting high. From a very young Mick Jagger backstage to Sean Penn in "Fast Times at Ridgemont High," there were many memorable and probably hysterical images if you have been partaking. 
But what if you're a non-smoker? There are options to keep you entertained as well. Once the bar is fully functional, there is no reason you can't go with a mixed group – those who want to get high and the others who just want a decent bite and a glass of wine on a lovely patio setting. This begs the question: will there eventually be "non-smoking areas?" Brady told the Courier, "We will be opening a non-smoking patio later this year for patrons who want to enjoy Chef Drummer's food without being around cannabis smoke." 
Clearing up a few common misconceptions: 
-This is not a venue where cannabis is actually in the food you are about to consume. 
-This is not a menu paring type of place. It's far more casual than that but the servers can make suggestions. 
-This is not a dispensary where you can pick up product to go. 
-This is not somewhere to take the kids. You must be 21 years old to enter, even if you are not smoking.
Location: 
1201 N La Brea Ave., West Hollywood