The Metro Purple Line is soldiering on, to the dismay of some business owners. The most recent Construction Community meeting was held on Oct. 17 and focused on the station artwork designs and community engagement activities this year. What follows are some important construction updates to keep in mind when planning for the immediate (and long-term) future. 
Latest developments: 
• Maintenance of Way Facility is complete. 
• The tunnel boring machines (TBMs) have begun tunneling west. 
• The Wilshire/Fairfax Station is being sealed in high-density polyethylene resin (HDPE). 
• Construction of the Wilshire/La Cienega station has begun.
The latest on the Wilshire/Fairfax station work schedule is that construction will continue until the second quarter of 2022. Also, project-wide tunneling will continue through the third quarter of 2020, testing will occur for a year, from the second quarter of 2022 to the second quarter of 2023, and revenue service will commence in the fourth quarter of 2023. 
Starting this month, Science and Technology Studies (STS) is proposing a full closure of Orange Grove Ave., south of Wilshire Blvd. for the duration of the entire project. The closure will support the excavation of appendage structures and successor activities. Community outreach, as well as to the relevant city agencies, has begun.
A tunnel investigation is ongoing through Jan. 2020. Additional investigation wells were installed throughout the summer, and STS just removed a K-Rail work zone in the area which had been in place since early September. As soon as the results have been analyzed, the work zone may need to return prior to the TBMs drilling through the area, possibly as soon as November. Through Jan. 2020, STS will be investigating the locations of two abandoned oil wells, and the work location is at Wilshire Blvd. and La Jolla Ave. in front of Los Angeles ORT College. Work will be conducted at night, from 8 p.m. to 6 a.m. with intermittent lane closures along Wilshire Blvd. to support the investigative drilling.
The Wilshire Blvd./La Cienega 
Blvd. station has begun construction and will continue to the third quarter of 2022. Project- wide tunneling will continue to the mid-fourth quarter of 2020. Testing will begin the third quarter of 2022 through the second quarter of 2023. Revenue service begins in the fourth quarter of 2023. 
Gale Dr. (north of Wilshire Blvd.) will be intermittently closed Monday through Saturday, from 6 a.m. to 10 p.m. (and may transition to overnight, pending City of Beverly Hills approval). Work hours in general are expected to increase in the La Cienega and Gale staging yards and are expected to continue 24 hours-a-day. The increased hours will support station construction activities within the staging yards and underneath Wilshire Blvd. The closure is a public safety measure due to high volumes of ingress/egress from the property. Material deliveries to the Wilshire/La Cienega Station Box began this month. In good news, access to N. Gale Dr. will be maintained from San Vicente Blvd. 
Concrete and material delivery to Wilshire Blvd./La Cienega Blvd., which began this month, continues. Evacuation is complete and work at La Cienega Blvd. will transition to the aforementioned concrete and material deliveries into the station box. This requires intermittent traffic control on Wilshire Blvd. between San Vicente and La Cienega Blvd. These activities are ongoing through the project's construction phase, for approximately 30 months.
Real-Life Traffic Consequences 
Between 7 a.m. and 4 p.m., Wilshire Blvd. between San Vicente Blvd. and La Cienega Blvd. may be reduced to two lanes in each direction. 
Between 9 p.m. and 7 a.m. Wilshire Blvd. between San Vicente Blvd. and La Cienega Blvd. may be reduced to one lane in each direction. Work activities will begin at 10 p.m. 
Left turns from Wilshire Blvd. to side streets may be restricted during lane reductions. 
More Construction News 
Wilshire Blvd./La Cienega Blvd. Station construction will take place on Wilshire Blvd. between La Cienega Blvd. and San Vicente. Mitigations include sound blankets on heavy equipment. Nylon straps will be used to pick up rebar, and when possible, to pick up other materials. Low-impact backup alarms are installed on official vehicles on location. And Metro will provide alternate parking while the parking meters on Wilshire Blvd. are affected. 
Replacement parking locations include one-hour free parking at the garages at 8447 Wilshire Blvd, which can be accessed from N. Hamilton Drive and 8350 Wilshire Blvd., which can be accessed from S. Tower Dr. 
The parking program is available from 10 a.m. to 3:30 p.m., Monday through Friday. Mention "Metro" when entering the garages to receive the first hour free. 
A five-foot-tall slab of concrete will be installed for the floor of the Wilshire Blvd./La Cienega Blvd. Station, with an estimated completion date of April 2020. 
Upcoming Work for Wilshire Blvd./La Cienega Blvd. 
Throughout 2019, expect intermittent lane reductions on Wilshire Blvd., La Cienega Blvd. and side streets during off-peak hours to support installation of geotechnical instruments in the area. 
Intermittent lane reductions on Wilshire Blvd., west of La Cienega Blvd. will support coring survey work under Wilshire Blvd.
There's Still More 
Cross Passage 12, Wilshire, west of S. Rimpau, will continue concrete support. The K-Rail work zone, which will be in place round-the-clock for 10 to 12 months, at Wilshire Blvd./ Rimpau, will support concrete and material delivery into the tunnel alignment. Most work will be at night, noisier activities during the day. Similar implementations will be in place at future locations for tunnel alignment, details of which locations will be available in construction notices and community meetings. 
At Wilshire Blvd. and Sycamore Ave., an antenna will be installed.
Some details of interest about the steel pole: It will be slightly more than 62 feet above the concrete base; less than 12 inches in diameter; In very close proximity (300 feet maximum) to the underground station's communications room (at the east end of the Wilshire/La Brea Station). 
The location of the antenna will provide connectivity to the various emergency response agencies' other local and mountain top radio transmitter/ receiver sites. The location allows the Purple Line radio system to have the coverage it requires for all users, including Metro Operations and Maintenance; public safety agencies, such as police, fire, sheriff, and Transit Security in the underground stations and tunnels.
Arts and Design Goals 
The MTA has set forth specific arts and design goals for the station. Namely, to transform and heighten the customer experience; connect people, sites and neighborhoods through site-specific artworks; provide opportunities for a range of emerging, mid-career and established contemporary artists to contribute to L.A. County's artistic vibrancy and cultural legacy through a diverse program of temporary and permanent artworks; and create durable, maintainable artworks that, over time, will become community landmarks. 
Multi-media artwork incorporating glass, porcelain, enamel and steel will be located at the station entrance portal, station entrance escalator landing wall, station concourse and platforms. Metro Arts and Design estimates that the installations will take place in 2022 to 2023. 
Business Interruption Fund 
To demonstrate that the MTA is aware of the effect on businesses, the MTA Board has authorized the creation of a Business Interruption Fund (BIF). 
The BIF provides financial assistance to qualifying small "mom and pop" businesses directly impacted by construction. 
The Courier reached out to MTA spokesperson Dave Sotero, who provided some helpful information about the BIF. 
"Grant amounts are determined through a financial analysis of loss of business revenue directly related to the period of construction disruption," Sotero explained. He added, "To be eligible to apply, small business owners must meet certain eligibility criteria." 
Sotero continued, "Metro's Board of Directors authorized the Agency to designate $10 million annually to be used for implementation of the Business Interruption Fund. Businesses may file multiple requests for financial assistance through the BIF; but in no event will the amount paid exceed the lesser total amount of $50,000, or 60 percent of annual business revenue losses per business." 
The BIF is obviously an important resource for Beverly Hills, which greatly values its small businesses. 
"Transit rail construction can mean growth opportunities for small 'mom and pop' businesses located along transit corridors; however, transit construction also can be challenging for small businesses," Sotero admitted. "With the establishment of the BIF, Metro can provide financial assistance to directly impacted businesses through grants to cover certain fixed operating expenses." 
Additional details for those interested in apply for a grant from the BIF are available at metro.net/bif. To apply, visit Metro's program administrator, Pacific Coast Regional Small Business Development Corporation (PCR) at https://na01.safelinks.protection.outlook.com.
Station Name Outreach 
In an effort to further engage the public in the construction process, MTA conducted an outreach from June to September 2019 to ask for input on station names for the Purple Line Extension Section 1 subway stations. Of the 475 responses, the following were the top five responses: 
Wilshire/La Brea
La Brea (27 counts)
Miracle Mile (69 counts) Miracle Mile East (12 counts) Tar Pits (12 counts) Wilshire/La Brea (47 counts) Wilshire/Fairfax
Fairfax (20 counts)
LACMA (13 counts)
Miracle Mile (23 counts) Museum Row (60 counts) Wilshire/Fairfax (59 counts) Wilshire/La Cienega
Beverly Hills (12 counts)
La Cienega (34 counts) Restaurant Row (27 counts) Sister Unity (13 counts) Wilshire/La Cienega (90 counts)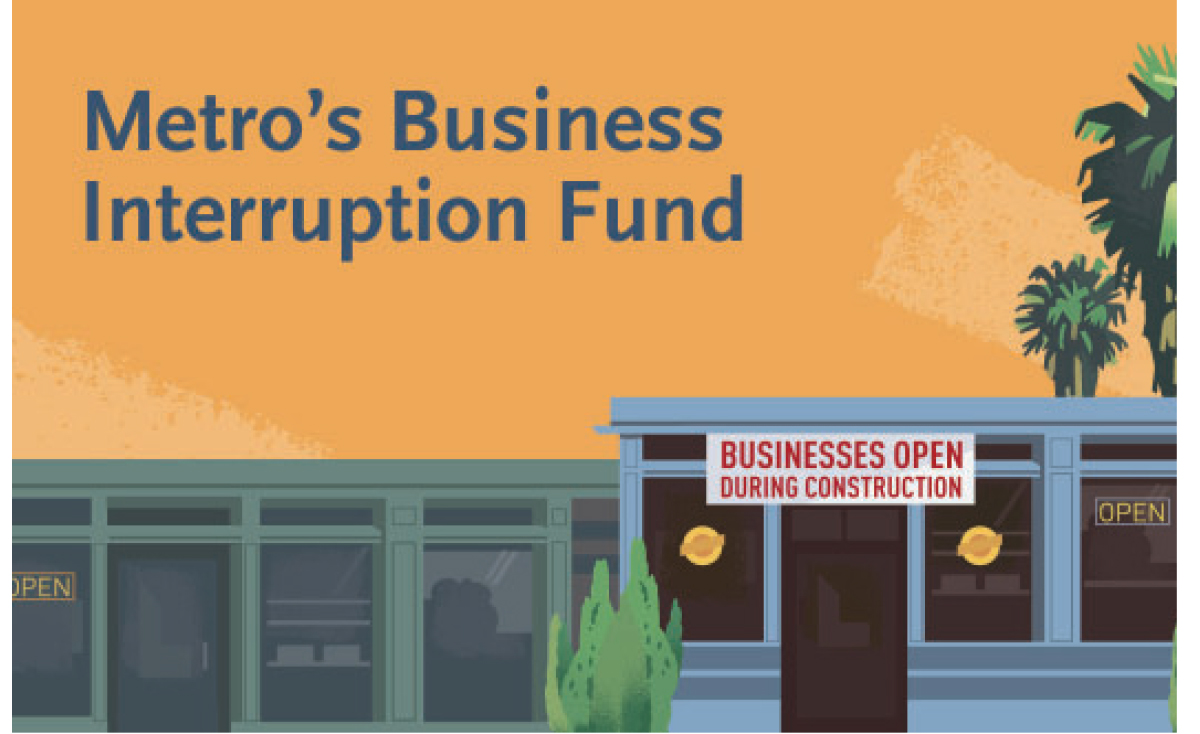 https://bit.ly/2BFbnXD.
Residents should also know that ongoing construction may have relocated bus stops or changed bus routes. For information on the changes to service, call 323-466-3876 or visit https://www.metro.net/service/advisories/#/.