Community News | News
BOLD Holiday Season Returns to Beverly Hills
BY Laura Coleman November 15, 2019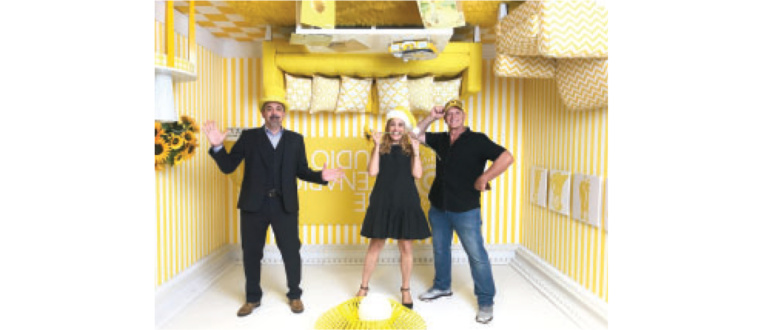 Reading Time:
2
minutes
In an era where digital influence means considerably more than just pixels, retailers, cities and most anyone with a smart phone are doing everything they can to stay relevant in this fast-paced world of social media. 
Keenly insightful about the power of an Instagram post as a marketing tool, the Beverly Hills Conference & Visitors Bureau is bringing an interactive photography pop-up experience directly to Rodeo Drive in tandem with this year's BOLD Holidays (Beverly Hills Open Later Days). 
"We are certain that this will be such a popular installation that will bring even more visitors to our City," predicted CVB Chief Executive Julie Wagner.
Produced by The Scenario Studio at 262 N. Rodeo Dr., the photography pop-up will be open throughout the BOLD holiday season (Dec. 21), seven days a week, only closing for Thanksgiving Day. 
With five photo opportunities, from a lemon yellow "upside down" room where visitors appear to be dancing on the ceiling in a nod to Fred Astaire in "Royal Wedding" to a detailed homage to "It's a Wonderful Life" where visitors can decorate the Christmas Tree, pretend to play the piano or even make a toast with a pair of coupe glasses, opportunities to capture a striking image – and post it online – abound. There's also a scenario set in Santa's workshop, one featuring a koi pond where visitors can dress in attire to blend in with the scene, and another with a vintage photograph of Palm Drive that sets the stage for visitors (in living color) to look like they're in an old film or TV show. 
The key to a perfect photograph, according to John Ganun, the man behind Scenario Studio, is lighting. 
"The end result is the photo looks almost magazine quality," Ganun says of the process he developed about a year ago. "What I find amazing about it is the average person can learn how to do it." 
Very low-key and approachable, Ganun is actually one of the most sought-after photographers for A-list celebrities, recently capturing the 40th birthday bash of John Legend, who just this week was named People's "Sexiest Man Alive" in 2019. 
Presented by the City of Beverly Hills in partnership with the Beverly Hills Chamber of Commerce, the Beverly Hills Conference & Visitors Bureau and the Rodeo Drive Committee, BOLD Holidays 2019 kicked off yesterday evening, Nov. 14, with a captivating lighting celebration along Rodeo Drive, fireworks, and a performance by Broadway star Matthew Morrison, in addition to other activities. 
BOLD Holidays continues throughout the holiday season with special programming – from impromptu music and acrobatics to dance at popular crosswalks of Rodeo Drive – every Friday and Saturday night through Dec.21 from 5p.m. to 8 p.m. For detailed event information, visit: http://lovebeverlyhills.com/boldbh.