Brooklyn-born Ian Schrager looks right at home in the massive sleek penthouse of his latest hotel and residences that overlook the city skyline. In a white polo- style t-shirt and jeans, he's embracing the California cool vibe but not when he starts to talk about the hotel business. During a rare one-on-one with the hospitality magnate, we found out that he's still as passionate as ever about the hotel business and his "secret sauce." He's also examining the cutting edge of tech and is still skeptical about downtown L.A. 
BHC: Why did you want to come to L.A. at this time in your career? IS: I'm in an opportunistic business and I saw an opportunity here with this location. It had been owned by somebody else. They were going to do a hotel but it didn't pan out. It became available and we went right after it. 
Why are you excited about the corner of West Hollywood on the border of Beverly Hills particularly? You could have opened downtown or in Santa Monica. You know, I wouldn't open up downtown, I'm not convinced about it yet. I mean, I'm convinced about downtown flourishing but I'm not convinced about all of the hotels. 
You're not? The Hoxton just came in and the new Soho House. No, I'm not. Maybe they know something that I don't know. But I'm not ready to do something down there. I don't think the hotels down there are doing well, except for the ones that Marriott has that are near the athletic facilities. I think it's going to eventually get there. People have been talking about it for 40 years. It's finally happening. It's a great place for people to live, it's a great restaurant scene. I don't know, I'm not convinced yet for hotels. When I think about coming to L.A., I think about either seeing movie stars or seeing the ocean. So to me West Hollywood is a unique place, one of the only places that has a street life and the hotel is on hallowed ground. It's where the restaurant Scandia used to be, it's where Frank Sinatra used to hang out. Geffen Records, then it was called Asylum Records, is where the California sound got started. I came out here in the late 60's when I was in college and the place was packed with kids. It was almost as if the country leaned over and everybody rolled into California. It was like a Mecca, UCLA, everything, and it was a very, very special place. Then the country kind of tipped back and everybody rolled into New York just in time for Studio 54. I came out again in the mid 90's and opened Mondrian and that started a second wave of vitality for this place. You started getting good restaurants, and other hotels started opening the Bel-Age turned into the London, the Chateau did great, the Sunset Marque did great, and that was also a great time. Then it quieted down again a little bit and now there's another wave. It's funny the way it happens. This opportunity came up, but I still feel, when I come to L.A., I want to see movie stars or I want to see the ocean and I think it's just a perfect place. 
You also have a residential component now with The Edition. We sold apartments here and they did two or three times better than any other apartments anywhere in this area, Century City, no matter where, two or three times better. So, I think West Hollywood is ready for another lift so we are happy to be in the right place at the right time. 
Were there any particular challenges opening here that you found different than in New York or Miami or somewhere else? Or any surprises? No, it took three years to develop it. When the Mondrian opened in 1996 that started this new wave and this place gentrified, so they had confidence in what we were going to try and do. So, I didn't really have any major challenges. We got through the regulatory board, then it was just a question of doing the right thing, capturing this area, avoiding all the clichés, making it feel Californian and L.A., and West Hollywood, but in a very refined and sophisticated way, which is always the part of the process that I enjoy the most. 
You mean creating the vibe? Of hitting design tests, of doing something that resonates with the people, of doing a hotel that's focused towards the people who live in the area. Because everyone that comes to L.A. wants to go where everybody, they think, in the know of that city goes. Figuring that out, getting your arms around the ethos of a city is something I enjoy doing. I enjoy figuring it out. 
Is there a city you feel now that's ripe for this kind of ethos and development, and your winning touch? You've gone all over the world. Every city. I feel I could do a hotel anywhere. It would have to be adjusted for the city in the time that it's in. It can't be the same hotel as this, it can't be the same hotel in New York. There are hotels that have been done out here that may have worked in Paris and London and New York but won't work out here because it's a different feeling. It's a different vibe. 
Here, it's a more laid-back easy California esthetic? In my interpretation of that, I think so. The speed is less intense, less frenzied. There's less hostility than New York. You have to do a hotel that is a kind of, in West Hollywood anyway, that's a kind of respite from what's right outside the door but yet has a foot in it at the same time. That kind of balancing act is not about picking the color or the fabrics, it's about figuring that out. And then all that comes in like the special effects of a movie. It makes a good movie better but… 
It's not the script? Right. Exactly. Exactly the point.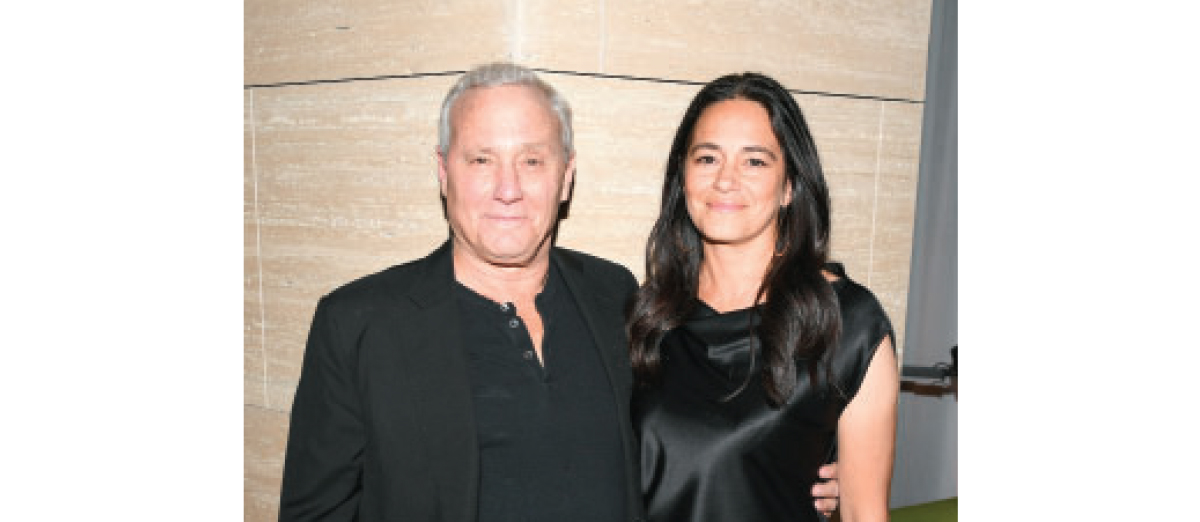 So, John Pawson [architect-designer] said to me "that the two of you have an understanding, you understand each other so well after working together, and you're comfortable to push things.'" Well, I'm never satisfied, I think John lives in a state of complete satisfaction. My job is to disrupt that a bit. And I'm always pushing, and I think the first thing is that I have a genuinely deep affection for John and I respect him and what he does. I like him a lot, he's a lovely man, and his wife is a lovely woman, and his kids. He's not the rigorous guy that some people would think by looking at his work, he's a very easy-going kind of guy who finds humor in himself. 
I think you do too a little. But you can be tougher maybe? Yes, well, maybe more intense. He knows that I want the same thing that he wants. I want something really, really great. It's funny, I went to him and said 'I don't want a minimalist space.' I want something simple, and refined, and sophisticated but I don't want anything that fits into any kind of category. He may not have had curtains here, but I feel curtains soften. It's like a dialog. There might be something he's happy with that I'm not happy with. There may be something I'm not sure of, I ask him, if he's comfortable with it – it's reassuring to me. It's the perfect working relationship because we like each other and we respect each other. You can't ask for more than that. 
We're working on a hotel in Madrid. We worked on a hotel in Miami that didn't come to pass, he worked on my apartment, and he worked on two residential projects with me. It's a lot. 
Since you invented the velvet rope, at Studio 54 and the boutique hotel, how have you seen the hospitality and the night-life business change? Do you think it's gotten better, more predictable, more interesting? I'll tell you exactly how I feel. I have strong thoughts about that. I think that the rest of the hotel industry has embraced the idea that design is good business and the problem with that is, like with any other thing with architecture. For a great example, when Mies Van Der Rohe did a beautiful building that was very sparse that turned out to be a lot of banal copies all over the place that only some of the people could tell the difference between what he did and what other people did. So now you have a lot of people that are doing design, I call it "Design on steroids", in the hotel business. They don't have a vision, they don't have a feeling for it, they just think intellectually it's a smart thing to do. So now all the hotels are beginning to look alike again but they're in different colors. So, I don't think that's a good thing. I think the proliferation of a lot of independent hotels is good because they're bringing life and ideas, and a lot of them are a derivative of what we started but some aren't. Some of them are making contributions and some of them are good. Hoxton is doing a good job and they try. But I also think that the distinction between hotels, and residences, and working is blurring and they're all kind of converging and coming together and they're all picking up on this idea of a very activated public space that brings value to it. It adds something to living, it adds something to working, it adds something to staying in a hotel. I think Steve [Rubel] and I may have started that. We didn't realize we were starting that but if you speak to some of the guys that are in the communal working spaces and communal living spaces, they'll tell you that they were inspired by the hotels which is gratifying for me. 
What do you think the next wave will be? I think now, the next step in hotels is the technology. And I'm not from that generation but I feel in the country that invented it all, all this technology, it's a little dysfunctional because the companies don't speak to each other so you can't utilize it really. In Europe and other places you can, better than here. But I think technology that makes it less expensive to stay in a hotel and/or makes it easier to transact any business there is the future. And I'm not talking about ports in the lobby or iPads in the room. I'm talking about real stuff that every transaction you do is done effortlessly and seamlessly with one click. Hopefully that's coming, and that's really what interests me. You'd have to make it cheaper and you'd have to make it easier, in some cases both. And I think that's the future. 
Is there anyone doing that right now who is impressing you? Not in the hotel industry. You are seeing it in retail, movie theaters, banks, airlines, and supermarkets but property and hotels are always the last to respond, maybe because it's so capital intensive. 
So, you think, because your hotels are always very service oriented and very professional and efficient that self- check-in is the answer? Yes! 
Something more for the millennial age? No! Not for millennials. Self-check-in operated with the wonderment and fascination that one gets when you use your iPhone. You know, you don't mind getting your directions from a recorder, and you don't mind getting a telephone number in some recorded way, and you're not going to mind checking in automatically, provided that its easy and it's a flash and it makes you smile because it's so easy. I just got asked today from somebody from another big company, a big shot, about how self- check-in is going, and I said to him 'self- check-in is the future' and as always, the industry is way behind other industries. You should be able to get a hotel room the way you get an Uber, that easy! 
OK, do you think this is something you are going to develop and go forward with? I'm trying to now. If you don't mind getting a car that way, why would you mind getting a hotel room like that? It's just resistance to a new idea. I'm used to living with that, and I'm not from this generation, my tech firm is my 9-year-old son. I ask him everything. The hotels put the fax machines in the rooms, and then they put phones, then they started putting iPads even though everyone travels with their own equipment. No, no! If it's done well and its easy and it's the one-click kind of stuff everyone will do it. 
So, one day we will check into an Ian Schrager hotel via self-check-in? I'm doing it now. Not at Edition, but my brand, Public [in New York]. But it's got to get better and better and better. 
How do you feel about catering to Millennials with the non-hospitality trend – communal spaces, get your own drink and food? Are you going to go that far? Yes. I think it's great! It's all a matter of execution. I don't do a hotel for millennials. Steve Jobs didn't do a phone for millennials. He did it for a certain sensibility. When I hear big hotel companies talking about doing a hotel for millennials, I think it's the dumbest idea they've ever had and the dumbest idea I've ever heard. Because I think 'why limit yourself?' Do something that people of all ages respond to. It's the sensibility not the age, not the demographics. And maybe that's an overlap from the nightclub, where you put weird people, not weird people, old people, young people all together and that divergence creates an energy. I am an outsider by definition, so I just don't believe in that. I'd like to do a hotel where a 16 or a 14-year-old person comes in and likes it, and an 80-year-old person, or a 78-year-old Ringo Starr likes the hotel, and a 19-year-old Miley Cyrus, they both stay there. That's what I want, that's the secret sauce! 
Is there a hotel you like to stay at when you're not staying at your own hotels that offers this? There are hotels that I like, most of them are in Europe. I very rarely stay in my hotels. But I did, when I came here. I used to like to stay in the Bel-Air, I liked the swans a lot. I went to Tokyo, I haven't been there in a while, even though I'm doing two hotels there. I liked to stay in the Okura, it's wasn't my style, but everything about it was smart. In London I like staying in Claridge's and I like staying in the CoventGarden hotel. They're not my esthetic, but I do like to get room service. It's something that I'm not used to having so it's an adventure. I think a hotel should be an adventure. It should be more than just a place to sleep and that's where the public space comes into play.