Community News | News
Barneys New York Poised to Disappear From Beverly Hills Landscape as Sales Expand
BY Laura Coleman November 29, 2019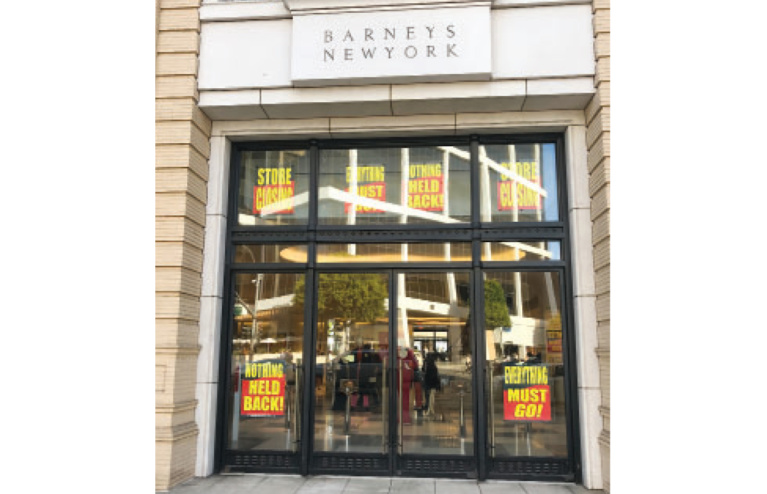 Reading Time:
2
minutes
Gone are the intricate window displays previewing couture finds inside Barneys New York on Wilshire Boulevard, replaced now by stark wording about the store closing sale. 
The liquidation sales at Barneys New York stores across the country began almost immediately after licensing company Authentic Brands Groups (ABG) purchased Barneys brands and other intellectual property for just north of $271 million on Nov. 1. B. Riley Financial purchased all assets within the seven Barneys stores that are closing, which a B. Riley spokesperson valued at an estimated $500 million. 
However, while the sale advertisements in red, yellow and black in the windows and throughout the 125,000-square-foot local Barneys store, which opened 25 years ago in Beverly Hills, may presage steep discounts with promises that "everything must go," the deals inside primarily hovered around 10 percent off until this week when the Black Friday weekend sale began. 
"Shoppers can expect to see discounts progressively deepen throughout the course of the sale as inventory sells out," a spokesperson for B. Riley Financial told the Courier, noting that the sale was expected to continue through the end of the 2019 holiday season. 
"Barneys is unique in that it has historically catered to an ultra-exclusive, high-end luxury buyer. So this is a 'first-of-its-kind sale' in many ways. The Barneys sale is offering discounts on merchandise which rarely get discounted below full price," B. Riley's spokesperson added. "We often get asked for insider tips on how to shop these sales. It's important to understand that every last item will be sold. Discounts will deepen over time, but if there is a particular item you're eyeing, it's best to purchase it before it sells out." 
B. Riley's spokesperson said that customers could expect an average of 30 to 35 percent off luxury items throughout this weekend, with additional promotions for customers who shop in-store. 
Saks Fifth Avenue, which first opened in Beverly Hills in 1938, is now ABG's exclusive Barneys New York retail and eCommerce partner, for both Barneys.com and BarneysWarehouse.com, in the U.S. and Canada. 
An ABG release said the company plans to reboot Barneys New York on the fifth floor of Saks Fifth Avenue's flagship New York City boutique before then launching "shop-in- shops" in key Saks markets in the U.S. and Canada. ABG has yet to elaborate about its plans for Barneys in Beverly Hills. The two department store brands are adjacent to each other on Wilshire Boulevard. 
"Through this acquisition, ABG enhances its luxury footprint and makes its foray into experiential luxury and entertainment," stated an ABG release. "ABG is committed to preserving the legacy of Barneys New York while positioning it for long term growth through key partnerships that will expand its global presence as a lifestyle brand and luxury retail experience." 
As currently zoned, the property Barneys now occupies in Beverly Hills, which is owned by an LLC that represents multiple families in New York, can only be used for a department store. 
"Barney's will always be known as a brave and trailblazing institution in fashion and retail, and its pending closure is a profound loss to all. It does, however, hail a new order, in which Rodeo Drive – one of the most glamorous retail destinations and an unparalleled hub for luxury and fashion – remains at the forefront," said Nicola Cagliata, president of the Rodeo Drive Committee. "At a moment when Los Angeles is emerging as the new global cultural capital, Rodeo Drive is enjoying a period of growth and vitality."