The Beverly Hills Police Department has made an arrest in connection with the desecration and vandalism at the Nessah Synagogue during the early hours of Dec. 14. Anton Nathaniel Redding, 24, of Millersville, Pennsylvania, was identified as a suspect on Dec. 17 after exhaustive review of video surveillance and forensic evidence. The Beverly Hills Police Department, working with other local and federal law enforcement agencies, tracked down Redding in Kona, Hawaii, where he was arrested and charged with vandalism of a religious property and commercial burglary. Those charges include a penalty enhancement for a hate crime under the California Penal Code. 
According to published reports, detectives with an Hawaiian Special Enforcement Unit located Redding in the early afternoon of Dec. 18 on Ali'i Drive in downtown Kona by the pier. Concurrently, two detectives and two sergeants from Beverly Hills arrived on O'ahu, believing Redding to be there. But, after they landed, they learned Redding had moved on to Kona. Beverly Hills law enforcement followed suit, arriving at 3 p.m. 
Redding has had prior brushes with the law. In 2013, he was charged with possession of marijuana and underage drinking. Redding is currently in custody in Hawaii and was arraigned on Dec. 19, with bail set at $250,000.
Redding waived extradition and as of press time, was expected to be transfered imminently. 
On Dec. 14, the day of the incident, video surveillance captured a perpetrator entering the Nessah Synagogue through an unlocked door at approximately 2 a.m. The lone male suspect moved through the building, ransacking the interior, overturning furniture and strewing printed material about. Several Jewish relics were damaged. After word of the attack spread across the City, residents gathered outside the "Do Not Cross" police tape that cordoned the Rexford block where the Synagogue is located. 
The Courier spoke with Council members Lili Bosse and Julian Gold after they inspected the damage inside the Synagogue shortly after it occurred. "Visually, when you walk in there, it's enough to make you sick. It is profoundly emotional, and we're just thankful no one was injured," Gold told the Courier. Reflecting on the tragic attack at Pittsburgh's Tree of Life Synagogue, Gold said, "We never thought this would happen to us here." 
Councilwoman Bosse, the daughter of Holocaust survivors, echoed a similar sentiment. "It is so painful to walk around a Synagogue in our community and see Torahs ripped on the floor and yamakas ripped and thrown on the floor," Bosse said. 
The vandalism at Nessah Synagogue has attracted national attention in the past week.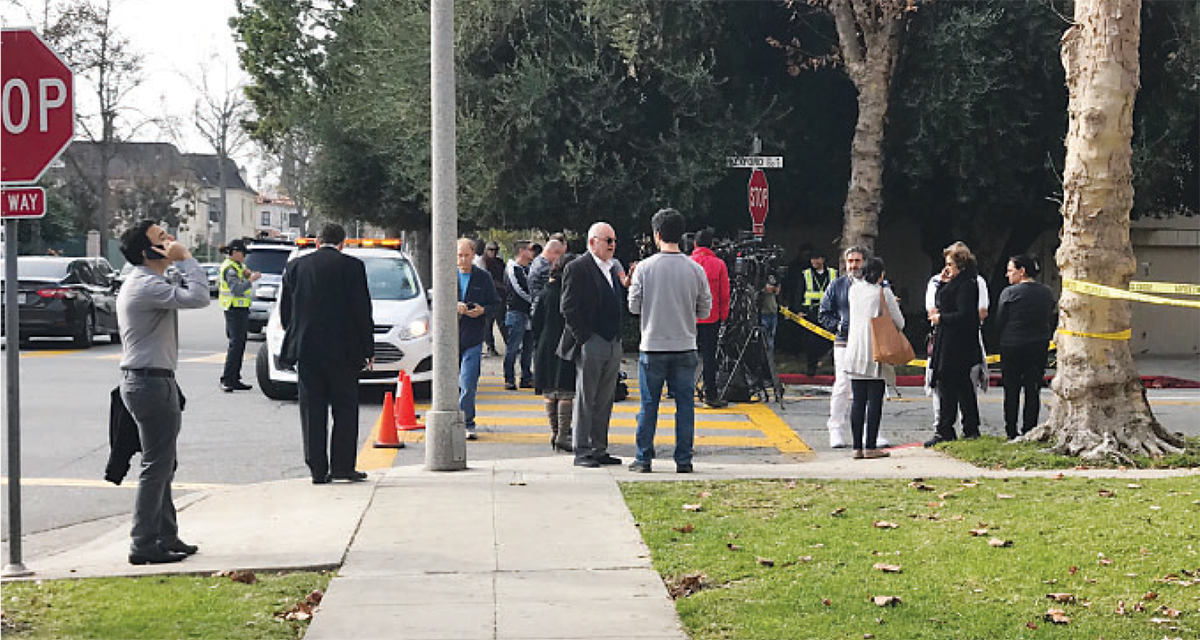 The formal announcement of Redding's arrest was made by Beverly Hills Mayor John Mirisch on Dec. 18, at the "Town Hall for Action:Combating Anti-Semitism and Creating Safe Communities" event sponsored by the Israeli-American Civic Action Network. In a statement released by the City, Mayor Mirisch noted: "I said we would catch this guy and we did. The criminal who we believe desecrated a holy place on Shabbat is now in custody thanks to the superb work of the Beverly Hills Police Department." 
Richard Hirschhaut, director of the American Jewish Committee in Los Angeles, told the Courier, "In some respects, with or without what might be the obvious or universally understood symbols of antisemitism, the fact that a synagogue was desecrated, that religious articles were strewn about, and the severity of the vandalism itself, in our view, clearly suggested antisemitic intent," Hirschhaut commented. "What this incident reveals, as others have, is that no part of our community is immune to the disease of hate, and we are mindful of the thread that connects anti-Semites and anti-Semitism in America."