This past weekend, the Golden Globes and the HFPA altered the status-quo of awards-show party status by serving an entirely vegan menu for the dinner-show fete. The Beverly Hilton Executive Chef Matthew Morgan, who created the menu, was initially surprised by the sudden switch a few weeks before the show. "We changed the menu to being completely plant-based because the HFPA came to us with the idea, and we were excited about being a part of the message that they wanted to send," he told the Courier. "The inspiration behind the dish (King Oyster Mushroom 'scallops') was that I wanted to create a plant-based dish that was as substantial, beautiful, and felt like a more traditional main entree. We have seen such a large increase in demand for plant-based dishes in recent years, and that experience was beneficial in creating this menu." 
Golden Globe best actor winner Joaquin Phoenix admitted that he "never really eats at these award shows" and was reportedly one of the actors who was instrumental in the menu change. "I'm moved by this important statement to have plant-based food at this year's ceremony and the rest of the award shows should do the same. It's brave, compassionate and a bold decision by the HFPA," he said backstage after winning his award. 
While the fate of future menus for the rest of awards season has yet to be confirmed, plant-based, vegan and vegetarian restaurants are on the mainstream rise in L.A. and have come a long way from charmless cafeteria-style eateries to full-blown sexy venues suitable for date-night. 
The restaurants are actually cool places to hang out and delicious– from new nightlife spots on Sunset Boulevard to the enduring popularity of a few pioneering concepts such as Café Gratitude and Gracias Madre. 
Both spots were actually early adopters of elevating this type of cuisine. CEO Lisa Bonbright – who co-owns both concepts, told the Courier from her flower farm in Kauai, "This is why nine years ago, on March 11, we opened Café Gratitude Larchmont. I wanted to eat plant based and I didn't want to feel like I was being punished. That was the goal behind our concept. You couldn't just go on a date or take a friend for lunch. I didn't understand why that space didn't deserve a beautiful environment. It was bad hippie-dippy, and it was almost dirty." Now, the Gracias Madre healthy Mexican concept with a killer patio for imbibing tequila has expanded to Newport Beach and Café Gratitude can be found in Venice, the Arts District and San Diego. The Beverly Hills location on Canon Drive has a new chef, menu, and a serious cocktail program. "One of the best things here, which is really underrated, is our beverage program. We have artisanal vodka drinks and a full bar. People don't associate Gratitude with cocktails. I get it if you want a plant-based, easy night you're not going in for a martini." But you should reconsider the open-patio dining room and ample bar when thinking of a local, fun night out or romantic rendezvous. Chef Mario Alberto – who has worked with Ricardo Zarate, Josef Centeno and Jeremy Fox to name a few – has come up with dishes that according to Bonbright, "People are going nuts for, like the chickpea stew with coconut."
Bonbright is also welcoming to others in the marketplace that have followed in her footsteps. "I absolutely love it. The intention was for people to get healthy and think about the food they are putting in their body and what they are eating, and I just think it's good for the planet. We started a category, like Starbucks started a coffee. I welcome as many plant-based restaurants coming on as possible. I think it's great that Craig's has a plant-based menu. If you do want to go out and somebody wants a piece of meat, you have options now."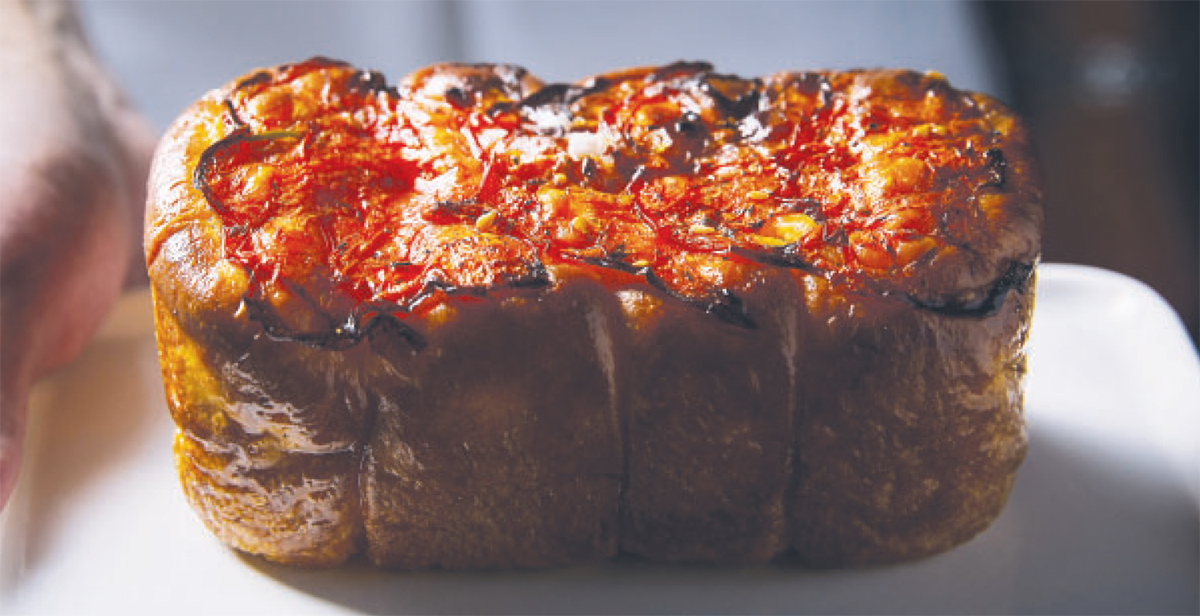 But for all of the benefits, Bonbright has a confession. "I'm going to come clean. I'm not 100 percent plant based. I weave it into my diet about 80 percent. I believe everybody's body needs everything in moderation at some level. I prefer plant-based but every once in a while, l have fresh-caught fish and my body loves it. I really believe you should weave that into your lifestyle. It's so healthy for your body to not have processed foods that are hard work for your body. When I eat plant based, I feel skinny, clear and healthy, not lethargic. It works for me and my lifestyle." 
As for the inspirational trips to Kauai,"I think it's the mecca for a healthy organic lifestyle. My husband and I come for about five days every few months. When I come back [to L.A.] I'm unstoppable. I feel so good. It's going to add years to my life."
In the case of Nic Adler, founder of newer concepts Nic's on Beverly and Monty's Good Burger, the restauranteur has been plant- based for the past 20 years. The son of famed music producer and Roxy co-owner Lou Adler and actress Britt Ekland decided to give the lifestyle a try when a good friend was diagnosed with a case of gout and under doctor's orders to go on a plant-based diet. "After two weeks he was better and headed to Pink's hotdogs, but I felt so good, I wanted to explore further," Adler told the Courier. People warned him of the limited options, but Adler found the opposite to be true. "Everything opened up to me. I wasn't just eating rice but quinoa and hundreds of types of beans. I was going to the vegetable aisle or farmers markets and not just buying, carrots, celery, and onions. I love to cook and that was a huge part of it."
Adler's first foray into the restaurant business was back in 1994 with a Jamaican sports bar on Melrose called Creek Alley where jerk chicken was a menu staple and he was eating about two chicken breasts per day. "I didn't make the animal connection right away, but something triggered me that it wasn't right. I can't be putting all of this into my body. I was not thinking, just working really hard and having kitchen staff meals – you're just throwing it down. When I started running some numbers, it freaked me out." 
Now Adler is not only a restauranteur of plant-based concepts, but the VP of regional festivals (which consists of overseeing and producing about 14 festivals per year), and the culinary director for the Coachella Valley Music & Arts Festival, along with Stagecoach. "When I started at Coachella there was one vegan vendor for 80,000 people," he recalled. "Last year over 30 percent of the vendors were plant-based. From pizza to burgers and ice-cream, we inserted it where we could. As long as it's hot, crunchy, you have something to dip into, it works." 
As for his Beverly Boulevard restaurant Nic's which he opened with restauranteur Stephane Bombet who has overseen the restaurant's other incarnations The Ponte and Terrine, Adler describes the food as "selfishly nostalgic." Dishes were inspired from his childhood growing up in L.A. and going to family meals in all the great restaurants. 
For example, the avocado crisp rice would be a play on the Nobu dish with tuna on top. "I like to transport people with food," said Adler. "There is so much emotion in food. I remember going out to dinner with my Dad. Food is not just taste but it's visual and smell. To be able to recreate those moments was a big part of Nic's. We [along with Culinary Director Steven Fretz and Executive Chef Ryan Foley] are experimenting with things that are familiar, and it makes it easier to transition."
Other classic L.A. dishes come from a mix of the Chin-Chin chicken salad and the Chinois on Beverly salad – a riff on Wolfgang Puck's salad from his Main Street eatery in Santa Monica. "Our gnocchetti with house made almond ricotta with nut parmesan on-top has a nice crunchy feel. That [dish] with a nice glass of wine, you'd have no reason to think other than this was beautiful food," said Adler. 
Adler loves going to restaurants and has spent 20 years dining around the world. "There was a disconnect but what drove the food to change is that the dining experience had changed. It wasn't acceptable just to walk up to a counter and order some fried fake food and go. We are looking to entertain," he said. 
"This is an amazing time with the explosion of plant-based the past few years. If we want to feel healthy, we go there. If we are dining with vegans, we go there, but eventually, we should just go there," said Adler. 
"Cal [Ronnen] at Crossroads [on Melrose] really showed that you could finally walk into a place and not know where you were," recalls Nic. "This is where we are as a society and enough people are living their lives this way. All of them were ahead of their time. I got to see these restaurants [Café Gratitude, Gracias Madre, Sage] pave the way. I was going out and substituting for potato and salad. I just wanted to be in the dining experience. There are a lot of closet vegans now coming out – it's almost a badge of honor. You're thinking what effect it has on me, animals, the plant. It's an action that we can take in something that we do every day. Switching to a plant-based diet is really in front of everybody where driving an electric car might not be." 
Other exciting new vegan concepts in town include Fresh near buzzy Sunset Plaza. This is the first U.S. location for the Canadian plant-based restaurant by founder Ruth Tal who has partnered with Shereen Arazm, co-owner of popular staple Terroni L.A. and "Top Chef Canada" judge, to bring their concept to the west coast. It could be the location, but Fresh feels more like a bar- club but with healthy food. Popular items include the Powerhouse Bowl with avocado, chickpeas, tofu steaks, microgreens, toasted mixed nuts and spicy tahini sauce, to the onion rings with breadcrumbs and puffed quinoa. As for tipples, the Julia Caesar with Corbin Cash sweet potato vodka, vegan clamato, crispy cauliflower garnish and a wild salt rim seems to go with everything on the menu, including people watching. 
Just a few blocks away, the luxe West Hollywood, EDITION has opened their flagship restaurant Ardor with Michelin-starred chef and west coast native, John Fraser. The verdant décor offers three distinct dining experiences with indoor and outdoor spaces plus cozy nooks for privacy. Ardor shines a spotlight on vegetable forward, modern Californian cuisine in one of the top new hotels to open this past decade. 
Recognized as one of the best vegetable chefs in the world, if it was up to Fraser, the whole menu would have focused on veggies but "We are in a hotel, so you need to have more options for guests," he told the Courier. With that being said, his light as air milk bread with beefsteak tomatoes and raw cauliflower cacio e pepe with ancient grains and pomegranate are revelations. 
The kitchen's approach to fresh ingredients can also be found in the chef-driven cocktail offering using clarified juices and color identification such as the Amber with rye, toasted fennel, bergamot and avocado salt, perfect for sipping on the bucolic garden patio which seems a world-away from the chaos of Sunset Boulevard and the line of people waiting to get a table.