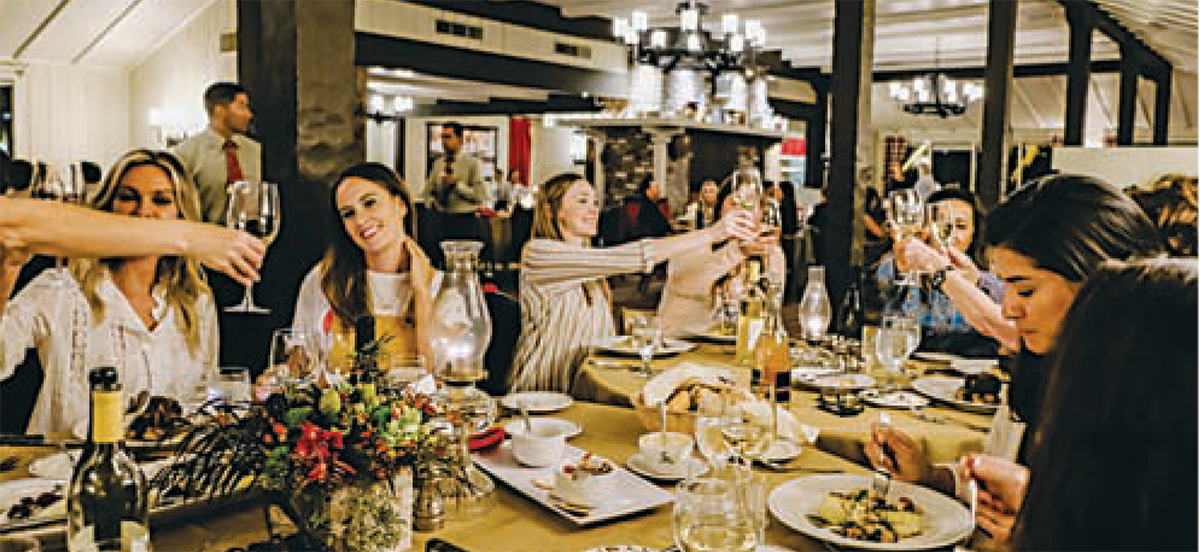 Beloved American culinary icon and Francophile Julia Child spent her last years in Santa Barbara, but not before she changed the ho-hum dinner table forever by introducing American's to her cookbook "Mastering the Art of French Cooking" and her television show "The French Chef." 
Last summer, the City of Santa Barbara proclaimed her birthdate of Aug. 15 as official ly Julia Child Day. For the first time since her death 16 years ago, her eponymous foundation for gastronomy and the culinary arts is co-hosting an annual celebration with the Santa Barbara Culinary Experience from Mar. 13 to 15. 
This great culinary escape takes place over three-days with more than 40 events in and around the American Riviera of Santa Barbara where you can eat and drink in some of the finest restaurants with top chefs, sommeliers and mixologists, plus actually learn a skill or two. Interactive events range from mastering paella to making your own olive oil or just meandering around Lotus Land in search of unique shrubs that might end up in your 5 p.m. cocktail later. 
In addition, some of L.A.'s top toques will be in town and participating in events from Ludo Lefebvre, Sherry Yard, Chris Bianco, Vartan Abgaryan, Susan Feniger and Mary Sue Milliken.
"I love love love Santa Barbara," Lefebvre told the Courier. "It is such a beautiful destination that truly embodies the California dream of coastal living. Being able to cook a meal at the magical Alisal Ranch and Resort paired with dessert by the talented Valerie Gordon, is pretty much as good at it gets." 
Sharing the infectious celebration further in the county, The Hitching Post will also be featuring Julia-inspired specials including their oak-fired quail, polenta and grilled ratatouille using the late chef's famous recipe. Bob's Well Bread Bakery is doing special menu croque monsieur for the occasion. 
This one-of-a-kind epicurean event will be a celebration of both Julia Child and Santa Barbara's culinary scene. The late cookbook author, chef and TV personality was passionate about teaching others about the culinary arts–and was an aficionado of Santa Barbara, as a longtime resident. The culinary experience aims to gather the community and visitors to celebrate and learn more about the bounty of abundant local resources found in farms, ranches, vineyards and the ocean and the value of where good food comes from and how to cook. 
The non-profit organization in Child's name gives grants to support research in culinary history, scholarships for professional culinary training, food writing and media, as well as professional development and food literacy programs.
Highlights of the weekend include: 
-A new, complimentary downloadable Julia Child map of the chef 's favorite haunts in the Santa Barbara area for self-guided tours, specially created for the launch of the Santa Barbara Culinary Experience. 
-Border Grill on the Beach: SBCE Signature Luncheon featuring Julia Child Award Recipients Chefs Mary Sue Milliken and Susan Feniger. 
-Tour of the wine cellar and Julia Child- inspired dinner at San Ysidro Ranch. 
-Documentary screening of "Nothing Fancy" and dinner from Chef Claudette Zepeda (El Jardín) at Belmond El Encanto 
-Five-course dinner at Bettina with special guest Chef Chris Bianco of Pizzeria Bianco. 
-An evening with Raj Parr and Chef Kiran Bheemarao at Bibi Ji. 
-Sunday Brunch at Miramar Rosewood Beach Resort with James Beard Foundation Award-Winning Pastry Chef Sherry Yard. 
-Alisal Guest Ranch exclusive after-party featuring Chef Ludo Lefebvre. 
-Savor Santa Barbara: SBCE Neighborhood Tasting, showcasing Santa Barbara's unique culinary districts at the Santa Barbara Historical Museum. 
Paella Class and DIY Gin and Tonic Bar at Loquita. 
Jonata Winemaker Dinner at The Lark with Chef Jason Paluska.
40 additional unique educational and experiential sessions including: 
-Santa Barbara's History Through Food (with acorn pasta demo) at Barbareño. 
-Farmers' Market Tour & Gourmet Dinner with Executive Chef Greg Murphy at Bouchon. 
-SBCE Wine Academy seminars, including "Santa Barbara Wine 101." 
-Olive Oil Master Class with Theo Stephan from Global Gardens. 
-Ganna Walska Lotusland Tour and Garden Cocktail Making Class. 
Event pricing ranges from $15 for a single event to the all access Platinum Pass for $995 per guest. The net proceeds of the Santa Barbara Culinary Experience will flow to 
The Julia Child Foundation for Gastronomy and the Culinary Arts. The majority of those funds will be used to support a range of nonprofits in Santa Barbara County. https://sbce.events/ 
Where to stay 
Favorite local hotels include the Four Season's Biltmore, San Yisidro Ranch, El Encanto and Rosewood Miramar who are all holding special events during the festival, so check their website for special rates and packages. And, if The Hotel California by the beach and famous Funk Zone is sold out, there is a charming bed and breakfast a few blocks away appropriately called the Hideaway. 
Alisal Guest Ranch 
Just north near Solvang, the more than 10,000-acre ranch is located amid green rolling hills with charming cottages holding wood burning fireplaces that have been refurbished by celebrity designer Nathan Turner. They are having a pot luck with local chef on Sunday night, Mar. 15 and the after party with Ludo Lefebvre on Mar. 16, and this will be a great ending to the weekend in Santa Barbara. Typically, a stay includes a morning horseback ride or hay wagon ride to the property's historic adobe for an al fresco cowboy breakfast, an afternoon of Santa Ynez Valley wine tasting, or hiking and fly-fishing, with dinners prepared by Executive Chef Anthony Endy who has taken the rustic dining experience to a new level.