On average, we spend one-third of our life asleep in bed. But since the COVID-19 stay- at-home order took effect, that seems like an underestimate. A comfortable bed is a natural place to retreat after a long day of working from the kitchen table or home-schooling the kids. So now is the time to get serious about the state of your home-sleep sanctuary. 
Whether you are in need of a new mattress or simply want to invest in good linens and accessories to feel like you are on a stay- cation in a posh hotel, here are a few ideas from luxe to affordable. While these stores are currently not open to the public, you can still purchase online and if you must wait to try the merchandise first-hand for your boudoir, visit them all when our City reopens for business. 
Gary Trudell creates custom beds for a celebrity clientele and five-star hotels. He has collaborated on a line with top designer to the stars Martyn Lawrence Bullard. Trudell, who owns Custom Comfort on Beverly Boulevard, shared his tips with the Courier on how to look for the perfect mattress even during a quarantined pandemic. 
"There may not be a more important time in our lives to get a good and healthy night's sleep," said Trudell. "Sleep strengthens our immune system which may, in turn, decrease the chance of getting sick." 
Here is Trudell's advice for buying a mattress, which also applies for online ordering. First, be sure the mattress is made with a lot of natural cotton, as cotton is breathable, healthier, and more durable than synthetics. Over 95 percent of the mattresses being sold in the United States are made with petrochemical polyurethane foam that emit off-gases, which cause allergy issues and tend to [make the buyer] sleep hot. Second, there is no "one size fits all," and each mattress should be fitted to your predominant sleeping position. Support is the ability of the mattress to equalize pressure and distribute your body weight all the way across the mattress.
Third, make sure your mattress is double-sided and hand tufted. Natural materials are the comfort layers and the coils are your support, which controls the firmness or softness of your mattress. Hand-tufting on the top and bottom pre-compresses the coil and natural materials together, which allows the coil to provide proper support. Having a double-sided mattress is healthier, more supportive, and longer lasting.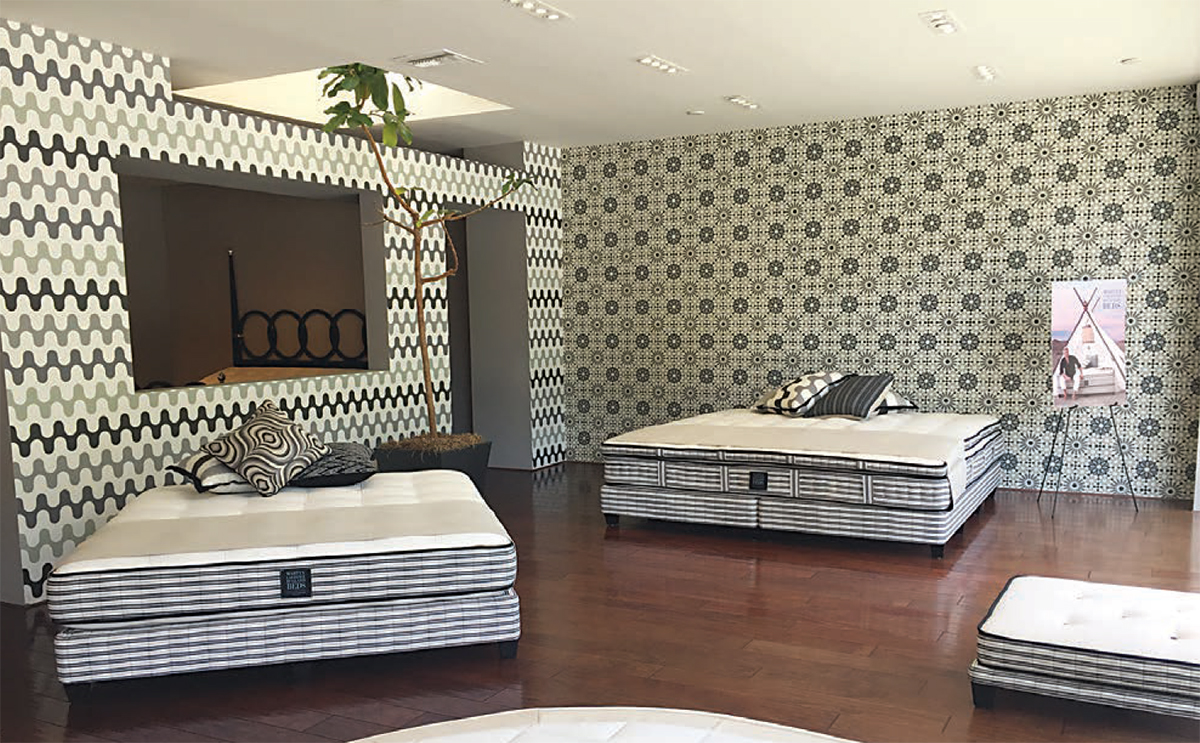 Once you find the perfect mattress, it's time to begin layering. Scandia Home on Beverly Drive is known for its European-style heirloom bedding and fine goose down-filled products. Best sellers include the all-down featherbed, which sits atop the mattress. "It's like sleeping on a cloud," said longtime store manager Kim Gregory. It's important to invest in a good mattress pad to protect your investment and the new ThermaBalance Tencel has been a hot seller. "So many of my clients sleep hot so to have a mattress pad that is moisture-wicking and cooling is why they are loving it," said Gregory. 
The company also sells down-alternatives in every price range. Other best-selling items include the top-of-the-line St. Petersburg collection crafted from the finest Siberian down and covered in German silk Damask, and the new bed linens from Adriana Percale and Courtrai Linen handwoven in Italy. 
Hästens has made its reputation with all-natural beds that include exotic materials such as horse-tail hair, that range in price from the tens of thousands of dollars up to the six-figure mark. The Swedish manufacturer, dating back to 1852, has an outpost on Beverly Drive. It carries a range of lifestyle accessories that won't put a dent in the pocketbook. The brand has recently redesigned its PJs, famous robes and down boots as part of a "Quarantine Package" that also includes a sleep mask and lavender bag. Prices range from $10 to $480. For those who still want to splurge, the company is launching a new bed soon with celebrity designer Ferris Rafauli called the "Grand Vividus." 
A dream-team collaboration between top fashion brand Madewell and Parachute bedding has resulted in a line so stylish it might even work for a Zoom meeting. The range includes stitched duvet covers for less than a few hundred dollars to striped pajama shirts, shorts, and even a denim doggie bed. 

If you happen to be in the process of decorating a nursery or child's room, Naturepedic on Robertson Boulevard makes all organic cotton crib mattresses, called the "Breathable Ultra" (starting at $390), and accessories as well as 400 thread count sheets for all sizes of beds. 
Also, on Robertson, E. Braun & Co. offers formal crisp linens and impeccable embroidery on bedding sets. If you want a uniformed look from the comforter and pillows to the throw, look no further than their collections with dozens of styles and textures from Madagascar to Montecito. 
Another tried-and-true classic on Rodeo Drive, Frette (since 1860), carries a bespoke line of cotton percales to poplins and sateens to sumptuous silks and cashmeres. It specializes in "the fibre, the finish and the feel" from duvet to Euro Shams. Be sure to check out their new virtual styling studio. 
For the finishing touch to your new bedroom, add a home spritz, diffuser or candle selection from the earthy Nest collection which you can find at Geary's on Beverly Drive. 
And, for those looking to be comfortable and stylish, plus give back to the COVID-19 essential workers such as healthcare officials, grocers and teachers, Sant and Abel have launched their "Buy One, Give One Hero Packages" gifting luxury sleepwear to loved ones on the frontlines when using code "Heroes" at checkout. https://santandabel.com/