On Aug. 5, the L.A. County Metropolitan Transportation Authority (Metro) held its monthly virtual community meeting providing stakeholders with construction updates for the Purple Line Subway Extension sections 1, 2 and 3. The Beverly Hills City Council approved an accelerated construction timeline for the plan in April, and the project continues to make headway in connecting the Eastside and Westside. Beverly Hills' first subway station at Wilshire/La Cienega – section 2 – is on track to open in 2023 and will continue its path through the City with the Wilshire/Rodeo station, slated to open in 2025.
In total, the Purple Line Extension will add seven new stations spanning roughly nine miles underground. It will connect the Wilshire/Western station to Westwood in three distinct sections. The first section beginning east of the City between Wilshire/Western and Wilshire/La Cienega continues to be under construction and is scheduled for completion in 2023. Section 2 of the Purple Line Extension, connecting the Wilshire/LaCienega station to Century City/Constellation, is also under construction and will extend the subway to downtown Beverly Hills and Century City. The third section will extend the project to two stations in Westwood, at Century City/Constellation to Westwood/VA Hospital.
Throughout 2020, tunnel support work will continue, including soil improvement and magnetic surveying, along Wilshire Boulevard within the intersection of Wilshire and San Vicente Boulevards. Work is expected to start later in August, with intermittent lane closures expected along Wilshire and San Vicente Boulevards.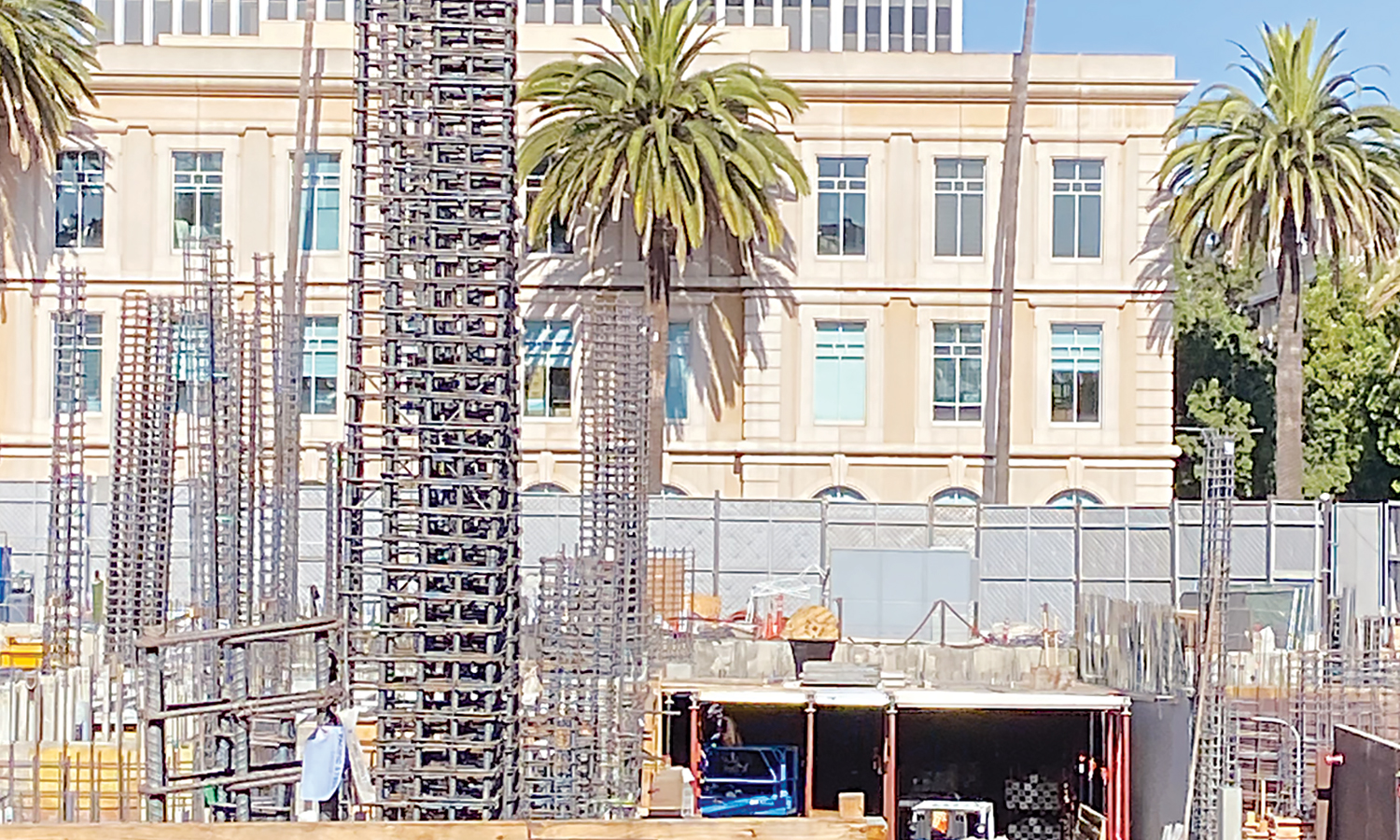 Construction of the tunnel eye is well underway on the east side of the Wilshire/La Cienega Station, which will ultimately provide a gateway for the tunnel boring machine (TBM). The Section 1 TBMs, used to excavate tunnels, and cutter heads are on their way to the Wilshire/La Cienega Station. The tunnel boring machine is expected to arrive at the La Cienega station area in December of 2020. Currently, the tunnel boring machines, named "Soyeon" and "Elsie," are making their journey westward.
Station excavation is underway for the Wilshire/Rodeo Station, from Beverly Drive to West Crescent Drive with two staging yards. The majority of the construction work is taking place at the yards, one located on the north side at North Canon Drive, and the other on the south side at Reeves Drive, where the station entrance portal will be located.
Metro is still at the front end of the excavation phase, and also continuing with tunneling in Century City – on track to open in 2025.
Currently, Wilshire Boulevard is reduced to two lanes in each direction, with a partial lane closure in place to facilitate excavation underground.  Excavation will continue on weekdays from 7 a.m. to 4 p.m. and 8 p.m. to 7 a.m., and weekends during the daytime through first quarter of 2021. The anticipated completion is set for Feb. 2021, after reaching a depth of about 100 feet. Metro will be seeking approval to excavate at nighttime seven days a week from 8 p.m. to 7 a.m. in an effort to expedite the work and allow more space to excavate from Wilshire Boulevard. To support the excavation, there is also a closure in place now at Reeves Drive.
Construction continues at the future Wilshire/Rodeo station, but design plans are not yet finalized. The appendage work at the Wilshire/Rodeo station is tentatively scheduled for mid to late 2021.
During the community meeting, Mindy Lake, Senior Community Relations Officer for Metro, addressed the issue of construction under the Beverly Hills High School campus. "I want to let you know that during our research investigation pre-tunneling, we discovered three underground anomalies under the campus of Beverly Hills High School," said Lake. "Two of those three anomalies were determined to be oil wells. The third one was not, so it does not need to be abandoned. Currently, the high school's contractor is working on removing and abandoning anomaly and they are well underway with that removal, on target for completion by the end of August." Lake added, "We were asked months ago, years ago, actually, whether any of this work would create significant health or safety risks for Beverly Hills High School with the removal of abandoned oil wells. And that answer is no."
Station box piling is still underway at the Century City/Constellation station, located on the north eastern corner of Constellation Boulevard and Avenue of the Stars, which is about 40 percent complete. A full-time partial lane closure on Constellation Boulevard is still in place to support the launch box and tunnel boring machine launch operation. Tunneling work continues, on track to open the station in 2025. A full closure of Constellation Boulevard was approved last week to be extended through February 2021.
Metro encourages stakeholders to submit comments or questions to purplelineext@metro.net. The next community meeting will be held on Sep. 2.