Arts & Entertainment | Lifestyle | The Scene
Zoom and Micro-Weddings, Beverly Hills Style
For Jason Rhee, owner of the Rheefined Company based in Los Angeles, "A micro-wedding does not have to be a micro-effort. This is the best opportunity for you to be really personal without having the concern of who will you offend or have to courtesy invite," Rhee told the Courier.
BY Carole Dixon August 20, 2020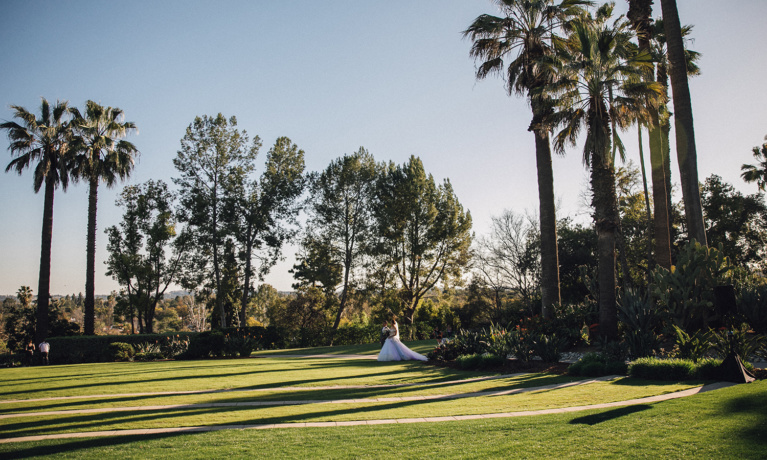 Reading Time:
5
minutes
It's supposed to be the happiest day of your life, but COVID-19 has forced the postponement or cancellation of many wedding celebrations scheduled for 2020. Brides and grooms are seeking other alternatives, such as micro-weddings with an intimate small group, or tying the knot with virtual Zoom ceremonies. The Courier spoke with some prominent event planners and experts for tips, advice and guidance.
Lauren Kay, executive editor of the wedding planning website, "The Knot," said 42 percent of couples registered on the site are postponing to 2021. Seven percent are canceling, and 51 percent are continuing with their nuptials using a "Plan B," which might be a virtual receiving line. "This tells us most people still want to celebrate even with social distancing," she said during a recent Zoom webinar hosted by Wedding Salon. She noted that many couples are still planning an additional, larger wedding later in 2021. "Weddings will prevail and events will come back," said Kay. "This is a temporary hiccup. Just stay strong and positive. You will get married!"
Additional popular options include micro-weddings on a farm, winery, boat or private island, according to Michelle Rago,  who has been an international wedding and event planner for 20 years. "People need to think outside of the box with pocket dance floors that are elevated, smaller speakeasy-style clubs or seating pods," said Rago.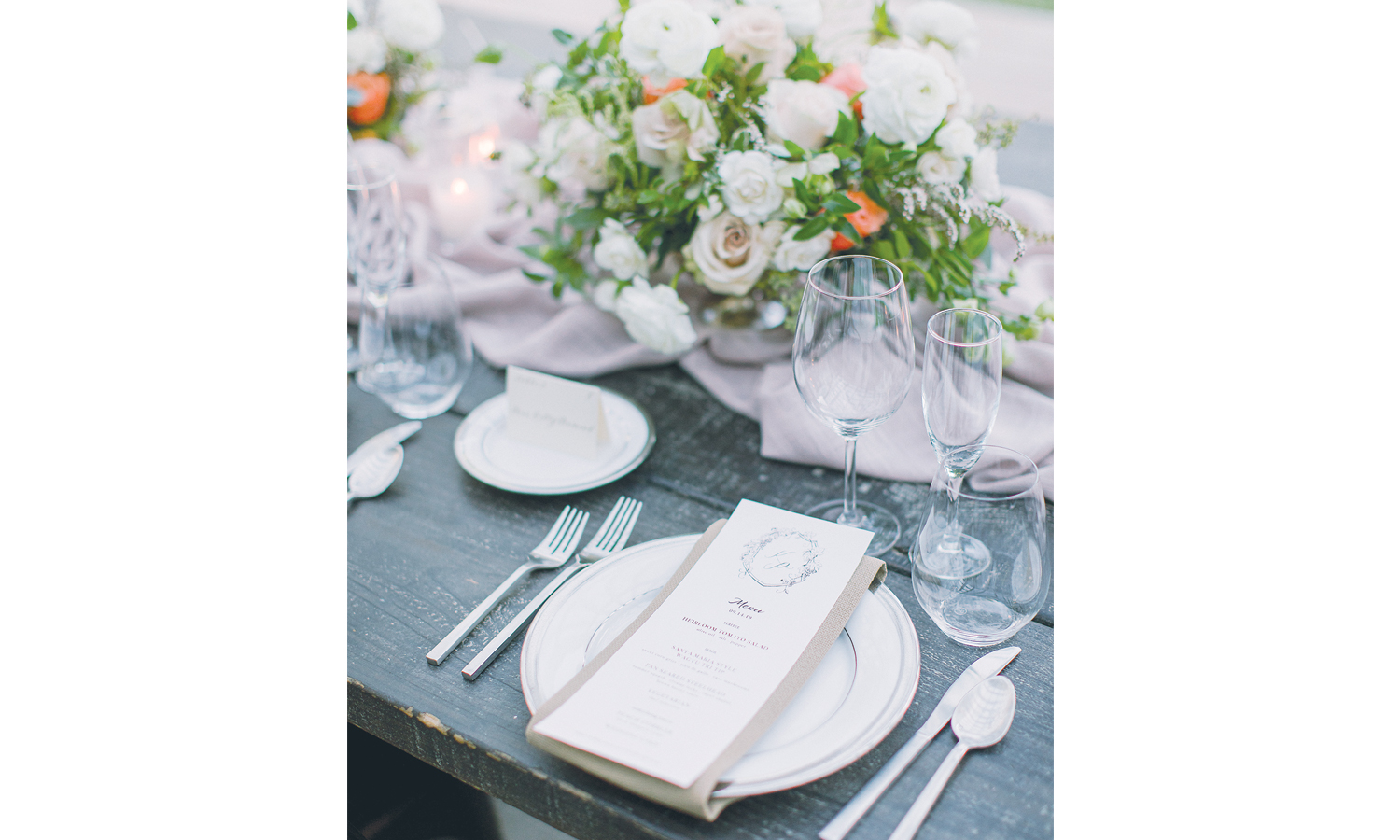 Other shifts in the process might include a pre-plated tray rather than a buffet or a standing cocktail party outside.  In some cases, couples are insisting on temperature checks for guests or advance testing, especially if there is an older member of the family attending.
Rago is seeing private plane charters on the rise as well.  "I think of it as eloping but inviting a small group of people to join a beautiful event," she said. "Micro-weddings are all about pivot and innovation. If you can achieve what you want with a smaller intimate party, great. You can still have photos, the dress, a room design and spend more time with the guests."
For Jason Rhee, owner of the Rheefined Company based in Los Angeles, "A micro-wedding does not have to be a micro-effort. This is the best opportunity for you to be really personal without having the concern of who will you offend or have to courtesy invite," Rhee told the Courier.
Rhee also advised a virtual alternative. "Aside from being able to invite anyone from all around the world, look into the webinar options versus regular Zoom accounts. You are able to create more of an experience by paying the reasonable additional fees to get more functions like breakouts and other fun interactive ways to include your guests and their participation."
In Beverly Hills, hotels have felt the backlash of the pandemic cancellations, but are carrying on with alternatives.
"It's still an important milestone and one to be celebrated," said Christopher Preston, director of catering and events at Waldorf Astoria Beverly Hills. "Couples still want to be married, and they want close family and friends to share in that important moment," he said. The hotel provides an outdoor patio area for the couple to utilize with their officiant. "The couple arranges their technology, often with a laptop or iPad, to connect via the platform that works for them, such as Zoom. From there, family and friends can witness their 'I Do's' and be connected to their special day," explained Preston.  "Following the ceremony, we arrange for an outdoor space for the couple to sit so they may personally connect and speak with their family and friends, while enjoying a glass of champagne to toast the occasion."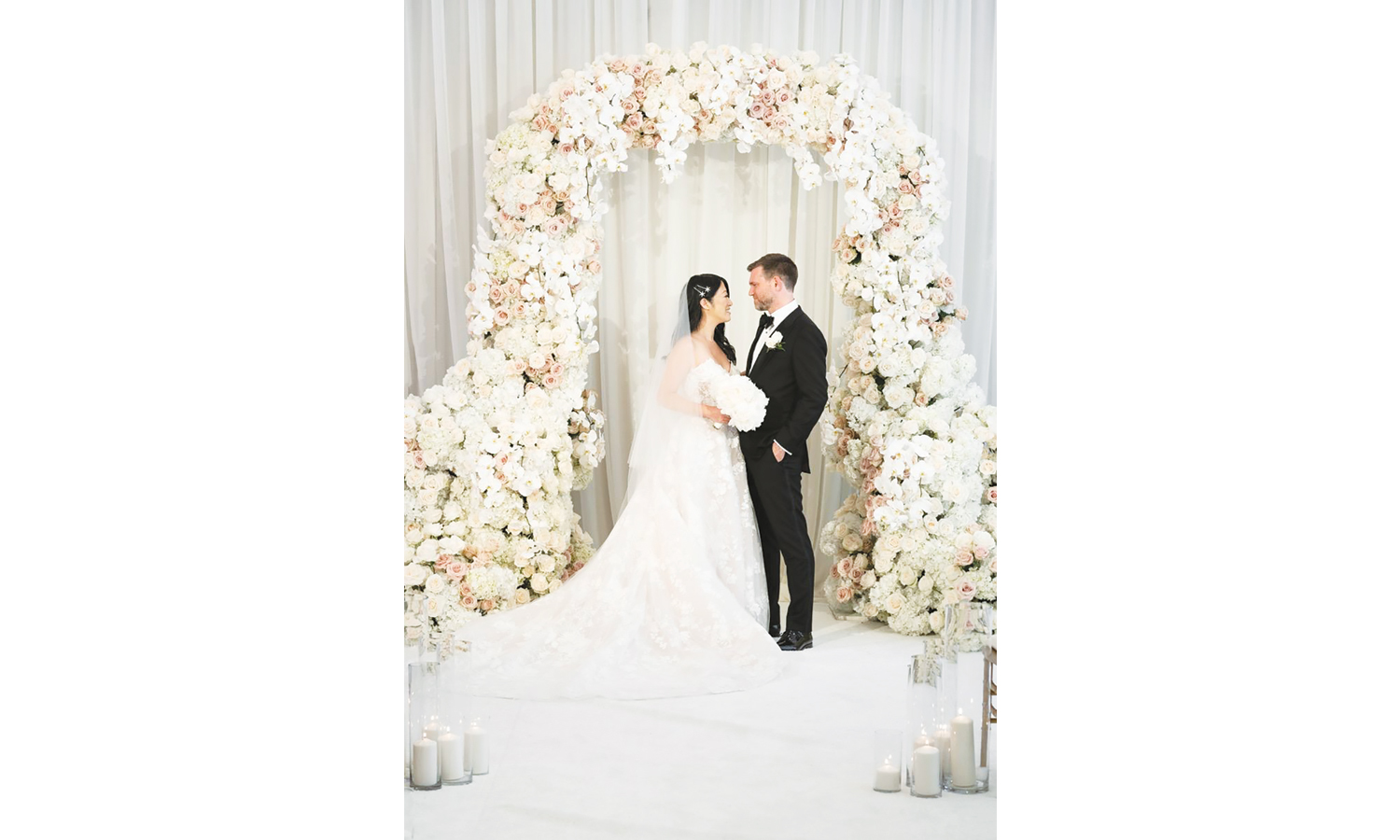 And, if you think the traditional church wedding is canceled, this is not the case at the Church of the Good Shepherd.  On Aug. 7, the Catholic parish on Roxbury Drive celebrated the first outdoor wedding in its 97-year-history. It was held in the small courtyard of the church, with a dozen people in attendance, all wearing masks. On Aug. 8, another micro-ceremony with seven people took place. While September looks quiet, the church has other ceremonies booked in October, November and December. All are al fresco, until further notice.
According to celebrity event planner Bonnie Walker, who counts comedian Kevin Hart among her many A-list clients, "This has been a challenging time for sure but with every hardship, there are always silver linings if you are willing to look for them."
One of her favorite positives that's emerging from the explosion of virtual events is the level of participation and engagement of guests.  "Traditionally, aside from the ceremony, dinner, band and perhaps a photo booth, guests were largely in charge of entertaining themselves," Walker told the Courier. "With a virtual event, there is much more attention paid to the guests' experiences. What can we offer them to keep them engaged, interested, and make them really feel like they were an important part of the big day?"
Suggestions from Walker include sending guests a curated box full of wedding "essentials," which goes a long way in adding to the virtual experience. "We can send a gardenia candle to emulate the scent of the flowers, a small elegant wedding cake so that the cake cutting can be shared or a signature cocktail, so they can toast the special moments along with our couple," said Walker. "This is always popular and usually results in a lot of zoom toasts that can be shared across the platform. The resulting zoom dance party or contest after these cocktails are consumed can be beyond epic."
This gives family and friends watching from home a front row seat for some very personal intimate moments that are usually not captured. "We often tell our couples, 'don't stress too much over your personal food choices, as you will be too busy to eat.' However, with virtual events, it is the opposite. The couple has a chance for a lot of facetime with their circle of family and friends and the audience ends up with a more close and personal experience. Zoom is easily recorded so these stories and memories can be captured forever," said Walker.
If planning a micro-event, Walker advises to add a handful of virtual elements to create a hybrid event that can be shared with a greater guest list at a later date.
One of Walker's biggest challenges with micro-events is integrating different families and groups that have been quarantining in one location. "We have had great success sending doctors to the various households involved to get everyone tested before the big day. The tremendous comfort level that this provides to all involved is priceless," she said.
"In general, COVID 19 has really turned our industry on its head," added Walker.  "We challenge ourselves daily to create clever solutions to the very real limitations caused by the virus. In spite of it all though, innovation and creativity are soaring, and that perhaps is the best silver lining."