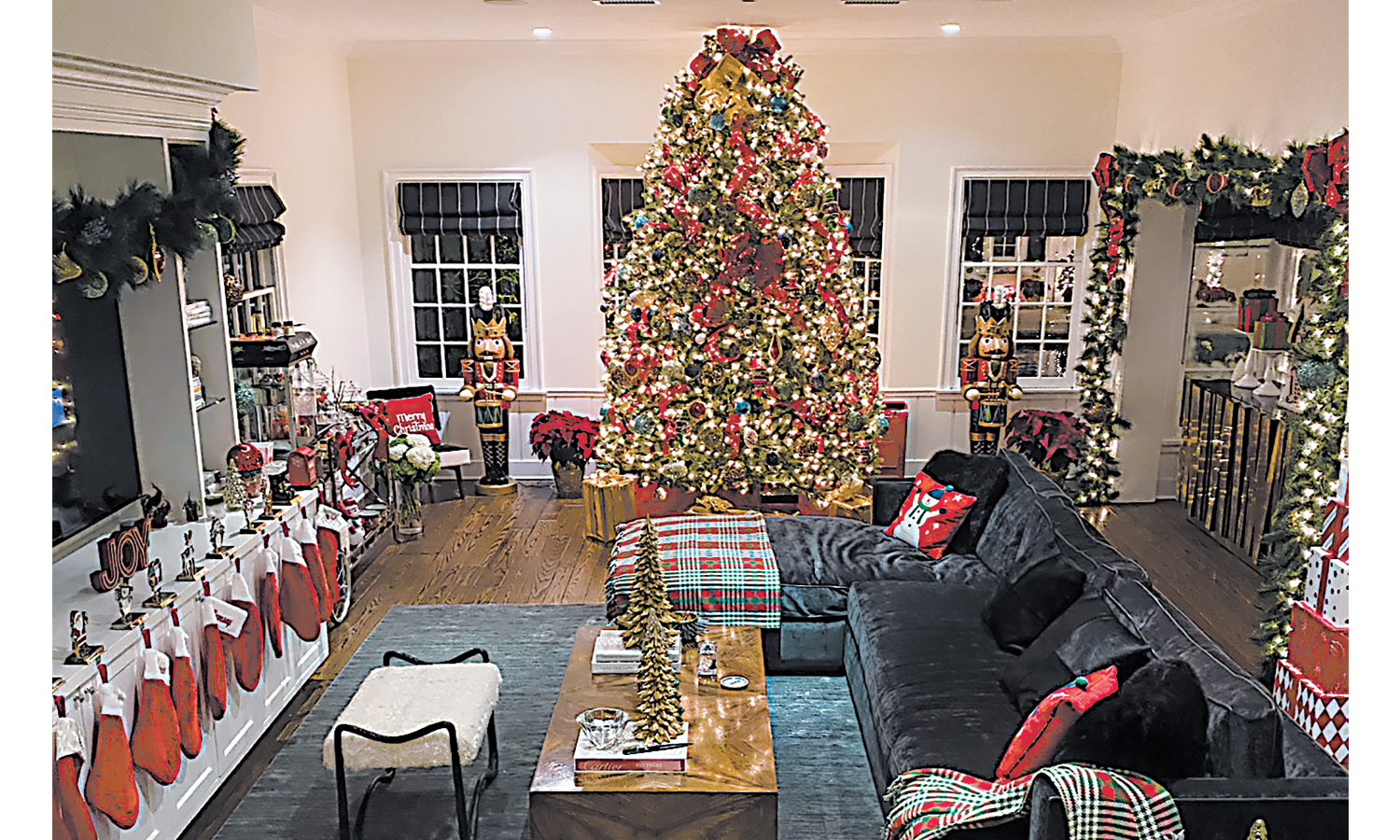 Holiday festivities may be curtailed this year, but holiday lights are shining as brightly as ever in Beverly Hills and the Southland. The Courier has put together a list of illuminated landmarks a driving distance away. New drive-thru experiences have popped up this year, as well.
The holiday brilliance begins here in Beverly Hills. White lights twinkle on palm trees.  And Rodeo Drive has become an imaginary runway, adorned with metallic-hued mannequins in elaborate attire.
"The spirit is shining through on residential streets as well. The Beverly Drive home of "Million Dollar Listing L.A." star Josh Flagg and his husband, Bobby Boyd is one notable example.
"Our theme is always 'Home Alone' meets Hallmark Christmas movie," Boyd told the Courier.
"This year, I really went crazy, especially with the backyard. I had some help. I always use Holiday Lighting Specialists outside and Dr. Christmas for the interior."
"I don't ask questions at this point," noted Flagg. "I just show up and every year Bobby makes it a winter wonderland."
Boyd said his memories of annual Christmas celebrations growing up continue to inspire him.
"Every year without fail, I have decorated. Even when I was in college and had a small apartment, I always had a tree."
Thus far, the Flagg-Boyd residence is garnering rave reviews.
"We've had handwritten notes from neighbors thanking us for brightening things up. Kids are ringing the bell. It's all so rewarding. I put my blood, sweat and tears into it. Every year it changes a little," said Boyd.
In the middle of a pandemic, nostalgia provides much-needed comfort to all.
"I've had friends get teary-eyed when they come in to see all the fireplaces on and all the decorations. It's not so much about seeing something beautiful. It's about being transported back to when you were a kid. I think right now we all need to see the world through a childlike lens. It doesn't matter how old you are."
Outside the City, numerous light displays can be enjoyed from the safety and comfort of your vehicle or in socially-distanced walking settings. Here are some highlights:
Dodgers Holiday Festival
From now through Dec. 24, the 2020 World Champion Los Angeles Dodgers are hosting a nighttime drive-thru Holiday Festival. Cruise through Lot 10 at Chavez Revine for a light show, LED video displays, fake snow and interactive displays honoring the Dodgers' World Championship and celebrating the holidays. Admission starts at $55 per vehicle/ticket. Closed Dec 7-8.
https://www.mlb.com/dodgers/fans/holiday-festival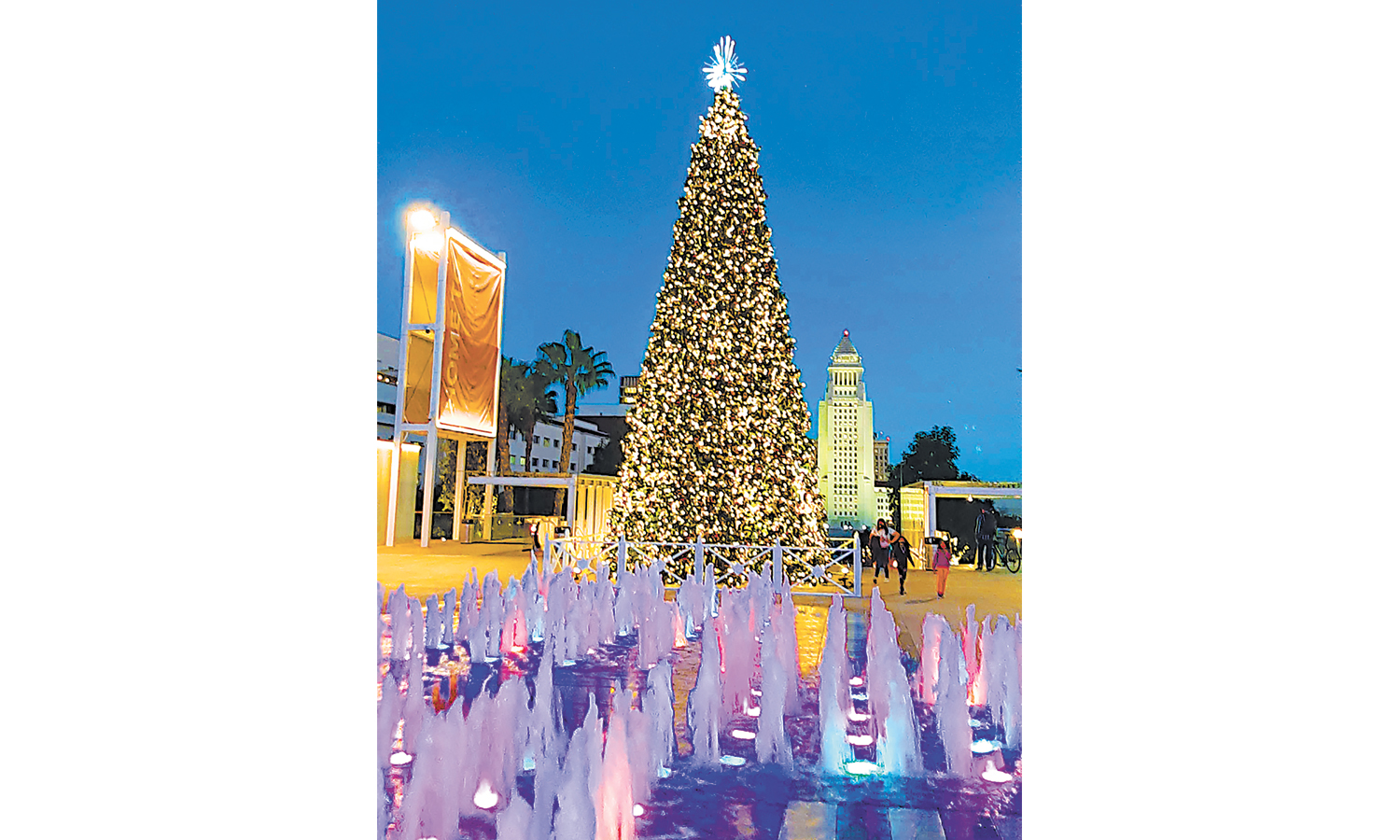 Grand Park, Downtown Los Angeles
While Grand Park is not hosting its annual Winter Glow this year, a new public art installation will be coupled with holiday lights. Beginning Dec. 9, Grand Park will present "Ground our Present, Dot our Future," featuring floor markers with positive messages of hope that encourage social connectivity and cohesion. Large colored decals will "dot" the Park's walkways with reflections and quotes about 2020 from everyday Angelenos crowdsourced through seven partner organizations including The Chinese American Museum, DUBLAB, Museum of Art and History, Headwraps in the Park, Kayamanan ng Lahi, Solidarity for Sanctuary and dA Center for the Arts. To highlight the public art installation and create a festive ambience, Grand Park will wrap its trees in holiday lights and light up the park's historic Arthur J. Will Memorial Fountain with a rainbow of colors. Additionally, the Holiday Tree on the Jerry Moss Plaza is lit up in the evenings. Grand Park, 200 N. Grand Ave., Los Angeles.
The Elf on the Shelf's Magical Journey
With the holiday spirit at an all-time low, Santa Claus has had to make an emergency landing at the Pomona County Fairgrounds. The Elf on the Shelf's Magical Journey is a drive-thru event at the Fairplex in Pomona that runs through Jan. 3. Guests can  experience elves coming to the aid of Santa Claus as they drive through toy workshops, gingerbread villages and other seasonal scenes. The experience will be narrated and include music that can be heard through smartphones running Android or iOS. Tickets start at $24.95 for adults and $19.99 for children. Fairplex in Pomona, 1101 W. McKinley Ave., Pomona. 213-267-8786.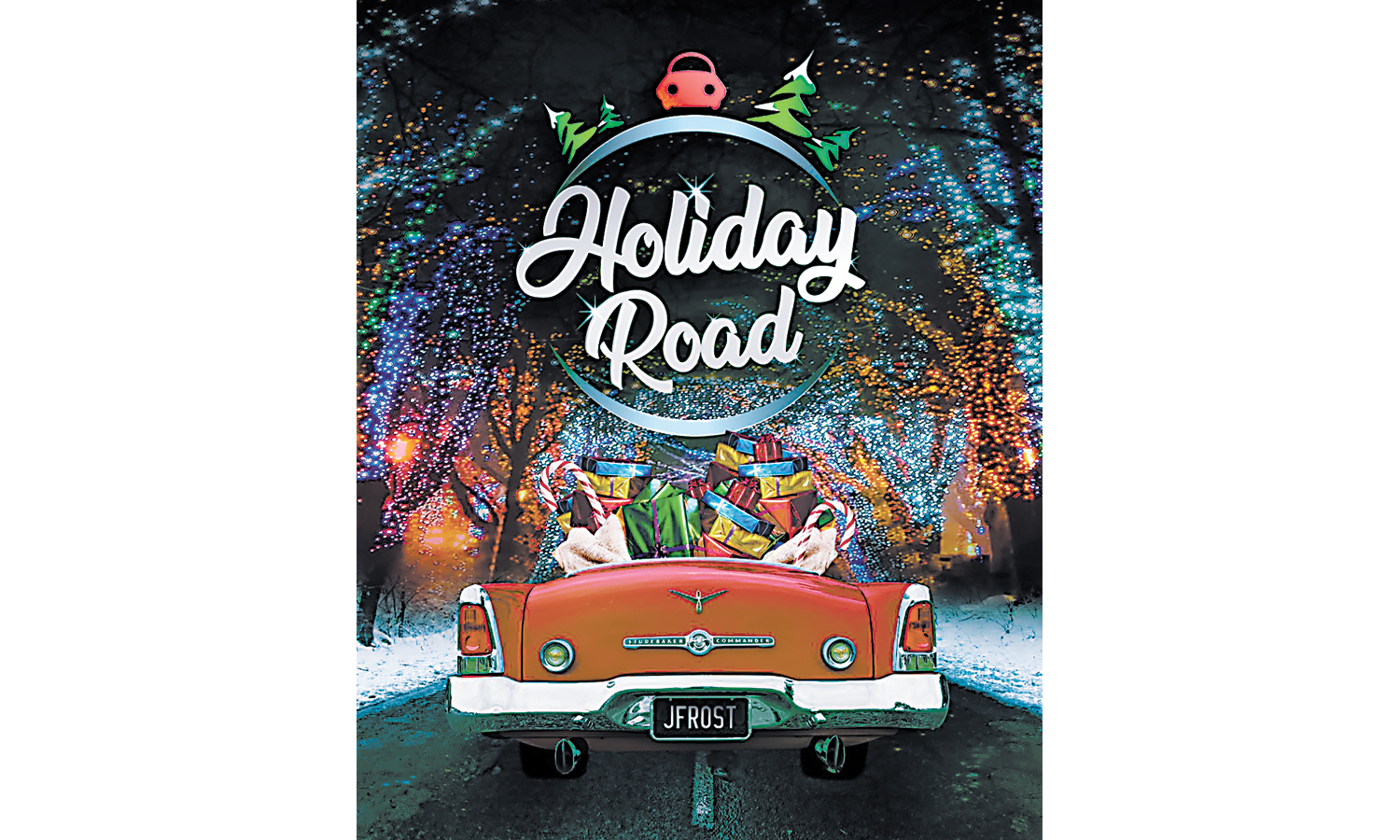 Holiday Road Drive-Thru Holiday Experience
The same team that presented the popular Halloween drive-thru,  Nights of the Jack, has created Holiday Road. The drive-thru  experience takes place at King Gillette Ranch in Calabasas. Expect larger-than-life holiday installations, thousands of Christmas lights, Santa, Mrs. Claus, elves, the North Pole, Gingerbread Lane, Christmas tree forests, countless candy canes and more through Jan. 10.  King Gillette Ranch is located at 26800 Mulholland Hwy., Calabasas. Tickets are priced per vehicle.
https://www.holidayroadusa.com/
Glow
Music and lights are lighting up the grounds of the South Coast Botanic Garden this holiday season with a walk-through art installation called "Glow" that mixes music, lights and an underwater vibe. It will take place nightly from 5:30-8:30 p.m. at the garden through Jan. 10. Several spots at the 87-acre venue, including the Bohannon Rose Garden, the Banyan Grove, the Desert Collection and the Living Wall, will be outfitted with light installations meant to make people feel like they're in rivers and the ocean. The lights will be paired with electropop and surf music created specifically for this exhibition. Tickets are $24.95 per person for members, $34.95 per person for non-members. Additionally, guests can find the Elf in the Garden this Holiday Season.The beloved character from Chanda Bell and Carol V. Aebersold's "Elf on the Shelf" is breaking free from quarantine and "hiding" in different areas of the Garden. He will move around the Garden each week leading up to Christmas. South Coast Botanic Garden is located at 26300 Crenshaw Blvd., Palos Verdes Peninsula.
Christmas Tree Lane, Altadena
Christmas Tree Lane in Altadena is recognized as the oldest large-scale outdoor Christmas display in the world. The one-mile long drive lined with cedars is listed in the National Register of Historic Places and designated as the California State Landmark No. 990. Through Jan. 7, the cedars will sparkle with the glow of over 10,000 holiday lights as it transforms into Christmas Tree Lane. Christmas Tree lane is located on Santa Rosa Avenue, between Woodbury Avenue in Altadena. Visitors are encouraged to first download the app at the Lane's official website for additional details about the destination.
https://christmastreelane.net/news-events/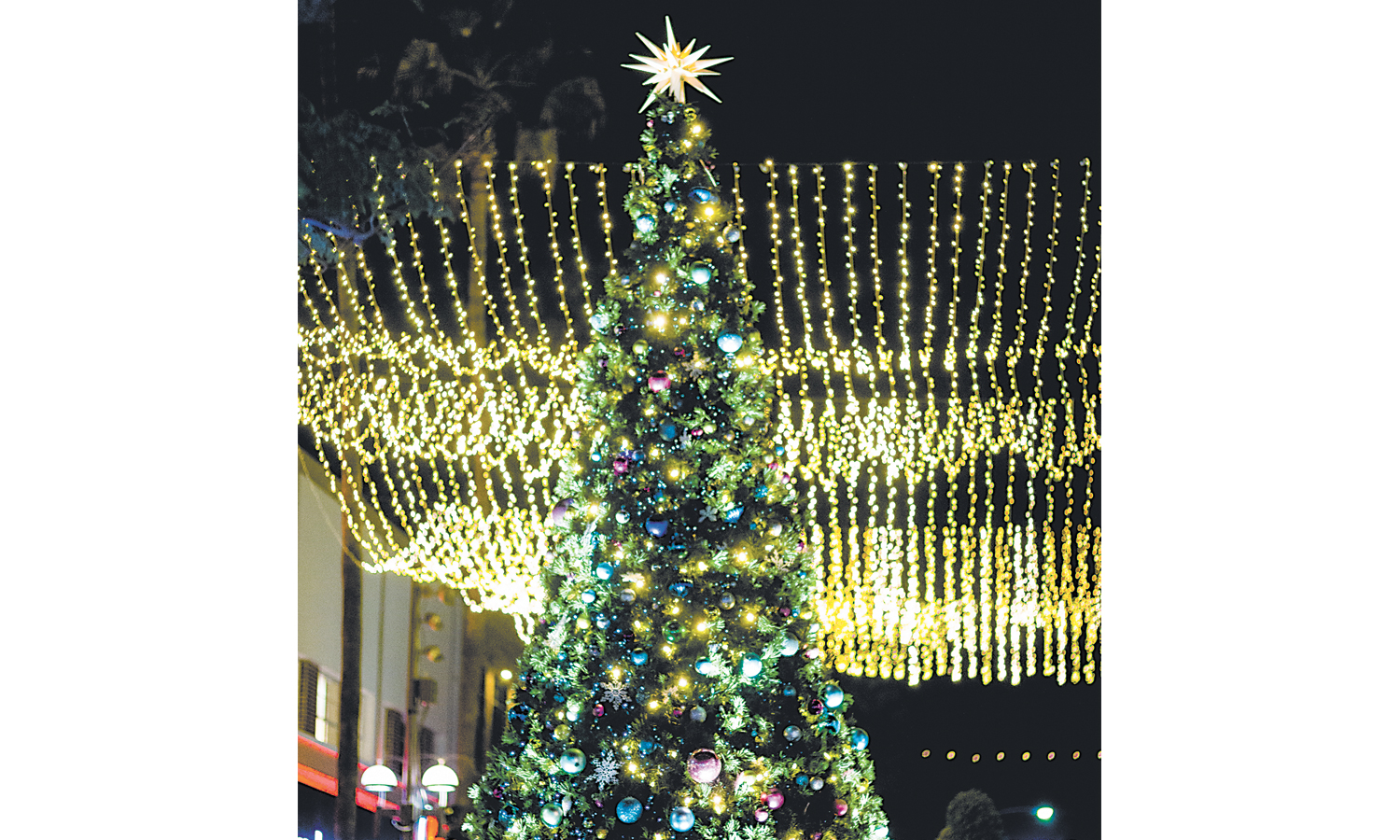 Winterlit Celebration, Santa Monica
Winterlit returns to Downtown Santa Monica to brighten up the holiday season. Third Street Promenade has transformed into an immersive holiday experience. Tens of thousands of festive lights and flowing garland bedeck the Promenade, 2nd and 4th streets, along with the official City of Santa Monica 24-foot-tall holiday tree. Nightly menorah lightings will celebrate the Festival of Lights this Hanukkah season from Dec. 10-18. The lightings will begin at Sundown and take place on the 1300 block of Third Street Promenade (located between Santa Monica Boulevard and Arizona Avenue). Additionally, holiday-inspired art installations have come to life at eleven stops throughout Third Street Promenade featuring window displays in storefronts and murals created by local artists who were asked to interpret what the holiday season means to them during an unprecedented year that has been anything but normal. Guests can enjoy a self-guided art tour throughout the Promenade, and in other areas of Downtown Santa Monica, at their leisure and from a safe distance. Parking is widely available in the downtown structures including the Santa Monica Public Library or Parking Structures 9 and 10 just north of Wilshire Boulevard. Biking, walking and public transit are encouraged.
https://www.downtownsm.com/winterlit
WonderLAnd
For a few weeks this winter, Woodland Hills is turning into the North Pole. From now through Dec. 23 and Dec. 26-28, the team behind  Haunt'Oween is now presenting WonderLAnd. The drive-thru features a half-dozen light tunnels as well as house facades decorated for the holidays, blasts of fake snow, flashing trees, thousands of lights, lawn decorations and other themed displays. WonderLAnd is located at 6100 Topanga Canyon Boulevard in Woodland Hills. For more information, call 805-719-1906
https://www.socalwonderland.com/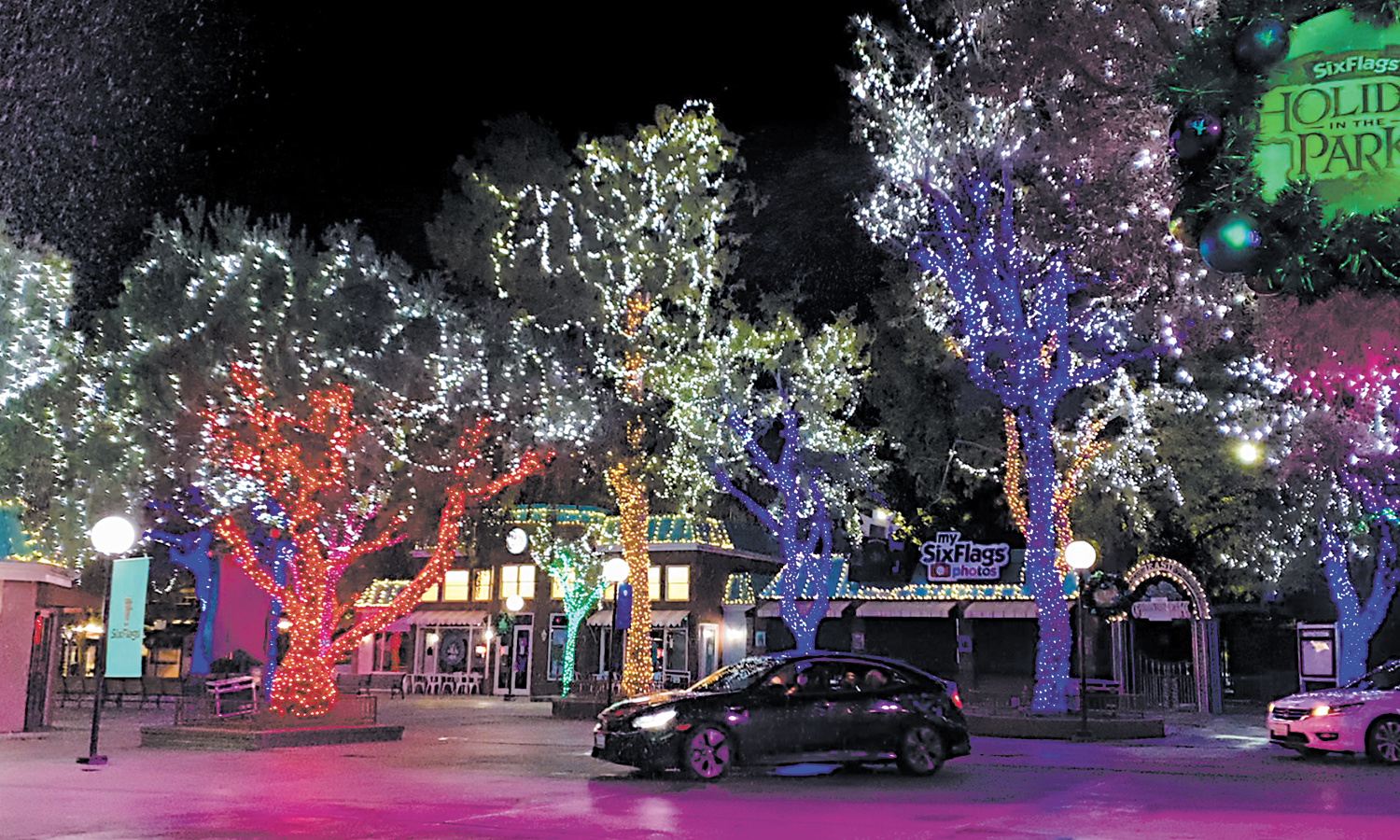 Six Flags Magic Mountain Holiday in the Park Drive-Thru Experience
For the first time ever at Six Flags Magic Mountain, guests can experience millions of lights, festive holiday decor, and seasonal music favorites in a drive-thru nighttime spectacular. Through Jan. 3, Magic Mountain will transform into a winter wonderland emblazoned with millions of colorful lights. Holiday in the Park will allow guests to drive their cars along the park's pathways and past illuminated displays. Expect dancing lights set to holiday tunes, 30-foot-tall ornaments, fake snow, appearances from Santa and Mrs. Claus and a car show from West Coast Customs. Holiday in the Park Drive-thru Experience includes eight distinctly different areas throughout the park, beloved holiday characters decked out for the holidays, a drive-by featuring Santa and his elves and more. Guests can also go for a ride in The Underground featuring several of the famous West Coast Customs show cars on display.
https://www.sixflags.com/magicmountain/events/holiday-in-the-park
Throughout the season, the Courier encourages readers to submit photos of local homes and businesses displaying the holiday spirit, along with a brief description thereof. Please send an email with "Holiday Lights" on the subject line to: Editorial@bhcourier.com