City of Beverly Hills
City Council Charts Legislative Course for 2021
"Part of the problem is that, right now, there is a narrative created by Sacramento. [California Senator Scott Wiener (D-San Francisco)] is always invoking Beverly Hills: We're the bad guys, we're why there's no housing," said Councilmember John Mirisch.
BY Samuel Braslow February 6, 2021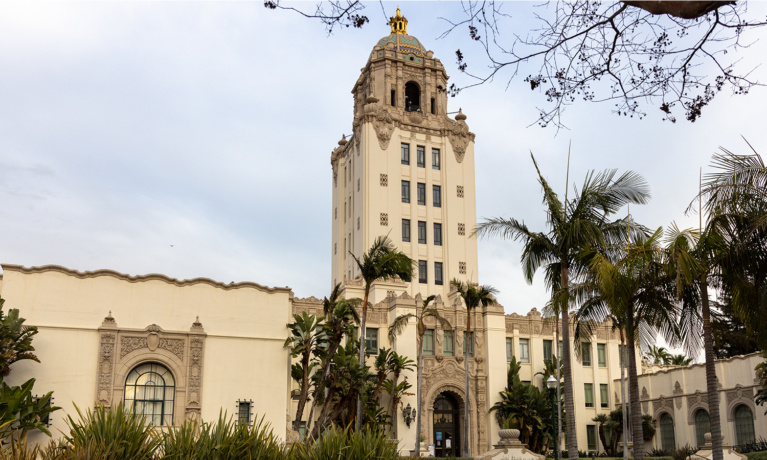 Reading Time:
4
minutes
The Beverly Hills City Council reviewed and finalized the city's legislative agenda for the new year at its Jan. 3 Study Session. The agenda foreshadowed a year focused on curbing multiple pandemic-related crises—both public health and economic—and addressing the existing housing crisis in California. On the local level, many on the Council expressed concerns with the direction of newly elected District Attorney George Gascón. The council also weighed the unique proposition of hiring a public relations firm to combat the negative image of Beverly Hills as "the bad guys" in the housing space and defending the idea of the single-family home.
Each year, the city establishes a legislative platform that outlines its legislative priorities. When legislation comes before state and federal lawmakers, the city's advocates turn to the platform for direction on the city's position. The platform exists as an "evolving document" that changes from year to year. The staff report compiled for the Jan. 3 Study Session identified 11 changes to the platform.
"I think the changes to the legislative platform are largely consistent with the principles that we already had in the legislative platform," said Vice Mayor Robert Wunderlich, who serves as one of two City Council liaisons on the Legislative Lobby Committee.
Some of the additions and modifications to the platform include support for legislation that would provide funding to local governments for COVID-19 and COVID-19 related infrastructure projects; support for legislation that would protect single family housing; and opposition to the creation of Housing Accountability Unit within the Department of Housing and Community Development (HCD), which would increase state oversight of local housing concerns.
The 2021 platform also dropped the primary focus from the year before, the failed Keeping California Safe Act, or Proposition 20, a tough on crime initiative that would have rolled back criminal justice reforms ushered in by Propositions 47, 57, and Assembly Bill 109.  But even with the failure of Prop. 20, criminal justice remained in the foreground for many councilmembers.
"Although the Keeping California Safe Act failed, I do think that the elements in it, reflected in the passage of Prop 47, and 57, and AB109, in particular, are things that we need to keep an eye on," said Councilmember Dr. Julian Gold. "And as concerned as I am about those in any circumstance, I'm more concerned now with the current LA County District Attorney, who has indicated a preference not to prosecute people."
City staff and the city council liaisons also floated the proposal of retaining a public relations firm "to develop messaging to State Legislature regarding legislation on housing and zoning for housing," according to the staff report. "The goal of the PR firm would be to better communicate information on why local control of zoning for housing is best left to individual jurisdictions [and] local elected officials better understand the need of their community."
"Part of the problem is that, right now, there is a narrative created by Sacramento. [California Senator Scott Wiener (D-San Francisco)] is always invoking Beverly Hills: We're the bad guys, we're why there's no housing," said Councilmember John Mirisch. "But it's basically an attack on single family homes, which people like Weiner consider to be racist, immoral, evil."
The idea's reception among other councilmembers was, as Gold put it, lukewarm. "In order to do it, we need more than just us," he said, arguing that Sacramento would not be inclined to care about Beverly Hills on its own. "When we first started [discussing this], somebody had suggested that we needed to find a sister city that was having a similar problem, like maybe Compton. And if we get together with them, now we get some attention."
"I also feel very uncomfortable with the hiring of a public relations company," Councilmember Lili Bosse added. "To me, even the fact that one has to hire one already works against us, because I think people say, oh, well, they had to hire a public relations company."
Mirisch clarified the intent behind the proposal, saying that the recommendation on the table was only to direct City Spokesperson Keith Sterling to look into the idea. "It's not just PR to spin things, it's about a strategy, which could very well involve what Julian said. We need to figure out a way to combine with other areas throughout Southern California and create a cohesive strategy that says why their narrative is wrong."
Part of the blame for the threats to local control of housing lay at the feet of the League of California Cities (Cal Cities), the Council said. Cal Cities, of which Beverly Hills is a member, is an association of most cities in California that advocates for local self-governance and autonomy. According to the Legislative Lobby Committee and its liaisons, though, Cal Cities failed in 2020 to oppose legislation that would limit local control over issues like zoning and housing. The Committee recommended that the Council authorize Mayor Lester Friedman to sign a letter to Cal Cities criticizing their recent actions, or lack thereof.
"I think sending this letter is consistent with our prior discussion about being part of a greater group who's advocating for the positions that we favor," said Wunderlich.
"[I am] disappointed by the fact that [Cal Cities has] taken such weak positions on critical matters of local democracy and community self-determination," said Mirisch.
"They need to do a better job of doing what they exist for, which is to protect local democracy under the understanding that decisions are made better at home than in Sacramento, especially in these critical times when cities are under attack."
The Council accepted the recommendation of the Committee to send the letter, but Councilmember Bosse noted the limitations of a letter, however strongly worded. "Sometimes a letter is just the letter and doesn't create change," she said.
"I'm not advocating to leave the league, but I think that should not be off the table at all," said Mayor Friedman.