While some restrictions have lifted for outdoor dining in L.A. County, not everyone could open fast enough for patio service this long "two-holiday" weekend. Some establishments are continuing for now with take-out and delivery, while others have just dusted off the parklet seating they invested in last year to eagerly welcome back customers.
Despite the current restrictions, there have been crowds on Canon Drive and customers waiting online at many of the popular standbys. It's clear that people want to be out experiencing a change of scenery and mingling a little with the community. Here are some options, from casual outings to date night dressy.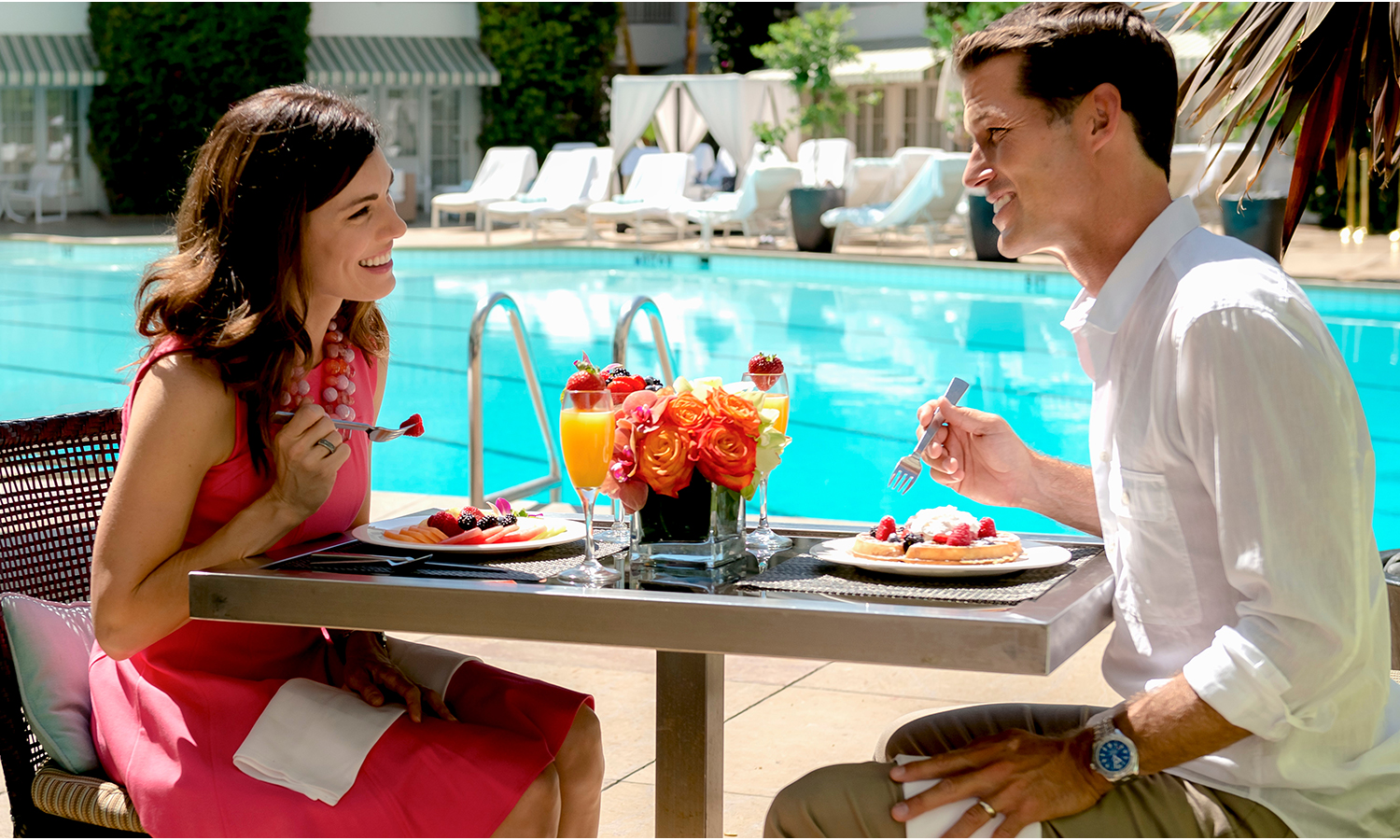 Opened This Week
On Feb. 8 celebrity Chef Curtis Stone and pastry Chef Amy Taylor opened The Pie Room by Gwen in the Maude space on South Beverly Drive. The savory and sweet offerings range from a trio of sizes, including English cottage pies and traditional American caramel-apple with picture-perfect flaky crusts. Tarts and steamed puddings are also in the mix, along with house-made condiments. Within the coming week, they will add side dishes, frozen offerings and a special Valentine's Day assortment. Open daily from 10 a.m. to 6 p.m. gwentogo.com
Patios, Parklets and Rooftops 
The Rooftop by JG at the Waldorf Astoria is accepting reservations along with the ground floor fine-dining Jean-Georges signature patio restaurant and the newer Waldorf Café by La Colombe. Next door at the Beverly Hilton Hotel, a special Valentine's Day dinner can be booked poolside at MERCATO. If you want to make a weekend out of it, special packages (rates from $494) include the newly renovated cabana poolrooms with dinner and Champagne on your own private terrace while a classic film is projected on the outdoor media wall. www.beverlyhilton.com
Culina Ristorante at the Four Seasons on Doheny is welcoming guests back to the front and back patios, along with a special multi-course Italian themed menu offering from Feb. 12 – 14. culinarestaurant.com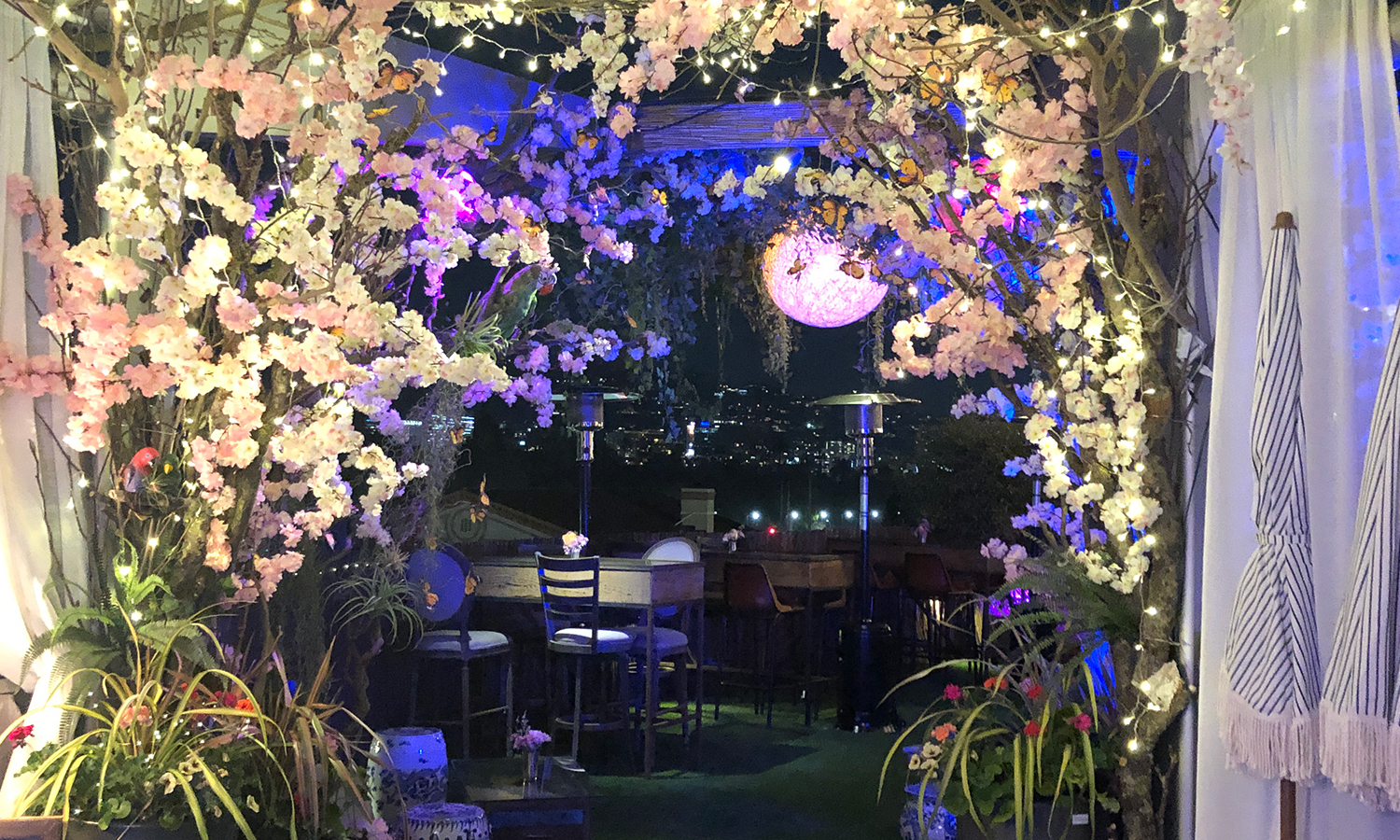 Heritage Fine Wine on Canon Drive has reopened with a secret garden rooftop overlooking City Hall. The Paris Tokyo concept is accessible through the Visitor Center building off Canon Drive Thursday through Sunday evenings. Expect rosé Champagne flowing and premium custom sushi boats (with 80 to 160 pieces) from Azai Sushi in a romantic setting with day beds and table seating under the stars. Book via Instagram @paristokyo_bh.
The Palm Restaurant has partnered with Garrison Brothers Distillery and Heisman Trophy winner Charles Woodson on Feb. 14 to create a five-course meal, paired with handcrafted bourbon cocktails and wine from Woodson's Intercept Wines. Dinners are $350 for two but virtual options with home delivery are also available. thepalm.com
New in West Hollywood 
The Fairfax district is booming with a trio of new options: Madre (madrerestaurants.com) is a Oaxacan-themed eatery with chicken mole and well-balanced cocktails from their 400-plus bottle collection, the largest in the country. Grain Traders (graintraders.com) is a healthy Singaporean transplant with grain-based dishes, baked goods and coffee options under a side patio. The long-awaited plant-based Taco Vega from Chef Jared Simons and Jared Meisler has a back patio space for sipping horchata and snacking on potato taquitos, cauliflower tacos and Ironman bowls.  tacovega.com
Theia is a contemporary Greek restaurant-lounge in Beverly Grove with an open-air patio serving flaming halloumi with ouzo and lavender crème brulee that's perfect for a weekend brunch date. theia-la.com
The 1933 Group's historic Formosa Café in the shadow of The Lot Studios is finally utilizing the upstairs patio to its full potential with Taiwanese-American fare served daily from 5-9 p.m. And, just a few blocks away, Chef Nicholas Peter from the currently closed The Little Door can be found at Harlowe serving a French-Moroccan menu on the two patio options.  1933group.com
For old favorites, Craig's on Melrose has added another parklet-patio to the front of the restaurant, to help with overflow from the back alfresco option, just in time for the long weekend dinning demand. (craigs.la) And, Olivetta is back for their "on holiday" residency at Kimpton La Peer just around the corner with rooftop and poolside dining options. olivetta.la
Latest in Culver City and Westside
STK Steakhouse has moved poolside at the W Hotel in Westwood and will be offering Valentine's Day specials throughout the weekend including a seafood platter for two ($69) and love potion cocktails, along with bottomless brunch options. stksteakhouse.com
Citizen Public Market is open in Culver City with upstairs and downstairs patios for dining on Good Boy Bob's duck confit with goat cheese chapatis, links and burgers from the Weho Sausage Company and pizza from Nancy Silverton of Mozza. citizenpublicmarket.com
Jordan Kahn, of  Vespertine and Destroyer fame is offering a Valentine's Day Picnic Box ($55) that includes artisanal cheeses and house-made delicacies such as foie gras parfait with green sage plum and pink peppercorn.  Pick-up or delivery is available Feb. 12 – 14, or you can also dine on the patio and admire the Haden Tract area architecture.  destroyer.la
Kahn is also offering a special five-course Valentine's Day version of its "Vespertine at-home" sensory experience menu for $165 per person with a 15-hour slow-smoked prime beef rib for two with esthetic serving vessels. vespertine.la
Chef David Myers, who earned a Michelin star at his former flagship restaurant Sona, and was last seen in this country opening Hinoki + the Bird in Century City, has opened an excellent pop-up burger patio in Venice on Abbot Kinney. The surprise here is not the return of a modern version of the beloved Comme Ça gourmet burger from his former West Hollywood haunt (that The New York Times crowned the best burger), but the inventive milkshakes such as green matcha and white chocolate. adriftburgerla.com 
Ocean Avenue in Santa Monica is slowly opening patio dining but don't overlook Interstellar – a new low-key daytime coffee shop with a small patio offering an ocean view, and a menu spanning Korean galbi bowls to lobster rolls and a surprising sake selection. interstellarla.com