A woman was shot during a robbery at iconic Beverly Hills restaurant Il Pastaio around 2 p.m. on March 4. Three suspects ran from the scene before Beverly Hills Police Department (BHPD) officers arrived. The department is actively investigating the incident, but has not apprehended any suspects by press time.
During a busy Thursday of alfresco dining at Il Pastaio, three men descended on Shai Belhassen during one of his thrice weekly meals at the Beverly Hills institution. "I just saw them walking down, then running towards me with a gun," Belhassen told the Courier. One of the three men, who he described as young, Black, and wearing sweatsuits, put a gun to his head while another began to take off his watch, a Richard Mille that Belhassen valued at hundreds of thousands of dollars. 
Belhassen says that he then "grabbed the gun" from the suspect and "fought him to the ground." They continued to wrestle on the ground when another patron, Drew Handcock, approached to intervene.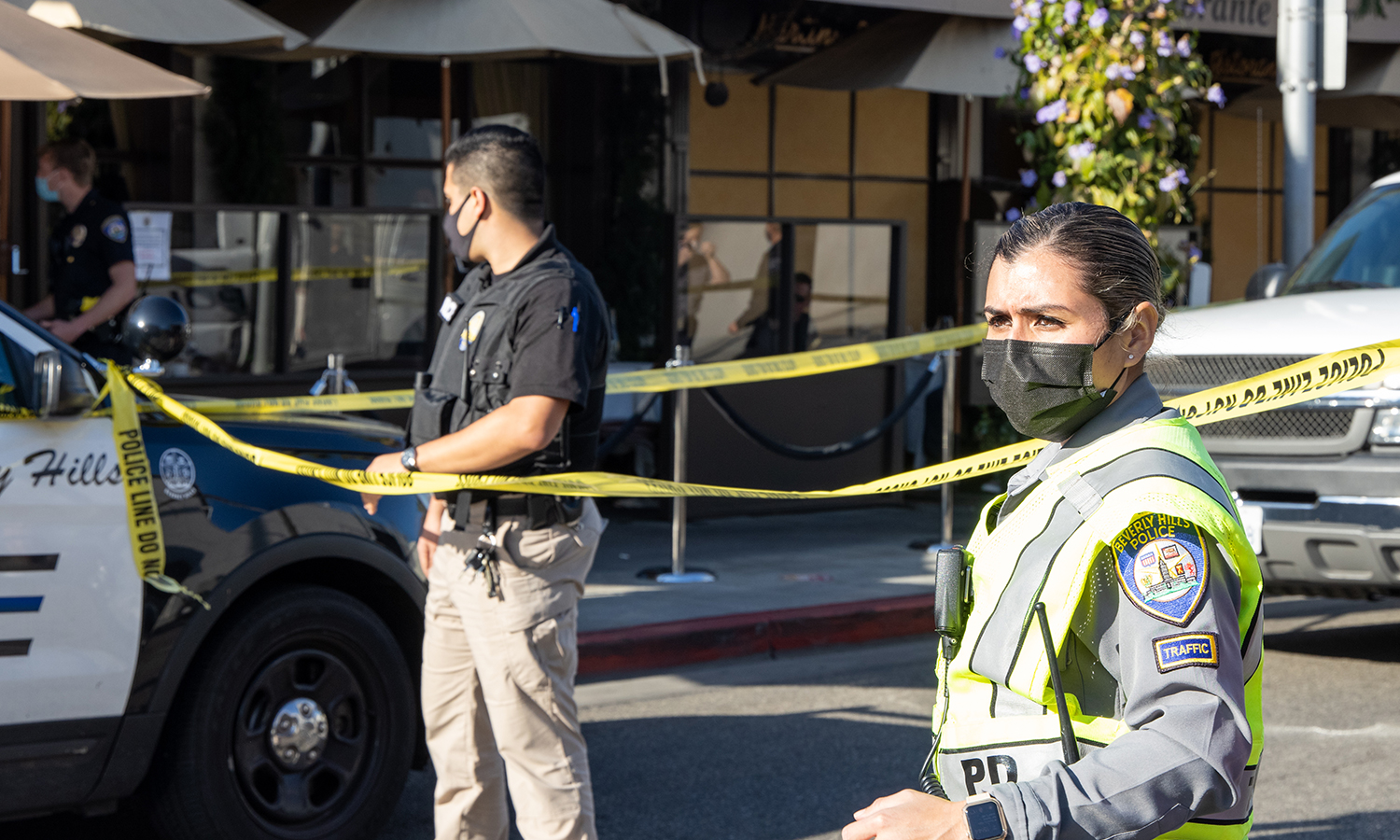 "I saw the guys wrestling. I thought it was just a drunken fight between friends or something. So I stood up, because I'm 6′ 4″ and a giant, and I was walking over there to settle it down and then I hear one shot ring out," he told the Courier. "I immediately turn and then three more shots ring out as I'm grabbing my girlfriend and our friend and throwing them inside the door and diving in."
But even with his quick action, his girlfriend, Amanda Shawshan, was injured in the volley. Handcock noticed the blood once inside the restaurant. "She was bleeding…on the back of her calf," he said. Emergency services took Shawshan to Cedars-Sinai, where she was treated for the injury. Handcock said that Shawshan only needed a single stitch and was doing well. 
The commotion from the shooting rippled down Canon Drive, with diners at other restaurants fleeing inside for shelter. Just moments before the gun fire, a man running north on Canon yelled out, "He has a gun, run," according to Ashley, who works at a restaurant down the street. Almost immediately, the shots rang out from Il Pastaio. "Everyone from our restaurant ran inside and I think everyone was worried that there might be more coming." She says the police arrived almost instantly.
Belhassen said that he continued to fight with one of the suspects for over a minute after the gun fired, at which point he wrested the gun away. "They realized that I had the gun [and] they ran away," he said. "I could have pointed and shot at them, but I didn't want to. For some reason, I don't know why."
According to BHPD, one other victim suffered physical injury during the incident, but was treated at the scene.