An enthusiastic crowd gathered in Beverly Gardens Park on May 23 to show support for Israel following the recent spate of antisemitic violence in Los Angeles and the conflict in Israel. Crowd-size estimates range from the hundreds to 2,000 people. 
Hosted by the Israeli American Council, in partnership with local pro-Israel organizations, the event was part of a nationwide slate of IAC-sponsored rallies with the slogan: "United Against Antisemitism. United Against Terror. United For Us." The rally featured a lineup of speakers that included local politicians, community leaders, and media personalities. 
"This is how we do it in Beverly Hills," Vice Mayor Lili Bosse proclaimed during her speech. "We stand side by side with Israel… We stand against antisemitism. We stand against Jew hatred. We stand against all hatred."
The energy remained high throughout the afternoon as attendees danced, cheered, and sang along with Israeli music, passed out stickers, and waved Israeli and American flags.
Many in the crowd  wore shirts declaring "I Stand With Israel" or representing the Israeli Defense Forces, and countless people held signs denouncing terrorism and Hamas. At the edge of the park, a constant stream of cars honked and displayed flags as they passed by.
"It was heartwarming to see all that support," Jonathan Bar-El, Consul for Public Diplomacy for the LA Consulate General of Israel, told the Courier. "And to see all those organizations and people, Jews and non-Jews alike, joining together to support Israel."
Throughout the afternoon, speakers and attendees spoke, sang, and chanted in Hebrew, most notably repeating the phrase "Am Yisrael Chai," a popular Hebrew expression and song that translates as "the people of Israel live." The national anthems for both the United States and Israel were also played.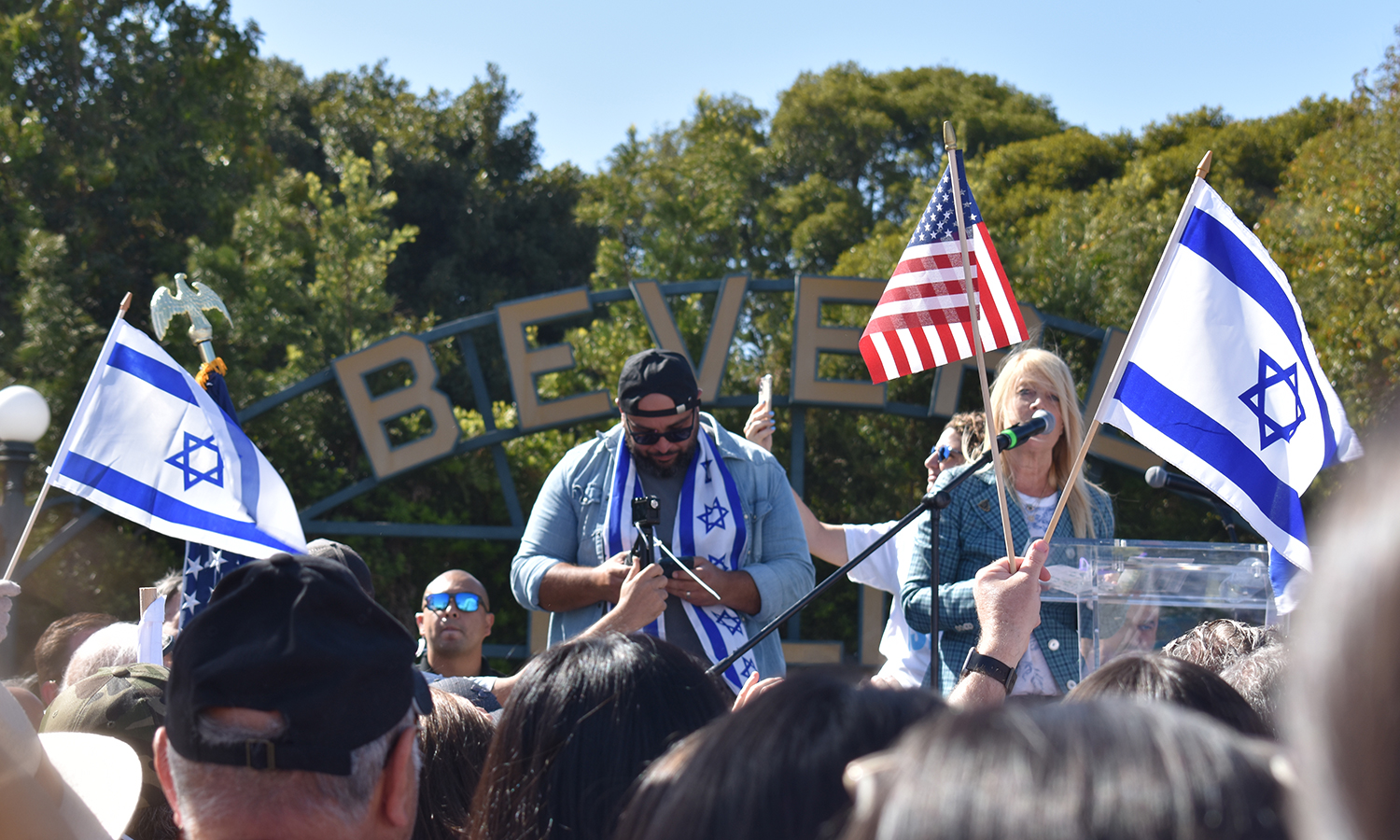 "There has been a lot of Jewish hate in the past few weeks," rally-goer Jose Danon, 40, told the Courier. "I'm Israeli, so I think it's important that I'm here to support my country."
Many of the speeches echoed common themes: the importance of unwavering support for Israel and fighting back against antisemitism and anti-Zionism in Israel and in America. Some speakers bemoaned the "mainstream media," universities, and Hollywood for their perceived role in the recent rise of antisemitism across the United States. 
Dr. Hillel Newman, Consul General of Israel to the Pacific Southwest, addressed what he sees as a direct connection between the recent violence in Los Angeles and the conflict in Israel.
"There is a special bond that binds Israel and Los Angeles," Newman told the crowd. "Hate-filled Hamas attack Jews indiscriminately in Israel, and hate-filled rioters attack Jews indiscriminately in Los Angeles. Two sides of the same coin. Anti-Zionism is antisemitism."
Beverly Hills City Councilmember John Mirisch also spoke, calling antisemitism a "pathological disease." Unlike COVID-19, Mirisch said, there is no vaccine for such hatred. 
Other speakers at the rally included Elan Carr, former U.S. Special Envoy for Monitoring and Combatting Antisemitism; Rabbi David Wolpe, Max Webb senior rabbi at Sinai Temple; and Sarah Idan, former Miss Universe Iraq, among others. 
The rally attracted people of all backgrounds and ages. Some, like Mavit Feigin, drove several hours to attend the event and show their support for Israel.
"People are enthusiastic," Feigin, 40, told the Courier. "When we say 'Never Again,' we mean never again. We're standing up for our identity. An attack on Israel is an attack on us."
John Ark, a 25-year-old Angeleno, said the crowd's passion was uplifting. "It makes me proud to be a Jew, to stand with my brothers and sisters in solidarity," he told the Courier.
The final speaker, conservative radio host and founder of the media company PragerU, Dennis Prager, was greeted with widespread cheering and excitement. 
Prager did not mince words: "Hamas is scum," he told the crowd. "If you don't know that, I don't know what's wrong with you."
For Bosse, supporting Israel is personal. Her mother, Rose Toren, survived the Auschwitz death camp. After the Holocaust, Toren moved to Israel, where she met and married Bosse's father. Without Israel, Bosse said, she would not be here today.
"The message is loud and clear: Don't mess with home," Bosse said. "Don't mess with family. Because hate will never win. Mom, we will never give up."