Cheval Blanc Beverly Hills is a few years away yet. But an advance look at the five-star hotel experience from luxury conglomerate LVMH is available at the Cheval Blanc Paris this fall. The property is but one of the showstoppers of the revitalized Samaritaine Paris Pont-Neuf project unveiled in the City of Light on June 21. 
La Samaritaine, the legendary 100-plus-year-old Paris department store, is the centerpiece, as well as namesake of the project. Snuggled on the banks of the Seine, near Notre-Dame Cathedral and the Louvre, it is renowned, among other things, for its 1920s-era Art Deco façade, imposing iron and glass roof and gold leaf-adorned central staircase. It is an historic monument in France, a testament to both Art Nouveau and Art Deco design. Inside lies 215,000 square feet of shopping space, plus a window into day-to-day Parisian life. Closed since 2005 for safety reasons, it has been sorely missed by residents and visitors alike.
LVMH has spent the last seven years on a grand makeover, transforming Samaritaine from a classic department store to the anchor of a mixed-use urban experience. An undulating glass façade now greets visitors on the Rue de Rivoli, designed by Japanese firm Sanaa. The Pritzker Prize-winning firm is also responsible for 343 exterior screen-printed glass panels. The reimagined Samaritaine Paris Pont-Neuf department store will feature 600 brands, new concept stores "Loulou" and "Rivoli," 12 restaurants, the "Voyage" space combining gastronomy, art and "memorable experiences," L'Appartement, a private shopping experience amidst artwork, plus the largest beauty space on the Continent.
The timing of the June 21 unveiling was auspicious, coming shortly after Europe lifted the ban on non-essential travel by foreigners. Tourism in France – and elsewhere – is still in need of a jump start. And retail as a whole was already suffering globally, even before the pandemic. The bold new Samaritaine complex, with its hotel, restaurants, office space and more, is expected to become a destination in and of itself. 
It is no surprise then, that no less than French President Emmanuel Macron attended the inaugural ceremony, along with Paris Mayor Anne Hidalgo and Bernard Arnault, chairman and chief executive officer of LVMH. LVMH already owns upscale Parisian department store Le Bon Marche, as well as a majority stake in luxury travel retailer DFS Group, which operates La Samaritaine. 
"No other department store has such compelling links to the two faces of Paris, one engaged with the historic economic vitality of the recently renovated Les Halles and the other overlooking the Seine, offering the most beautiful view of the world's most beautiful city. The completion of this project, which both creates jobs and promotes a unique Parisian art de vivre around the world, is also a great source of pride for our Group in France and in Paris. Many of our Maisons were founded in Paris, where we intend to make an active contribution to economic recovery, as well as the worldwide appeal of France," said Arnault.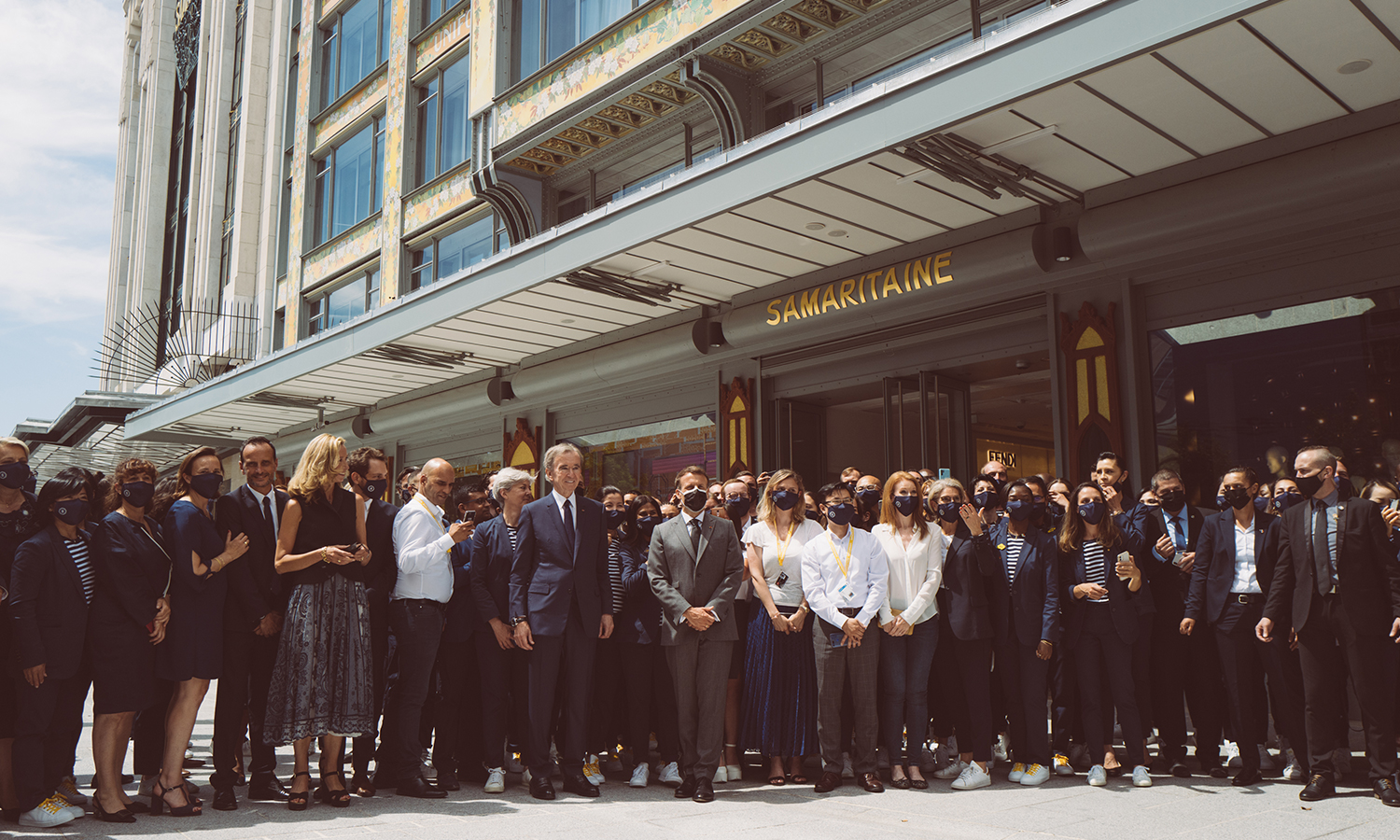 The entire Samaritaine Paris Pont-Neuf project is a model of forward-thinking mixed-use planning. In addition to the department store and hotel, structures include a nursery and 96 public housing units operated by Paris Habitat. A pedestrian square with access to the Pont Neuf will help with a hoped-for renaissance of the neighborhood between the Louvre and Les Halles. 
In total, the development included some 753,000 square feet of renovated or newly built space. Cheval Blanc Paris is a key component. The first urban hotel from LVMH faces Quai du Louvre and will welcome guests on Sept. 7. Interiors of its 72 rooms and suites were created by American architect and designer Peter Marino, who has transformed an Art Deco building overlooking the Seine. 
Marino also has the commission to design Cheval Blanc Beverly Hills for LVMH. The ultra-luxury hospitality, retail and dining project is expected to open on Rodeo Drive in 2025. Plans call for an innovative, yet classic 115-guestroom bespoke hotel, as well as ground-floor LVMH retail establishments and exclusive dining venues. Additional features include rooftop pools, a private club and expansive penthouse space. 
During the June 21 Paris inaugural, executives noted that it may take one or two years for tourists to fully return to France. Once things get back to normal, La Samaritaine is expected to attract some 5 million visitors per year. With any luck, many of them will also make their way to Beverly Hills.