Years ago–years before his paintings were in the White House or in the collections of Oprah Winfrey and other A-listers–Chaz Guest's son asked his father to create a superhero. Quite literally the next day, Guest said, the story and likeness of Buffalo Warrior came to him, the first superhero "born in the cotton fields." Now until Sept. 6, it joins the City of Beverly Hills as a part of the Sing for Hope Piano program.
Beverly Hills currently hosts 16 upright pianos hand-painted by artists including Guest. Following their month-long stay in Beverly Hills, the pianos will go to underserved schools throughout the county, including Jordan High School in Watts, Vanalden Early Education Center in Tarzana, Montebello Gardens Elementary School in Pico Rivera, Dorris Place Elementary School in Elysian Park, View Park Preparatory High School in Hyde Park, and George Washington Carver Middle School in South Park.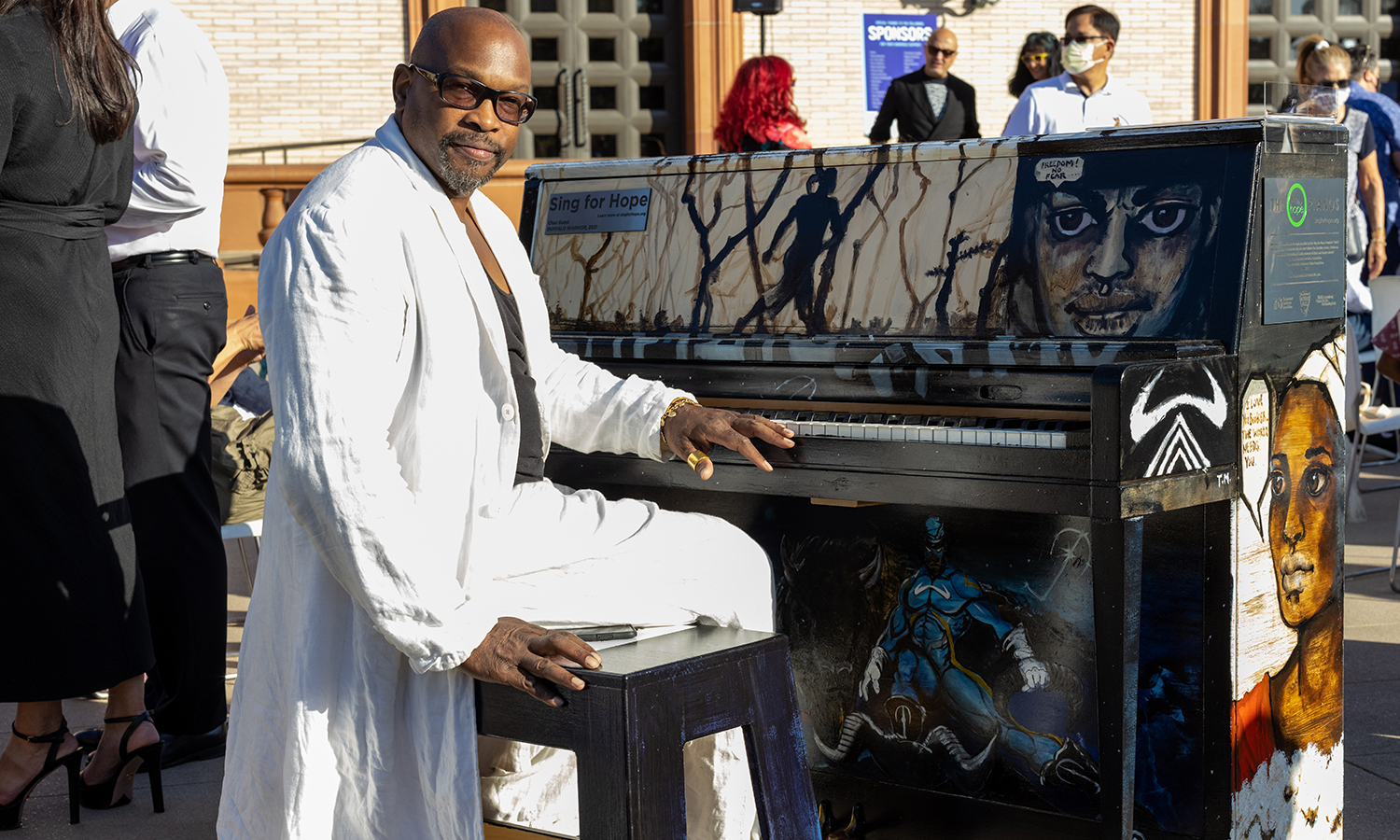 The Sing for Hope Piano program began in New York City over 10 years ago and describes itself as the "country's largest annual recurring public arts project" with the goal of democratizing music. The public can enjoy the pianos at Beverly Hills City Hall, Beverly Gardens Park, the Wallis Annenberg Center for the Performing Arts, Will Rogers Memorial Park, La Cienega Park, and Roxbury Park.
Guest's own piano shows characters and scenes from Buffalo Warrior's story. In an interview with the Courier, Guest recounted the origin of Buffalo Warrior. Born into slavery and freed following the Civil War, protagonist Booker Cooper finds purpose by enlisting with the Buffalo Soldiers, the Black regiments formed after the war. Out on duty one day, Booker gets separated from his group, winding up at the bottom of an open grave of buffalo. There, the spirit of a sacred buffalo saves his life and gives him the power to fight evil.
Apart from his son's request, Buffalo Warrior comes out of Guest's prior work, his celebrated "Cotton Series" of paintings depicting enslaved Black men, women, and children. Guest painted the series on American flags spun from pure Georgia cotton. The resulting portraits are searing indictments by virtue of the deep humanity of the subjects. 
While Guest has never shied away from the thorns of American history, he has found that viewing slavery and its legacy through the lens of the superhero genre makes the subject more accessible. "It allows me to gently have a real conversation about what humanity is," he said.
Guest loved superheroes growing up in the inner city of Philadelphia. But with decades to go before Hollywood broke ground with Black Panther, "the closest one to me was Hulk, because he was green." After he left behind Philadelphia, Guest made his way to New York City, where he studied fashion illustration and design at the Fashion Institute of Technology. After that, he hopped across the Atlantic and worked in Paris as an illustrator for the haute couture magazine, Joyce. 
Guest had established himself as an illustrator by the time he discovered his idiosyncratic style of painting with the help of his good friend and legendary alto saxophonist Kenny Garrett. Garrett invited Guest to paint on stage at a show in Japan in 1997 as Garrett and his band played.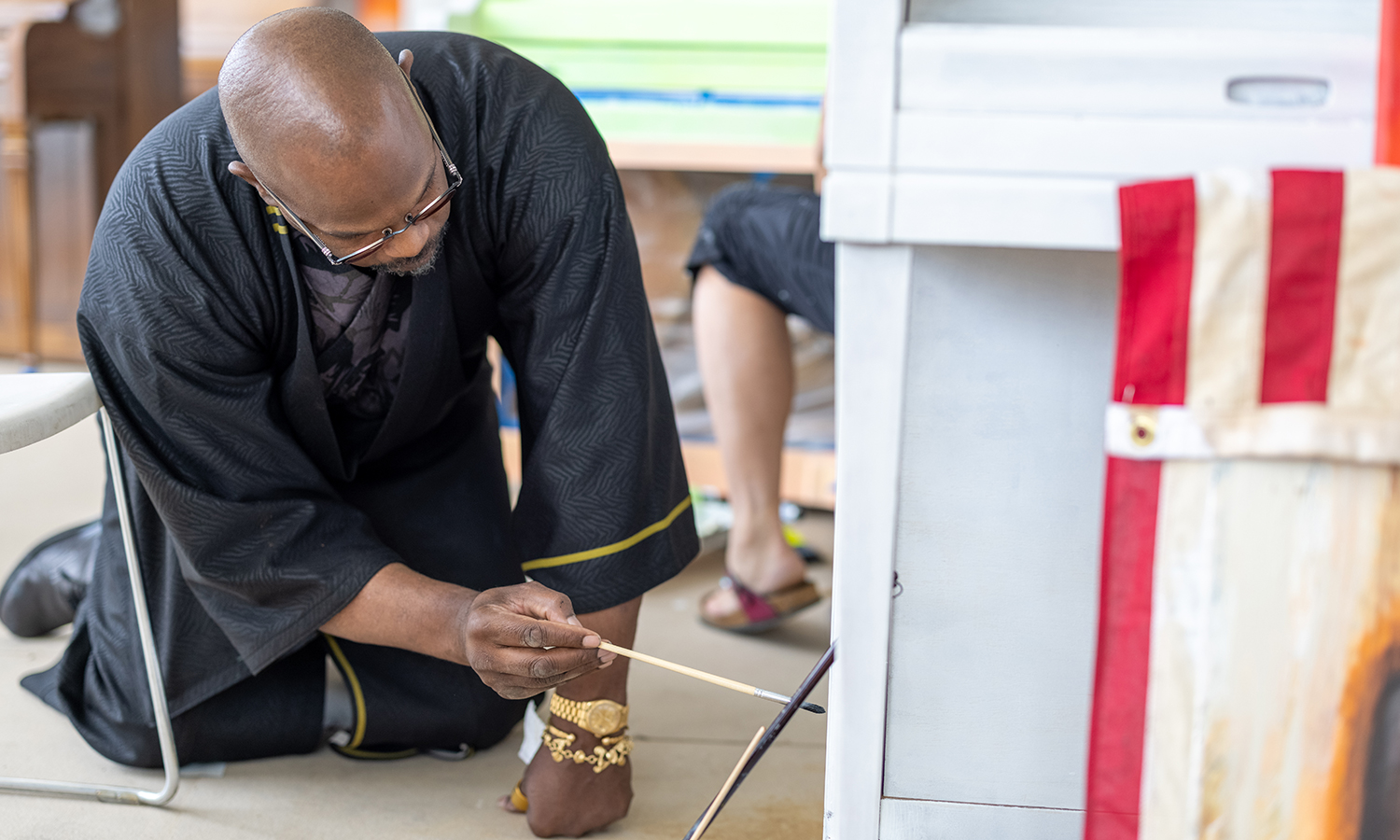 "The music started weaving together and I didn't think anymore, I just started moving," he said. In that moment, Guest began developing his characteristic style of long, gestural lines dancing across richly textured surfaces. 
Guest's work now lives in the homes of Barack Obama, who owns a portrait of trailblazing Supreme Court Justice Thurgood Marshall and himself, Oprah Winfrey, Angelina Jolie, jazz legend Herbie Hancock and filmmaker Tyler Perry. 
Guest saw an opportunity in Sing for Hope to enrich the lives of children that, like when he was growing up, make do with less.  "The thing that really got me in here was the fact that when I was in the inner city of Philadelphia, I was the only one of the three boys that enjoyed music and art. I had to witness the government snatching those programs out of my school at the time," he said.
"I actually postponed my trip to New York to do this piano because I think it's very important that this piano winds up in school and they see this superhero coming from this little boy that was in the cotton fields. That's going to start to teach them their true narrative, not from a European perspective, but from an African perspective–the perspective of our true history that's not so often told correctly."