City of Beverly Hills
Beverly Hills City Council Adopts Disposable Foodware Ordinance
In May, the PWC unanimously agreed to recommend the ordinance to the Council, and the Council unanimously agreed to move forward on the proposed ordinance at its Sept. 21 meeting. The ordinance goes into effect on Nov. 27. 
BY Bianca Heyward October 30, 2021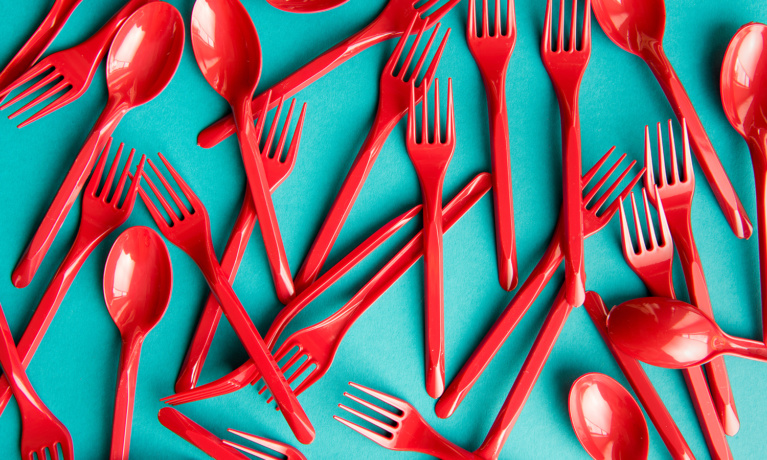 Reading Time:
3
minutes
At its Oct. 26 meeting, the Beverly Hills City Council adopted an ordinance that amends the Beverly Hills Municipal Code to regulate disposable foodware accessories in an effort to reduce single-use plastic waste. The Disposable Foodware Accessories Ordinance also aims to lessen the environmental impacts associated with the production and disposal of items such as napkins, straws, plastic cutlery, condiments, and other disposable flatware. The ordinance mandates that food service establishments only give out such items to customers upon request, including orders placed online and via third party delivery apps. The initiative was introduced by the Public Works Commission (PWC) as a first step before future consideration of a complete ban on plastics and Styrofoam. The ordinance is meant to address an increase in waste due to take-out orders and deliveries seen during the pandemic. While the ordinance does not prohibit the use of disposable foodware accessories, businesses must hang signage that notifies customers of the ordinance. 
In May, the PWC unanimously agreed to recommend the ordinance to the Council, and the Council unanimously agreed to move forward on the proposed ordinance at its Sept. 21 meeting. The ordinance goes into effect on Nov. 27. 
"In order for Beverly Hills to continue to be an iconic brand, we need to be forward thinking and leaders in various industries, including adopting sustainable methodologies," PWC Commissioner, Sharona Nazarian, told the Courier. "We want to encourage our business community and stakeholders to foster a culture to reduce the consumption of single use plastics before these unwanted items are placed in our to-go food bags and subsequently in our landfills."
Insurmountable amounts of disposable foodware accessories fill the City's waste stream, polluting the land and ocean, according to the staff report. The production of plastic cutlery contributes to the depletion of natural resources, increases greenhouse gas emission on manufacturing, and its decomposition further increases the greenhouse gas emissions coming from landfills. Since disposable foodware accessories are generally not recyclable and disposed of in landfills, the ordinance will help manage waste and pollution from these items. 
Instead of automatically included disposable items, popular food service delivery apps like DoorDash or Postmates already feature an option to request cutlery on their platforms. 
"There were several public hearings on it, staff went to the Chamber of Commerce, and they also reached out to various restauranteurs in the city, and the comments were generally very positive and in favor of it," PWC Chair Charles Alpert told the Courier. "It's sort of like a win-win for the restaurants, too, who get to save some money if they don't have to give out ketchup packages and plastic silverware with every order. I think there's a feeling that this was a first step and there's a lot more to do regarding packaging for takeout food in general. We haven't tackled Styrofoam, and other types of packaging, so I'm hoping that next year we'll do a follow up ordinance."
To help food service establishments comply with noticing requirements, the city will provide the appropriate signage in both Spanish and English. Businesses that use foodware dispensers are exempted from the ordinance and will be allowed to continue their use. After educational efforts have been exhausted, businesses will be subject to enforcement fines by the city. For first and second violations, businesses will receive a notice, and then a $25 fine will be enforced each day after the second violation notice. Fines are not to exceed $300 annually. After conducting community outreach campaigns and activities, staff found stakeholders and residents to be very supportive of the ordinance, with letters from regional environmental groups urging the city to expand the scope. 
"We have to think outside the box and become more comfortable with finding ways to reduce costs while saving our environment," Nazarian told the Courier. "That is what the Disposable Foodware Accessory Ordinance accomplishes. Big changes come from many small steps forward."
To learn more, visit 
http://www.beverlyhills.org/departments/publicworks/recyclingandconservation/disposablefoodwareaccessories/web.jsp?NFR=1.