On Nov. 18, Beverly Hills will say let there be light, marking the return of the annual Rodeo Drive Holiday Lighting Celebration after its COVID-19 hiatus last year. From
5 to 8 p.m., a three-block stretch of Rodeo Drive will transform into an outdoor performance space, featuring singing, dancing, and acrobatics. The night will culminate in an address by Mayor Robert Wunderlich followed by a fireworks display.
"It's been 18 months of this pandemic. We all truly feel that the community is ready to celebrate safely," Kathy Gohari, President of the Rodeo Drive Committee, told the Courier. "Between everything that we've all gone through, it just makes us appreciate spending time together as a community."
The plans are a collaborative effort of the Rodeo Drive Committee and the City of Beverly Hills as a part of the city's Beverly Hills Open Later Days (BOLD) initiative. Visitors will be required to wear a mask and practice social distancing regardless of vaccination status except when eating or drinking. For those unable to attend, the city will broadcast and stream the evening on Cable TV Channel 10 and www.beverlyhills.org/live starting at 7 p.m.
Last year, the city drastically scaled back the celebration on account of the pandemic. While Rodeo Drive had its usual holiday face lift, the city scraped plans for in-person events. The Rodeo Drive Holiday Lighting Celebration will be the largest event hosted by the city since the pandemic. Other years have seen as many as 10,000 visitors at the festivities.
"We are thrilled to welcome visitors and residents back to our holiday celebration that we missed last year due to the pandemic," said Beverly Hills Mayor Robert Wunderlich in a statement. "We've been anxiously waiting for our festivities to return and for families to once again enjoy the holiday season that is truly magical in Beverly Hills."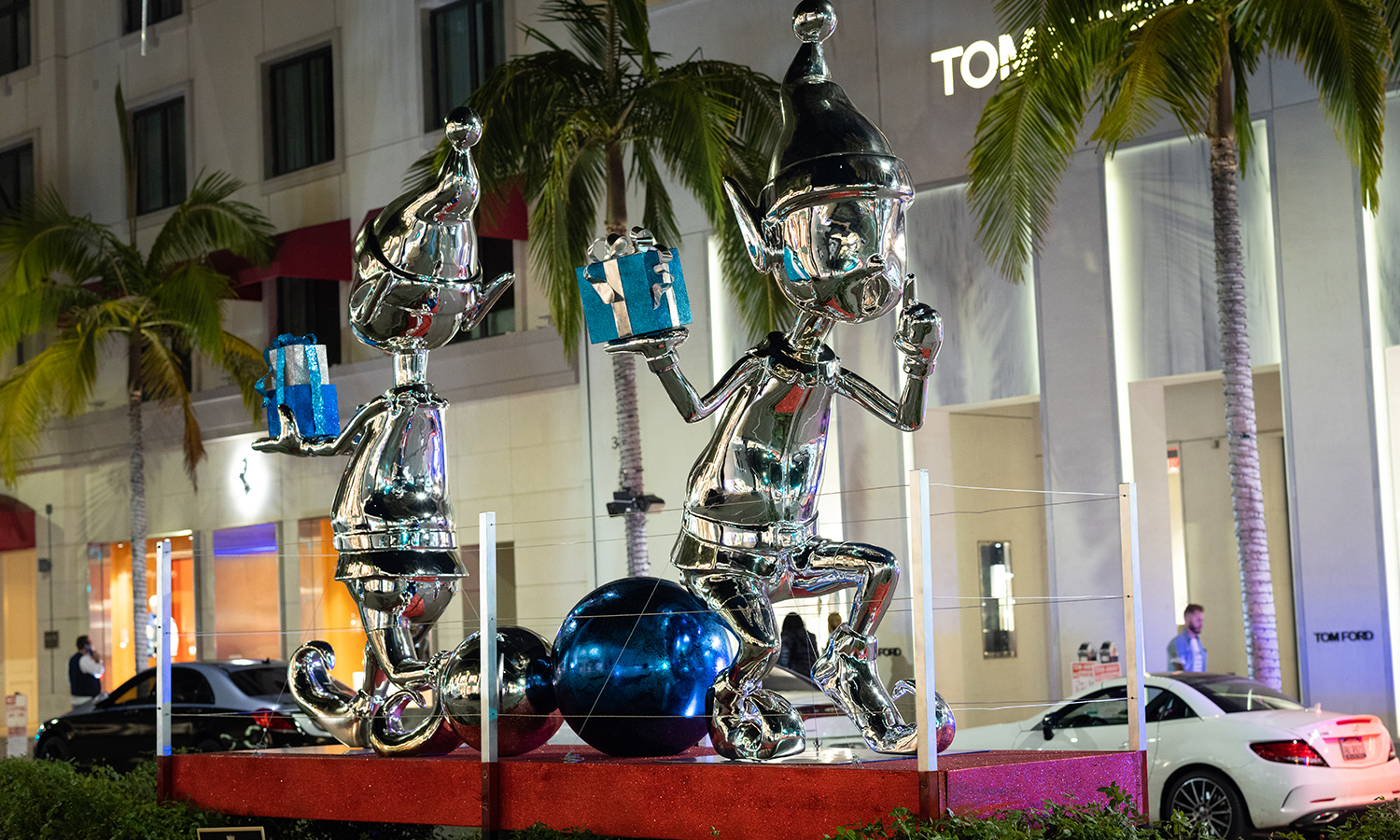 The event will have three stages along Rodeo Drive. The cast for Love Actually LIVE, playing at The Wallis Annenberg Center for the Performing Arts in Beverly Hills, will reprise part of the show for visitors. There will be performances by all-female a cappella quintet The Noelles, singer Gabriella Valdes (aka Vella), roller skating duo Victor and Jenny Arata, and an acrobatic chihuahua. Stilt walkers will add yet another flair of whimsey to the evening. 
In addition to the spectacles, visitors will have an array of food trucks to choose from and options by 208 Rodeo at the Wine & Champagne Garden. Children between the ages of 1 and 92 can catch a glimpse of Santa Claus and his holiday helpers, who will arrive on a vintage 1920s Beverly Hills fire truck. 
Santa will also pose for photos with visitors in a red sports car. Gohari declined to share the make and model of the vehicle, only saying that "Santa has saved up and it's expensive."
While the intent in setting up multiple staging areas was to disperse crowds, Gohari said the innovation may carry over into future iterations.
"What we're trying to do is have different acts on each block throughout the night, and be able to spread the crowd out on each block, rather than have everybody attend only one stage at all times," she said. "I don't know if we will ever go back to one stage again."
Organizers will also place monitors throughout the event space to show the performances from other stages. Again, the move had public health in mind.
"You can sit in the wine garden, have a glass of wine and some cheese and crackers, and know exactly what's happening two blocks down," Gohari said. "I think that is also very helpful in crowd control."
Even after the conclusion of events on Nov. 18, the city will continue holiday festivities around the Golden Triangle. From Nov. 18 to the New Year, visitors can view the Glowing Reeds Audio and Light Show at the Lily Pond in Beverly Gardens Park and an enormous "Elf Tree" and light tunnel at Beverly Canon Gardens by the Maybourne Beverly Hills. The ornate decorations along the Rodeo Drive median will also remain until Jan. 1. 
"It's a sign of better times ahead," Gohari said. "It is a sign that we're going in the right direction. It is a sign that we are getting control of our community and our businesses and our lives. People are starting to travel again, and people are starting to shop again. We are seeing international visitors in our city. And this is what we do; we celebrate the holidays."