Beverly Hills is the epicenter of high-end chocolate boutiques, with more shops per capita devoted to the candy than any other American city. These five boutiques sell luxe chocolate creations using European chocolate. Considered the ne plus ultra in the confectionary world, Swiss chocolate is to the 7/11 candy bar rack as LaTour is to Two-Buck Chuck. 
Stop for a quick treat, order thousands of dollars in personalized business gifts or purchase for festive parties. With increasing numbers working from home, it would be a Godsend to get a package of goodies to soothe the soul on a scary Monday or jittery Tuesday. Better yet, take a box to make your marriage proposal all the sweeter. 
All of the listed emporiums will design personalized orders, and each ships nationwide. Check for special holiday hours.
CHOKOLATTA 
255 ½ South Beverly Drive
(424) 278-1998
Daily: 8 a.m.- 8 p.m.
Open just two years, newcomer Chokolatta has a different take on their handmade chocolates, filling many of their bonbons with Latin American flavors, along with traditional French-inflected fillings. Owners Oscar and Andrea Maldonado moved to Los Angeles from Guatemala and Mexico, respectively, opening their first shop in Hollywood and a second on South Beverly Drive. Oscar, an accountant by trade, partners with his wife, a culinary school graduate, to fulfill her chocolatier dreams. 
The sunny café and chocolate shop is more casual than the other Beverly Hills boutiques. It's less posh and more neighborhood. Decorated for the season with boughs of greens, the case of multicolored bonbons sparkles in the light. Customers can choose one or ask for a mixed box of up to 24 to their taste. One is filled with tequila and others are flavored with hibiscus and mango chamoy. At holiday time, families love the seasonal chocolate ball which when dropped into hot milk melts, transforming into a delicious drink. 
A year-round best seller is the chocolate-covered strawberries. The large, perfectly formed berries come encased in either dark or light chocolate and make a wonderful holiday dessert or afternoon snack. Andrea says that almost any fruit can be dipped in the molten chocolate. Another gift idea is the snowmen or reindeer, loved by children and adults. Boxes or baskets can be filled to clients' specifications so the gift giver knows the recipient will enjoy everything included. 
Their corporate clients have included universities, one of which ordered 500 pieces, and a winery as well as comedian George Lopez's charity. The cast of Netflix's "Lucifer" has filmed in their shop and now come into buy for themselves. "We feel that we're offering a little different experience to customers," says Andrea. "These are the flavors of our homeland."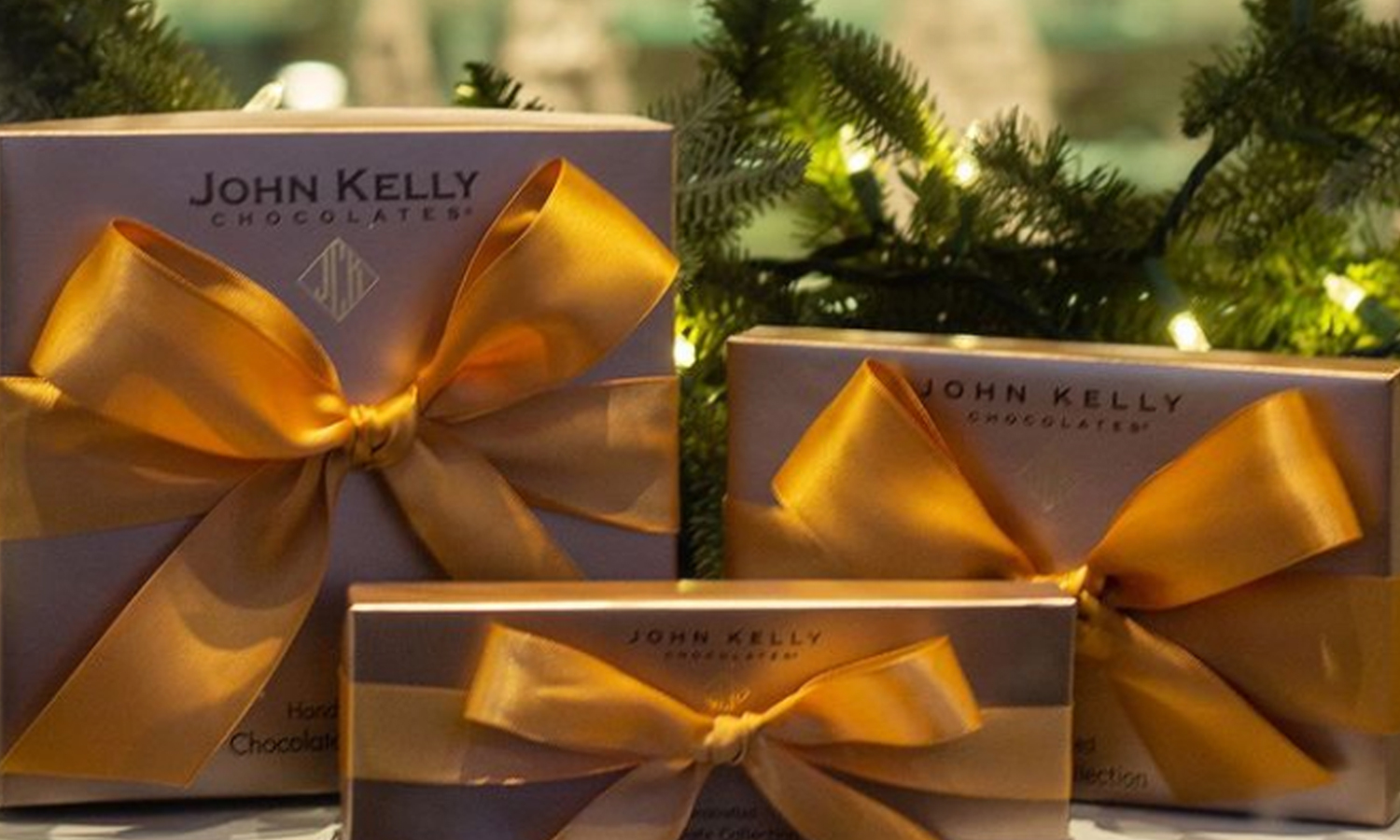 JOHN KELLY CHOCOLATES
9523 South Santa Monica Boulevard
(310) 734-7228
Mon-Sat: 10 a.m.- 6 p.m.
Sun: 12- 6 p.m.
John Kelly Chocolates' look is understated elegance with monogrammed glossy dark brown paper, coordinating with the shop's interior design. Though holidays at John Kelly are a Santa Claus-free zone (The seasonal wrapping has a scattering of gold snowflakes), their best-selling candy is as homey as granny's apron. The partners, John Kelson and Kelly Green's signature creamy fudge was inspired by a family recipe and then taken to culinary heights with artisanal ingredients in all their handmade candies. 
Chocolate lovers in the know immediately recognize the John Kelly signature touch of brightly colored ribbons. They can be personalized with a corporate logo or a newborn's name. Legendary rocker Steven Tyler loves their fudge so much he hauls carry-on bags stuffed with their chocolates to Hawaii. Their newest product is a boozy box of bourbon filled bonbons. Service is gracious with everyday folk cared for just as carefully as regulars Renee Zellweger and Viola Davis.
Their 11-year-old business has a robust and growing corporate trade according to the partners, but they'd rather tell a personal customer story than talk numbers. A local financial advisor started buying yearly holiday assortments for clients after he got so many thank you notes and comments after his first order. None of his previous gifts had elicited such strong reaction. Seeing the return on investment, he just upped this year's shipment.
EDELWEISS CHOCOLATES
444 North Canon Drive 
(310) 275-0341
Mon-Thur: 10 a.m.- 6 p.m.
Fri-Sat: 10 a.m.- 8 p.m.
Sun: 11 a.m. – 4 p.m.
Established in 1942, Edelweiss still has candymakers in back working on the machinery that inspired the famous Lucille Ball television episode. A loyal customer before her death, Ball got the idea for the hilarious show from Edelweiss. Now too many to name celebrities come into the cozy little space with or without children. The recipe for the famous fluffy marshmallow filling was the original owner's and remains the most popular candy. The holiday season special is enlivened with peppermint. 
The fifth owners, Steve and Madlen Zahir, have had the shop for the last 20 years and now work with their son, daughter and son-in-law. They haven't changed the look or feel of the cozy interior or their instantly recognizable shiny red bag. That's not to say, that even after all these years, their customers can't surprise them. One morning, a man appeared with $10,000 in cash and instructed them to fill all the baskets and boxes available. He then loaded everything into a truck. They still have no idea who he was.
Though they won't talk about current customers, Madlen says that Frank Sinatra's preference was the maple truffle. He'd pick up a box, go across the street to a bar, and with Dean Martin eat the candies with martinis. Liz Taylor loved the turtles, and Katherine Hepburn mentioned Edelweiss in her memoir. The shop's Rolodex is filled with years of notes on customer favorites, along with closely guarded addresses and phone numbers. 
Their corporate gift chocolate baskets are cause for celebration when they arrive at agencies and law firms. Orders for business gifts are already rolling in, and the back room hums with staff hand dipping and carefully packing the candies. Nothing has changed at Edelweiss.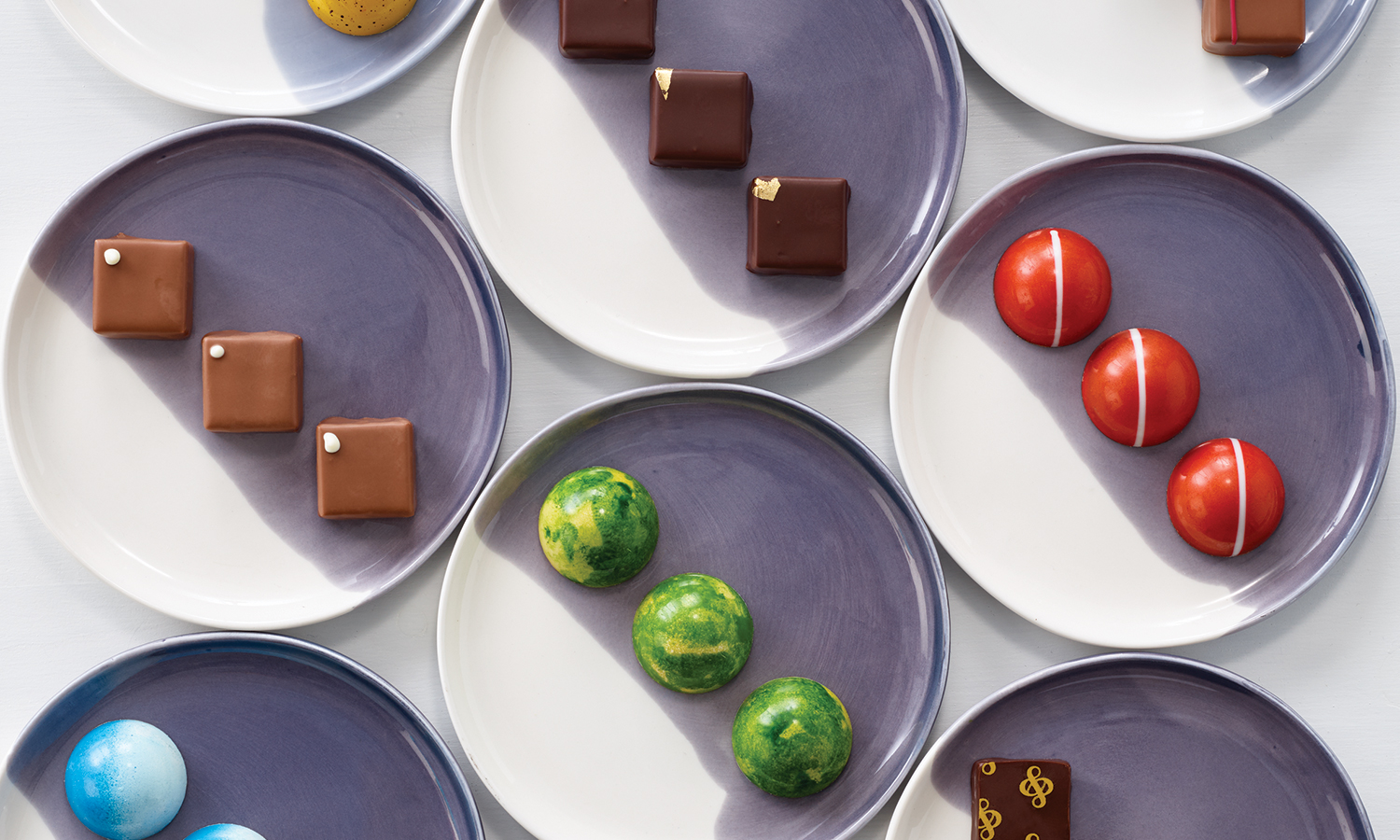 andSons Chocolatiers
9548 Brighton Way
(310) 276-2776
Mon-Fri: 8 a.m.- 5 p.m.
Sat: 9 a.m.- 4 p.m.
Sun: Closed
Originally opened by Aviva Covitz in 1983 as a Teuscher Swiss chocolate franchise, her two sons Marc and Phil decided to take luxury chocolate in a different direction. They gave up Teuscher but kept their corner location, redesigned to reflect their contemporary tastes. The corner location's takeout window for coffee and snacks is buzzing all day with locals and out-of-towners. Their unique packaging designs, commissioned from a different artist every year, carry out their modern approach. 
The candy display cases resemble jewelry counters. Los Angeles artist Maggie Lochtenberg's mural of a cacao tree coils around the ceiling. The colorful confections filled with unique flavors including hazelnut praline and pop rocks fit snugly in the special gift collection boxes, named after Beverly Hills streets. 
andSons' partnership with the Huntington Botanical Gardens honors that verdant landscape. The box includes chocolate covered nuts, Orange and Pecan Pralines, using the Huntington's Valencia oranges and a jar of the Huntington Orange Marmalade, along with Black Tea Caramel made from the Huntington's own jasmine and citrus flavored tea. The container art depicts five of the Huntington gardens. 
Their updated design and creative fillings have become a go-to for many businesses, especially those whose clients appreciate the unexpected. Their seasonal flavors include eggnog, spiced caramel, dark chocolate mint and saffron with marzipan. They do more traditional holiday chocolates like turkeys and Santa Clauses but with a modern spin. They are happy to personalize for weddings or other special events and ship nationwide from their L.A. Arts District kitchen staffed by chocolatiers using the best ingredients from around the globe. 
As the brothers say, "Not your mom's chocolate shop."  
BEVERLY HILLS TEUSCHER 
371 North Camden Drive
(310) 734-7734
Mon-Sat: 11 a.m.- 5 p.m. 
Tom and Tara Gallop, known as Mr. and Mrs. Truffle, took over the Teuscher franchise, one of nine in the U.S., from andSons and moved across the street. While andSons' décor is clean lined modern, the Teuscher shop is giddy kitsch, exactly as all their franchise shops across the globe are. Handmade flowers fill the window and climb walls to the ceiling; examples of tiny box toppers made by the same Swiss artisan for 40 years line the display cases, and the famous truffles are lined up behind glass. The Champagne truffle filled with Dom Perignon is their most popular confection, but there are hundreds of choices especially for the holidays. Try a nutcracker or a Santa Claus. 
Because Teuscher is known globally, many customers come in knowing what they like. Chrissy Teigen and her kids chose the rich hot chocolate, which many say is as good as the iconic drink at Angelina's in Paris. They're not sure that Brad Pitt likes pralines exactly, but his assistant bought $5,000 worth of the Orangerie boxes because orange is his favorite color. A woman who'd never been to the Beverly Hills location called to order $35,000 in corporate gifts after hearing Oprah considers them the best. That's branding! Now she's ordering more for a holiday party. That's return business!
Chocolate is part of the language of love and the Gallops' story certainly proves that. An actor best known for his role on "Will and Grace," Tom was dating Tara when she told him that if he really loved her, he'd buy her a chocolate shop. So, he did. Then he went even further. While touring Teuscher's factory in Zurich, he got down on one knee and proposed to her. 
After just three years, Mr. and Mrs. Truffle are a neighborhood fixture with passersby stopping in the door to say "hi." Their many Middle Eastern customers know Teuscher from their travels. Here they can order a truffle filled with a special rose oil, rather than liquor, and the staff helps those others with dietary restrictions choose. In this shop, there's love all day long.