After over 18 months without a permanent police chief, Beverly Hills swore in Mark Stainbrook as the Chief of Police of the Beverly Hills Police Department. He becomes the 11th chief since the formation of the department in 1927, overseeing more than 200 officers and civilian employees. The appointment comes at a time of escalating anxiety in the city over crime.
"I've learned very quickly that this is a highly engaged and super supportive community and I'm very excited about that," Stainbrook said at a ceremony held on the steps of City Hall to mark the occasion. "I'm sure that the current state of American law enforcement is on the minds of everyone here. Certainly these have been challenging times, but there's things that remain constant. We want safe neighborhoods, we want our world renowned business districts to be safe and thriving, and we believe in great community and police partnerships and relationships."
"I have no doubt that Mark will be an incredible leader to our Police Department and the residents of our community," said Mayor Robert Wunderlich.
Wunderlich also offered a parting message to former Interim Police Chief Dominick Rivetti, who took the helm of the department after the abrupt departure of Sandra Spagnoli. Rivetti oversaw the department during a tumultuous confluence of events: the COVID-19 pandemic, Black Lives Matter protests, and the 2020 presidential election.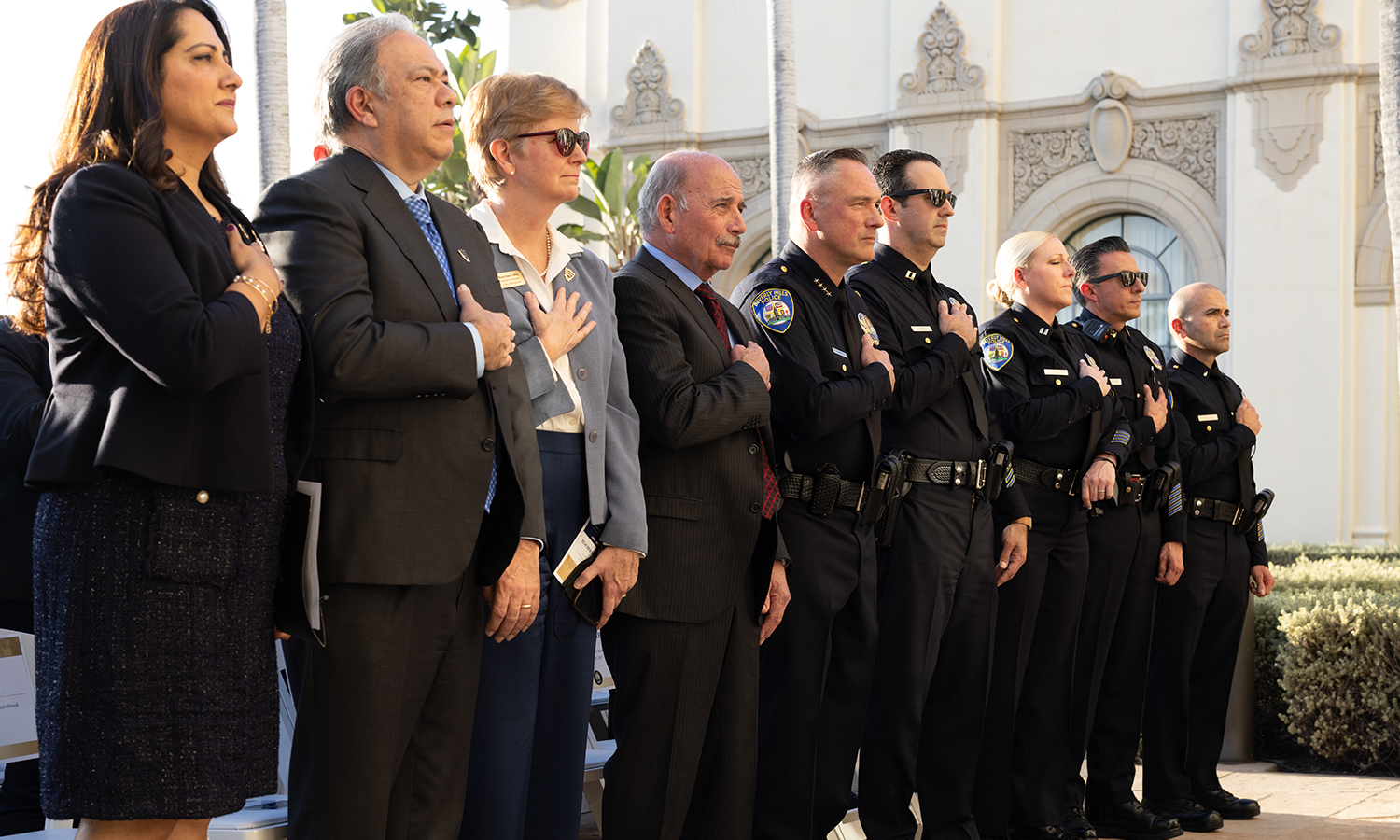 "There's no way that you or we could have anticipated the events that have occurred during your time period here and the city is extremely fortunate that you were here to help lead us through these times. The respect that you've engendered throughout our community is a testament to how ably, responsibly and equitably you've carried out your many responsibilities during these often difficult times, always in a manner that made working with you a delight,"  Wunderlich said. "You will long be remembered in Beverly Hills as a chief of great distinction."
Rivetti managed the department during a renewed focus on the role of law enforcement in American society–scrutiny that at times fell on Beverly Hills. Under Rivetti, BHPD fielded criticism for its response to Black Lives Matter protests, including the arrest of 28 protesters in June 2020. The department also faces a proposed class action lawsuit for allegations of racially biased policing by a task force convened during the summer of 2020.
Stainbrook comes to the city with a background in both law enforcement and the armed services. He most recently served as the Chief of Police and Vice President of Public Safety for the Port of San Diego. He began his public service at 17, when he enlisted in the Navy before switching to the Marines. He served in the United States Marine Corps Reserve for 32 years before retiring recently at the rank of Lieutenant Colonel.
Stainbrook served in Iraq during Operation Iraqi Freedom in 2003. In a previous interview with the Courier, he recounted the experience of reconstituting the Baghdad police in the immediate aftermath of Saddam Hussein's fall.
"All basic services were gone–electricity, water, looting everywhere, sniper fire, sporadic fighting still going on. We had nothing to work with. We were trying to get as many former police that, in one sense, we were just fighting three days earlier," he said. "It was there where the realization struck me that cops are cops wherever you go. These officers there, they just wanted to see their city return back to a normal, safe environment."
Before his time in San Diego, he worked for the Los Angeles Police Department (LAPD) beginning in 1995. He served in a variety of units there, including Community Resources Against Street Hoodlums, gang, internal affairs and counterterrorism.
The swearing in ceremony was attended by dozens of community members, BHPD officers, and members of law enforcement and the armed services. Many of those who came to support Stainbrook had history with him going back to the beginning of his career.
David King, Executive Director of the San Diego Imperial High Intensity Drug Trafficking Area, first met Stainbrook in 2010 at the FBI National Academy in Quantico, Virginia. He worked closely with Stainbrook over the last five years. "He is a man of high integrity [and] high energy. Beverly Hills is quite fortunate to have a leader of Mark's caliber," King told the Courier.
Bill Bodner, the Special Agent in Charge of the Drug Enforcement Administration Los Angeles Field Division, also voiced high praise for Stainbrook. The two worked together during Stainbrook's time in LAPD's counterterrorism unit.  
"We had such an outstanding cooperative task force going after people selling drugs and using that money to fund terrorism," Bodner told the Courier. "He's very worldly, understands different cultures, understands diversity, and he was able to really open a lot of doors for us and help us see things that we would not have seen."
A small contingent from the Culver City Police Department (CCPD) came to the event, including CCPD Chief Manny Cid. "We have a good partnership with Beverly Hills, one that we've leaned on a lot over the last year. We're excited for him, excited for the city and here to support him and the city in any way we can," Cid told the Courier.
Stainbrook takes the department's reins as tensions in the community mount over a string of high-profile crimes in the city. The city's business district, mere blocks from BHPD headquarters, has seen several armed robberies within the last few months. On Dec. 1, Jacqueline Avant, wife of music executive Clarence Avant, was shot and killed in a home invasion.
Stainbrook made an appeal to the community in his address.
"But this mission can never be successful without the members of the community," Stainbrook said. "We're going to spend the time to invest in each other, in this department, in the city and the community that we serve. Together, we will maintain the high standards of safety and security expected by the city, we will foster robust relationships within our community, and we will continue to uphold the Beverly Hills community quality of life."