City of Beverly Hills
City Creates Design Standards for Subway Corridor
A set of new streetscape design standards for Wilshire and La Cienega Boulevards received consensus support from the Beverly Hills City Council during its Jan. 4 Study Session.
BY Carl Robinette January 9, 2022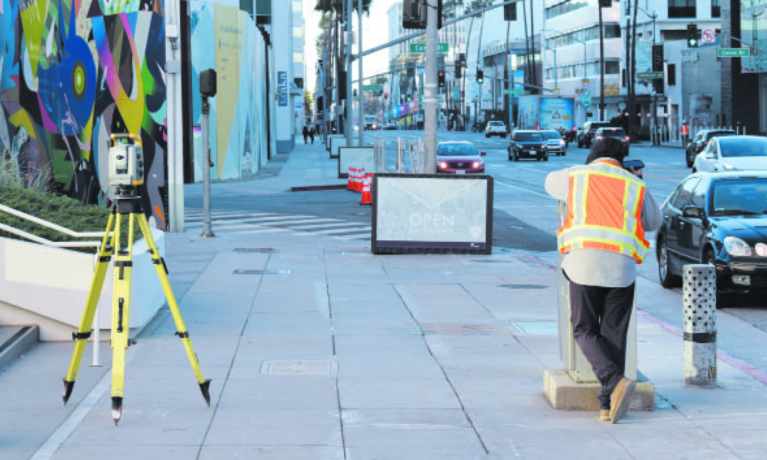 Reading Time:
4
minutes
A set of new streetscape design standards for Wilshire and La Cienega Boulevards received consensus support from the Beverly Hills City Council during its Jan. 4 Study Session.
The standards come in anticipation of two future subway stations at the intersections of Wilshire and La Cienega, and Wilshire and Reeves Drive as part of the Los Angeles County Metropolitan Transit Authority (Metro) network.
The two stops will be part of the Metro D Line Extension, formerly called the Purple Line Extension. With both subway stations expected to be complete by 2025, the City of Beverly Hills is aiming to make the corridor a cultural destination while accommodating an influx of pedestrians and cyclists the train line is expected to bring. While a streetscape design has not yet been proposed for the corridors, the city is anticipating bike lanes, crosswalks, pedestrian-friendly signage, public art and other amenities.
"The two station areas are certainly the largest development activity that the city would ever see on these corridors," said Beverly Hills Assistant Director of Public Works Daren Grilley, during the meeting. "In addition to that, there is current and anticipated [private] development activity that is happening on these corridors."
The design standards will regulate all future development designs along the entire lengths of Wilshire and La Cienega within the City of Beverly Hills. This includes any construction by Metro, the City of Beverly Hills and private developers.
The City Council conditionally supported the design standards with the stipulation that there would be flexibility to change them if necessary in the future. As Metro aims to open the La Cienega station in 2024, the Council was facing a time crunch to finalize the standards.
"Because of the fact that we have to give Metro some sort of direction I would be willing to move forward with this. That said, I have some concerns," said Councilmember Julian Gold, M.D. "It's a little bit of the cart before the horse. In particular, I'm more worried about Rodeo Drive than La Cienega because that street has a much different look than everything else."
Gold suggested that design elements, which make sense now, might not make sense once subway construction is complete. "I just want to be clear that flexibility in this is very important," he added.
Other council members echoed Gold's statements and city staff assured the Council that the standards are not set in stone and include guidelines for matching the unique aesthetics of each cross street along Wilshire, including Rodeo Drive.
"The design standards are not binding. They are meant to be flexible," Beverly Hills Transportation Planner Jessie Holzer told the Council.
Vice Mayor Lili Bosse and other council members asked city staff about security and safety measures at the future subway stations before offering their support. They raised concerns about lighting, security cameras and choosing benches with armrests designed to prevent a person from lying down. Staff told the Council that these concerns are already addressed in the design standards or can be addressed as streetscape projects roll out.
The Metro D Line will run from Central Los Angeles to Santa Monica when completed over the next several years. The current section from Western Avenue to La Cienega is about nine miles and has been under construction since 2014. The excavation for the entire extension is about 40% complete and is expected to take another two years, Metro staff said during a Dec. 5 community outreach event.
As construction chugs along, Metro expects a number of lane closures during the next year. Notably, Wilshire will be periodically reduced to two lanes through October, and a full closure on Gale Drive is planned to last four months.
City staff also presented the Council with a "minimum grid bicycle plan," which is aimed in part at improving mobility access to and from the Metro stations. The minimum grid identifies roadways in the city where simple road markings for new bike lanes can be painted, as opposed to more complex bike paths that require lane reductions and rigorous community outreach. The minimum grid is intended to quickly create a connected bike path network throughout the city as part of the broader holistic bike network proposed in the city's Complete Streets Plan.
The Council was expected to weigh-in on the final draft of an Urban Forest Management Plan during the Dec. 4 study session, but postponed consideration due to lack of time. The urban forest plan aims to create a more sustainable treescape in the city in the face of drought and climate change. Its goals include growing the number of trees in the city and increasing diversity in tree species, suggesting a reduction of the city's iconic palms and other plant species. The Public Works and Planning Commissions put the plan under tight scrutiny in recent months before recommending it for City Council approval. City departments, homeowners and private developers will be impacted by the plan's 20-year scope, if approved. A hearing for the plan has not yet been rescheduled.