City of Beverly Hills
Tobacco Ban Impacts Local Convenience Store
"Besides trying to get my investment back, I'm also facing the fact that I cannot change the model of my businessto overcome the loss of revenue from not selling tobacco products," said Pouldar.
BY Carl Robinette January 24, 2022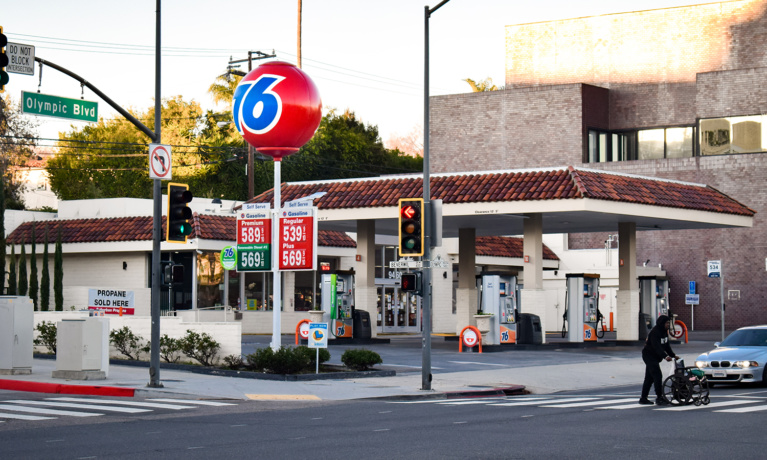 Reading Time:
3
minutes
With a ban on tobacco sales in effect in Beverly Hills since January 2021, the City Council upheld an exemption through the end of 2022 for the owner of the 76 gas station at 9460 W. Olympic Blvd. The exemption was approved at the Council's Dec. 18 Regular Meeting and came as a disappointment for the business owner, Morris Pouldar, who was hoping to be granted an exemption from the ban for seven years.
Pouldar told the Council that the ban creates a substantial hardship because he recently invested more than $600,000 in a major remodel of the station with the anticipation that offering tobacco products would help drive retail and fuel sales.
The ban was an added hardship for his business on top of the COVID-19 economic downturn, Pouldar said.
"When Council approved this ban no one could have imagined that we would face such a pandemic," Pouldar told the Council. "Most businesses, including ours, have been affected by this pandemic."
Despite claims of hardship, the City Council roundly agreed that Pouldar had ample opportunity to plan for the tobacco ban. Council members said city outreach efforts in 2019 and 2020 provided plenty of notice of the impending ban and included city-provided business consultants to help owners retool business models as they faced tobacco revenue loss.
"Here, parties should have been aware as of the middle of January 2019 that the City Council was considering prohibiting all tobacco sales," Beverly Hills Mayor Bob Wunderlich told Pouldar. "That's prior to almost all of the renovations in which you invested."
Pouldar said he began the process of changing the business model of the station years before the tobacco ban came up. Pouldar was preparing to demolish the station's existing structures in February 2019, just as the city was starting the public hearing process to draft the anti-tobacco legislation. He said he could not change his plan just because the city was considering a proposed ban at the time.
"Besides trying to get my investment back, I'm also facing the fact that I cannot change the model of my businessto overcome the loss of revenue from not selling tobacco products," said Pouldar.
While tobacco sales only account for about 6% of his total revenue, including fuel sales, Pouldar said tobacco makes up about 35% of his total retail product sales in the shop. More than that, he said he is worried that smokers will now buy their gas at another station outside the city limit where they can buy cigarettes and other tobacco products. No other product can provide this kind of draw, according to Pouldar who has worked in the industry for about 40 years.
Pouldar said he believes the ban was approved with good intentions for public health, but he thinks if the goal is to make people stop smoking, the city should find another way.
"Closing retailers is not going to stop people from smoking," Pouldar said. "It's not going to make it hard for them to buy it, because they can easily buy it, and it's not going to make them quit. I don't see why businesses should have to sacrifice and lose income because of that."
While many council members expressed sympathy for the retailer's position, they remained resolute in limiting the exemption to two years from the start of the ban. That means Pouldar has until Dec. 31 to pivot his business model.
"I'm sorry that he has to be in this situation," said Vice Mayor Lili Bosse. "In many ways I feel that it could have been avoided. I apologize that we all have to be in this place that we are now. I do believe that the Commission really tried, as well as the City Council, to be very fair and balanced, and did provide a hardship exemption. But part of that was for businesses to recognize that they needed to come up with a plan, a business plan to phase out tobacco."
She added, "Unfortunately that wasn't part of your plans."
Public comment during the Tuesday hearing was fairly split, some supporting Pouldar's exemption bid, while others were in favor of the enforcement of the tobacco ban.
"I honestly did not think that the city would ever do something like this to be honest," said Pouldar's son and business partner, John Pouldar.