On her patio under the dappled shade of a giant magnolia tree, Joan Agajanian Quinn sits before a spread of dainty egg salad tea sandwiches and ruby red grapefruit wedges that glisten like gemstones. From her magenta-tinged locks to her kaleidoscopic geometric patterned top, Quinn is as strikingly colorful in real life as she is on her popular cable television programs, "The Joan Quinn Profiles" and "Beverly Hills View" – and as warm, greeting me with a pandemic-appropriate shower of air hugs.
Quinn, a well-known, long-time Beverly Hills resident, has been a patron of the arts for decades. She's served on the Beverly Hills Arts Council, California Arts Council, and the Beverly Hills Architectural Council. As the West Coast Editor of Andy Warhol's Interview magazine, Quinn was the artist's eyes and ears on this side of the continent. She's been a been a muse, an ardent supporter, and dear friend to many artists. Over the decades, Quinn and her late husband Jack amassed a sprawling art collection of some of California's most revered modern and abstract artists.
Just from the partial view afforded by the French patio doors, you can see her Spanish Revival home is teeming with works of art – standing in stacks on the floor, hanging closely on the walls, covering surfaces. And it's just a sliver of the thousands of pieces (including over 300 portraits of Joan) the couple have acquired.
Last fall, select pieces from this collection traveled over 100 miles to the Bakersfield Museum of Art (BMOA) for an exhibit titled "On the Edge." It was so well-received that its run has been extended until April 2.
The exhibit, which explores a defining time in what is now West Coast art history, includes works by Ed Ruscha, Ed Moses, David Hockney and Frank Gehry. It's a snapshot of the era, between the '70s and '80s, that put the West Coast art scene on the map. The title "On the Edge" is a subtle nod to California as being geographically on the edge of the continent but also refers to that tipping point when West Coast artists would no longer be marginalized by those more established in New York and beyond.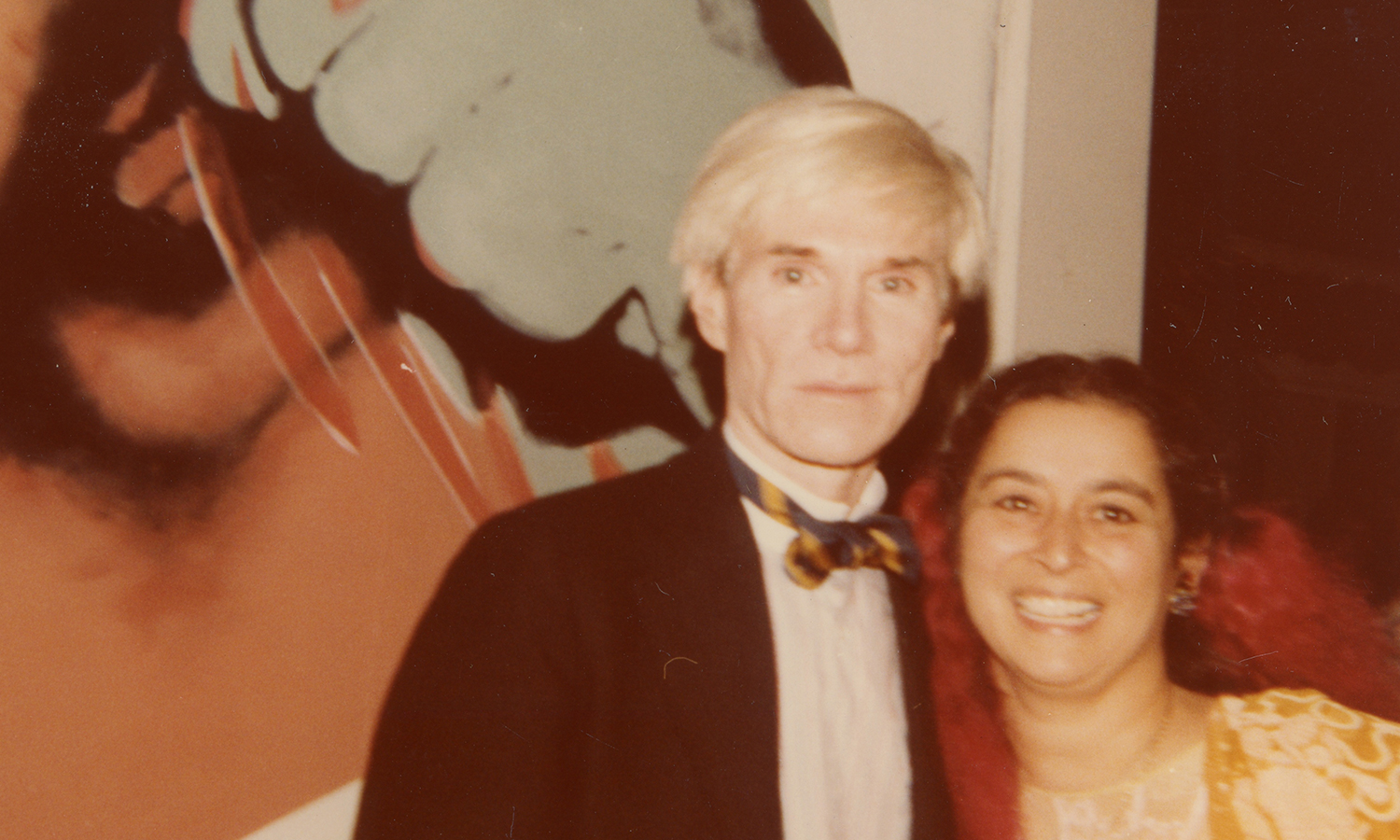 According to Quinn, the nascent Los Angeles art scene of those decades was one marked by inclusiveness and togetherness. The intimacy between herself and the artists is something that is abundantly clear during our chat. She refers to them all by their first names. After all, these were her friends; Robert Graham is the godfather to her twin daughters Amanda and Jennifer. Laddie John Dill, Larry Bell, Charles Arnoldi, and Billy Al Bengston were regular fixtures in her home. Jack often took Ed Ruscha, Jim Ganzer, and James Hayward to baseball games or the fights. The Quinn's parties were legendary. "Back then our group of friends were very close," Quinn says. "We felt that we were more of a community. That's why when you see the exhibit, you'll see an Ed Moses next to a Bob Graham, across from a John Altoon. It tells a story, on one level, because that's how they were displayed in our home." Quinn says, explaining that often times an artist would install their work on her walls right next to another artist's. "And it also symbolizes the closeness between the artists themselves."
The exhibit also features a room with very personal objects created for Quinn by various artist friends – a necklace made of twigs by Charles Arnoldi, a customized metal photographer's case by Billy Al Bengston (he hammered it and painted it with a Louis Vuitton logo, a nod to the bag Quinn used to tote her Instamatic camera around in for years). Also on display are family portraits done by Joe Fay and personal notes from Andy Warhol.
The personal effects were something BMOA curator Rachel McCullah Wainwright felt were essential to include. "It was really important to make sure Joan's story was told as well," says Wainwright. "Often the collector is left out, but Joan's story is so spectacular in itself. I wanted to used objects to illustrate the friendship between artist and collector. And it also allowed me to explore Joan's fascination with documenting everything."
Of course, several portraits of Quinn are on display in the exhibit – a comprehensive view of her collection wouldn't be complete without a few of them. Initially, she worried their inclusion might come off as narcissistic, though she doesn't see them that way. "I think the portraits depict me like a bowl of fruit or some flowers," she explains. "I'm just this still life. It really is more about the artists and how they interpret the 'subject.' David Hockney did five or six portraits of me and they're all different."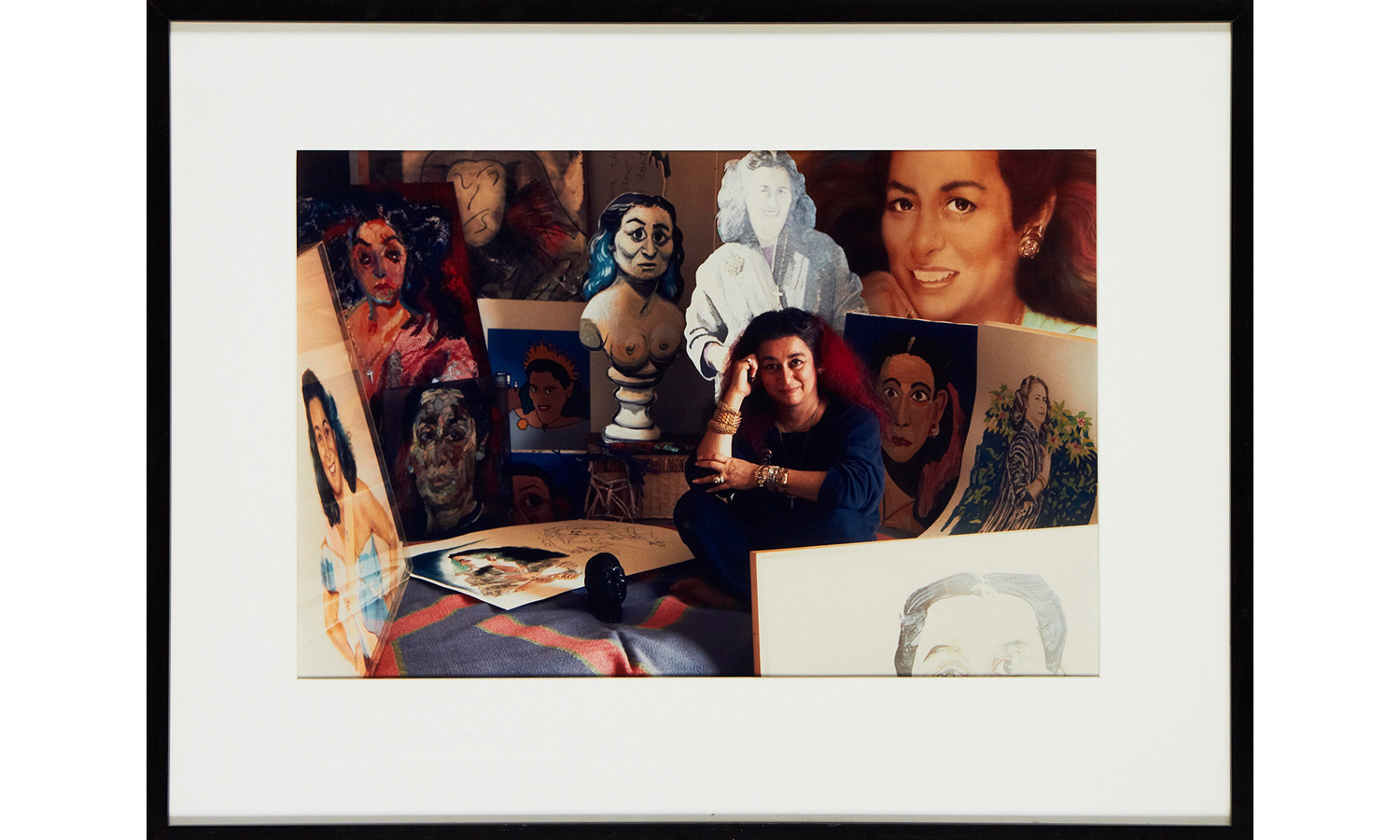 Quinn says she has no clue what drew artists to want to do the portraits but sitting for each of them was always a varied and unique experience. "Don Bachardy painted me lots of times, but he was always so intense you couldn't do anything but match his intensity," she says.
Quinn recalls sitting for the Jean-Michel Basquiat portrait that's part of the exhibit. It features her disembodied arms, wrists stacked with bracelets and watches, fingers loaded with rings. She went to visit Warhol at the L'Ermitage (Andy never missed a visit with Joan when he came to LA), and Basquiat was there. "Jean-Michel was at the desk, drawing as we were talking," says Quinn. "He was taking bits of our conversation and interpreting them, a sort of visual free association. He was eating cereal and spilled milk on the drawing, then he put it on the floor and stepped on it." When the artist abruptly stopped drawing and started to roll up the paper, Quinn asked him if it was finished. He replied, "It is to me." Quinn fired back, "Ok, then I'll take this now. Just sign it. And so, he signed it. I rolled it up and took it. And then he went to Hawaii to film a documentary. And I think he passed away right after that. I didn't think that much about it at the time." Quinn says, "But what kind of fascinating process that was! It was terrific – he was creatively observing."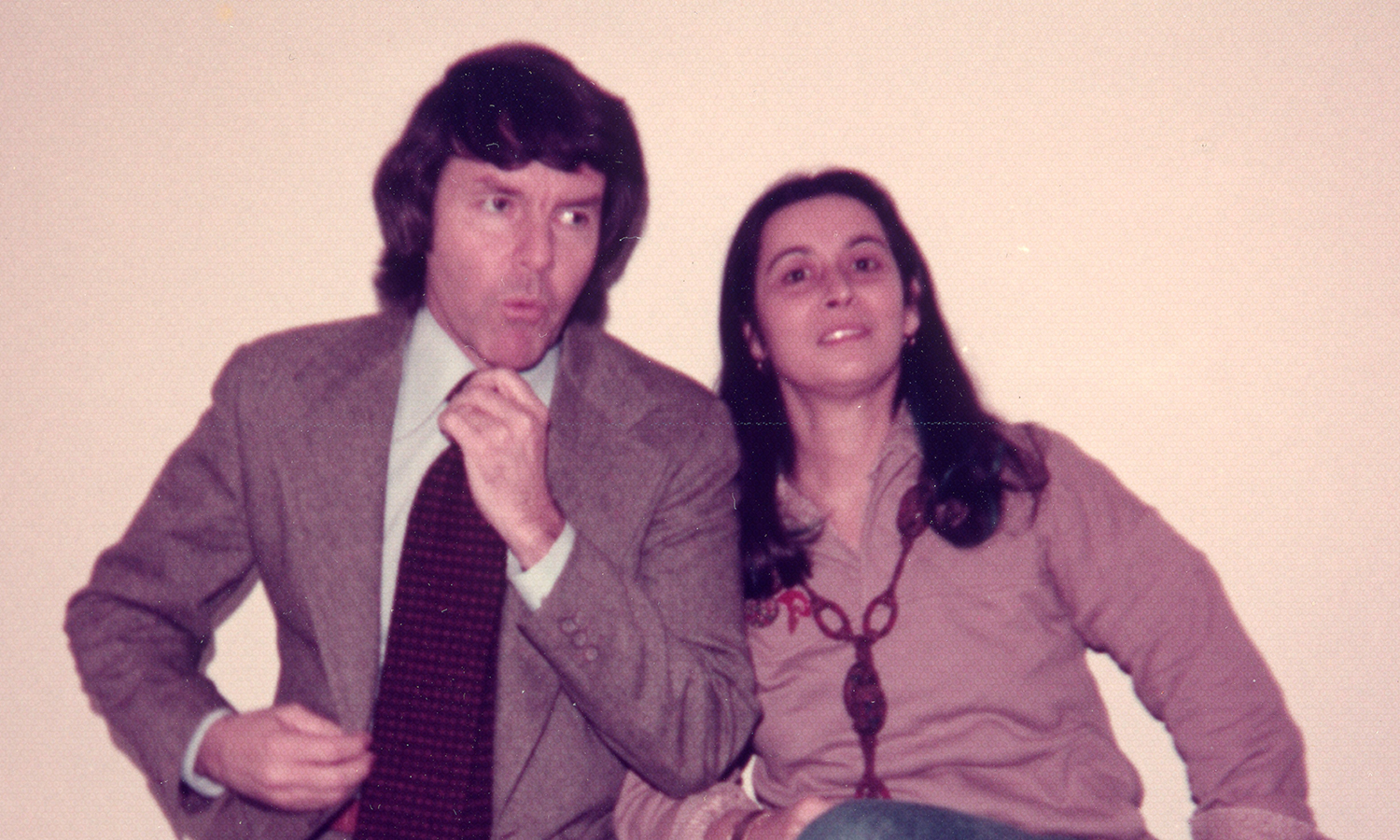 There's also a little wink to Quinn's time on the Beverly Hills Fine Arts Committee. In 1988, she worked to get a public art piece by George Herms, a sprawling sculpture comprised of giant rusting iron buoys, installed at the intersections of Santa Monica, Palm, and Beverly Boulevards. "It was a bomb," says Quinn with an audible sigh. "The city hated it. The mayor didn't think it was art. I felt like the worst person in Beverly Hills." So, when Herms later did a bust of Quinn, he used a rusted metal ocean buoy as the centerpiece, surrounded by ballerina slippers (Quinn took ballet classes for exercise at a studio on Foothill Boulevard) and pieces of Armenian rugs (a nod to her heritage). The Herms public piece was eventually hauled away from its spot near the Civic Center. "At least we can laugh about it now," Quinn shrugs. "George was happy. And people knew his name. Even to this day, I think it was really good. I think if he did it now, things might be different."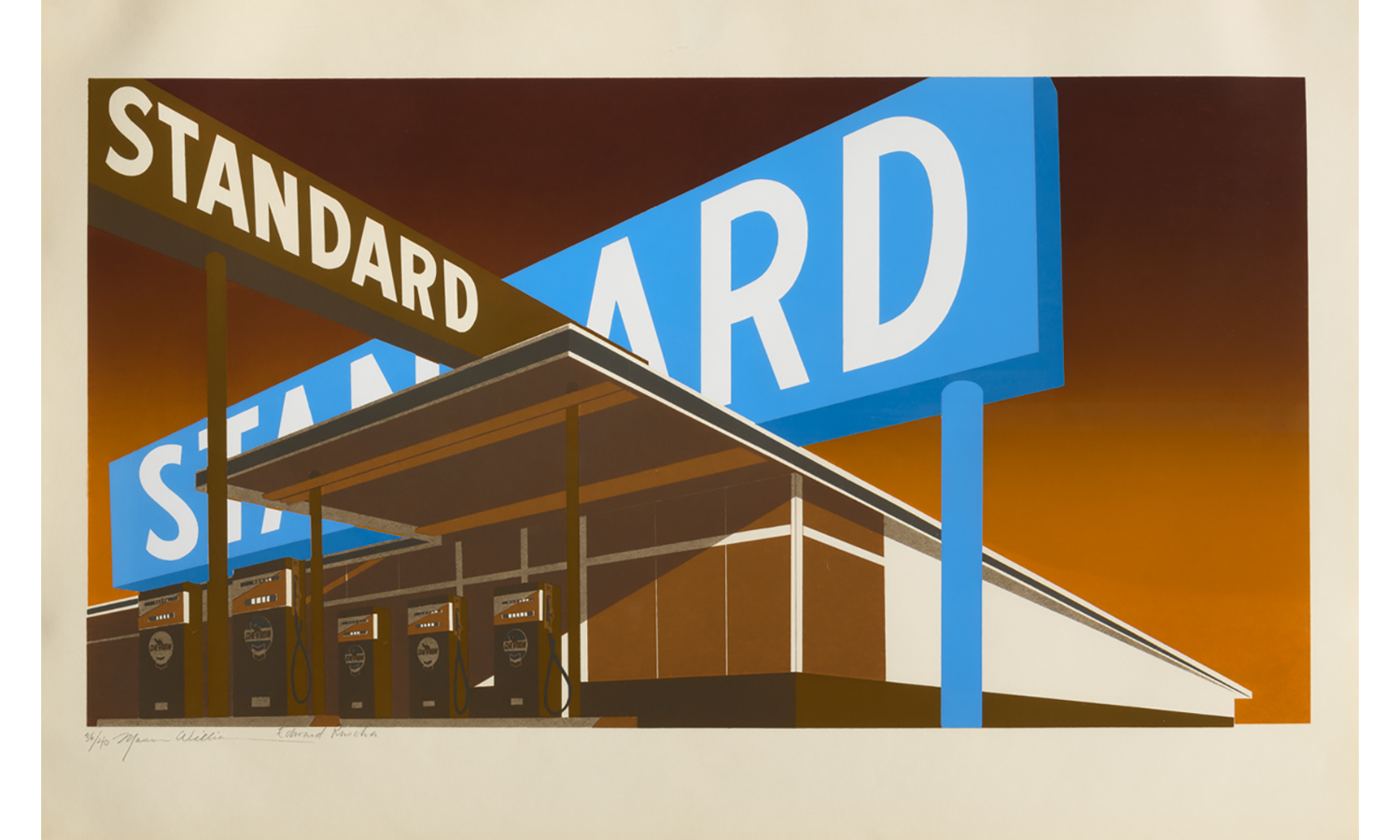 For now, Quinn says her collecting days are probably over. Though she never liked the word "collecting," she prefers "accumulating." "'Collecting' is just so icky to me," she says wrinkling her nose. "Too commercial. Everything is a 'brand' now. For us, it has always been a wide open, transparent love of the artist and their work."
"On the Edge" is on exhibit through April 2 at the Bakersfield Museum of Art, 1930 R Street, Bakersfield, 661-323-7219, www.bmoa.org.