City of Beverly Hills
Police Investigating Brazen Robbery at South Beverly Jewelry Store
Police immediately added a camera trailer, extra security patrols, and an "extra special watch from officers" to South Beverly hours after the incident.
BY Samuel Braslow March 24, 2022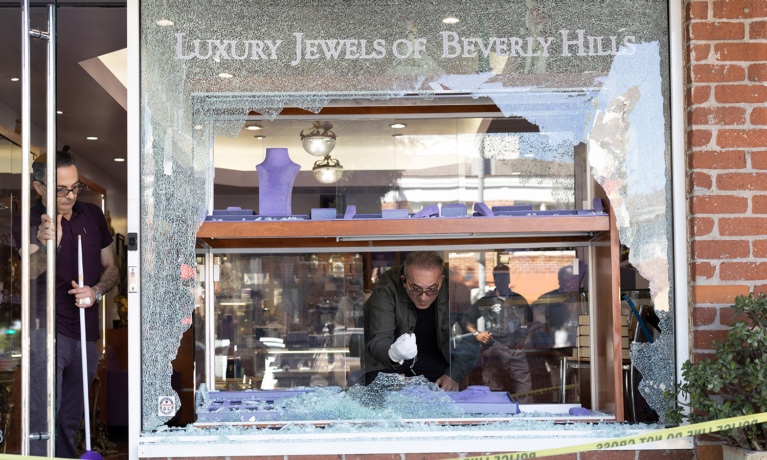 Reading Time:
3
minutes
Armed with sledgehammers and crowbars, and in full view of mid-day traffic and pedestrians along one of the city's busiest commercial corridors, five individuals staged a flagrant "smash-and-grab" burglary at a South Beverly Drive jewelry store on March 23, reigniting concern among residents about crime in the city.
The suspects exited a vehicle near Luxury Jewels of Beverly Hills on the 200 block of South Beverly, their identities obscured by masks and hoodies. In the span of seconds, they proceeded to break the store's window and snatch what they could from the front display. They fled on foot, abandoning the car they arrived in, which police later determined to be stolen, before entering a second car.
Beverly Hills Police Department (BHPD) Chief Mark Stainbrook acknowledged "community frustration regarding the crime" in its aftermath and said he would make himself available to "discuss with any person or group the reality of the current regional crime situation."
Stainbrook declined a request for an interview, citing availability issues.  
Police immediately added a camera trailer, extra security patrols, and an "extra special watch from officers" to South Beverly hours after the incident.
BHPD Public Information Officer Lt. Giovani Trejo confirmed to the Courier that one of the suspects had dropped a cellphone, though he could not provide an identity of its owner. As of press time, Trejo had no updates but said the department had "promising leads."
Wesley Aframian, a jeweler next door at Jewelerette & Co., heard loud banging when he looked outside to investigate. Seeing the burglary in progress and fearing his store could be next, he confronted one of the assailants as he ran by, pushing him into the street. The suspect dropped a few watches, which Aframian returned to the store.
"The City of Beverly Hills has done so much to try to improve security. They can still go a step further, especially on South Beverly Drive," Aframian told the Courier.
In the immediate aftermath of the burglary, with chunks of tempered glass littering the sidewalk in front of the store, the Courier observed BHPD officers combing through the scene for clues. Store personnel soon brought out a broom and dustpan, while someone else sifted through the glass for jewelry that slipped past the burglars.
News of the burglary, propelled by cellphone video filmed by bystanders, spread rapidly online, eliciting sharp condemnation from officials. A video of the crime obtained by the Courier and shared on Twitter received nearly 100,000 views as of press time.
"This HAS to STOP!!! A Smash and Grab in broad daylight on south Beverly Drive! There MUST be consequences to crime!!! We MUST RECALL DA George Gascón!!!" Vice Mayor Lili Bosse posted on social media.
Mayor Robert Wunderlich and City Council candidate Andy Licht, who currently serves as the chair of the Planning Commission, also alluded to the ongoing effort to recall District Attorney George Gascón in their own responses.
"We have been and are continuing to add resources to counter the unacceptable regional crime situation, as we also pursue political solutions," Wunderlich wrote on Facebook. Licht called for "more police patrolling our streets" and to recall Gascón.   
As of press time, there is no evidence linking any of Gascón's policies to this specific crime. The County of Los Angeles has seen a rise in certain types of violent crime since his election in November 2020, homicides in particular. Crime has also risen nationally since the pandemic.
Councilmember John Mirisch took to Facebook to propose expanding the number of Mobile Command Centers owned by the city. The large, all-black vehicles look like futuristic Winnebagos and allow law enforcement to "manage public safety from anywhere in the city," Mirisch wrote. The city currently owns one.
"In light of the unique public safety challenges facing us, I'm proposing purchasing one or two more mobile command units, and have requested that the item be discussed at the next working City Council meeting," he said.
"The new Mobile Command Centers would offer us flexibility and could serve as movable substations; they could be strategically deployed across the City as needed to deter crime and to stop crime in progress. Looking forward to this discussion as a matter of urgency and looking forward to hearing from our Chief how these units could help reduce crime."
Beverly Hills saw similar but unsuccessful attempts at smash-and-grab burglaries in the winter targeting Louis Vuitton and Saks Fifth Avenue stores. On Nov. 21, suspects using a sledgehammer failed to break through the stores' bullet-proof glass and fled the city empty handed. Other incidents around the same time proved more fruitful, with mass burglaries targeting The Grove and stores in the Bay Area.
Asked whether BHPD suspected connections to any other incidents, Trejo told the Courier, "Nothing is ruled out, to be honest, and everything is on the table."