City of Beverly Hills
Public Works Commission Studies Cabrillo Reservoir
Located on city-owned property at Coldwater Canyon Drive and Cabrillo Drive, the Cabrillo Reservoir has been a contentious plot of land for the Public Works Commission since it was abandoned in 1986 due to groundwater infiltration.
BY Bianca Heyward April 23, 2022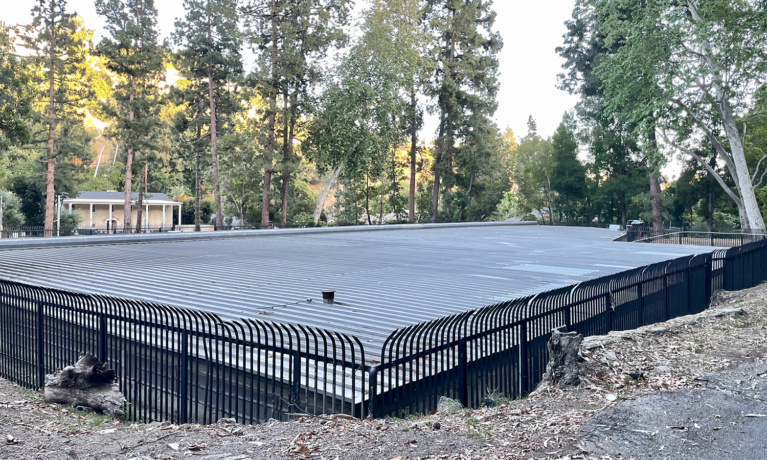 Reading Time:
4
minutes
Located on city-owned property at Coldwater Canyon Drive and Cabrillo Drive, the Cabrillo Reservoir has been a contentious plot of land for the Public Works Commission since it was abandoned in 1986 due to groundwater infiltration. After the city adopted the Integrated Water Resources Master Plan (IWRMP) in 2020, the Cabrillo site was analyzed for how to maximize emergency water storage supplies and found a reservoir capacity of 4.3 million gallons (MG). The project would be feasible by reconstructing the site to comprise of two cells of 2.15MG each.
While the city's IWRMP consultant, Hazen and Sawyer, initially identified the cost for the work associated at approximately $14 million, a 2021 report projected a probable cost of approximately $29.7 million — nearly double the budget. Since then, city staff have explored less expensive options and water storage alternatives to increase efficiency in water operations. At its April 14 meeting, the Public Works Commission recommended the installation of reservoir management systems (RMS) at the city's three largest reservoirs that would allow them to operate at higher levels with consistent water quality. Instead of a costly reservoir at the Cabrillo site, staff recommended a $14.2 million project with a .3-million-gallon pump station forebay, a move that would add redundant fire services to the hillside areas, increase emergency water storage, and make the city less dependent on the Los Angeles Department of Water and Power. The City Council will provide further direction regarding how to best utilize and fund the Cabrillo Reservoir at its priority setting meeting on April 26.
"Every day we don't proceed on adding storage is rolling the dice in my opinion," Public Works Commission Chair Charles Alpert said. "Whether it's a fire, whether it's an earthquake, whether it's a terrorist situation, who knows what the world brings to our door, and I don't think we have enough reservoir as is. I think the RMS system is good. I don't think it's the most we can do. And I think that's what I think we should recommend to Council."
The city owns a property on Monte Cielo Court that houses a small pump station serving the upper zones in Beverly Hills. According to staff, the 15-year-old pump station has reached the end of its useful life, and the proposed forebay option at Cabrillo would replace it. The new pump station would provide operational flexibility and facilitate greater water distribution capacity when moving water from lower zones to upper zones. While the Cabrillo Reservoir, originally constructed in 1918, is not currently operational, the city collects raw, natural spring water formed there to help irrigate ornamental grass on the Sunset Boulevard medium.
Technically, a forebay is not a reservoir. "That is just a section tank that feeds the pump station," Vince Damasse, the city's Water Resources Manager said. "The pump station has to take water from something, from a volume of water and it's just a suction to the pump station." Part of the proposed project will have a dedicated transmission main that will go from Cabrillo to upper hillside zones, providing fire flow. Due to the depth of the forebay, the site work and construction costs associated with demolishing the reservoir and building the pump station is $8.2 million.
"It serves exactly what we want it to do," Damasse said. "It's not a reservoir. That's why you don't see a big tank, it's not protruding off the ground… Nobody even will know it's there. And it will serve the redundant fire flow needs that we need."
The city's top three largest reservoirs are Greystone with a capacity of 19.3 million gallons, Coldwater Canyon with a capacity of 8.3 million gallons, and Sunset with a capacity of 6 million gallons.
According to Damasse, by investing in three fully automated Reservoir Management Systems at these sites with chemical feed systems that can be controlled remotely, the city would add 8.45 million gallons to its emergency water storage. "So that's like building an 8-million-gallon reservoir somewhere else," Damasse said. "You just gain it by changing the way you operate a reservoir." Currently, the $1 million RMS systems are included in the proposed capital improvement budget, which will go before the City Council for approval in May. If approved, work would begin July 1. "Each system at each site takes about 12 months to construct," Director of Public Works Shana Epstein told the Courier. "I would say at least 24 months from all three sites."
Building a forebay at Cabrillo would move the city closer to its emergency storage goal of a seven-day supply during peak months when the reservoirs are at their lowest operational level—a number identified by staff to be 4.8 million gallons. "Any other smaller alternative as far as reservoirs, we're going to have to acquire funding for that for construction," Damasse added regarding the Cabrillo site.
"We don't have many options for more reservoirs," Alpert said. "So don't preclude this location as a reservoir. Whether the Council wants to spend all that money for it, I don't know. I would advocate for it. I mean, when the emergency comes and we don't have water, there's no price tag for that."
"I urge people to consider that the best course of action is to use the right amount of water," Epstein told the Courier. "That is the strongest effort that our community can do towards resiliency is just using the right amount of water and not wasting it."