In addition to the two seats on the Beverly Hills Unified School District, several other key races on the Nov. 8 ballot impact readers in and around Beverly Hills. As the Courier goes to press, West Hollywood City Councilmember Lindsey Horvath and State Senator Bob Hertzberg (D-Van Nuys) are neck and neck in the race to replace Sheila Kuehl as the Los Angeles County Supervisor representing the 3rd District. According to results released late in the day on Nov. 10 by the Los Angeles County Registrar-Recorder/County Clerk, Hertzberg holds a narrow lead of some 1,646 votes over Horvath. In the highly-contested Los Angeles mayoral race, real estate developer Rick Caruso maintains a slim lead of 2,695 votes against Rep. Karen Bass. 
The Supervisorial race specifically impacts Beverly Hills, which is part of the expansive 3rd District. The Board of Supervisors oversees the county's massive budget and touches nearly everything the county operates, from jails to homeless services to parks. 
The Courier attended watch parties held by both Board of Supervisors candidates on election night, Nov. 8. At Horvath's election night party in West Hollywood, drag queens performed for the colorful, upbeat crowd before the Councilwoman gave a speech.
"After being outspent 10-1 when all is said and done, we are very, very close," Horvath told the enthusiastic crowd. "We have a story to tell. We created a vision for what Los Angeles County could be."
Horvath has run on a campaign of redefining public safety and restoring public trust in elected officials, as well as creating more countywide solutions for environmental sustainability. She has been endorsed by Kuehl, as well as Planned Parenthood, the Sierra Club, and United Teachers Los Angeles, the L.A. teachers' union.
"This campaign was about bringing everyone to the conversation, and making sure everyone had a voice," Horvath told the Courier at her election night party. "We know that the county can step up and do more, and I'm really excited."
At a banquet hall in Van Nuys, Hertzberg's election staff huddled around a table full of laptops. As the first results trickled in, Hertzberg spoke to the crowd with a flurry of pyrotechnics celebrating his entrance. 
"In every corner of the 68 communities we talked to, we got positive results," Hertzberg told his supporters to raucous applause. "That's what happens. That's how you win."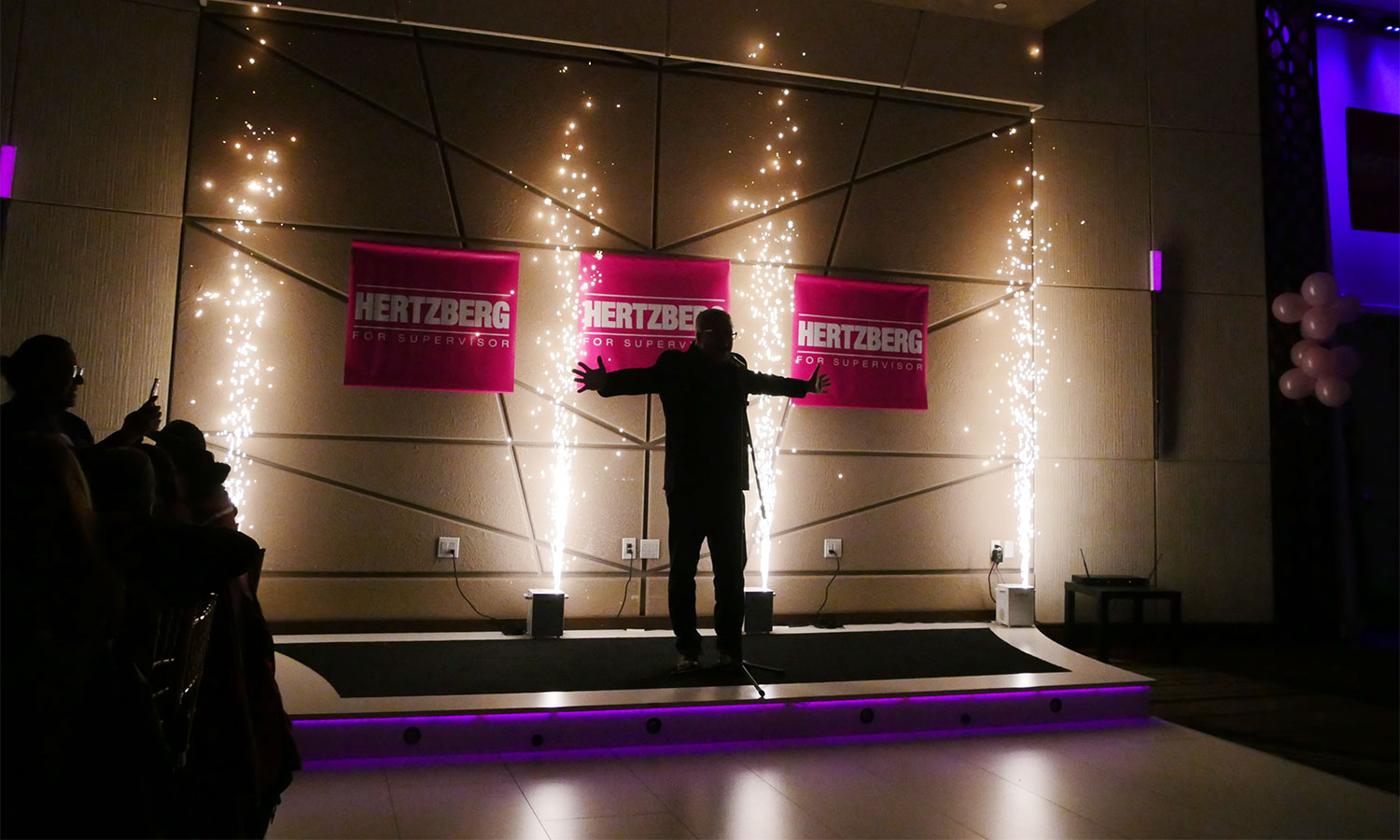 Hertzberg has focused his campaign on his experience governing at the state level and helping the board return to a state of leadership he believes is lacking. He has been endorsed by Gov. Gavin Newsom, U.S. Senator Alex Padilla, current County Supervisor Kathryn Barger, and former Beverly Hills Mayor Jimmy Delshad.
"I'm concerned about the intolerance that's going on," Hertzberg said. "The fact that it's hard to have a single conversation between people with different views…my whole purpose running for office was to calm that down."
In a social media post on Wednesday, Horvath acknowledged that Hertzberg was in the lead, but did not concede.
"No matter what, I am confident that our diverse coalition of supporters will continue to fight for our shared vision," read Horvath's statement. 
"We are optimistic we will prevail when the final results are certified."
To view the latest election results, visit https://results.lavote.gov. Results will be announced every Tuesday and Friday. The next update will be on Nov. 11, between 10 a.m. and 2 p.m.