Beloved longtime City Manager George Chavez was feted with a sense of fun and sentimental speeches at a retirement party held in his honor at Beverly Hills City Hall on Tuesday night. The elegantly decorated event, which was hosted by the city and free to the public, was attended by Mayor Lili Bosse, who also served as MC, as well as former Beverly Hills mayors; city councilmembers, officials, and staff; members of the Beverly Hills Police Department; residents; and Chavez's friends and family, who filled the Municipal Gallery to capacity. 
Although an outdoor reception area was available, guests chose to stay inside due to the chilly weather, enjoy specialties catered by Il Pastaio's Giacomino Drago, and take photos and reminisce with Chavez, who is retiring after serving the Beverly Hills community for 34 years. 
After allowing time for the celebratory crowd to take in the generous spread and posing for photos with Chavez and councilmembers, Bosse invited people to share their memories of Chavez. Assistant City Manager Nancy Hunt-Coffey volunteered first, giving a humorous and emotional speech.  
"Just a few things that I've learned from George," said Hunt-Coffey who will be taking over as the first female City Manager of Beverly Hills on Jan. 1, 2023. "So, there's the whole lecture he'll give you about political versus technical, and if you want to hear about that, he'll tell you afterwards, for quite a long time," she joked.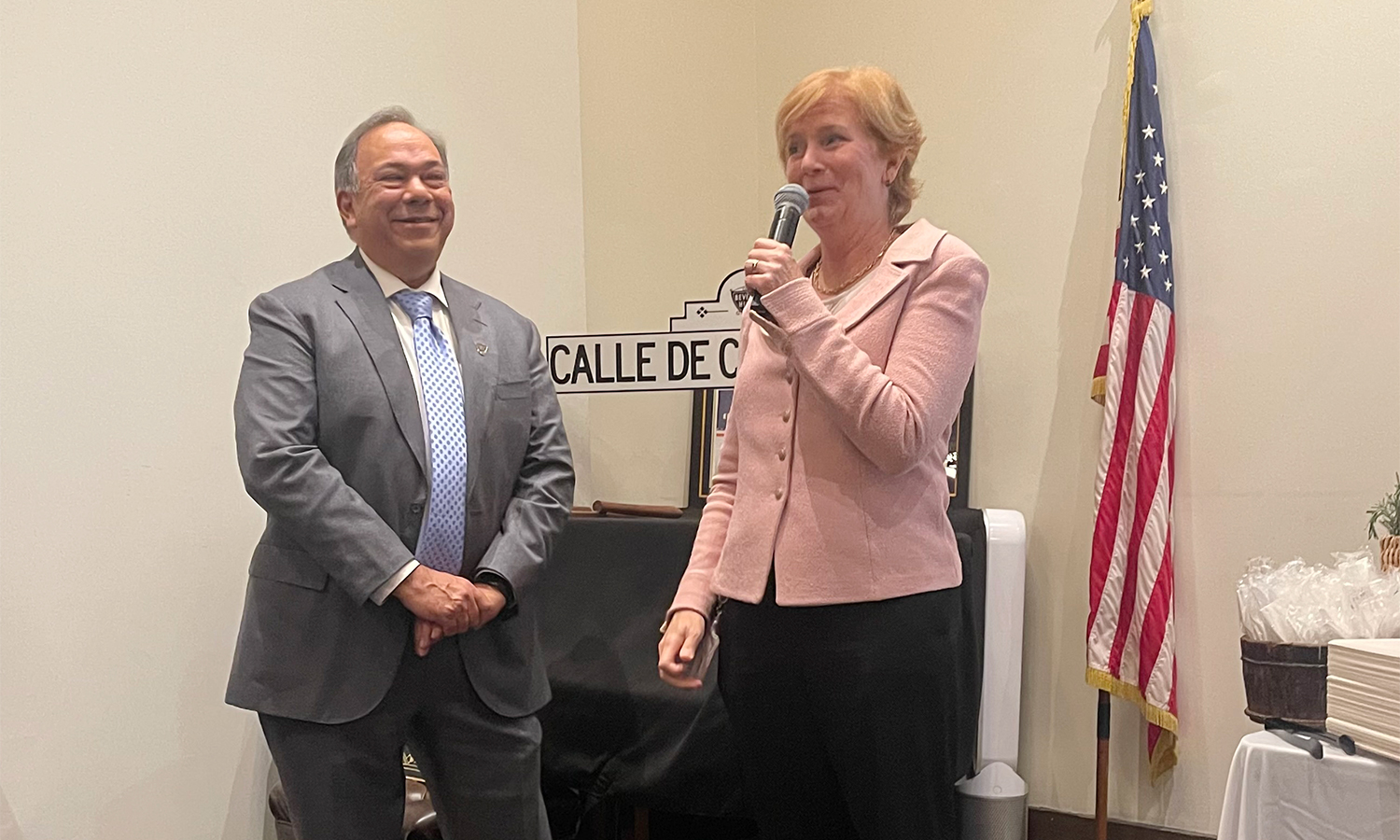 Attendees gathered around cocktail tables as they listened to speakers in the front the room, with an event backdrop screen displaying photos of Chavez, and decorative items in his honor, including a white Beverly Hills "Calle De Chavez" street sign. 
"The few things I've learned from George are things like patience, know when to act, and know when to pause, and that has been a great lesson I've learned from him," Hunt-Coffey continued. After sharing her thoughts on Chavez's admirable leadership during the pandemic, she added. "On a personal note, I will miss you," she told Chavez. "As they say, we all stand on the shoulders of giants, and George is my biggest giant. Thank you for your service, thank you for all you've done for the city, and thank you for being my friend." 
A round of laudatory and nostalgic speeches about Chavez's open and effective leadership style and enduring and supportive friendship followed, given by notable guests, including Dr. Alan Kaye, former Mayor Jimmy Delshad (the city's first Iranian American mayor, who served the city in 2007 and 2010), former Mayor William "Willie" Brien, M.D., Nooshin Meshkaty, former Mayor Mark Egerman, Dr. Barry Pressman, and President and CEO of the Beverly Hills Chamber of Commerce Todd Johnson.
"What can you say about perfection?" Johnson asked the crowd. 
Finally, Bosse concluded the speeches and encapsulated the shared feelings in the room with, "We love you, George!"  A visibly moved Chavez reflected on the moment. "It's surreal. I'm just overwhelmed with joy," he told the Courier. "This is what this community is meant to be about. Everything I have, I want to give back. And as you can see, I get it all back in return."