The iconic Beverly Hills Women's Club is charting a new path, while staying true to its legendary origins. Founded in 1916, BHWC's stated mission has been to sponsor educational, cultural, philanthropic, and social activities that enrich the community at large and bring women together in camaraderie.
BHWC hosted a holiday benefit on Dec. 8 at the Gable & Wyatt designed clubhouse. Built in 1925, the official City of Beverly Hills historic landmark is situated a few blocks from The Beverly Hills Hotel. "I love coming here, even by myself, and just be with like-minded women," longtime member Rose Weinstein told the Courier. The festive party brought 75 members and guests together in the great room, resplendently decorated with gold accents, rose and mixed seasonal arrangements, and a long, pine wreath draping the club's signature fireplace with gold inset wording by Shakespeare, "ONE-FEAST, ONE-HOVSE, ONE-MVTVAL-HAPPINESS," which translates to "one feast, one house, one mutual happiness." 
Attendees were invited to "shop for a cause" on the lanai, featuring haute couture, candles, jewelry, and collectibles, with proceeds benefiting the Downtown Women's Center (DWC). After shopping and mingling, guests enjoyed an elegant buffet luncheon during a warm welcome from BHWC President of the Board Hollis Leech, a speech by DWC's Director of Donor Relations and Events Holly Hight, an appearance by Beverly Hills City Councilmember Sharona Nazarian, and a rousing singing and tap stage performance by the Diane Davisson Dancers.
"The Beverly Hills Women's Club has been an ardent supporter of the Downtown Women's Center for a few years now. We are delighted that they support our mission of ending homelessness for women here in Los Angeles. Their critical efforts help us provide more housing, jobs, and meals to women who are finding their way back on their feet," DWC's Hight told the Courier. "We can't do this work without the efforts of groups like BHWC and women supporting other women."
Philanthropy is at the heart of the club, along with opportunities for women to engage in a broad spectrum of artistic, cultural, and creative activities. Leech, a serial entrepreneur who became the BHWC's 48th president in April, says the board is excited to take the club in a new direction, as it rebounds from a quiet period during the pandemic. In May, BHWC federated with the General Federation of Women's Clubs at the California State Conference, a nod to its roots.
"Leveraging our incredible legacy and outstanding Beverly Hills location, and the ladies of the club – past, present, and future – the sky's the limit," Leech told the Courier. "We are paying it forward and coming together to institute structures that secure this historic club's relevancy and longevity, while expanding horizons for us all."
Indeed, the 44 founding members of BHWC were part of the progressive women's club movement advocating for women's equality and advancement, Leech shared. "The club's founding objective remains its mission today, as quoted from the 1929 annual report: 'advancement in all lines of general culture, the opportunity for social service, and the upbuilding of a community spirit in the city of Beverly Hills.'" Earlier, in 1922, a Drama Section was devoted to the reading, studying, and producing of plays. In 1925, member Maureen Gee wrote "The Delicate Child," the winning play in the General Federation of Women's Club's National Playwriting Contest, ultimately produced and presented at the National Convention in Atlantic City. That same year, BHWC organized a horse show hosted by Margaret Anderson, the original owner of The Beverly Hills Hotel, and Betty Blake and her husband, Will Rogers. All $4,000 of the show's proceeds went toward the construction of the Gable & Wyatt Spanish Revival clubhouse that stands today at 1700 Chevy Chase Drive. Amelia Earhart, Mary Pickford, Douglas Fairbanks, Norma Shearer, Judy Garland, Gloria Swanson (who hosted the club's first Flower Show), and many other notable figures are part of the club's rich history. Now, it's time for a new generation to make an impact.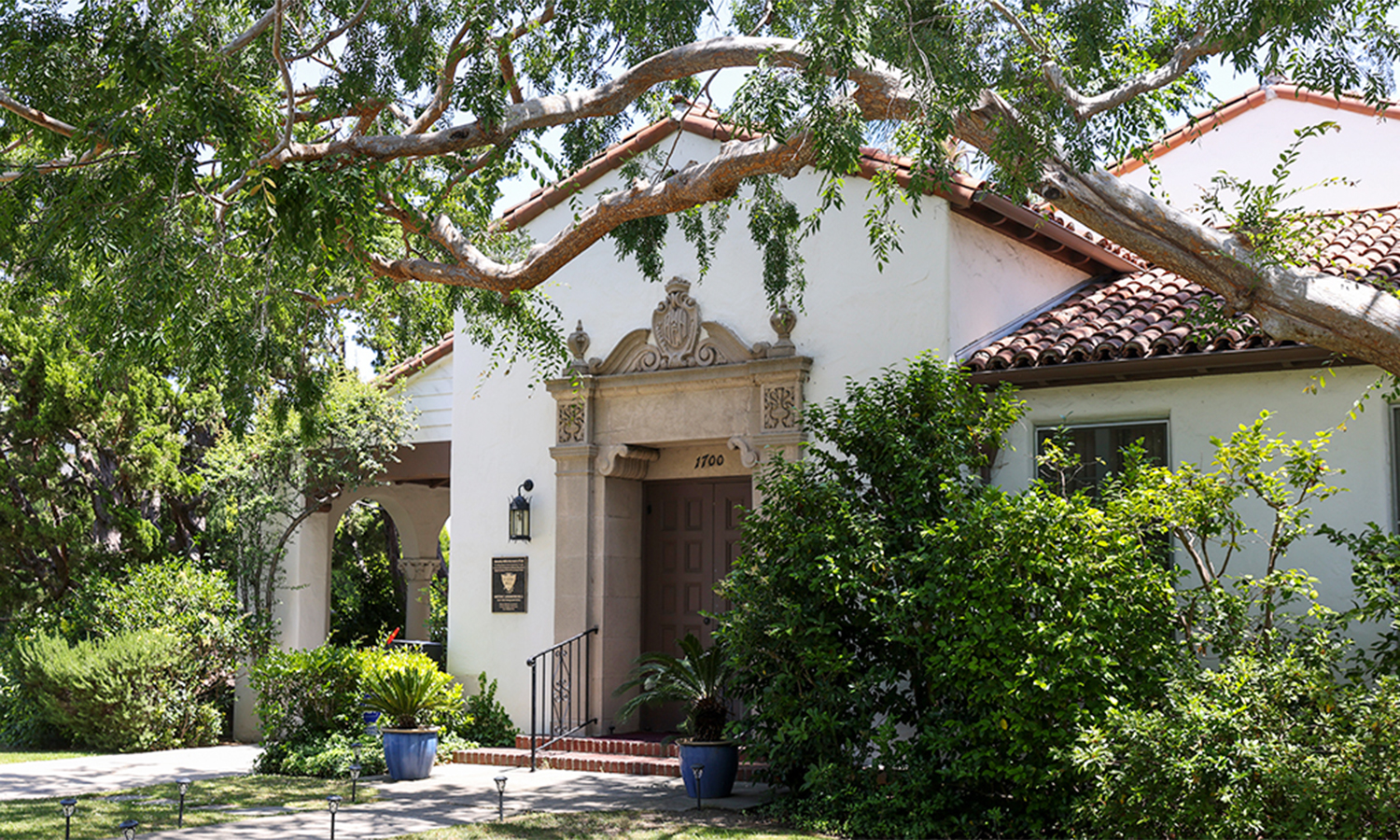 "I am passionate about supporting female entrepreneurs and enabling accelerated growth for their companies, and I advise several startups, primarily in technology, which is traditionally less female-represented," BHWC Board Member Katherine Gaffney, a CFO, advisor, and investor in several high-growth, venture-backed tech companies, told the Courier. "At BHWC, I hope to help facilitate the dreams the next generation of women will create."
In addition to on-site programming currently offered to members, including Mahjong and Pilates, the new year will bring author readings, Oov® core-stabilizing classes, and other wellness programming, including meditation, to the club. In February, as part of its ongoing cultural offerings, members will tour Holocaust Museum LA, and will be the site of a to-be-announced performance brought to the club by one of L.A.'s most revered music institutions, as well as a "Shop for a Cause" Valentine's luncheon. For Women's History Month in March, the club will be hosting an event that celebrates the women making history in our community today.
"We're proud to partner with the BHWC, a beautiful community dedicated to bringing women together from different backgrounds for important conversations and enriching programs," Beth Kean, CEO of Holocaust Museum LA, the first survivor-founded and oldest Holocaust Museum in the country, told the Courier. "We are excited to bring the BHWC to the museum to see our artifact-rich exhibits and learn how we can work together to build a more dignified, respectful, and humane world."
The club will continue its philanthropic partnerships in the new year, as well. Recent BHWC charitable efforts have included three Red Cross blood drives, an Opera Night supporting ICYOLA, a Mother's Day luncheon benefiting the Exceptional Children's Foundation, a Magic Castle night supporting Make-a-Wish Foundation, and a Fairy Hunt benefiting UCLA Mattel Children's Hospital, among many others.
"We are so grateful for the partnership of the Beverly Hills Women's Club through their Fairy Hunt this past August. The proceeds from their event went to support the Chase Child Life Program – a crucial service provided to normalize a child's stay in the hospital," Leigh Dierck, Associate Director of Donor Relations, Stewardship and Annual Giving at UCLA Mattel Children's Hospital, told the Courier. "Like the Fairy Hunt, the donation made on behalf of the BHWC has enabled our Child Life team to provide play and other therapeutic services to our patients and their families."
Finally, the club aims to be more inclusive while expansive in reach.
"The Beverly Hills Women's Club aims to be a hub for community, philanthropy, and engagement. While the mission for the club remains as it always has since its founding in 1916, the way in which we deliver on the mission has naturally evolved with the times," new Board Member Heather Carter, co-CEO of The Riveter, told the Courier. "The club was greatly impacted by the pandemic and the reopening also marked a rebirth – we welcomed new board members and leadership this year, as well as new strategies to revive membership and reflect the new interests of the members and the community in which we aim to serve. This blending of the old and new and tradition with progression is the intersection where the club now lives. We are focused on building an intergenerational membership base that celebrates diversity, fosters connection, and above all gives back."
As part of its revitalized mission, BHWC will be hosting a free open house on Sunday, Jan. 8, from 2 to 5 p.m. The afternoon will include light refreshments; docent-led tours, featuring the club's architecture, art history, and archives; and a performance by the Radcliffe Pitches, Harvard University's oldest, treble-voiced a cappella group, among other activities and entertainment. RSVP is required to attend the complimentary event: www.bhwc1916.org.