The eagle has landed. Tom Cruise, teaming up again with Christopher McQuarrie as director and co-writer (with Erik Jendresen), conquers the heavens and earth in this stunning new edition to his "Mission Impossible" (MI) series; part one of the seventh chapter. 
This time out, or rather again, Cruise's Ethan Hunt is out to save the world. A mysterious, ethereal force is taking hold, otherwise known as AI run amok, and our intrepid hero must find a way to harness the unseeable and prevent various world powers from trying to control it and thus control the universe. AI gone wild, like HAL in "2001," is scary enough but add in a villain straight out of the James Bond novels like Ernst Blofeld in the guise of Gabriel, a menace from Hunt's past, and you have the makings of a top-notch thriller. At this point, disclaimers are necessary. The thrills are in the action and the chases, and they are humdingers, not in the loosely scripted plot, one through which you could drive a truck, or more specifically, as in the film itself, a Hummer.
Plot is not why you go see an MI film. You go for the action and to see how Tom Cruise will survive his latest series of self-performed stunts, all of which get more elaborate and more dangerous with each film. For this you will not be disappointed. Actually I don't think you'll be disappointed in any way, shape or form because the action is non-stop leaving you little time to breathe, let alone think. There's real danger here, not just to the universe but to each of the characters.
Opening in the bowels of the world's most sophisticated submarine, its Russian crew is testing out its invisibility by traversing the underwater world undetected. Their superior use of AI, locked in their computer by a two-part jeweled, interlocking key, is the secret to their phantom exploration. But something is amiss when they lock up the computer. They spot another sub in the distance, an impossibility because their location is protected. That sub is threatening to send out torpedoes; they must protect themselves and retaliate if necessary. And so begins the first giant kaboom; but only the first. Knowledge of those keys propels world leaders to risk everything to obtain them, without even understanding what they unlock.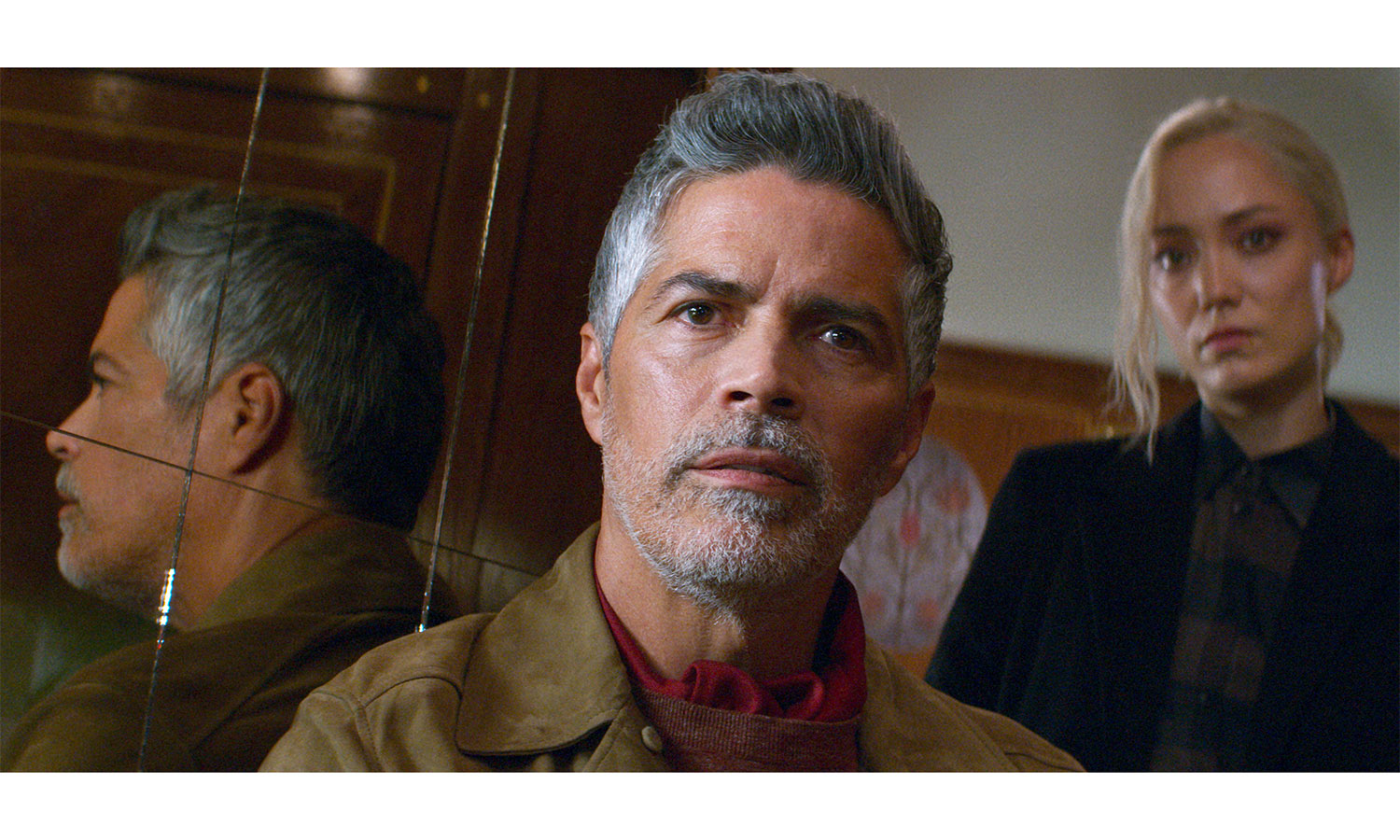 The mission, should he decide to take it (what a foolish question), is to find those keys sub-rosa on behalf of boss and head of the CIA, Eugene Kittridge. One of the keys has been located and he must obtain it; the other is about to be sold to the highest bidder. Hunt is not to stop the sale, he is to monitor the players. What neither was counting on was master thief Grace, a pickpocket extraordinaire and the fly floating in everyone's cream. Hunt's circuitous path, led on a merry chase by Grace, will have him cross paths with any number of nefarious villains Including Paris, the White Widow, and the aforementioned Gabriel. He will be trailed by U.S. government agents, Briggs and Degas, to stop him at all costs, unaware that they are working on the same side.
Luckily Hunt has his ever-reliable team to run interference for him remotely using state of the art (their state, and their art) computers communicating with him wirelessly. Luther and Benji have been with him for many years (and many MI adventures).
But, again, that's not why you came. You came for the eye-popping stunts and chases and eye-popping is the very least you can say about them. Beginning his quest to find one of the keys, Hunt must match wits and weapons with horse-riding baddies in the Abu Dhabi desert in pursuit of the key and the woman, Ilsa, who has it. A disgraced MI-5 operative and Hunt's former lover, a bounty has been put on her head. Outmanned and outgunned, will he succeed in saving the girl and getting the treasure? What do you think? If he doesn't, there's no film. Nevertheless, the how is more important than the if and it's always great to see the lone cowboy (or in this case the cowboy and cowgirl) dispose of the band of marauders. It's loud, it's fast and it's satisfying. 
Cut to Rome in pursuit of Grace, McQuarry et al. have shot what may very well be the best chase sequence of all time. Racing a BMW without doors (that's a separate story) against a giant Hummer, Hunt relies on his remote tech experts to deliver a new car and they do, but you can't say he's not disappointed. It's a tiny little yellow Fiat, not exactly a power match against that Hummer, but there's both more and less of it than meets the eye. Playing mouse and cat against the military vehicle, Hunt leads it a merry chase through the Via Veneto in the Eternal City and down, get this, the Spanish Steps, something that should have dismayed the Hummer but doesn't. The chase scene from "Bullitt" (Steve McQueen 1968) down Lombard Street has been vanquished. As they say, go big or go home. 
Living to see another day, the search for the key and the mysterious buyer continues in Venice at a ball in the Ducal Palace. This time the chase is on foot through the narrow passageways and innumerable bridges surrounded by canals. Frustrated and breathless, our hero must continue to track the major players who are leaving on the Orient Express. And always in the background, the evil Gabriel stands watch.
More surprises, good and bad, await everyone, culminating in another phenomenal sequence ending (and this isn't a spoiler since it's in all the trailers and advance publicity) with Speedflying. This is, after all, part one of a two-parter. You never doubt that Ethan Hunt will survive, it's really a matter of how and what will be the collateral damage. 
Cruise, ever a movie star in the best sense of the word and unafraid of sharing the light, surrounds himself with wonderful actors. The female characters are all strong, organic to the action and every bit as capable as the men and have been given greater range in their characters. Rebecca Ferguson, a veteran of other MI movies, is a beautiful, smart and tough romantic lead as Ilsa. Hayley Atwell, a theater-trained British actor, is sexy, funny and really owns her unapologetic duplicity as Grace. Pom Klementieff as Paris is evil from her eyeliner to her skewed mouth. Beautiful, this French actress really sells her presence in that massive Hummer. Vanessa Kirby, the White Widow, another MI repeat, really bites into her malevolence. Greedy from the get go, she shows nuance in her upper-class depravity.
Simon Pegg as Benji and Ving Rhames as Luther, both veterans of previous MI movies, are the yin and yin to Hunt's yang. They are very funny, add and explain the tech expertise upon which this film balances, and they add exposition in the most subtle of ways. Henry Czerny, who appeared in the very first "Mission Impossible," lends an ambiguous gravitas to his CIA director. He successfully straddles the in between of is he good or bad.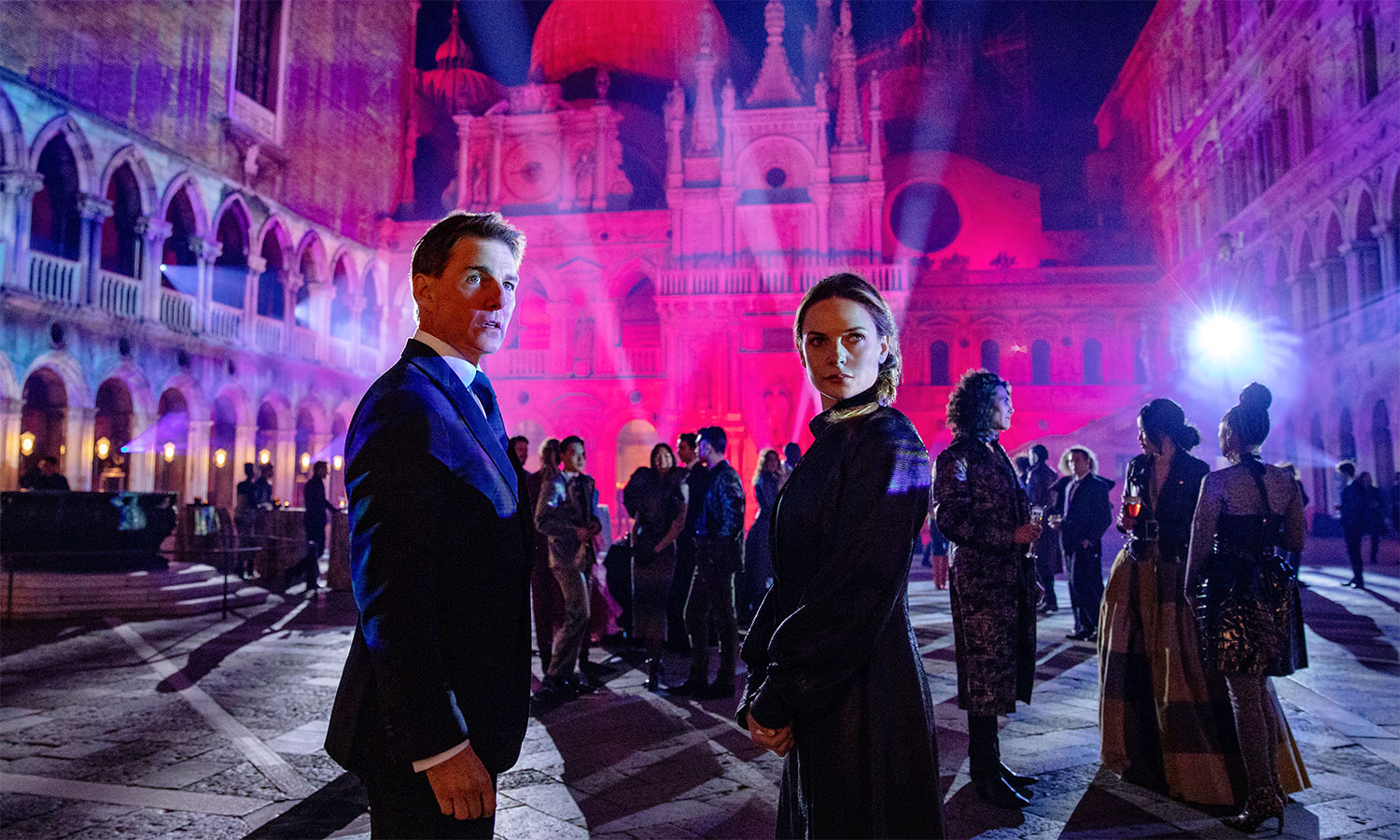 Esai Morales as Gabriel infuses mystery into his demonic persona. Morales, a brilliant, underused actor, conveys his thoughts soundlessly, rarely moving and never quickly, always present with unreadable eyes and a sly, subtle smile that barely cracks his lips. His portrayal is all in the acting because there doesn't seem to be a discernible character on the page, other than he's a bad bad man. Morales is a master class in subtlety and sleight-of-hand performance.
But it's not a Tom Cruise movie without Tom Cruise and this is very much his movie. He pulls character development from thin air and is the absolute definition of a rooting interest. He is the very center of everything and the center holds. As an actor, he is positively magnetic and makes you understand why the heroes want to follow him, why mere mortals want to be him, and why the villains want to eliminate him. What more is there to say?
It is easy to understand why Cruise has repeatedly relied on Christopher McQuarry. He directed and wrote the previous two "Mission Impossibles" ("Fallout and "Rogue Nation"), and "Jack Reacher." He also wrote "Top Gun: Maverick" and "Valkyrie." There is obviously a level of trust between the two of them in this very successful collaboration. Where McQuarry is not quite as successful is in the script that he and Erik Jendresen produced but, as mentioned at the beginning, don't go to see this film for its outlandish plot and character nuance. Particularly disappointing is a scene at the beginning that is strictly expositional and wastes the talents of Mark Gatiss and Indira Varma, both renowned British theater stars. Where the writers excelled, however, is in the comedy that is infused throughout. There are moments in the banter between Pegg and Rhames that are laugh out loud, and so much of the evil is played out with an undercurrent of humor, humor that is entirely successful because the actors play their roles without a wink wink. The successful infusion of humor goes a long way toward ignoring the implausibility, which, like the humor, is played straight.
McQuarry's direction of "Dead Reckoning Part One" is flawless and thoroughly exciting. He was, no doubt, aided greatly by his editor Eddie Hamilton, who worked with him on "Fallout," "Rogue Nation" and "Top Gun: Maverick." Editor and director have found that sweet spot of speed as a character in the film.
Cinematographer Fraser Taggart took maximum advantage of every unbelievable location that was handed to him, allowing us to be tourists in every sense of the word. He captured the beauty of Venice, the sights of Rome from the back of a motorcycle and down the Spanish steps; the unforgiving Arab desert, and the mountains and glaciers of Norway (a stand-in for the Austrian Alps). The beauty, the danger, the sharp edges, the dark clouds, the bright landscapes—it's all there. It's not just the action, but also the cinematography that demands that this movie be seen on a big screen, the bigger the better, with a great sound system.
Catching hold of the danger that AI poses is like catching lightning in a bottle, so I can't honestly say that McQuarry captured it in a relatable way. But who cares? I don't. I'd see this movie again just for the opportunity to watch Ethan Hunt crash into a line of motorcycles that topple like dominoes. I think you would too.
In theatres now. 
Neely Swanson spent most of her professional career in the television industry, almost all of it working for David E. Kelley. In her last full-time position as Executive Vice President of Development, she reviewed writer submissions and targeted content for adaptation. As she has often said, she did book reports for a living. For several years she was a freelance writer for "Written By," the magazine of the WGA West and was adjunct faculty at USC in the writing division of the School of Cinematic Arts. Neely has been writing film and television reviews for the "Easy Reader" for more than 10 years. Her past reviews can be read on Rotten Tomatoes where she is a tomato-approved critic.