Musical theater! Love it or hate it, there's plenty for everyone in "Theater Camp," the affectionate tribute to the kids and adults who pour their hearts and souls into amateur productions hoping beyond hope that they'll lead to fame. Success or failure. That's not the point. Loving something so passionately that you're willing to drown in it is a rare gift, even if you're never going to make it. The engrossing, hilarious "Theater Camp" is a film that gets everything right.
There's a camp for almost everyone whether it's one of the expensive, sophisticated types that dot the Eastern seaboard and the Malibu coast; Girl or Boy Scout camp with tents, latrines and where every mosquito known to man seems to live; YMCA camp for an urban population far from lakes and canoes; or religious camps that sprinkle God into the lanyard making. Then there's theater camp, a species unto itself. Interlochen in Michigan is the most famous arts camp where the audition process is grueling and many a star has been born, including Ed Helms ("The Hangover"), Tom Hulce (Tony winner), Anthony Rapp ("Rent"), Santino Fontana (Tony winner), Josh Groban, Norah Jones and Jewel. Camp AdirondACTS is not that.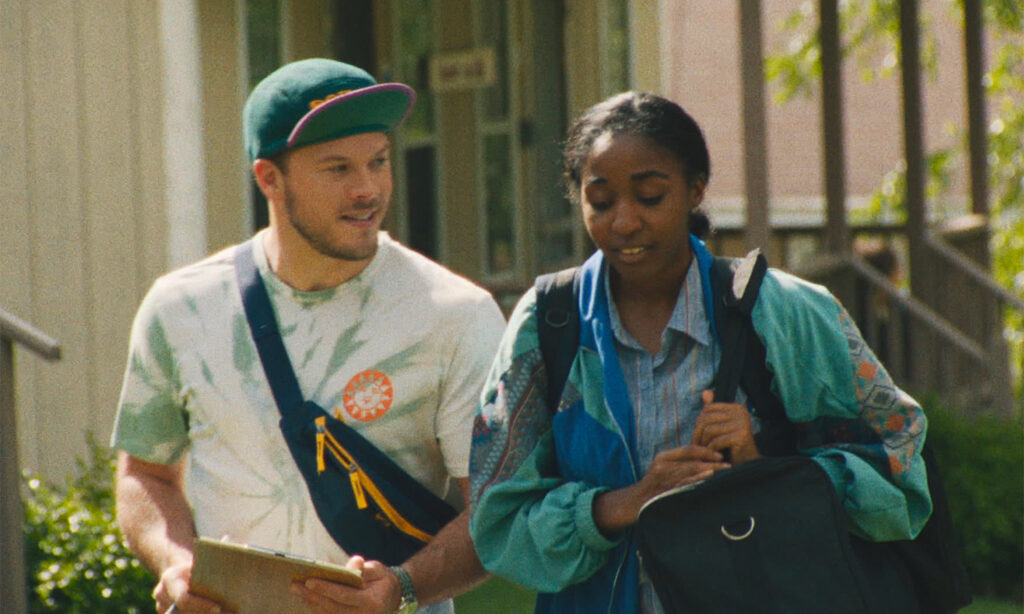 Owner and founder of Camp AdirondACTS, Joan, with trusty co-director Rita, spend the non-summer months beating the bushes for next summer's campers, trying to entice parents to pay to send their children to theater camp. It is during just such a recruiting trip, at a middle school production of "Bye Bye Birdie," that Joan suffers a seizure from the strobe lights in the big Conrad Birdie song, "One Last Kiss." Hauled off in an ambulance, the comatose Joan will not be presiding over the next camp session.
Full to the rafters with repeat child performers, the counselors will carry on, led by Amos (drama), Rebecca-Diane (Musicals), Clive (Choreography), Gigi (Costumes), Glenn (Stage Manager), all supervised by Rita. Unexpectedly, Joan's clueless son Troy arrives to announce that he will be running the camp in his mother's place. A self-described en-Troy-preneur, he has come armed with plans, none of which make any sense, let alone fit into the mission statement. His musical knowledge is restricted to B-list rap music. He wouldn't know a Hammerstein from a hammerlock.
Competition for the leads in this summer's productions is tense. There will be a musical production, a straight play, and an original musical written by Amos and Rebecca-Diane. Troy, wide-eyed, asks what a straight play is. He's informed that it's a play with words and no music. Still puzzled, he asks them what the difference is between a straight play and a gay play. And so it goes.
Amos and Rebecca-Diane have been the closest of friends since they first met at AdirondACTS when they were middle schoolers. They have written an original musical together every summer since anyone can remember. They are inseparable, although it was crushing when Amos came out to her when she confessed her undying love for him. Still, they carry on with one voice. Lurking in the background are the financial difficulties exacerbated by Troy's lack of expertise. It seems that he hasn't been opening the bills and foreclosure looms on the horizon. The more immediate danger, however, is the rich kids' camp on the other side of the lake. The owners, expansion in their eyes, have been trying to buy AdirondACTS for years. With Joan absent and Troy in charge, they see an opening.
"Theater Camp" is an homage to all those Judy Garland-Mickey Rooney "let's put on a show" musicals of the 1930s and the Christopher Guest mockumentaries like "Best in Show" and "Waiting for Guffman." The tale may have been told before, but "Theater Camp" has made every trope its own and lovingly created something new.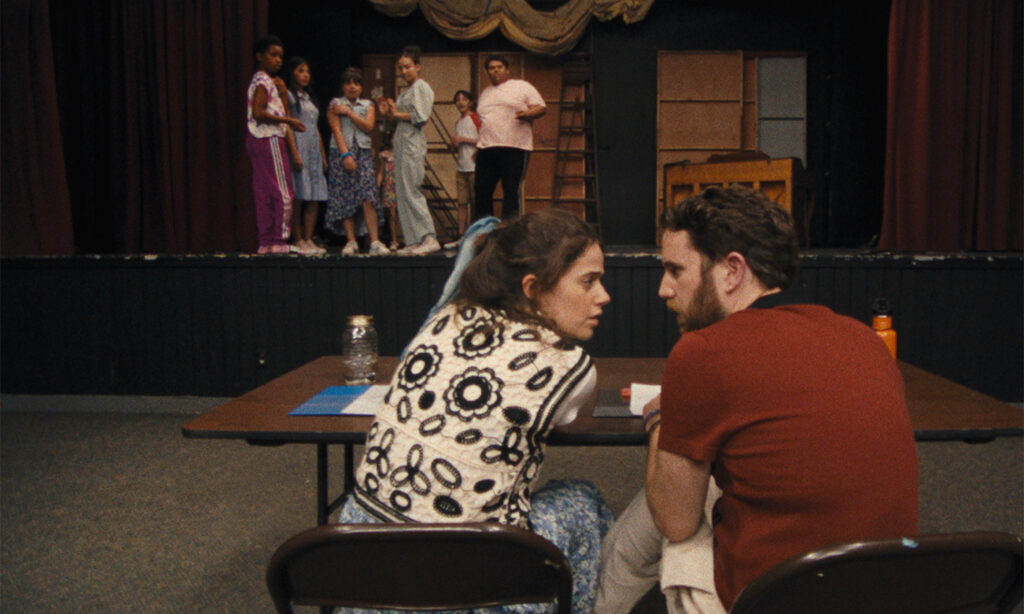 Written by Molly Gordon, Noah Galvin, Nick Lieberman and Ben Platt, they all met at theater camp when they were very young. They know this arena intimately, from the campers to the counselors and understand the passion that sometimes looks a bit unhinged. All the craziness comes through, but so does the talent, acceptance, and hard work. Theater nerd or not, everyone knows these kids from school no matter on what side of the fence you stood. Me? I lived and died for theater, begging for parts, lack of talent notwithstanding. And musicals? There's no higher art form and I loved singing (see above: lack of talent notwithstanding). How I looked forward to singing to my child before he dropped off to sleep. Unfortunately, almost the first two words he was able to string together were "Please don't." Nothing can describe how crushed I was. "Theater Camp" captures all of those emotions, hopes and dreams.
Molly Gordon and Nick Lieberman shared directing duties and kept everything moving at a breathless pace, leaving room for the laugh-out-loud moments (and there were a lot of them). The cast is pitch-perfect, led by Gordon as Rebecca-Diane and Platt as Amos. Noah Galvin plays under-appreciated Glenn, the stage manager who longs for attention; Jimmy Tatro is the clueless Troy; and Ayo Edebiri, Janet, is a standout as a clueless counselor hired by Troy whose resumé is a complete lie. The child performers are fantastic and very talented with an extra nod to Alan Kim as Alan, the 10-year-old wanna-be agent with a phone permanently glued to his ear. As the adults, Amy Sedaris has what amounts to a very funny cameo as the comatose Joan, and my heart was already won with the appearance of Caroline Aaron, she of the unmistakable gravelly voice and pushy demeanor. Would "The Marvelous Mrs. Maisel" have been so marvelous without her?
I smiled from the first moment, watching a 12-year-old Conrad Birdie singing his heart out (and quite well, by the way) as Joan collapses in her seat, to the last moment when the students sing the finale of the original musical. The laughs come steadily and are never forced. You don't have to like musical theater to appreciate this film. With nary a misstep and lots of heart, soul, and a great script, there's much to love.
Now playing at the AMC Century City 15 and The Grove 14.
Neely Swanson spent most of her professional career in the television industry, almost all of it working for David E. Kelley. In her last full-time position as Executive Vice President of Development, she reviewed writer submissions and targeted content for adaptation. As she has often said, she did book reports for a living. For several years she was a freelance writer for "Written By," the magazine of the WGA West and was adjunct faculty at USC in the writing division of the School of Cinematic Arts. Neely has been writing film and television reviews for the "Easy Reader" for more than 10 years. Her past reviews can be read on Rotten Tomatoes where she is a tomato-approved critic.