Choices are proliferating when it comes to television viewing this time of year. Here is an overview of some familiar series that might be of interest, as well as some exciting domestic and international newcomers. 
"Only Murders in the Building: Season 3"
They're back and they've got another murder to solve. Almost two murders because following up on last season's finale, Oliver (Martin Short) has been given the opportunity to bring a play to Broadway and nobody can murder theater like he can. He hires Charles (Steve Martin) as one of the characters, which will bring its own challenges, not to mention quirky producers and casting issues. With her partners in podcasting otherwise occupied, Mabel (Selena Gomez) feels abandoned, especially because her aunt has sold the apartment in the Arconia out from under her.
Oliver has the good fortune to have action superstar Co-Bro himself, Ben Glenroy, as his lead, something that is both a blessing and a curse. A jerk of the first order, it's not much of a spoiler to let you know that he's not long for this world and there are plenty of people who would have liked to see him gone. Joy (Andrea Martin) makes another appearance as Charles' girlfriend and the always hilarious Jackie Hoffman as Uma, the building busybody, does not disappoint. The stunt casting is extraordinary, exceeding the previous seasons. Paul Rudd (Ben) made an appearance at the end of the last season, but nothing can top the casting of Meryl Streep as an actress auditioning for Oliver's play who ends up playing a major role in his life. Playing an actress who's never quite made it, she is hilarious when she's bad.
John Hoffman and the other writers have to be faithful to the franchise that they've created and try to hew to the pattern already established but, excellent actors notwithstanding, this particular series of episodes feels bloated and even more over the top than before.
Fans of the series will stay with it, but, for me, most of the magic is gone.
The first two episodes streamed Aug. 8 on Hulu, with subsequent episodes appearing weekly after that.
"Harlan Coben's Shelter"—Hide and Seek
Harlan Coben, mystery writer par excellence, is known for his convoluted plots, strong characters and endless red herrings that have nothing to do with the solution of the mystery. "Shelter," the miniseries, definitely has very strong characters and enough convoluted plots to keep your head spinning. 
Mickey Bolitar has been sent to live with his unmarried paternal Aunt Shira in New Jersey after the horrific traffic accident that killed his father and sent his mother to a long-term rehab facility. The family had just moved to California after living in Europe for Mickey's entire life. New Jersey is a major culture shock. As the new kid in town, he is on the outside looking in but so is recent transfer student Ashley Kent and they bond immediately. Arthur Spindell aka Spoon, resident nerd, adopts Mickey and the goth Ema gets brought along against her will. When Ashley mysteriously disappears, this oddball trio starts investigating. Their hunt will take them to the local haunted mansion and its mysterious owner, not so affectionately called the Bat Lady. Along the way they will stumble on the case of the boy who vanished 20 years before, something that makes everyone even more wary of Ashley's disappearance. But this is high school with all the drama it entails. So, add jealousy and envy to the already raging hormones.
Most of the episodes were written by Coben and his daughter Charlotte. The cast is outstanding, led by Jaden Michael as Mickey Bolitar. His accomplices in mystery solving are Abby Corrigan as Ema and Adrian Greensmith as Spoon, and both of them grow on you. Brian Altemus is Troy, Mickey's nemesis and Sage Linder plays his girlfriend and head cheerleader Rachel. The grownups are an especially stellar group led by Constance Zimmer as Shira, Missi Pyle as Hannah Taylor, Didi Conn the chirpily cheerful teacher with a secret, and the well-disguised Tova Feldshuh as Bat Lady. 
Although not a fan of Coben's work—hard to follow—I found myself hooked by the third episode and you probably will be too. Sometimes it's just fun to be totally lost in something. 
Eight episodes streaming on Amazon Prime.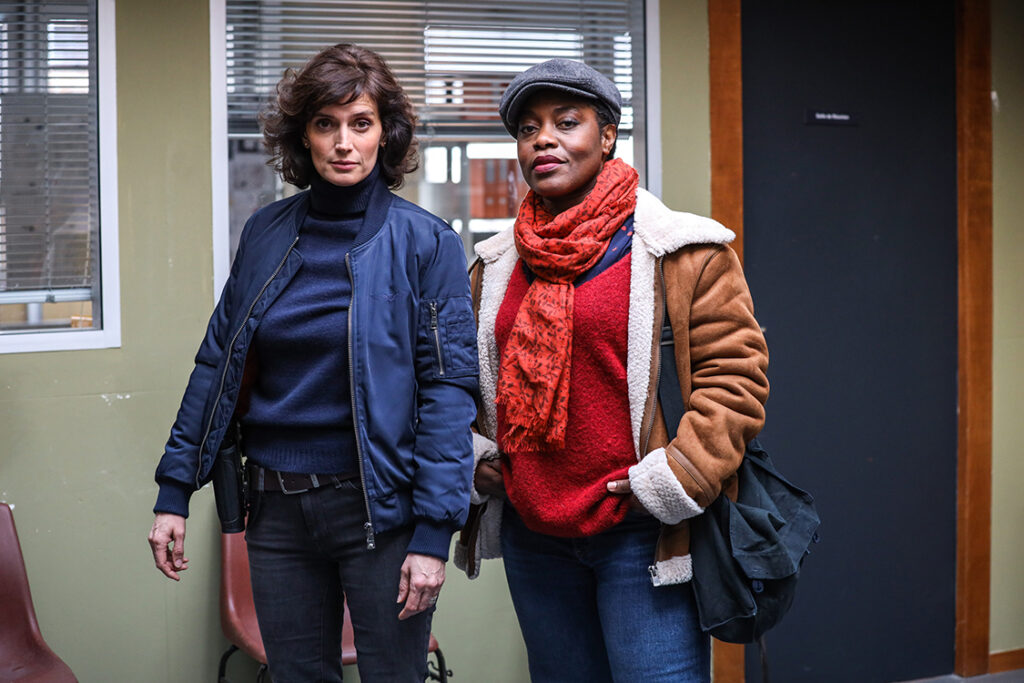 "Crime is Her Game"
Mismatched police detectives are a familiar genre, but mismatched distaff partners are often more interesting. "Cagney and Lacey" was the best of this category. The Brits have used this dynamic successfully in "Murder in Suburbia" and in one of my personal favorites, "Scott & Bailey." Like "Cagney and Lacey," those two British shows also played on the privileged vs. streetwise cop pairs, something that  "Crime is Her Game," the new French language series on MHz does very well. 
Gaby Molina, an up from the lower ranks police captain, prefers going solo. She is not pleased when her boss assigns Lieutenant Celine Richer, recently transferred from Paris, to be her partner. Celine's elite background as a lawyer-turned cop who insists on following all the rules, grates on Gaby's streetwise sensibilities cutting whatever corners are necessary to get the job done, including overlooking the criminal activities of her best snitch, Vargas, an unreliable source if ever there was one. Like most series, some of the episodes are better than others, but it's the characters that have you coming back.
The casting is excellent with Claudia Tagbo especially engaging as Captain Molina. Besides her police work, she is trying to make a go of the farm she inherited from her adoptive parents. Lucky for her, she has a dog who can sniff out the truffles that keep her from going under in the agriculture game. A Black actress primarily known for comedy, she has the presence and timing to lead the ensemble. Hélène Seuzaret plays Céline as the uptight partner with a secret. Bruno Lochet is hilarious as Vargas the snitch who is always looking out for his own best interests, often scamming Gaby until she knocks the wind out of his schemes. 
In French with English subtitles,
Streaming on MHz Choice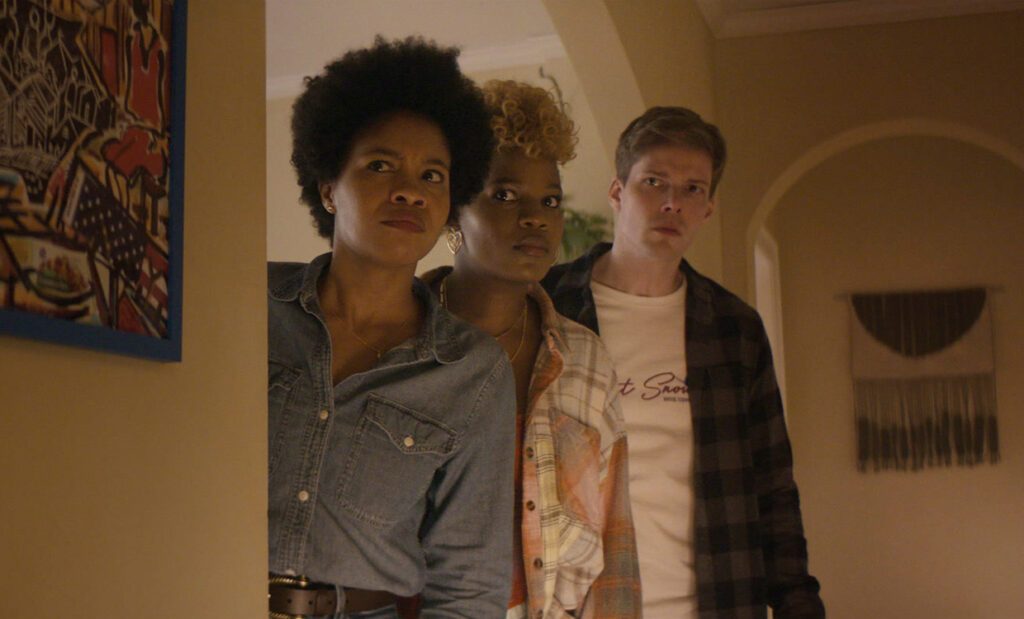 "The Other Black Girl"
Zakiya Dalila Harris's delicious twisty-turny novel, "The Other Black Girl" is now a delightfully edgy 10-part limited series. Nella (Sinclair Daniel), an assistant at Wagner Books, aspires to be an editor. She's talented, fast, smart and accomplished. Nella has made tremendous headway and is on track to become Wagner's second Black editor in more than 25 years. Then into the office arrives the beautiful and mysterious Hazel (Ashleigh Murray), the other Black girl, who immediately charms all she meets in ways beyond Nella's comprehension. Even company owner Richard (Eric McCormack) falls under her spell.
Hazel, looking to Nella as her touchstone, encourages Nella to be true to herself and her work, pushing her to be honest about the new book she's been assigned to give notes on. But this is not just any book, this is a book by Wagner's cash cow Colin and it's incredibly racist in tone. Nella, conflicted, goes to her boss Vera for advice and that advice is to put her concerns aside and compliment their lead author for his brilliant work. Hazel, having read the book, pushes Nella to be honest in her assessment. And this is where things get sticky. Nella points out the troublesome aspects in the editorial meeting and Hazel publicly disagrees with her. In one fell swoop, Nella's promotion possibilities have taken a nosedive and she now has a rival rather than an ally in the office.
The writers, including Harris, have found a way to ground this series in issues of racism, trust, competition, office politics and betrayal in ways that make this a thriller that keeps you watching until the end. I would have preferred a less bloated series (it's at least two episodes too long) but it works well enough and the ending is particularly satisfying, 
Streaming all 10 episodes Sept. 13 on Hulu. 
"The Swarm"
Based on the bestselling novel by Frank Schätzing, "The Swarm" is an ambitious international production. Deadly attacks are happening around the world in the ocean. The CW released only one episode for review but it's a thriller. It's man versus the sea and man is not coming out ahead. Opening on an Indigenous fisherman entering the sea in a reed dugout equipped only with a net, he paddles out and casts his fishnet off the side of his boat. Feeling a tug, he realizes that it's caught on something, and he must untangle it or lose a valuable piece of equipment and a day's work. Diving down, he finds the mesh has caught on rocks. As he pulls out his knife and begins the process to free it, a school of fish circles him, forming a funnel…fade to black. The scene immediately switches to Vancouver Island where an Orca has washed up on shore. Riddled with slashes, it has been killed by fishermen trying to protect their boat from an attack by the Orca who had repeatedly rammed it, causing damage that endangered their lives. This is very atypical behavior. Sea life throughout the world is behaving mysteriously. Fast cutting between Marine Biology stations in Germany, Canada and England, bizarre occurrences are threatening the lives and livelihoods of those who work and inhabit the waters. Is this the aftereffect of increasing pollution and climate change? Is there something more sinister occurring?
The cast, as international as the storylines, is a panoply of stars you may or may not know, including Cécile de France as Dr. Cécile Roche and Barbara Sukowa as Prof. Katherina Lehmann. The direction of the first episode is taut and moves so quickly that you may miss some details but you won't miss the overall feeling of foreboding. Composer Dascha Dauenhauer has created a score that is reminiscent of John Williams' music from "Jaws" in the psychological unease that it triggers with certain melodic threads. If the rest of the episodes live up to the pilot, this will be a must-see adventure where nothing less than the world itself is in danger.
Premiered Sept. 5 on the CW, with episodes are released weekly at 9 p.m.  
Neely Swanson spent most of her professional career in the television industry, almost all of it working for David E. Kelley. In her last full-time position as Executive Vice President of Development, she reviewed writer submissions and targeted content for adaptation. As she has often said, she did book reports for a living. For several years she was a freelance writer for "Written By," the magazine of the WGA West, and was adjunct faculty at USC in the writing division of the School of Cinematic Arts. Neely has been writing film and television reviews for the "Easy Reader" for more than 10 years. Her past reviews can be read on Rotten Tomatoes where she is a tomato-approved critic.