The Women's International Zionist Organization (WIZO) raised over $100,000 this week for survivors of the Hamas attacks. At least $100,000 will be used to heal the physical and emotional wounds suffered by residents of Sderot, Israel, said WIZO California Chair Gina Raphael at an Oct. 11 luncheon and panel discussion at the Luxe Sunset Boulevard Hotel. The Israeli city just two miles away from the northern border of Gaza experienced some of the worst civilian casualties in an offensive that left over 1,000 people dead.
"I got a call Friday night about what happened and how life had changed," Raphael told attendees. "And I don't know if it will ever be the same, but we can work to make a difference."
The luncheon opened with prayers led by Rabbis Liat Yardeni and Chaim Mentz, as well as updates from Deputy Consul General of Israel, Amit Mekel.
"The people of Israel are brave, resilient and determined," Mekel said. "If you ever want to witness the great spirit of my nation, the great spirit of the nation of Israel, you can see it in hospitals and elsewhere around the country. You'll find a people united and committed to prevail together and come out victorious."
His comments were followed by words of support from State Assembly member Rick Chavez Zbur, and then a panel discussion led by Courier Publisher Lisa Friedman Bloch. The discussion focused on what those in Beverly Hills and elsewhere who are mourning the violence in Israel might do to cope and what they can do to support survivors.
Participants included Yardeni, clinical psychologist and professor Dity Brunn as well as attorney and influencer Eden Cohen. Advice included the importance of striking a balance when using media to stay informed in order to avoid becoming overwhelmed by a flood of headlines. Panelists also encouraged attendees to stay busy, find opportunities to volunteer, donate or otherwise support causes benefitting survivors of Hamas attacks to combat feelings of helplessness or despair.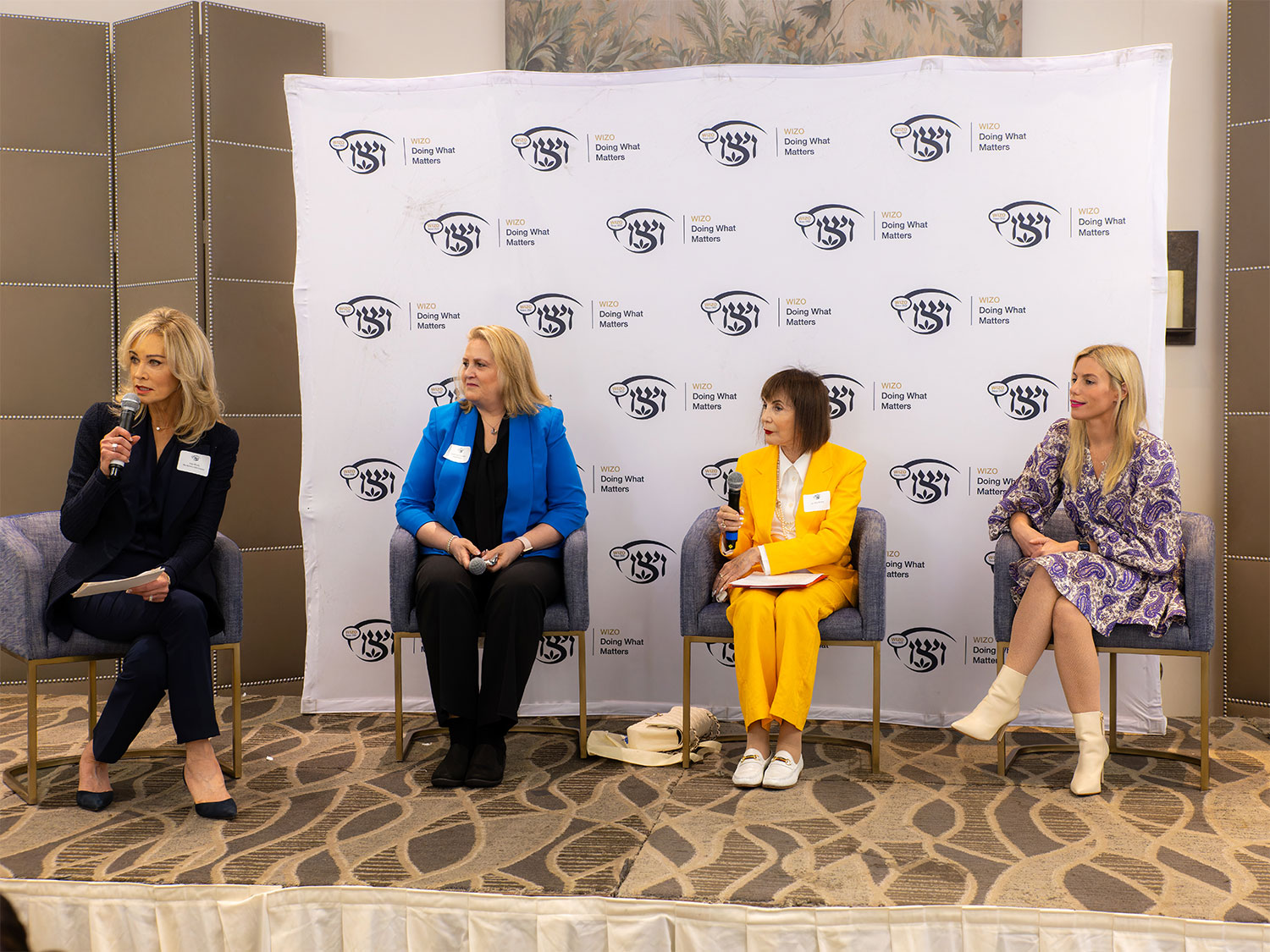 Yardeni, a retired member of an elite Israeli Defense Forces' intelligence unit, said 300,000 reservists have been called to the frontlines. She said many rushed over from overseas at a moment's notice, arriving in flip-flops and street clothes. But charitable donations from the international community in part helped to rapidly outfit them with the boots, bulletproof vests and other supplies they needed.
"You cannot fight in the frontline, but you can donate very badly needed medical equipment and medical gear," Yardeni said. Mayor Dr. Julian Gold also addressed the gathering. He pledged support for Israeli people and echoed speakers' encouragement to give to causes they believe in. But he also warned attendees to look out for scam artists who might try to take advantage of the tragedy in Israel. He advised people to do what they can to verify that any support they give actually winds up in the hands of people who need it.
WIZO had initially set a goal of $100,000 to aid Sderot and was able to reach that mark thanks to individual donors and a $25,000 contribution from the nonprofit Visionary Women.
"We want to dedicate every fund from this event to help people specifically in Sderot to try to help them somehow get rehabilitation from that horrific, horrific mental and physical harm," WIZO California Vice Chair Rinat Newman said.
Newman added that her young cousin had been reported missing amidst the violence over the weekend.
"An 18-year-old girl, all of her life in front of her," Newman said. "I was on my way here when we learned she was found dead in one of the cars."
Attendee Danna Balas' 15-year-old daughter, Meital Caldwell, was studying abroad in Israel at Alexander Muss High School when the Hamas attacks occurred. The teen helped make care packages for towns that were heavily impacted by fighting while authorities shuttled her and her classmates between shelters. The student is on her way back to the U.S., despite begging her mother to let her stay behind and aid Israeli people.
"I feel an immense amount of pride for the fact that she believes above all the importance of standing up for what's right and taking care of innocent lives regardless of who we are and where we come from. And, obviously, fear. Not just for her physical safety but for the fact that my daughter and all the children she was with grew up 20 years overnight in ways no one should have to."
Speaking to the Courier after the event, Raphael emphasized the spirit of generosity and momentum permeating through the community at this time.
"The gift from Visionary Women truly inspired us and put us over the hump of our initial goal. We decided even before we reached that first goal to set an even higher goal. We want to go beyond just Sderot, to help within the Gaza envelope. We're going for $200,000 and now have reached $130,000. We want to change and truly save lives with this next phase," said Raphael.
She added, "Who knows how much we can accomplish with the power of this community?"