Bayard Rustin is a name that should be on the lips of anyone discussing civil rights and its historic leaders. That he's not is a tale worth telling because he was the one who gave Martin Luther King Jr. that dream. "Rustin," the extraordinary film written by Julian Breece and Dustin Lance Black and directed by George C. Wolfe, tells the story of a brilliant, talented and wholly original man whose life is a credit to the adage "one person can make a difference, and everyone should try." The quote, attributed to John F. Kennedy, president at the time of Rustin's greatest moment of glory, is ironic because of how many obstacles Kennedy planted in Rustin's way.
To know who he was is to comprehend why, in that time frame, he was sidelined. Rustin, who took a back seat to no one, was an intellectual polymath and gay Black man. Either of those last two designations, gay and Black, damned him in the society of the time, but the combination of the two would have been a dea as Adam Clayton Powell Jr. th knell had he let it. But he didn't. He knew who he was and was unashamed. In a conversation with his grandmother, who asked why he didn't go to school dances, he said simply that he preferred to dance with boys. "Then," she responded, "That's what you need to do." He did that and more, always with her support. His interests were wide and varied, but mainly he was a champion for civil rights and fought tirelessly toward that end.
Rustin, a student of Gandhi's methods, brought the philosophy of nonviolence to Martin Luther King Jr. whom he mentored. Confronted by an aggressive young man decrying the nonviolence movement, Rustin goaded him, encouraging him to hit him on the left side of his face. Smiling, he pointed to the right side, scarred and missing teeth. He told the young man that he couldn't do more than had been done to him by the police in Mississippi. Ever after, those missing teeth were a reminder of what Rustin had withstood and how far he was willing to go to fight for his beliefs. Nonviolence, he would point out to King, gives your opponent nothing to fight back against, automatically putting them at a moral disadvantage.
He was allied early and mentored by A. Philip Randolph, one of the most important leaders in the Civil Rights Movement and the man who successfully unionized the Sleeping Car Porters of the Pullman Company, eventually integrating them into the AFL-CIO. The NAACP led by Roy Wilkins, its executive director, was a different story. Long a leader in the movement, he had a distaste for Rustin, his aggressive methods and what he viewed as his abhorrent lifestyle; but mostly, Wilkins was unwilling to share the stage physically and philosophically with the charismatic Rustin. Wilkin's NAACP, Randolph's Brotherhood of Sleeping Car Porters, along with King's Southern Christian Leadership Conference, the Student Nonviolent Coordinating Committee led by John Lewis, the Congress of Racial Equality led by James Farmer, and the National Urban League led by Whitney Young were considered the Big Six. They had frozen Rustin, the leader who had brought most of them together, out from any official standing.
Taking a unique approach in recounting the history of Bayard Rustin, Wolfe centers most of this story around the organization of the March on Washington in August 1963. So many received credit; so many took credit; and so many rose with the success of that March. The one who neither received, took or rose with the wave of accolades was the man who conceived the idea and went on to organize it, against fearsome odds, Bayard Rustin. And quite a story it is.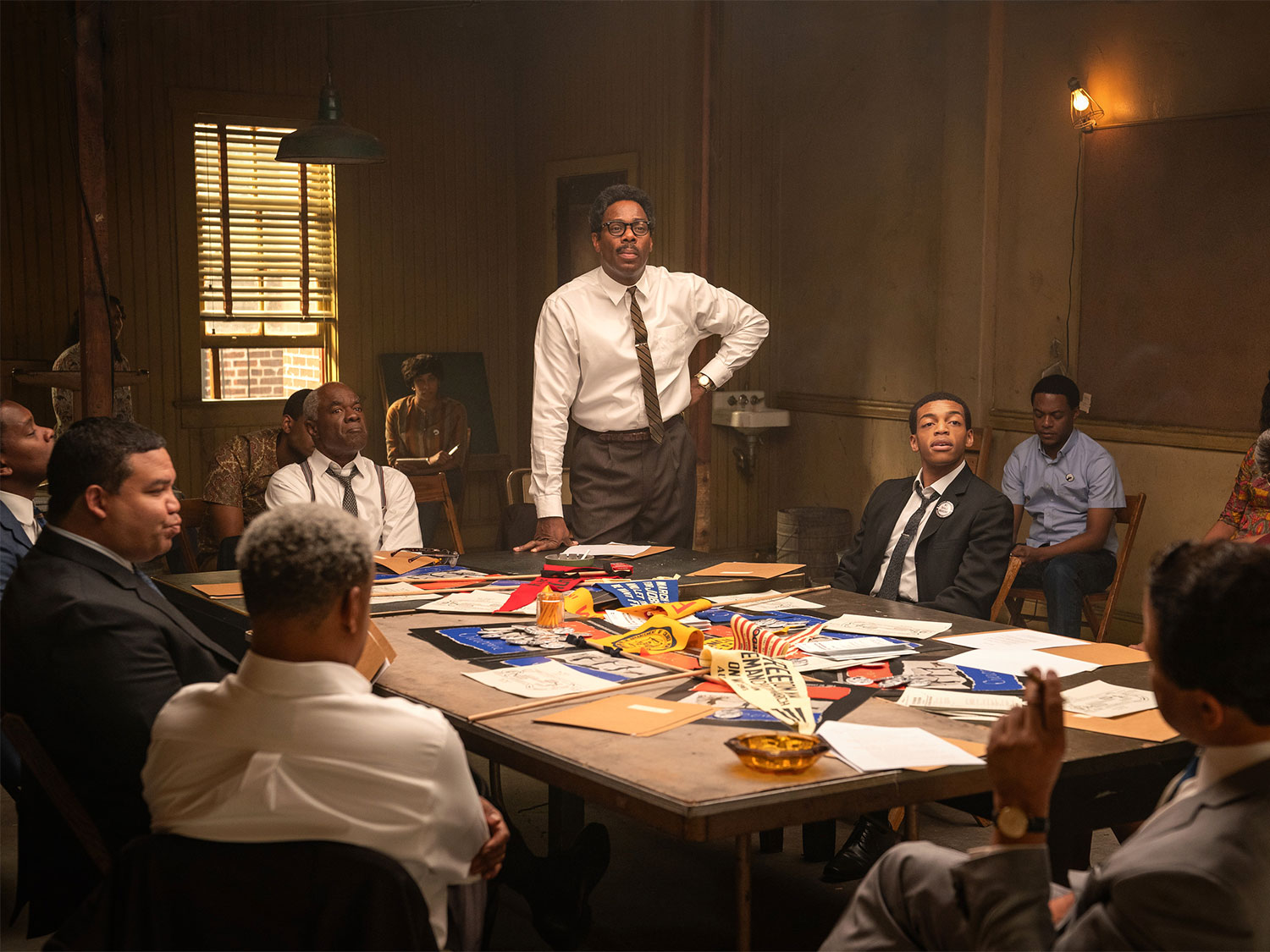 Adam Clayton Powell, congressman from Harlem and an important Black figure in mainstream politics, learned that Rustin was in the planning stages of  boycotting the 1960 Democratic National Convention in Los Angeles. Knowing that this might put Powell in a negative light and diminish his power in the Party, he told the Big Six that he was prepared to publish a rumor alluding to King's very suspicious closeness to Rustin. Although there was absolutely nothing to the rumor and all of the Six knew it, it was all the impetus that Wilkins needed to force Rustin out of the group. By 1962, Rustin was persona non grata in all of the Big Six organizations, his relationship with King now all but nonexistent.
But Rustin was nothing if not an idea man and an idea was what he had. First mending the rift with King and shoring up his relationship with Randolph, he posed the question. What if we could stage a March on Washington and the White House on the anniversary of the Emancipation Proclamation in August 1963? They would call it "The March on Washington for Jobs and Freedom" and bring together organized labor and disenfranchised minorities from all over the country. It would be a massive undertaking in what would amount to less than a year, but Rustin was certain that a grassroots approach would work. That it did is a tribute to this unsung hero who did all the planning, reached out to all the necessary factions, overcame government interference (Kennedy among them), and relinquished his visible chairmanship to Randolph when Strom Thurmond, the Senate's bastion of George Wallace's "segregation now, segregation forever," went on national radio to declare that Rustin was "a Communist, draft-dodger and homosexual." Yes, he had an early foray, long abandoned, into Communism; he was jailed during World War II as a legitimate conscientious objector; and most definitely he was a homosexual. In the face of those odds, Kennedy's objections to the March, and especially Wilkins' refusal to cooperate with the others in this endeavor, Rustin deferred to the leadership of Randolph who, appointed Director, immediately made Rustin his deputy, conferring on him all the decision-making power and responsibility. The March would go on despite Wilkins and despite the FBI publishing what they proposed was photographic proof of a King-Rustin liaison. The March would go on because of Rustin's incredible organizational skills and the massive team of volunteers who would do anything for him and this cause.
But this isn't supposed to be a pedantic exercise in civil rights. This is a review of a magnificent film that will fill in all those details as it introduces you to someone you might not have heard of but should know. By centering this narrative on Rustin and the March on Washington, so much about the history of the Civil Rights Movement is revealed, explained and illuminated. But mainly, it's Rustin and his heroic bravery throughout his life in the face of incredible odds.
The production values from score to costume and production design are evocative of the era. Cinematographer Tobias Schliessler often creates sequences that look like archival footage combining color, sepia and black and white.
This is a cast of thousands, another hyperbole but not that far off, most of whom are exceptional. In relatively minor roles, something that, unfortunately mirrored their characters in real life, the marvelous Audra McDonald and CCH Pounder played Ella Baker and Dr. Anna Hedgeman, respectively, leaders of the era who refused to be diminished by gender.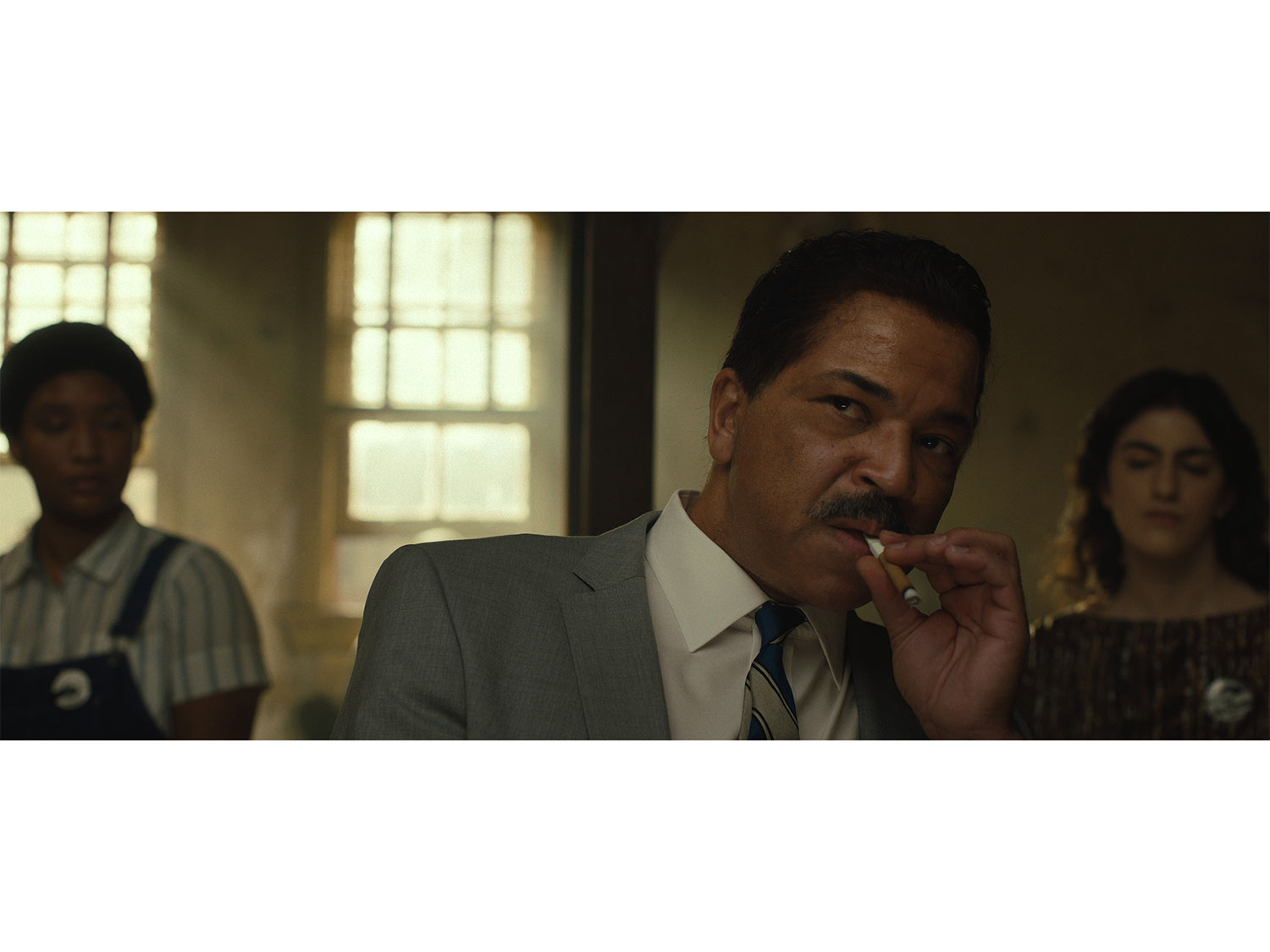 Chris Rock as Roy Wilkins is a bit stiff and not entirely convincing as the prickly civil rights leader who hated to share credit. He never completely finds the nuance in this character. Aml Ameen is an effective, sympathetic and believable Martin Luther King Jr., wavering in his loyalty to Rustin and later exhibiting great regret that he did. He rides that delicate balance between inexperienced mentee of Rustin to his graduation with honors on the platform at the March with "I have a dream."
Glynn Turman, as A. Philip Randolph, has always been a personal favorite and he does not disappoint. Randolph is perhaps the most pedantic of the characters, weighing in expositionally whenever an explanation is needed. And yet, it never seems so. His character is fully developed, inspirational and the empathetic opposite of Roy Wilkins. I don't believe there is anything that Glynn Turman can't do or do better than anyone in the same role. Jeffrey Wright as Adam Clayton Powell Jr. is pitch-perfect and steals his every scene. Wright exudes the air of privilege and egocentricity that was the hallmark of Powell's entire career. Wright has the extraordinarily difficult task to find a sympathetic core in such a conflicted and ultimately corrupt individual and he does it with the lightest of touch. Wright turns limited screen time into something that looms large even when he's not there.
But "Rustin" rises and falls on the actor playing him and Wolfe's impeccable choice was Colman Domingo. There are not words enough to describe how mesmerizing Domingo is, from the first moment he appears on screen until the credits roll. With his megawatt smile revealing those teeth that become a character unto themselves, Domingo dominates all his scenes. As an out and proud man in an era that was anything but, he is a revelation in courage and strength. Watching his struggles for acceptance for who he was is a constant reminder of the battles fought and won in a future still decades to come.
The cast, writers Julian Breece and Dustin Lance Black, the crafts and especially director George C. Wolfe, who pulled all the elements together into a fantastic movie, deserve recognition come awards season. It is a film that flies by and leaves you knowing more than you knew going in and wanting to learn more after.
Now playing at the Cinepolis Pacific Palisades and the Landmark NuArt; streaming on Netflix November 17. 
Neely Swanson spent most of her professional career in the television industry, almost all of it working for David E. Kelley. In her last full-time position as Executive Vice President of Development, she reviewed writer submissions and targeted content for adaptation. As she has often said, she did book reports for a living. For several years she was a freelance writer for "Written By," the magazine of the WGA West, and was adjunct faculty at USC in the writing division of the School of Cinematic Arts. Neely has been writing film and television reviews for the "Easy Reader" for more than 10 years. Her past reviews can be read on Rotten Tomatoes where she is a tomato-approved critic.