Once a culinary wasteland, the dining scene is shaping up considerably in and around the Beverly Center corridor – and don't think that you have to traipse through the mall for a good meal either. We are not talking about a food court. At the moment, you can dine at Cal Mare (from acclaimed Michael Mina Group), Yard Bird, Farm Shop and Egg Slut, without even setting foot on an escalator. 
Also new to the ground level, the world's largest udon noodle brand, Marugame Udon, from downtown and Sawtelle, have now brought their amazing fast-casual line-up to this part of town. The cafeteria-style spot includes Kake Udon and the Crispy Tofu Udon Salad, with your choice of 12 tempura-fried veggies and proteins. 
Pitchoun Bakery from downtown has also joined the mall bounty by opening their second spot offering daily organic pastries and desserts (using imported butter), traditional breads, gourmet sandwiches, and salads. So, make sure to come hungry on your next shopping trip. 
EMILIA 
The former spot of The Larder in the award-winning 8500 Burton Way Caruso luxury residence building, a block from the Beverly Center, has quietly morphed into Emilia. The all-day restaurant from Chef Tancredi Deluca (Amici in Brentwood) is a welcome change not just to the occupants of the building, but the area's foot traffic as well. 
The interior space is unrecognizable from the previous incarnation with an elegant transformation by AK Design Network with wood columns and curvilinear globe sconces that showcase the restaurant as a standout jewel in this area of town. 
While the décor now meets the Caruso standard, what sets Emilia apart from other Italian restaurants? "We're incredibly proud of our approach to our home-made pasta which is inspired by a unique technique used in the Emilia-Romagna region of Italy from where we take our name and our inspiration," owner Deluca told the Courier. "All of our pasta, which is made in-house every day, is made using a wooden roller rather than a machine which applies pressure. This allows for a more fluffy and delicate pasta." 
The signature Tortellini Emiliani con Crema di Parmigiano quickly became a menu favorite. Each one is filled with a mixture of 24-month aged Parmesan cheese and a 24-month aged Parma prosciutto and is hand rolled in house every day and served in a light Parmigiano- Reggiano sauce. "It's our most commonly shared primi piati," said Deluca. 
The menu will change seasonally for dinner, but early risers will enjoy a selection of fresh baked pastries along with more substantial dishes such as fluffy frittatas and decadent French toast.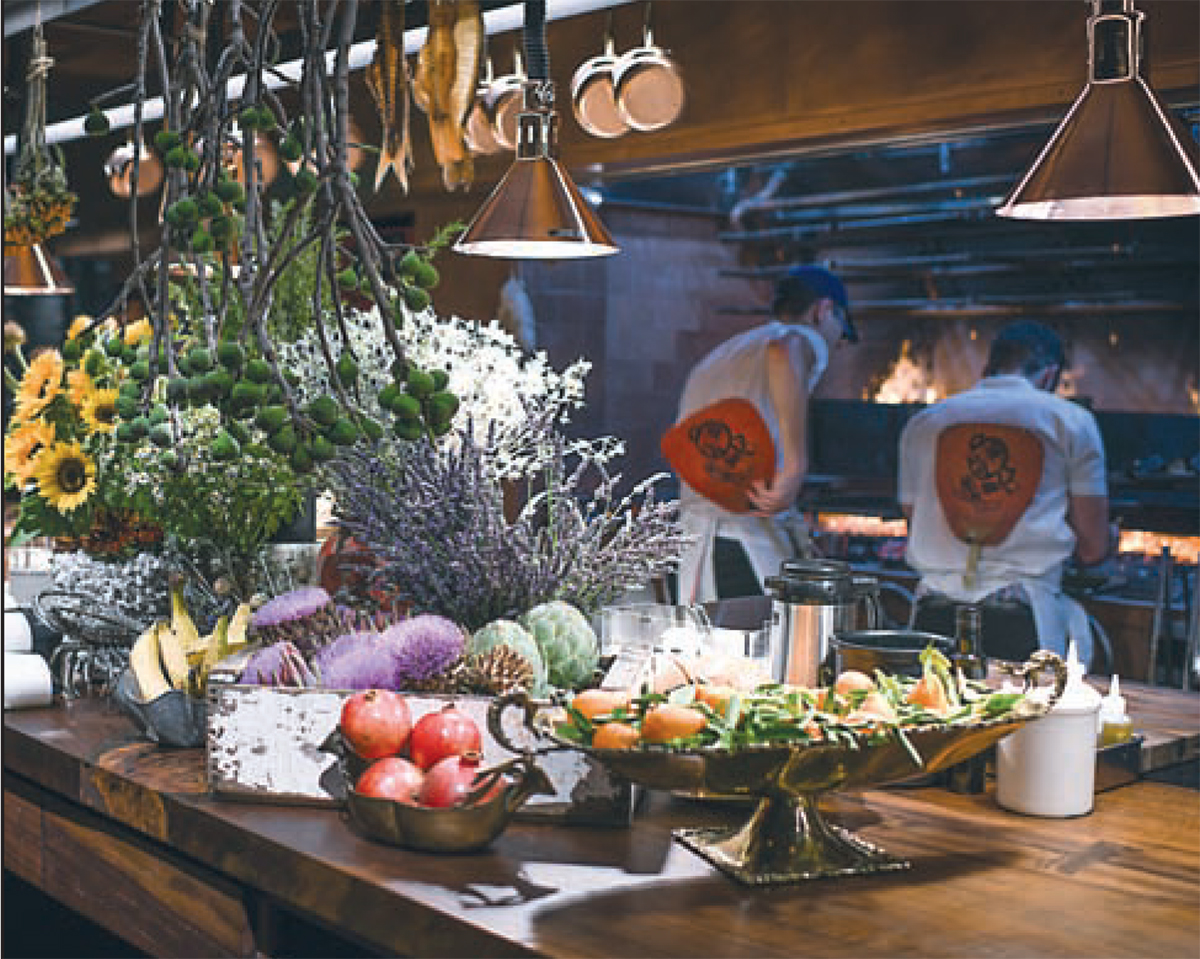 Angler 
The big news of late is that we have a three-Michelin-starred chef from San Francisco's acclaimed Saison in our midst. Joshua Skenes opened his new concept, Angler, which focuses on seafood, right on the ground floor of the Beverly Center. Sure, we expect noodles and pastries in this type of setting, yet it seems an unlikely location for a chef of his caliber, but this is not a concern for Chef Skenes. He is very excited to be in this market because he has a deep love for Los Angeles and his wife's family lives in Southern California, so he has spent a lot of time here in the past. 
The variety and quality of the produce and seafood helps to dictate the menu which features dishes specific to Angler Los Angeles. For example, the Angler Reserve Caviar is served on a banana pancake with roasted banana peel butter (only in Los Angeles) and has been one of the more popular dishes at the restaurant since opening a few months ago. 
The restaurant's focal point is a giant wood-burning hearth, with the menu focusing on the incredible bounty of sea life, game, and produce available to Southern California channeled through the unique fire cooking methods Chef Skenes has developed over the last decade. 
The expansive wine cellar reflects a deep passion for classic regions of the world with the list featuring 22 pages of red Burgundy, to be exact, but it also gives ample space to producers from Napa and Sonoma. 
Like the food, the bar program matches the spirit of exceptional product. The list showcases curated spirits from both well- known and small-batched distillers in addition to specially sourced selections that date back several decades.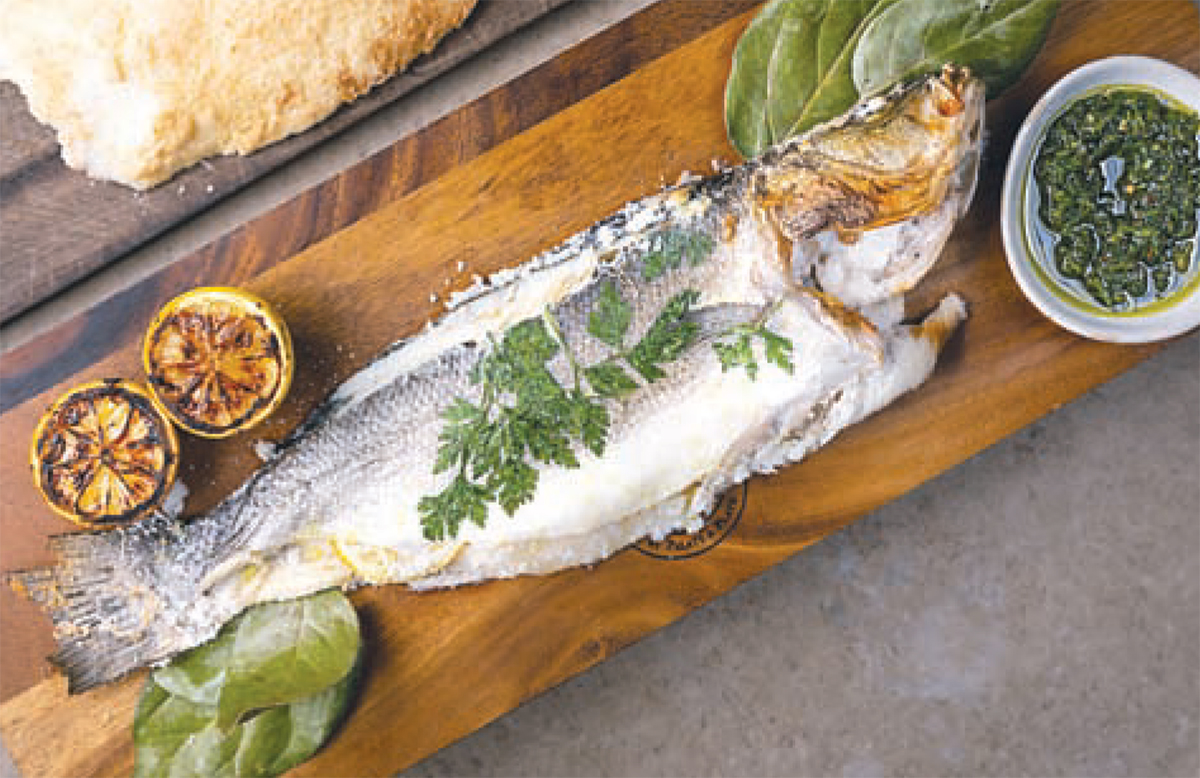 The Kassi Club 
Completing this triangle of new heavy hospitality hitters to the area, The Kassi Club is a Mediterranean haven by Australian-born Nick Mathers and the Wish You Were Here Group. 
The earthy design with wood floors and rattan ceilings are meant to evoke a Greek Taverna and the food is also on point. From a Greek salad to traditional dips, salt and pepper calamari or the show-stopping whole salt baked branzino, the simple, authentic flavors will transport you to the islands where Mathers has been doing a lot of research over the past 15 years. 
"I love Greece and have traveled there for the better half of my life," says Mathers. "One of my favorite parts about the Mediterranean is the way the food and drink are so simple. They have a relaxed social environment, making you feel like you're in a family friend's back yard with that warm and welcoming vibe." 
"There's something familiar about it that I love, and wanted to bring a piece of this culture to L.A. So, I created my own taverna style environment that encourages group dining in an intimate setting, just like sharing a great meal in a friend's living room." 
Mathers wanted to ensure that The Kassi Club menu focused on a European format of dining, with fresh produce, seafood, and salads that are light and sustainable, instead of the traditional protein heavy Greek concepts seen more commonly in the U.S. They even have a Greek rosé on the menu but also a Toki Japanese whiskey concoction with lemon and honey that might be the perfect fall- winter drink for whatever ails you. 
Mathers and his group are following up the smash success of their Santa Monica venture Elephanté that features a patio perfect for grazing on small plates while over-looking the ocean that has become quite a scene on the weekends. At The Kassi Club, the space does transform into a club of sorts with a DJ Thursday through Saturday after 10 p.m. until 1 a.m. So, maybe not exactly the laid-back living room vibe but a great time all the same.