It might seem like an unlikely pairing, but one of the world's most popular confection houses and inventor of the macaron has partnered with one of the planet's most influential vegan-wellness gurus. 
But how can a macaron be vegan? Aren't butter, eggs, and cheese the very lifeblood of French food, pastry and sweets? 
The brand was founded in 1862 in Paris and the tea room quickly became a popular pastime. The macaron was actually invented at Ladurée in the mid-19th century by pâtissier Pierre Desfontaines. The Holder family group took over the business in 1993 when David Holder came up with the idea of the rose macaron, which has become a signature Ladurée creation. 
Enter James Beard-nominated, French Culinary Institute trained Chef Matthew Kenney who has been dubbed "the healthiest chef on the planet." With plant- based culinary academies and restaurants in California, Florida, Maine, Mallorca, London, Paris, Barcelona and Sydney, the main goal is bringing the future of food to the forefront of education. The award- winning broadcast and documentary chef also created a range of vegan products (including cheese, chocolate, and gelato), authored over a dozen books on the subject with 'raw' in most of the titles, and is about to open 15 additional restaurants in the coming year. 
For this latest collaboration, Kenney and Ladurée chefs have worked tirelessly to create both savory and sweet vegan dishes, and the Beverly Hills Ladurée Tea Salon has been fully taken over by the chef. In a first for the brand, the menu will now be dedicated to 100 percent vegan dishes. As for the other Ladurée locations throughout the world, select vegan dishes will be offered in addition to the regular menu. 
"This collaboration is really a dream for us because I've been such a fan of the brand for as long as I can remember," Kenney told the Courier. "It's such an iconic company, so finding a new way to introduce plant-based cuisine while keeping their ethos is a welcome challenge."
Clean Living and the Future 
More than ever before, consumers are keenly aware of the importance of taking care of our overall health and wellness. A healthy diet, regular exercise, and good quality sleep are just a few of the measures that people are taking across the globe to improve their quality of life. Protecting our precious planet is equally important.
David Holder, Ladurée CEO, and his sister Elisabeth Holder, Ladurée U.S. president, are living by these health-conscious principles themselves in their daily life, so it was a natural progression that their brand would embrace this new way of cooking and living while preparing to evolve for the next 150 years.
"As a classically French-trained chef who has focused on plant-based dining for the past 17 years, our collaboration with Ladurée is the ideal representation of everything I have been working towards – respect for tradition while simultaneously embracing the future of food. I am deeply respectful of the Ladurée brand and simultaneously honored to be part of their next chapter," said Kenney. 
While the French-born company will still stay close to its core values about taste, well-being, conviviality and art de vivre, "We have a mission as a global brand to continuously evolve and to satisfy palates in various ways and Matthew Kenney is the perfect partner to accompany us on this new journey," said David Holder. 
For Ladurée, it's a true global partnership – the teams from Paris and Los Angeles are enthusiastically working together and learning from one other to create delectable savory dishes to be enjoyed by foodies around the world. According to Kenney, "There are vegan dishes on both the savory and pastry side that I love and I don't think people will be able to tell the difference." 
Some of the mind-boggling bites include everything from a croque monsieur (with vegan cheese) to a fluffy non-egg omelet and a classic vol-au-vent which is typically made with puff pastry then stuffed with seafood or meat but now is teaming with mushrooms. And, of course, those famous macarons are now loaded with antioxidants. 
"We haven't changed much of the branding or any of the interior design, and the new menu is fashioned to reflect the same classic French cuisine that Ladureé is known for," states Kenney. "For us, it's not about changing any of the ideals that made this brand so famous and successful, but about adapting them to embrace a greener evolution." 
For Elisabeth Holder, "It is part of our lives and a natural evolution. I grew up with my parents and grandparents who were bakers and hearing the old adage 'You Are What You Eat.' But nowadays it takes a much deeper meaning ingredient sourcing and tastes are equally important."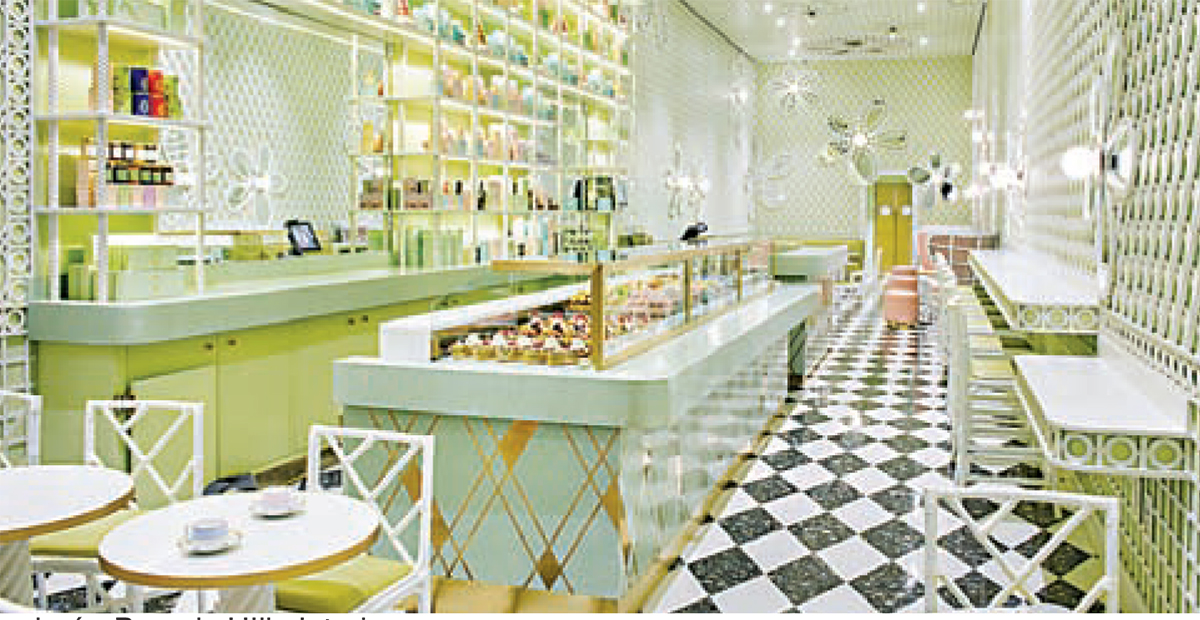 New Super Macarons and their Benefits Available Now in Beverly Hills 
For the launch of these new super macarons, Ladurée offers an eco-friendly box made from cocoa pod paper without glue or plastic.
L'OR VERT is a green tea matcha and moringa macaron. Matcha acts as an antioxidant and allows a better cell renewal and is amazing for anti-aging. 
L'ADORÉ: Pomegranate chocolate macaron. Rich in fiber and flavonoids (antioxidant virtues), pomegranate facilitates digestion thanks to its anti-inflammatory, antiviral and antibacterial action. Plus, pomegranate is good for the skin. 
L'ÉTERNEL: Baobab macaron mango passion. Baobab pulp has three times more vitamin C than kiwifruit, 35 times more antioxidants than grapes, two times more calcium than milk, six times more potassium than bananas and as many ions, minerals and fibers. 
LA VIE: Almond lucuma macaron. Very powerful antioxidant, lucuma contains many minerals and trace elements such as calcium, phosphorus and iron. It provides vitamins B, C and provitamin A (beta-carotene).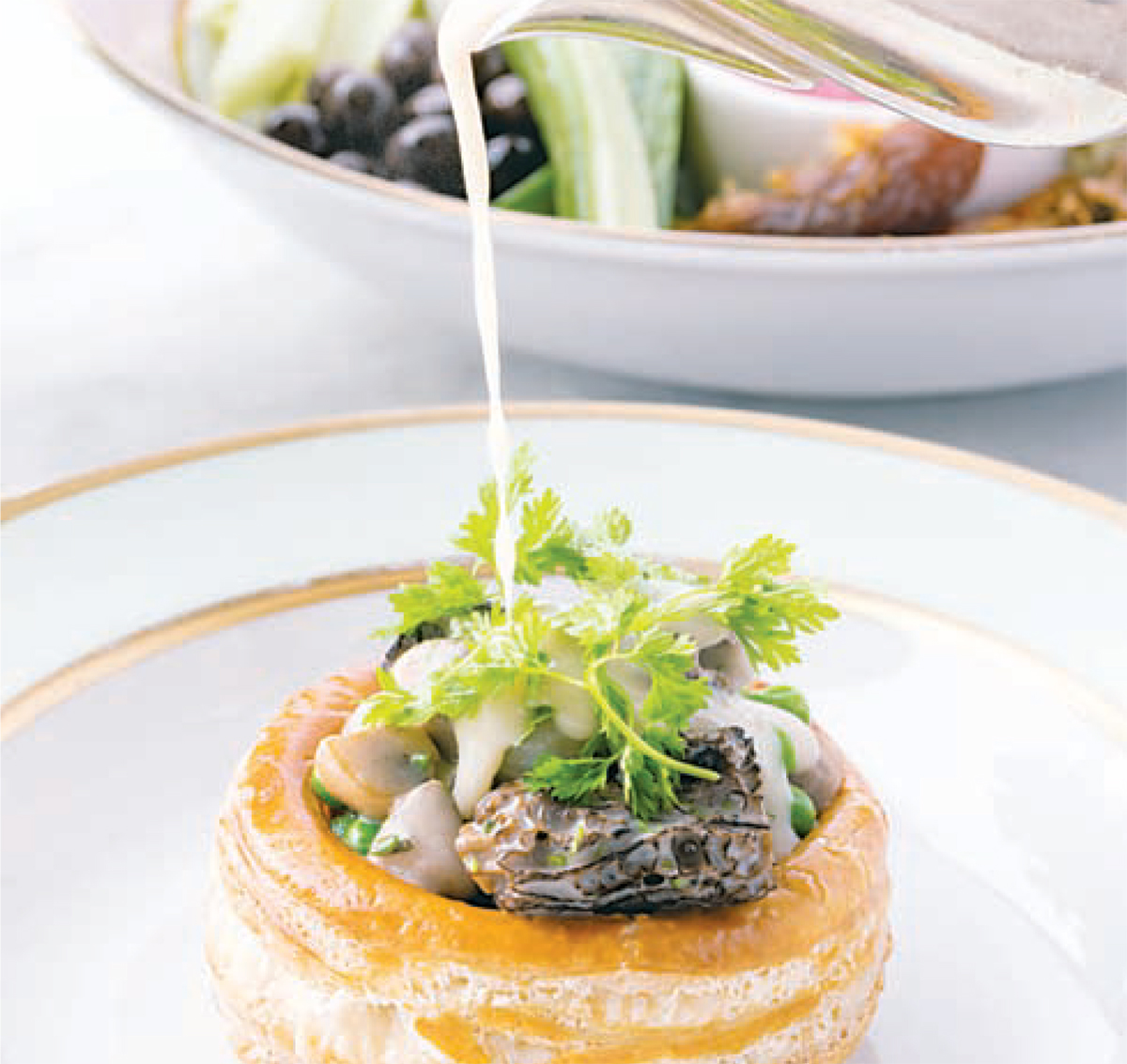 Why Ladurée Beverly Hills and why now? 
"The best time to expand into the plant-based market is going to be now, regardless of where the location is," Kenney told the Courier. "That being said, there are certainly cities that are more 'ready' to embrace a healthier way of eating than others – and Southern California, especially Los Angeles, has always been a leader in the wellness movement." 
Los Angeles is the home base for Matthew Kenney Cuisine, where they have two restaurants and a plant-based marketplace and deli. "I feel that the environment here fosters healthy lifestyle choices since the weather is perfect for being active outdoors, the produce is so abundant that neighborhood farmers' markets are just as ubiquitous, and it's generally a very open-minded, forward culture." 
"When I first got into talks with Elisabeth and David of Ladurée, opening the flagship location for our partnership in Beverly Hills just made a lot of sense," said Kenney. "Their brand has always carried an air of sophistication, which has only been amplified since their entry into the US market because of its international culture and history. The location in Beverly Hills is the perfect representation of that and our concept retains the chic, stylish and European connotation associated with Ladurée, but also appeals to our health-forward Californian culture through the incorporation of plant-based cuisine. Which is how it should be."
Benefits of a Plant-Based Diet 
Kenney adds that there are many benefits of eating a plant-based diet to maintain health. "One of the most crucial factors is the presence of fiber in plants, which is instrumental in supporting healthy digestion. Fiber helps move toxins out of our body and aid in regular bowel movements. Plants are abundant in fiber, whereas animal products have little to no fiber content within them. Some foods with the highest concentration of fiber include chia seeds, flax seeds, various fruits, and leafy greens." 
"In addition, there are many plants which obtain 'prebiotics' – a special form of dietary fiber that acts as a fertilizer for the good probiotics in your gut, helping them thrive in your microbiome." Kenney's "grocery list" for a healthy gut includes Jerusalem artichokes, chicory root, asparagus, banana, dandelion greens, onion, garlic which are all plant- based. 
"At the end of the day, most plants support a healthy gut when it comes to providing the proper vitamins, fiber, prebiotic enzymes and supporting the overall wellbeing of the body (and mind). Meat and dairy products are likely the proponents to inflammation, bloating and other discomfort in the GI tract, whereas plants are often implemented into a person's diet to heal such conditions. Their water content is also high, which helps to flush the body's digestive system and create healthy movement." 
311 N. Beverly Drive, Beverly Hills (310) 623-1100 
Matthew Kenny's Beverly Hills: 
Other places in Beverly Hills I frequently visit… 
Wally's –– The best wine selection, always a great vibe and atmosphere. 
The Four Seasons at Beverly Hills –– We have our plant-based menu, Folia, available in all of the hotel rooms and the Cabana restaurant, so it's always amazing to escape there on a Sunday to relax by the pool and order some of my favorite fresh food. 
Farmers Markets – It's always fun to check out a different farmers market outside of my usual Santa Monica or Venice rotation. Love finding new products and local companies that are doing things in the plant-based space, and many of the items we sell at New Deli (our plant- based market and deli in Venice) are from local artisans. 
Jean Georges BH – I'll occasionally come here, just for the gazpacho alone. It's one of my favorite foods, and they do it well. The rooftop is a nice addition as well, with a perfect view of the hills.