With over a dozen dining venues between four brothers from Sicily, this is undoubtably a family affair. 
The L.A.-based Drago brothers are Celestino, Giacomino, Tanino, and Calogero. While they all travel to the beat of their own drum, they have one thing in common, besides an unwavering loyalty to family and each other. That is, their love of simple food with the best ingredients, which is one of the main reasons they have been so successful as a group for decades. 
Navigating the four prosperous corners of the business from Beverly Hills to Pasadena, Hollywood, and downtown, all roads seem to lead to their Beverly HIlls flagships, Via Alloro and Il Pastaio on Canon Drive and their office on Beverly Drive. "Everything is there in Beverly Hills," says Celestino. "You have to be careful because you go to spend one hour and get sucked in until 3 or 4 p.m." 
Another Drago hub is at the famous Petersen Automotive Museum where they have a catering facility and full-service restaurant. If you drop by to check out the Bugatti cars on the ground level, you also might catch Giacomino carrying in a bag of passion fruit from his tree at home to experiment in the kitchen or a few of the brothers having a playful rare lunch on the patio bantering over pizza. "In Sicily pizza is a cracker," declares Giacomino while eating one of Calogero's favorite pies with tomato, anchovy and black olive while he swipes his older brother's phone to flip through the pictures from a recent trip home. "You don't have to think, just eat!" chides Calogero. One thing is for certain, you will want a seat at this table. 
Growing up on a farm in Messina, Sicily with a total of eight siblings, they all learned at an early age how to grow their own produce, milk cows to make ricotta, and cook with their beloved mama, whom they have immortalized with their signature extra virgin olive oil called "Mama Drago." 
Celestino is the oldest and caretaker of the brood and has been in Los Angeles for the longest. His namesake Drago restaurant in downtown L.A. just celebrated a 10 year anniversary, but don't underestimate the baby of the brood, Giacomino. His tenacity and drive for the business actually landed this Italian chef two Japanese sushi restaurants – one in Beverly Glen and one in Beverly Hills. 
Tanino is a bit of a prankster with a passion for all things fungi and Calogero has a playful nature but has built a serious Sicilian wine list. They are equally hard working and talented at running parts of the family businesses. 
The Courier sat down with each of the brothers to discuss the Drago formula for success. 
Celestino:
Oldest brother
First to came to L.A. in 1979
Longest running restaurant: Il Pastaio in Beverly Hills for 26 years, followed by Celestino in Pasadena 23 years, Drago 10 years. 
How have you seen the industry change over the years? 
It's getting harder and it's not the way it used to be. The biggest problem in general is the employees. There is not the passion and love we don't see that anymore. You see some individuals, but before everyone wanted to work and give the time. It was very nice to teach people and open your home. 
Now they all want to be stars overnight? 
Yes, 'I did my two years at chef school.' They think they will come out here and make $100,000 a year right away and it doesn't work like that. You need passion, love and understanding it's the hospitality business with respect to the ingredients. If you don't have the passion or love for the food you won't get anywhere. The drive is very important, but I don't see it that much anymore. It's a smaller group. 
With 12 restaurants between the brothers, the employees, we are all like a family. Some have worked with us for 25, 35 years. We have had kids in the kitchen and they really want to learn and work. Some have their own restaurants now. Arturo has been our pasta guy 35 years and he's part of the family. 
But at least the ingredients are better now? 
I remember I used to make risotto with different rice because there was no Arborio. Radicchio? They didn't even know what it was. I remember once we got a case and it was like gold. I also had a farmer taking the seeds to plant wide arugula, eggplant and tomatoes and basil. 
After October there was no more fresh basil. We started to dehydrate and freeze or make a pesto. We put olives inside to save it. It drove me crazy since I grew up on a farm. So, I was growing basil in my apartment in Westwood on the balcony. It was nice to see by 1983 there were over 30 different kinds of basil growing in California. I was pushing and pushing for ingredients and talked to farmers to tell them what we needed. In a short period of time we were able to get so much stuff. 
You even starting working with your own farm in Santa Barbara. What do you grow there? 
About five years ago, I started working with a farm in Santa Barbara – with a guy who makes wine in Buellton. The climate is great. We mostly grow tomato, but a little of everything. Eggplant, bell peppers, zucchini flowers. All the herbs and beets, radish, broccolini, swiss chard. From spring and summer to early fall we supply all of the restaurants. We grew up with that.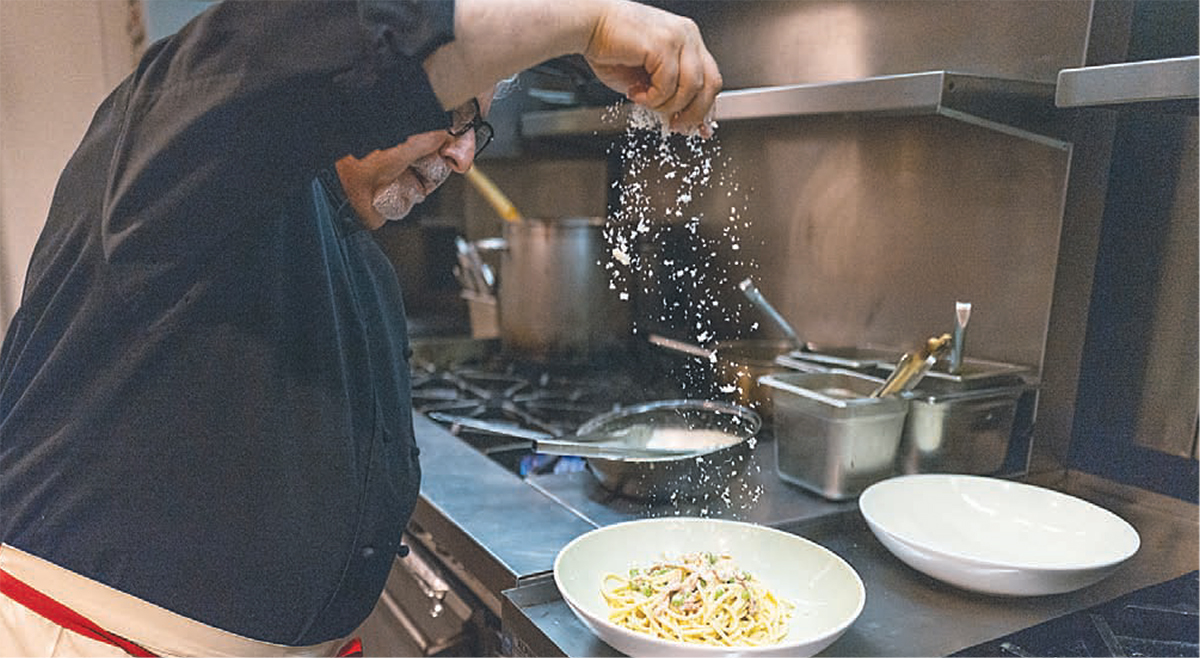 Calogero:
Second brother to come to L.A. in 1985. Fourth child of eight
22 years at Celestino in Pasadena 
Your brothers say you are the best cook. What are you most passionate about in the kitchen? 
I'm a very simple guy. I like the simple seasonal simple stuff. A nice piece of fish grilled with a touch of oil and lemon and a beautiful vegetable. I love pasta. You can make 10 different types. Traditional spaghetti, basil with garlic and olive oil. This is my type of sauce. Then it depends on the weather. Maybe a spicy arrabiata sauce. I go with the flow. I don't make a plan for what I'm going to eat tomorrow. I go to the market and see the eggplant. What can I do? I made an eggplant soup. I never thought that people would love it. 
Tell us about your childhood: 
We are a big family with eight kids and no restaurant in town. My mom, my aunt, my grandma, we would bring stuff from the garden and the farm. I love this. 
Celestino one day told me to go to restaurant school. Simplicity is good. Use the best ingredients. Olive oil and tomato, I love it. 
Tanino:
Fourth brother to come to the U.S. in 1990.
Fifth child.
Mostly at Villa Alloro and Petersen Automotive Museum 
Tell us about your day-to-day with the busy event space? 
Doing events is different than running a restaurant. Celestino and I have been doing events and running a restaurant for 25 years but we have a structure of doing it and being in the place where we can do continental cuisine too. We have all types of food. We can do a taco station, dim sum, mac-n-cheese. I've cooked Italian food since I was 13 years old. I didn't want to go to school. 
What are you most proud of? 
Coming over here and learning everything from my brother Celestino – I still do! He was one of the best things that happened to me. Seventy percent of the structure comes from mom and home and the way we grew up. The farm, the chores, the cooking. Making bread twice a day, planting the tomato. The last 15 years everyone is talking about organic, but we grew up with that.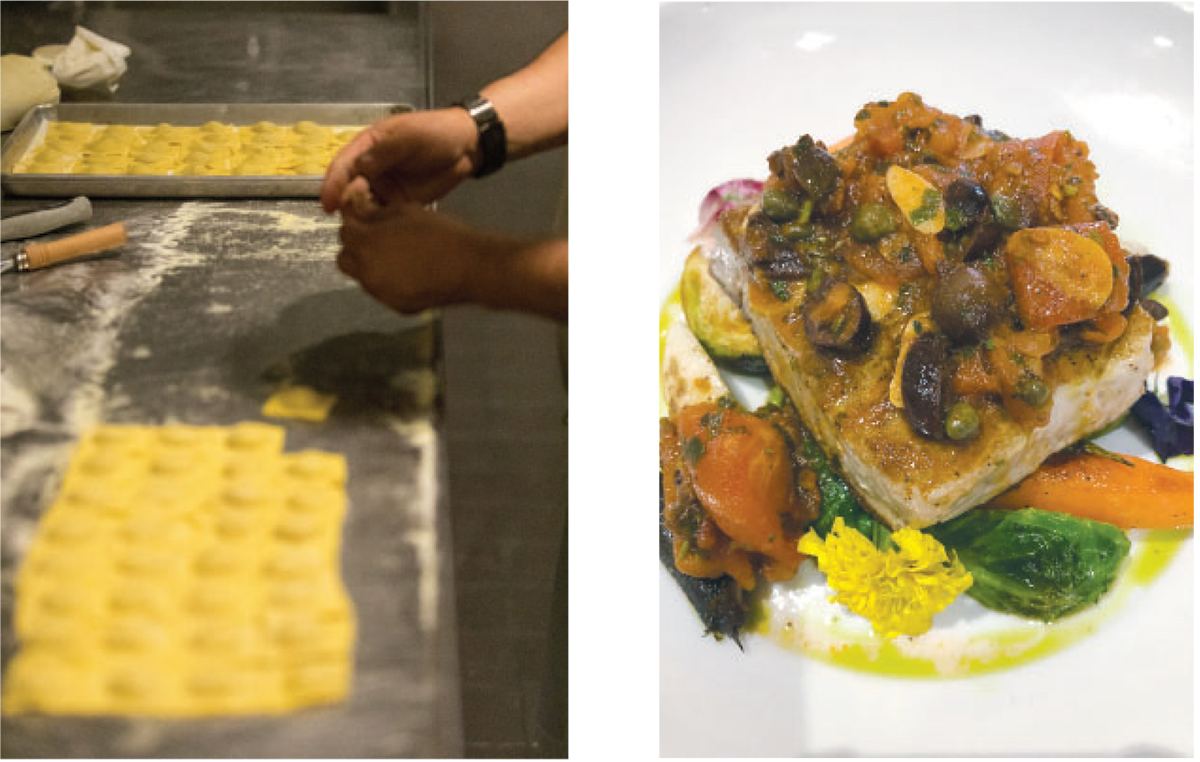 Giacomino:
Youngest, baby of the family.
Third brother to come over in 1989. Based at Il Pastaio (26 years) and Villa Alloro, Il Piccolino. 
Which restaurant is your favorite to spend time? 
I wing it. There is no favorite just like children. You love them all but each one has its own character and mood. You go to that place and you have to give what is needed. What works here at Petersen might not work at Villa Alloro. Beverly Hills is home for the business and me. I go to Il Pastaio, then Via Alloro and Il Piccolo Paradiso. There are four in Beverly Hills within walking distance. Then I come to Petersen but I don't plan my day. 
Petersen has a bigger kitchen and lot more room in the dining room with a different personality. I would like to have nine restaurants that would all be like Il Pastaio. It's like when you have a friend that's spectacular– I want to have them all like that. 
How did the sushi restaurants come about? 
I love the Beverly Glen Center neighborhood and ran into so many guests there. I wanted to open but the landlord had a no compete – and they already had two Italian restaurants. I kept insisting. He had a Japanese restaurant opening and called to see if I wanted to do it. I hired a Japanese chef and manager and have been there for 15 years. The culture is what we offer. The food is Japanese but I added Sicilian sea salt, lemons, capers and told them to play with it. They do an uni risotto with a yuzu zest and it's very good. The chef from there worked for nine years and then we moved him down to Beverly Hills to open Yojisan six years ago.