Sandwiched in between Bondi Harvest and Tom Dixon, around the corner from Soul Cycle and Roberta's pizza, is The Optimist, perhaps the chicest store in The Platform complex in Culver City. 
The recently opened establishment is the brainchild of real estate developer and principal at The Runyon Group, David Fishbein, and his partner Joseph Miller. In fact, the duo is responsible for the entire existence of The Platform lifestyle and retail outlet, which has enhanced the credibility and renaissance of the area. Runyon is also behind The ROW in the ever-evolving Arts District downtown. 
"We opened and built The Platform over three years ago," said Fishbein, who began this venture when he was just 24. Partners and clients include developer Rick Caruso (Palisades Village), and the upcoming One Culver, to name a few. 
"We have always just been real estate developers and always curated/had an editorial eye for all of this unique merchandise and how we merchandise the property and finding all of these unique concepts and brands from all over the world," Fishbein told the Courier during an interview in his new store. 
"About a year ago we decided that we wanted to have a men's store here [at the Platform] but we couldn't find one that I was excited about. So, maybe we should just be crazy enough to get into the retail business ourselves?" he said. 
"We have never done this before. Joey and I were totally naïve about it and we were talking to some of the designers back in January who said, you know the fall [retail] buy is due next week?" 
But that didn't detour the powerful creative duo, who launched into the project full time for about 10 months. They settled on a name that is fitting in the current climate of retail naysayers. 
"We wanted to bring that element of discovery back to the shopping experience," said Fishbein, who originally hails from the Bay Area. "I was so sick of traveling all over the world and seeing the same shirts. It's just so boring, so we wanted to use all of these relationships that we have built over the last decade." 
An example of a relationship they have harnessed over the last year is Ay Cactus from Paris. "They have a cute little cactus shop and they plant them all in hand-painted jars," explained Fishbein. "You can't send the plants from Paris to L.A., so they made us a custom candle in little pots. We have been trying to get them to do a cactus pop-up here for years, but they are a tiny little store with only two people. This store gave us this framework to be able to work with these merchants that are much smaller that wanted to do something special. About one-third of the brands in here are exclusive to us in the U.S., you won't find them anywhere else," confirmed Fishbein. 
Another more well-known brand, Velvet, collaborated with the store on a limited-edition capsule collection. "We love their product but wanted a different fit, so we created a custom Optimist branded t-shirt that has been selling like crazy. They fit amazing," he added.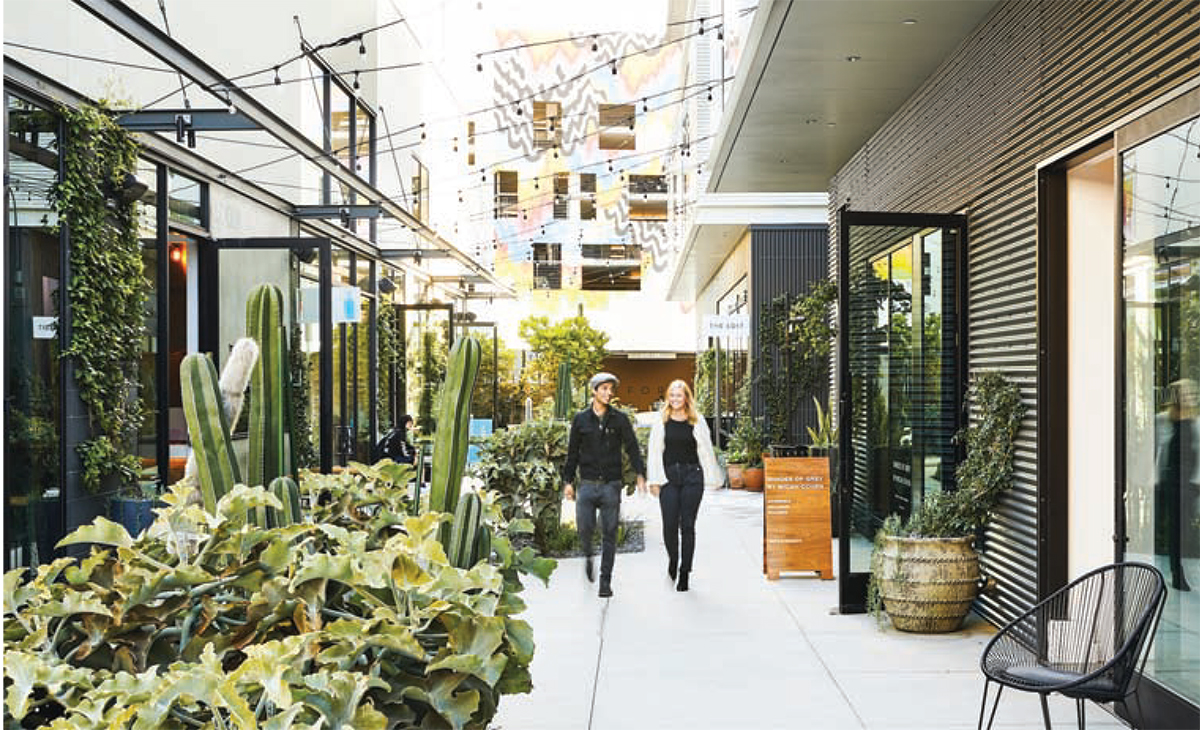 "Another big piece of the store is when we were looking at the state of retail, we were going into the Barney's of the world and there was so much street wear. Everything had these huge graphic logos and we wanted to do something that was sophisticated and about style versus trend. There are no logos in the whole store. Everything is clean and modern. You won't see anything categorized by brand in different sections. We wanted to create it so you could mix-n-match a $40 tee with a more expensive blazer or pair of jeans. It's not just about shopping luxury or accessible but all about pairing things together," said Fishbein. 
The design of the store, by Jeremiah Brent (partner of Nate Berkus), marries that sensibility well. "I was a huge fan of Jeremiah Brent for years," said Fishbein. "I loved his design work but knew that he had a fashion background and worked with Rachel Zoe for a number of years before he got into interior design. He is perfect because he gets men's wear and fashion but also has an incredible aesthetic for interior design. I literally cold e-mailed him out of the blue and said, 'Hey, you don't know who I am…" but I knew he had been to Platform a few times and knew the property." 
Fishbein added, "I said we are doing this crazy men's store and are you interested? He responded almost immediately and ended up designing the store. He was so excited to be a part of it and it was a fun collaboration where we were able to dream up this world. It feels like a living room, and we find our regulars like to hang out with us in our space." 

According to Fishbein, "The whole concept of the store is that everything was shoppable so even the vintage pieces, the furniture, the accessories, everything is for sale. You can come in and be part of the lifestyle, have a drink from the bar cart and relax." The appeal carries over to the female customers as well, since they can also pick up a beautiful blanket or other items for the home.
Jewelry at The Optimist is curated by Alan Bedwell, former accessories designer for Ralph Lauren who finds rare objects such as silver flasks and stop watches from all over the world. There are racks of sunglasses and an alcove with vintage watches. The watch collecting trend is not lost on Fishbein, who carries Connolly from the U.K. along with over 250 styles, including a range from the 1930s and 1940s. 
"We wanted to have staples like an amazing vintage Rolex, Breitling, and Omegas," said Fishbein. "There is a brand called The Vulcan, which is not as well-known, but it has been worn by every President from Obama to Clinton. It's still reasonable in price-point. So, we have something for the watch aficionado and something for someone who is just building a collection." 
For those in search of a new wardrobe, the ample dressing rooms are dramatic spaces with a full stylist program. "My cousin, Julie Feingold, is a men's stylist who worked with Harry Styles, and a bunch of actors. She has always been my fashion guru so when I decided to do the store, it was kind of a perfect partnership for us," said Fishbein. "We traveled all over the world to hand pick these pieces. She is running a stylist program where she will put guys together from head to toe. She will also do home consultations." 
The Optimist is already resonating with a wide audience. 
"Our customers like our edit of global brands that are curated and styled specifically for L.A.," Fishbein explained while holding up a pair of cool slipper-type footwear. This is a shoe company that I found on my trip to Nantucket this year, that are all made out of vintage Turkish rugs. Each pair is totally one of a kind. Its a fun concept and super environmentally friendly." 
He admits that many questioned the wisdom of going into retail at a time when Barneys was closing its west coast flagship and pioneers like Ron Robinson were shutting down brick and mortar locations. 
"People said the same thing when we bought this property. They said we will never be able to lease it or build it out. We were guys in our twenties with no experience. But we had a vison and believed in this," said Fishbein. 
He added, "When everyone is leaving an industry and scared of it, it's the best time to jump in. Guys are always going to be wearing clothes and there will always be up and coming designers who want an opportunity to be a part of a special space. Now we can touch our customers at Platform in a whole other way."