You might have first spotted tall, blond, down- to-earth and affable Australian chef Curtis Stone as a judge on NBC's "America's Next Great Restaurant," or on "Today" sharing recipes. When he appeared on "The Celebrity Apprentice" Season Three, he was coined 'The Quiet Terminator' for his stealth way of competing. It became clear then that he was not just another pretty face (he was, after all, also named one of "People Magazine's Sexiest Men Alive".) It became even more apparent to Beverly Hills diners when he opened his intimate restaurant Maude with seasonal monthly tasting menus in 2014, that he was also an incredibly talented chef, and was awarded a Michelin-star in 2019. The meat-centric art deco gem in Hollywood, Gwen, followed a few years later in 2016, and now downtown L.A. will also be blessed with Stone's culinary talents. When he's not spending time with his wife, actress Lindsay Price ("Beverly Hills 90210"), and their two children; behind the stove, or selling his cookware on HSN, he's on the road gathering inspiration for his tasting menus on his new show "Field Trip with Curtis Stone" on PBS. 
BHC: What has been the most interesting experience or destination from your new show "Field Trip"? 
CURTIS STONE: I keep thinking about my visit to Cullen Wines in the Margaret River region of Australia. Winemaker Vanya Cullen runs a biodynamic winery that takes a holistic approach to winemaking involving a process of enriching the soil and closely following the lunar cycle. She meticulously makes nutrient-rich preparations (preparation 500 and preparation 501) that she puts in the soil for the grapes involving cow horns and cow manure from pregnant cows. The preparations are buried during the winter solstice and changing moon cycles facilitate growth and the development of the grapes to create extraordinarily unique wines. 
How do you decide which wine regions to visit each year for your menus at Maude, and now your show? 
For choosing regions, the team and I have an open discussion about where we want to explore. Our executive chef Chris Flint and I think about the seasonal specialties of the different regions when we're building out our menu calendar. Traditional regions like Sonoma or Tuscany might be more familiar to people, but we always seek to highlight new and upcoming practices and producers that keep those regions innovative and compelling. On the other hand, a lot of the Australian regions are totally unfamiliar to guests, so we have an opportunity to introduce people to that corner of the globe and also a responsibility to capture the heart and spirit of the region. The possibilities, though, are endless and we hope to look to Chile, Argentina, and Rhone for inspiration in the future. 
Who and what do you always take with you on the road? 
When I'm traveling for Maude, my team always comes with me. Of course, who joins me for each trip depends on scheduling and such, but I think it's important to have everyone's different expertise and curiosities so we can learn the most from each region. 
Why did you decide to make this switch at Maude away from a new ingredient every month? 
As you can probably imagine, there was an inherent challenge in changing an entire menu every month. And, because you're changing over at such a high frequency, we were always conscious that at a certain point we were going to run out of options and have to repeat ingredients. We wanted to maintain an element of surprise and innovation, which was a huge part of the switch to a regional focus. There was also a challenge in coming up with the wine pairings for each ingredient menu and keeping them compelling. The quarterly change is more manageable for the team, but it also gives us more time to invest in menu development. We can spend more time in the planning process and really connect with the region to produce a menu that captures a sense of place. Our goal is to translate the incredibly personal and educational experiences we have on our research and development trips into spectacular dishes that transport our guests to regions around the world within the confines of our tiny 24-seat restaurant. 
What was the biggest challenge in coming up with the current truffle laden Tuscan menu? 
I'm personally such a truffle fan so it's been really exciting to work with Maude 
executive chef Chris Flint to incorporate them into our current Tuscany tasting menu. They're in season for such a limited window, and because they are so coveted and sought after, I think it can be tempting to pile truffles on everything. We aim to harness their intense umami and fragrance in a way that allows them to shine while also enhancing the overall dish. 
Can you tell us anything about your new concept in downtown L.A.? 
We're still finalizing plans there, but we're very excited to be opening in the Trust Building and joining the downtown culinary scene. There's so much happening culturally in the area and it's cool to be part of the next era of this historic building. 
You worked at London institutions Mirabelle and Quo Vadis when you were first starting out. What was the most valuable thing you learned from legendary chef-owner Marco Pierre White? 
I was in my early 20s when I first walked in the door of Marco's kitchen. It was a total culture shock to come into a kitchen where everyone was speaking French and working with ingredients I hadn't worked within Australia. Marco had such high standards and it really motivated me to do more, to do better. I still carry that with me. That pursuit of excellence has been so foundational to my growth as a chef and as a person.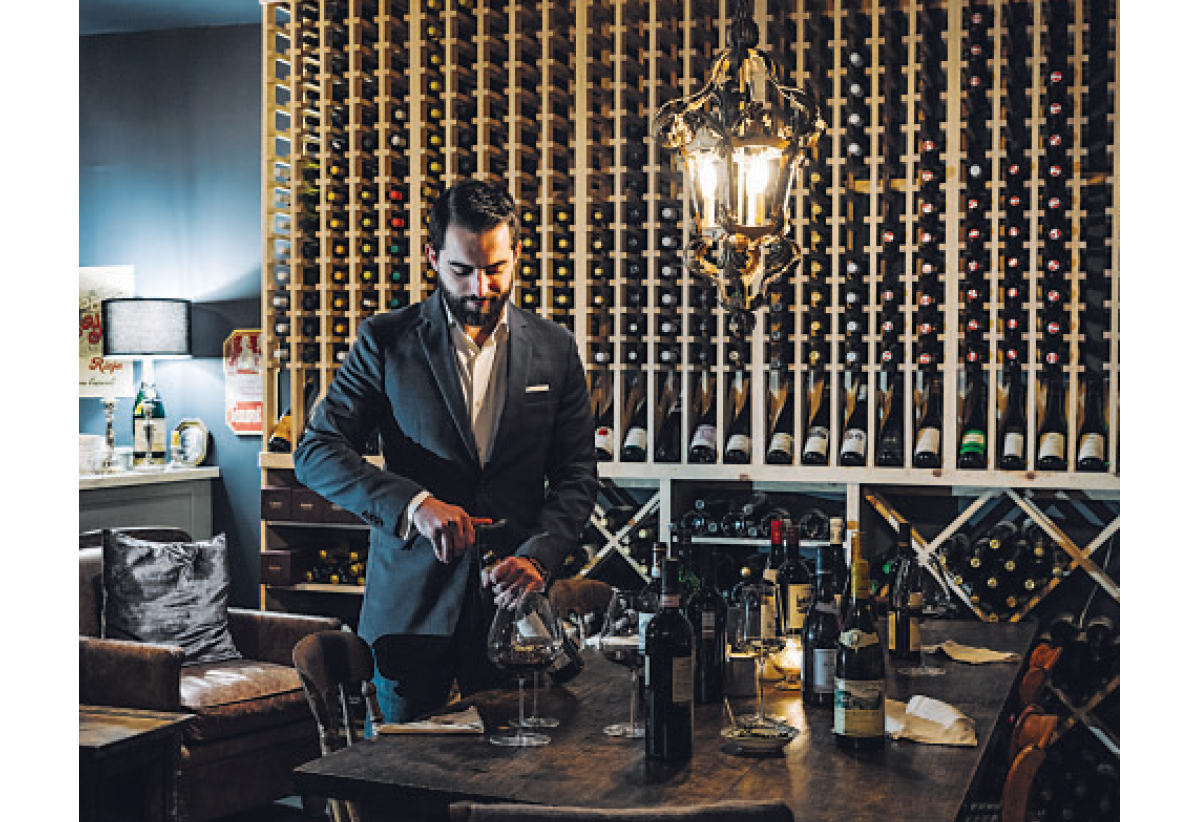 How was the collaboration dinner with Thomas Keller this week at Gwen? 
The French Laundry was on my bucket list when I came to America and my mind was blown when I dined there. The restaurant is celebrating a milestone silver anniversary this year, and the food and service is just as incredible now as it was then. I became involved with Ment'or when I was invited to judge the Commis Competition and was inspired by the talent and drive of those young chefs, and I will do my part to support Team USA. Having Thomas at Gwen was an honor and surreal for our entire team. Thomas not only leads in his kitchens but in the industry, guiding a new generation of chefs to be better than we were. Our menu that evening was a hat tip to classic Paul Bocuse. I hope we did him and Thomas proud. 
What is your favorite thing to make at home with your family? 
On weekends, there's nothing better than a slow morning making pancakes with the boys in our pajamas. 
Any favorite sweets for your children over the holidays? 
As a kid, I would always make Yorkshire fudge with my granny Maude — my restaurant's namesake. I've tried to pass that on to the boys, but I think they enjoy the eating part of it more than the actual fudge-making process. 
What are some of your favorite spots in Beverly Hills when you're not working? Chaumont Bakery and Café is located way too close to comfort to Maude and I can never turn down one of their French pastries. I'm also a huge fan of the Cheese Store of Beverly Hills. In fact, the upstairs wine loft at Maude [1801] is inspired by the owner Norbert's hidden tasting room.