For eleven days and ten nights from Feb. 13 to 23, mid-century modern design buffs from around the globe will flock to Palm Springs to bask in the winter sun amid the magnificent backdrop of San Jacinto Mountains, but more importantly, to celebrate and foster their appreciations for the mid-20th century period of architecture and design. In its fifteenth year, this celebratory week across the Coachella Valley is packed with an onslaught of parties, events, lectures and exclusive home tours in the efforts to continue preservation, education and sustainable modern living in the desert. This charitable event now attracts visitors in the hundreds of thousands and is one of the desert area's top annual attractions. 
From celebrated homes and hotels to shopping structures it's staggering to see the world-class architects that have brought their talents to the desert landscape. Structures from William F. Cody to E. Stuart Williams and John Lautner encompassing styles ranging from Spanish Revival to Hollywood Regency and ultra-modern class one historical sites built with steel and stone to withstand the harsh elements. 
This year, it seems that landscape design is also celebrated equally with interiors and the main structures. "Modernism Week's popular Landscape Design and Outdoor Living series continues to offer exceptional insights into indoor-meets-outdoor living," said Paul Ortega, Landscape and Outdoor Living Captain. "Modernists can attend compelling talks, interact with qualified landscape professionals or participate in the Modern Garden Tour. All of our events bring together ideas, talent, research and practical advice for people who want to know more about authentic California desert living." 
The Modern Garden Tour experience embraces the aesthetic of drought tolerant and desert-friendly plants while touring stunningly designed private modern gardens located in the area from minimal to lush. 
Once again Modernism Week's CAMP (Community and Meeting Place) will act as a central hub for Modernism Week 
information. Located at 230 Museum Way (near the Palm Springs Art Museum), entrance is free and open daily from 9 a.m. to 6 p.m. 
The following events will also be offered at Modernism Week's CAMP Headquarters: 
Ask a Landscape Designer – 30 minutes of advice from a professional landscape designer presented by the Association of Professional Landscape Designers. 
The American Garden at Midcentury – Join Jonathan D. Lippincott as he covers some of the important American landscape architects of the midcentury modern period including Thomas Church, Garrett Eckbo and Dan Kiley. 
Robert Royston in Palm Springs: A Book Signing and Tour of the Circle and Becket House Gardens– A book signing, tour and conversation between JC Miller, author of Robert Royston, and Palm Springs garden owner Brent R. Harris about Royston's final project. 
California Post-war Landscape Architecture Today – Author Jeffrey Head guides us through a conversation on the influence of modernist landscape architects like Church, Eckbo and Halprin in today's California landscapes. 
The Backyard, a Biography – Freelance nature writer Denise Maher explores the America backyard in a visual as well as psychological and cultural treatment of outdoor built spaces utilizing Maher's own catalog of landscape projects as well as underseen images from Julius Schulman's archive at the Getty Research Institute. 
Desertscaping: Past, Present and the Future – A panel on the history and practice of sustainable horticulture in the Coachella Valley and California's desert regions. 
Home Highlights This Year: 
The annual Modernism Week keynote address will be presented by architect, artist, professor, and set designer Daniel Libeskind who will share his incredible journey with the public. "Architecture is the atmosphere, the story that has been created, and you are part of it," he said.
The Modernism Week Featured Home Tour will be of the Axiom Desert House which holds Resource Furniture's multifunctional pieces, including the Flex Outdoor Sofa, also on view during the Modern Garden Tour and the prefabricated container house Buhaus, which highlights how space optimizing furniture can be both efficient and luxurious. 
Each year, Modernism Week offers exclusive tours of featured homes, and this year it has added a special showcase home: the Gillman Residence, built in 1948 by architectural designer Herbert W Burns. The property has been restored in time for Modernism Week by the dynamic duo at Thomboy Properties. 
Featured Homes include the Guggenheim House, located in the Indian Canyons neighborhood, this 1967 architectural gem was recently remodeled by Grace Home Furnishings to capture modern Palm Springs style. The interior spaces feature a cohesive blend of contemporary furnishings and vintage pieces, with the bold color palette embodies the carefree Palm Springs lifestyle. 
As part of the iconic Canyon Estates neighborhood, architect Charles DuBois' freestanding "Executive Home" was one of the last and most expensive properties in the development when it was first built in 1972. New furnishings and décor by Christopher Kennedy add glamour. 
Known as the Wave House (1955) for its curving roof that mimics the San Jacinto mountains, it's being opened publicly for the first time since its remarkable restoration. It was one of more than forty houses in and around Palm Desert designed by local-born Walter S. White. In 2018 this home became the first Palm Desert landmark to be listed on the National Register of Historic Places. 
Experience Palm Springs' transformation from midcentury modern to contemporary architecture and design at Mesa Modern, a featured design house in collaboration with interior designer Michelle Boudreau, landscape architect John Feldman of Ecocentrix and the design team of Juniper House that gains its inspiration from a global perspective on art, architecture, and interior and landscape design. 
Top parties include: The daughter of the desert Nancy Sinatra appearing at the Historic Plaza Theatre and the 'Nutty Professor' Party at the home of Jerry Lewis. 
Modernism Week Opening Night Party: Space Modyssey celebrates 15 years of Modernism Week. The Palm Springs Air Museum will be transformed into a futuristic space station, complete with intergalactic cocktails and atomic party cuisine and the legendary David Bowie tribute performer "Space Oddity." 
A few reoccurring events not to be missed: 
Green Gables featured Home – The lime green slanted awning and cinder block façade of this home, built by architect Palmer Krisel in 1957, reveals meticulous restoration with terrazzo floors and interiors by H3K – who also owns the property. The entryway holds a dot series painting of Jackie O. by Hank Hudson and the pool is flanked by colorful hoop string chairs. 
The Cree House – Albert Frey's 1955 residential home project perched on a hilltop in Cathedral City has been methodically preserved and maintained thanks in part to being owned by the same single family. While famous faces from Jennifer Aniston to Brad Pitt have stayed on the property, it has never before been open to the public. Tours will be offered daily during the festival. 
Walker Guest House Replica – In the sandpit behind the Kimpton Rowan hotel next to "The Babies" sculptures by Czech Republic artist David Cerný, lies the full-scale replica of the Paul Rudolph designed Florida beach bungalow created in 1952. Highlights include the wooden pulley windows like on a sailboat and compact galley style kitchen. 
Sunnylands Home Tour – A returning favorite to the line-up, this A. Quincy Jones home project completed in 1966 for philanthropists Walter and Leonore Annenberg has hosted state dinners, political summits and celebrity galas over the years. Tours include the grounds with 300 bromelias, main house with Rodin sculptures, impressionist art collection and guest quarters where Presidents Obama to Bush and Regan have stayed amid the custom William Haines decor.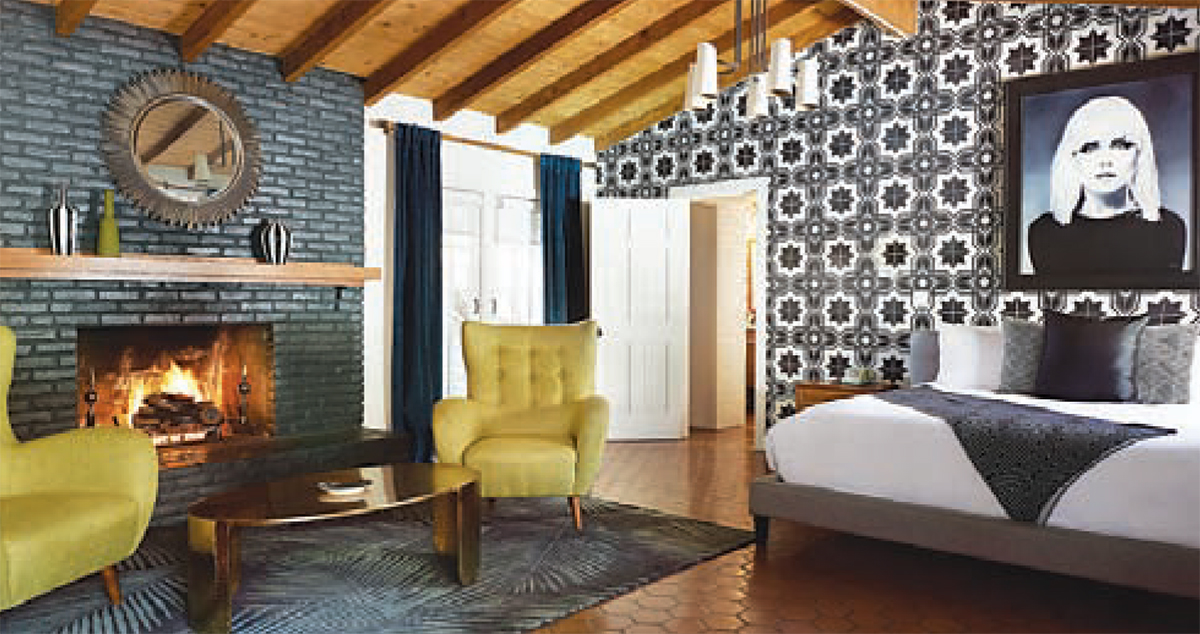 Walking or bus tours of historic neighborhoods – From the Movie Colony where you will find Frank Sinatra's old Twin Palms house by E. Stewart Williams, to Old Las Palmas, The Mesa, and Tennis Club areas. These historic neighborhoods are laced with Spanish Colonial Revival and Hollywood Regency style homes once owned by Bette Davis, Liberace, Bing Crosby and Gary Grant to newer dwellers, such as Leonardo Di Caprio in Dinah Shore's old compound and Trina Turk's 1936 classic Art Moderne "Ship of the Desert" home. 
The 13,000 square-foot glass encased steel building housing the year-old Palm Springs Art Museum Architecture and Design Center used to be a savings and loan building designed by Stewart Williams in 1961, and rehabilitated by the architecture firm Marmol Radziner, who also restored the famed Neutra-designed Kaufmann House. The building has recently received Class 1 Historic Site protective status and should be a must stop regardless of any shows you might be attending. 
Modernism Show and Sale- Over 85 dealers of furnishings, paintings, and accessories ranging from 40's to 70's will descend upon the convention center. From Danish Modern furniture to Off the Wall art hailing from Los Angeles to local dealers, there are treasures to be found for every home esthetic. 
Celebrity designer Martyn Lawrence Bullard who owns the old Playboy Mansion in the Movie Colony neighborhood has recently turned the Sands Hotel in Indian Wells into a provocative mid-century modern Moroccan hideaway. 
The Modernism Show is also a must on Bullard's annual calendar. "People come from around the country to show their best wares and a lot of dealers will save their best finds for this show." Some of those amazing vintage finds can be had under one roof at the convention center with dozens of dealers. 
Bullard has seen a big change in the formerly sleepy desert town since he designed his first hotel in the area, The Colony Palms. 
"For Modernism week you will see people flying in from New York, Paris, Berlin, and Finland. The world's eyes are on this city and it's brought a cosmopolitan vibe to it with amazing restaurants, real fashion, and incredibly interesting people. Just on my street there is the president of Sony, a movie star, and a rock star, it's crazy." 
For tickets and more info: https://www.modernismweek.com/ 
Where to stay: 
Located in a Palms Springs residential neighborhood close to the Ace hotel, one of the most talked about newer spots is the California ranch-style, pet friendly 38-room boutique Villa Royale hideaway. Built in 1947 the property holds three pools with mountain views, fireplaces, Marshal amps and an impressive art collection with over 50 oil paintings including portraits of Dennis Hopper and Debbie Harry by Juan Antonio Casas. Upon entering, guests are greeted with a shot of mezcal and a spray- painted mural by Los Angeles tattoo artist Sagent Staygold entitled "Welcome to Your Paradise." For dining and cocktails, the cozy Del Rey bar and Mediterranean tapas restaurant features more great art works amid the mid-century modern furnishings. It truly feels like a private residence that you will not want to leave. 
Located in Indian Wells and redesigned by Martyn Lawrence Bullard, this former 1950's apartment structure behind The Nest watering hole, has turned it into The Sands Hotel including guest rooms with outdoor bathtubs, black and white canvas pool-side cabanas, a spa with mirrored mosaic titles and Pink Cabana restaurant with tropical custom wallpaper – a nod to Paul Williams. 
Known as 'the Rodeo Drive of the desert,' book a room at the luxury 150-room Hotel Paseo located on El Paseo in Palm Desert. This hotel also holds its own impressive rotating art gallery along with inspiring local works peppering the hallways and public areas, such as the Welcome to Southern California painting by artist Tom Swimm. Try booking a stay in the custom 1950's airstream by the backyard lawn and relax from the hectic schedule with a spa treatment, bocce ball or a complimentary Tai Chi class.