Founder and CEO of sbe, Sam Nazarian looks casually cool in his black hoodie and sneakers while cruising around his new Beverly Hills offices – an all-white rustic-chic loft style building in what he calls 'the tech' area of the city. The open floor plan features a private back-lounge with a conference table and sofas that he uses for his office with a full kitchen and chef on staff just one floor above. 
Nazarian has been synonymous with nightlife and hospitality for over 15 years since he helped to put L.A. on the map as a force to be reckoned with and a hot destination with the SLS hotel on La Cienega. "SLS was recently voted the number one hotel in the world by Conde Nast – 11 years later. It's like our Oscars. It's interesting how it's sustained. We are very proud of that," Nazarian told the Courier from his all glass conference room. 
Since then, Nazarian and his full-service hospitality and lifestyle brand has bought Morgan's Hotel Group from Ian Schrager; owns and operates close to three dozen hotels in a partnership with Accor – who purchased 50 percent of the company for a reported $320 million, and also owns Orient Express, Raffles and Fairmont, among other properties around the globe. But make no mistake, Nazarian is still the visionary and very much in charge of his nine global concepts from L.A., to London and Singapore, with another 15 on the way in further flung areas of South American and Korea over the next handful of years. 
"I'm very proud of my good friend Sam who is also one of my best friends and what we have accomplished [globally]," said Chief Brand Officer Michele Caniato, who has been with Nazarian for over a decade, "LA is still a very important market for us." 
According to Caniato, one of the most desirable factors in partnering with sbe lies in their all-encompassing business model. "The difference of this company compared to any other in the hospitality world is that we own our hotel brand, our restaurant brand, our spa, etc. When we sign-up to open a hotel, we can bring in our management to cover everything from nightlife to restaurant, lounge and spa. In Miami we have residences, people don't want to just visit us but to live there." 
The Courier spoke with Nazarian just days before his parents, Younes & Soraya Nazarian, were honored with a Lifetime Achievement Award by The Jewish Federation at the Beverly Wilshire, about the past, present and future of the brand, expanding to downtown L.A. and his new casual culinary concept. 
How are you embracing your new Beverly Hills offices and why did you want to make the move here? 
I'm finally finding a part of Beverly Hills where the city has made an investment to evolve. I grew up here and went to El Rodeo [elementary] and Beverly (High), then have been evolving and growing my business. Beverly Hills will always have an unbelievable brand but thanks to people like Lili Bosse, the last handful of years it has become a place that welcomes business and innovation. I think they have finally realized this in 'the tech' area. There really wasn't much here as it was a quiet part of Beverly Hills. Growing up here, you always wanted to be in the triangle but now there is Live Nation, YouTube, UTA, and this building lends itself to the creativity that we look for and launching the aspects of our business that we really think is the future. 
Where do you see the future of the overall brand concept headed? 
The ability to deliver brands. We build brands and talk them around the world. We are in 9 countries and will be in 15 countries by 2025. We were at 5900 Wilshire before, but this [space] embodies more of sbe and what the future is and creativity and culture that we created. 
What are you the most focused on and excited about moving forward? 
It's pretty exhausting what we do because we are not only in the hotel business but we have five hotel brands. We are also in the residential business as the largest lifestyle residential company in the world which is a huge part of hospitality. To justify hotels people have built a residential component to make the investment work but for us we have sold 2 billion dollars of branded residential this year and will open a billion and a half and another 2 billion coming out of the ground. For food and beverage, we have close to 40 brands. We do all the F&B for all of our hotels. We are opening SLS Dubai in a couple of months and there are five of our brands in a 76-story building in Doha. We have 12 brands and are opening in Buenos Aries with 3 brands, Detroit 4 brands. Most hotel companies outsource that to a local company. We like to say we are a full-circle operator. We have all these brands which means you are constantly having to reimagine and innovate new brands – nightlife, full-service and fast food. 
What are some of the specific things that you are reinventing and is the 'ghost kitchen' concept part of that? 
I've always tried to see where the trends are going. Millennials are a completely different consumer than when I was growing-up. I was always the young kid in the room but now you have a group of millennials coming out that are spending their money and time differently communicating differently, dressing differently. There are certain things that are important to them from sustainability and consciousness and they are focused on this at a young age. So, for us when we start seeing spending habits, we call it the Netflix Amazon effect. Up until about 2-3 years ago it hadn't really affected stand-alone restaurants but now the delivery business is a big part in the way people are eating. They are spending less time at restaurants and more time at home and saving their money for big experiences. They love the experiential side and they are traveling, but when they are home, they are ordering from UberEATS and Postmates. One of the things we have been working on for the past year and a half and I've focused on this with our Umami [burger] business is how do we get that lifestyle quality? We call it "phone to table" instead of "farm to table." We are looking at in-room dining and feeding the masses with a 40,000 square foot super high-end food court in New York at Manhattan West exiting and exhausting.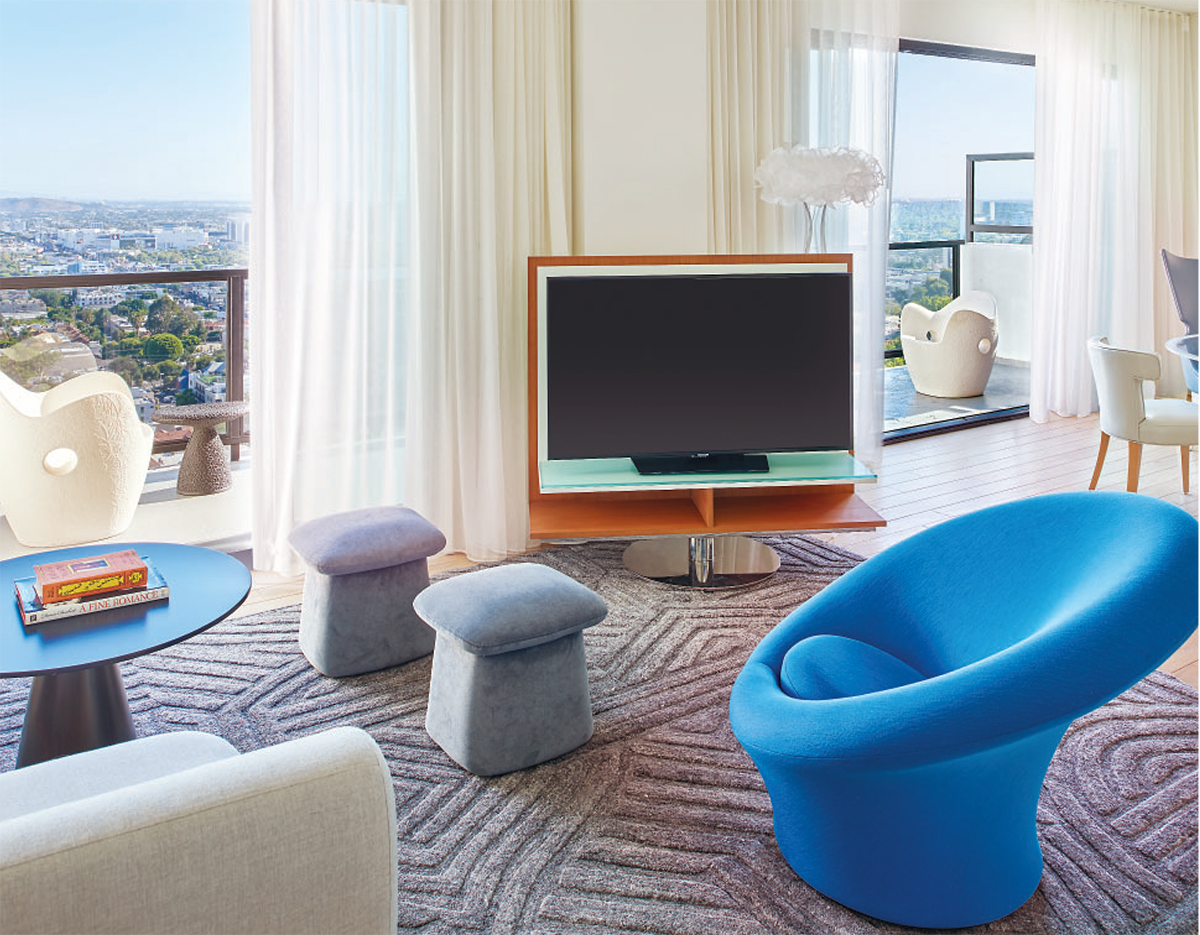 You've come full circle back to Brentwood with S-Bar next door to the original Katsuya. How has nightlife changed in the hospitality business since you started 15 years ago? 
Now we have 18 Katsuyas. When I first started, there was no word "lifestyle." It was big hotel companies and fewer brands. There was a guy named Ian Schrager who started a boutique hotel business that we ended up buying in 2016 [Morgan's Hotel Group.] But no one had looked at what SLS stands for, which is style, luxury and service. It was this elevated profile of boutique and just a notch below super luxury. We kind of put our shingle out saying 'we are the luxury lifestyle company.' Which means we are not super over the top like Four Seasons but we have a sustainability of food and beverage with finding chefs that no one ever heard of like Jose Andres in 2004 and 2005, and creating Katsuya with Danny Elmaleh and giving these home-grown local chefs a global platform. I think now hospitality has changed with everyone going into that lifestyle lane. The CMO of Rolls Royce and the CMO of Target are all saying the same thing: we need to be experiential. It's a word that is being overused because people don't really understand the meaning. 
What is the meaning of lifestyle for you? 
Lifestyle to me isn't hiring a designer and building a building. It's the essence and energy and flow or design and operations. The way in which you train your team and the culture of that organization. When you look at the big hotel companies trying to get into the space like the Marriot's and Hilton's, it's harder for them because they have such a scale to create a culture in the space. We have seen more people come into our business so there is much more people in our lane but our lane is much wider. Our owners who are building hotels across the world whether its Dubai, Seoul, Vietnam, Latin America or the U.S., they appreciate the fact that we do everything in house. It's cheaper to operate that way and there are a lot of other benefits economically. People are also looking at the ability of four-star, less amenities and just places they can put their head down. Our brand Hyde is an equivalent type idea, not youth hostel but one level above. We are looking at different price strategies. We have the Mondrian, Delano our resort brand, Hyde and House of Originals, which is a catch-all for luxury brands for lifestyle and growing fast. Having a 50 percent partner in Accor, who outside of North America is the largest operator in the world, and was a huge game-changer for me. It gave us the scale we needed. 
What are you focusing on in L.A. right now? 
The good thing for us about proving the concept of L.A. when I started, is that everyone started coming here. When I started here no one would take L.A. seriously from a culinary perspective. It was Wolfgang and Nobu and that was about it. And, the one-off Madeos, Georgio Baldi's of the world. Now, L.A. is the most relevant culinary epicenter in the world and I'm proud to think I was a part of it. I very easily debate that it's the best. Downtown obviously brings in a lot of the unbelievable chefs and big brands. From a nightlife perspective, it has changed. The world of the big DJ's and concerts [has gotten smaller], the next generation does not like to express their status by buying expensive bottles of Champagne anymore – they do it on Instagram. When I was growing up in places that you congregate with a beeper and a Motorola flip phone. Now in 5 seconds your building a social profile and the spending habits have changed. The level of intelligence of a 23- year-old today, not just on culinary, but on social impact and brand's that are authentic is just off the charts. Access to information and the desire to be curious is unbelievable so you have to be authentic if you want that customer. You can't just will it like you did before. That is one of the good things about still staying relevant in the nightlife business today, in the last few years we have reinvested in all our L.A. assets, nightclubs and restaurants have been reimagined. Hyde at Staples Center was the first nightclub ever in an arena. We did it 11 years ago and now all the arenas are putting night clubs in – it was a game changer. 
Can you confirm that you are opening in the downtown L.A. market soon? 
As far as L.A. growth, we have three hotel sites in downtown, [including a Mondrian and SLS hotel] you have to be careful because it's getting saturated. We were the first to sign a lease at L.A. Live with Katsuya. We signed the first deal in the Arts District with Umami. We like to go into [underdeveloped] communities. Like Katsuya at Hollywood and Vine was not a place you wanted to be at 2 p. m. let alone 11 p. m. We are proud that we were one of the first to give voices to those areas. 
We are looking at more and more opportunities here, but also delivering sbe with a completely different profile with the same thinking but under $30. That is our platform [roll-out] as we go into New York and London. 
When I bought the [now SLS] property in 2005, I bought a bankrupt Meridian across the street from a body shop and next door to a used car lot. Rick Caruso, who is a great friend, built that apartment complex right next door to us. So that is how we add value. I think we have added value to L.A. and Beverly Hills by taking properties and locations and bringing them to life. 
You have always partnered with interesting people from Phillipe Stark to Marcel Wanders and Tom Dixon, who are you exciting about partnering with now? And, what is it like working with Lenny Kravitz? 
I'm excited about David Rockwell [in New York] he has an unbelievable technology lab, we've done projects with Yabu Pushelberg and Gensler. We've worked with just about everyone. 
I've worked with a lot of celebrities whether they are singers or athletes who want to get into design, but what I found with Lenny was, the seriousness of the Kravitz design brand and the team that he invested in is a completely separate business. It's not like people use him so he can show up at the opening. There is a real inherent discipline and integrity to his design. He did SLS in South Beach, two presidential suites for us at SLS Vegas and is fully designing our hotel in Detroit, House of Originals. We are great friends. He transcends [generations] few people do. And, he's in better shape than I've ever been in my life in his 50s [laughs.] He has his finger on the pulse and is constantly working. He's humble, a great person to be around and constantly reinventing himself which is really important in our world.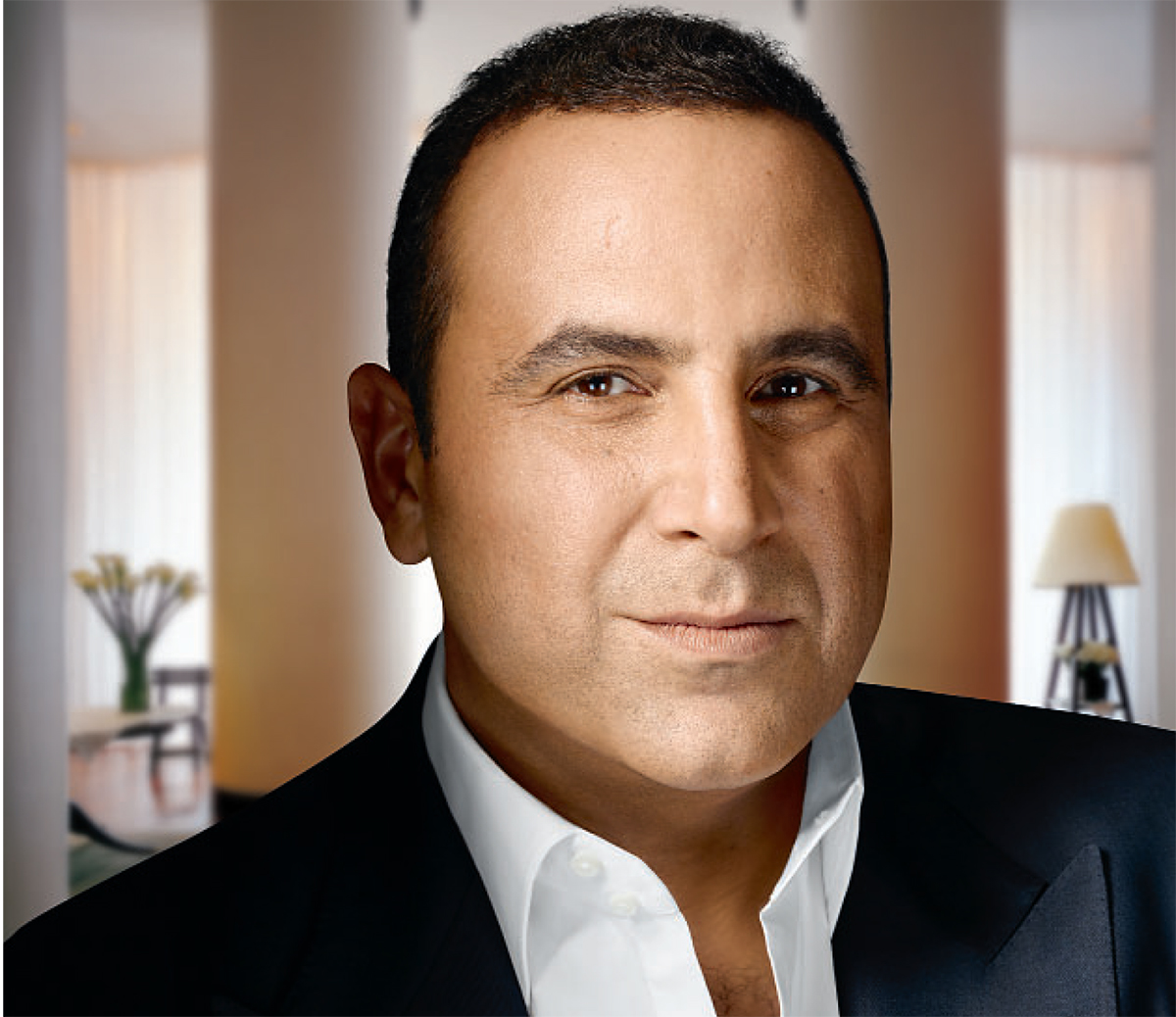 Moving forward, what challenges do you foresee with the hospitality business and local market? 
It's a challenge in many ways keeping up with so many different verticals but I'm blessed to have such a great team. We have three main offices and constantly adding different people at different age groups. We are betting on the digital side and a young person who is seeing the world completely differently. It's exhausting but fun. The travel is the hardest part. 
Generally being in so many different time zones and having an office down in Singapore, London, somewhere is always open! But I'm mostly in L.A., Florida and New York. 
What do you do when you're not working and what would people be surprised to find out about you? 
I love just being with the kids and spending as much time with them and trying to run around after them. 
I'm a huge history buff. I'm constantly trying to dig up some great documentaries where I can educate myself. I love religions. I'm Jewish but I've really been studying Catholicism – it's very relevant in our times right now with the "Two Popes." 
What are some of your Beverly Hills favorite haunts? 
Il Pastaio is a favorite with [owner] Giacomino. I really like the original Belvedere room at the Peninsula. I used to have a lot of breakfasts with my dad there so it has a lot of great memories for me. I like typical places like the Polo Lounge, but South Beverly Drive has really boomed. My friend from Alfred's has a great following, and my friends from New York are doing Avra and Montage. It used to be that you never went South of Brighton, you'll never get [any customers]. There are iconic locations and places you still want to go like The Grill. 
I think the more people that can come and prove that they can't just be a local operator but brands like Soho House on the border [of the city]. It's a much more pro-entrepreneurial environment in Beverly Hills than ever before. They are always trying to find solutions. I think for us to move our west coast office to Beverly Hills, they were very embracing of that. I remember a decade ago, they said it will take you forever, permits, inspections but here they did everything. They understood the importance of having our brands come back. The brand of Beverly Hills is still one of the best brands. 90 percent of the images that we see around the world are coming from here. L.A. as a whole is a great brand and we've been selling it around the world.